Report from North America
Hardwood plywood imports from Vietnam triple
Hardwood plywood imports grew in April but year-to-date
imports were significantly lower than in April 2017 due to
the plunge in imports from China.

The US imported 208,068 cu.m. of hardwood plywood in
April. Indonesia accounted for close to one third of all
imports, followed by Russia and China.

Year-to-date imports from Vietnam tripled as Chinese
plywood manufacturers adjusted to the US anti-dumping
and countervailing duties.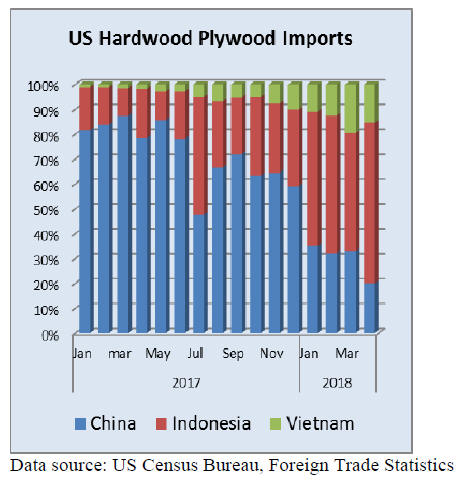 Indonesia, Thailand and Vietnam gaining share of
laminate flooring imports
Hardwood moulding imports declined for the third
consecutive month in April, but imports from Brazil
increased 45% from the previous month to $3.2 million.

Hardwood flooring imports decreased in April mainly due
to lower imports from China. For engineered/laminate
wood flooring, year-to-date imports from China were
down, but imports from Indonesia, Thailand and Vietnam
grew compared to April 2017.

Furniture imports from Indonesia and India rise
Wooden furniture imports climbed 2% in April to $1.41
billion. Year-to-date imports were 7% higher than in April
2017.

The strongest growth in imports year-to-date was from
Indonesia and India. China and Vietnam continue to
dominate the U.S. market accounting for a combined 65%
of furniture imports in 2018 to date. Wooden office
furniture imports
Furniture market indicators generally positive, but
cabinet sales decline
The furniture industry reported growth in May, while
wood products manufacturing output was unchanged from
April, according to the Institute for Supply Management¡¯s
Manufacturing ISM Report On Business. US Census
Bureau showed higher retail sales of furniture and home
furnishings in May.

New furniture orders and shipments were significantly up
in April, according to the latest Smith Leonhard survey of
residential furniture manufacturers and distributors.
April orders were 15% higher than at the same time last
year. Year-to-date furniture shipments were up 3% from
last year.

Cabinet sales increased 1.6% in May from the same time
last year, according to the Kitchen Cabinet Manufacturers
Association (KCMA)¡¯s monthly Trend of Business
Survey. Year-to-date cabinetry sales through May 2018
were slightly up compared to 2017.

Tariffs on steel and aluminium increase cost of
construction materials
U.S. tariffs on steel and aluminium from Canada, Mexico
and the European Union will contribute to dramatic cost
increases in construction, according to the Associated
General Contractors of America (AGC).

The ISM Report On Business reported many commodities
up in price in May including wood. From May 2017 to
May 2018 the cost of all goods used in construction rose
almost 9%, according to the AGC.

The latest tariffs on steel and aluminium were imposed on
June 1. The EU started enforcing retaliatory tariffs on U.S.
imports in late June, and on July 1 Canadian retaliatory
tariffs on steel, aluminium and other US products took
effect.

A ripple effect from the tariffs on the US.housing market
is possible, which is already affected by labour shortages
and duties on Canadian sawn softwood.

Canadian retaliatory tariffs include US made plywood
and wooden furniture
Starting July 1 Canada imposes a 10% import duty on
plywood and upholstered seating furniture made in the
U.S. The duty will apply to the following HS codes:

4412.39.00 Other plywood, consisting solely of sheets of
wood (other than bamboo), each ply not exceeding 6 mm
thickness: Other, with both outer plies of coniferous wood
4412.99.90 Other: Other plywood, veneered panels and
similar laminated wood
9401.61.10 Other seats, with wooden frames, upholstered:
For domestic purposes
9401.61.90 Other seats, with wooden frames, upholstered:
Other

Federal Reserve raised interest rates
The Federal Reserve raised interest rates in June and
signaled that two additional increases were on the way this
year. It was the second rate increase this year and the
benchmark rate is at 1.75 to 2% now.

Consumer confidence in the U.S. economy was slightly
down in June, according to the University of Michigan
Surveys of Consumers.

One quarter of respondents raised tariffs as a concern and
their potential impact on the economy. However,
employment and income had a favourable outlook for the
year ahead.

Supreme Court ruling on online sales tax levels
playing field
The U.S. Supreme Court ruled in June that states can
require retailers to collect sales, including when retailers
are online or outside the state.

The Home Furnishing Association welcomed the ruling,
which allows states to require online retailers like Amazon
to pay the same tax on sales as a furniture retailer with a
physical store.