US Dollar Exchange Rates of 25th June 2018
China Yuan 6.5793

Report from China
Housing developments
A recent press release from the National Bureau of
Statistics provides an up-date on national real estate
developments in the first five months of 2018.

Investment in property development expanded 10.2% year
on year in the first five months of this year but growth was
slightly slower than 10.3% between January and April.

Investment in residential buildings was up by 14.2% year
on year and accounted for 70% of total real estate
development investment. Investment grew fastest in the
North East.

Analysts report that, at the end of May, around 550 million
square metres of residential housing was unsold in China
but the figure had dropped by over 5% from a month
earlier.

The housing market in China is said to account directly
and indirectly for as much as 30% of GDP and is a major
driver of wood product consumption.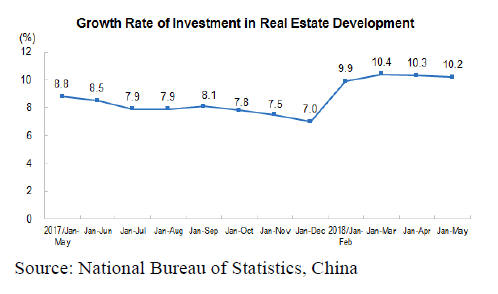 Still a bubble housing sector
In the first five months of this year the land area purchased
by real estate developers totalled 77.42 million square
metres, up by 2% year-on-year. In the first four months in
2018 there was a decline of 2%. The total land transactions
were worth 352.2 billion yuan an increaseof 16% year on
year.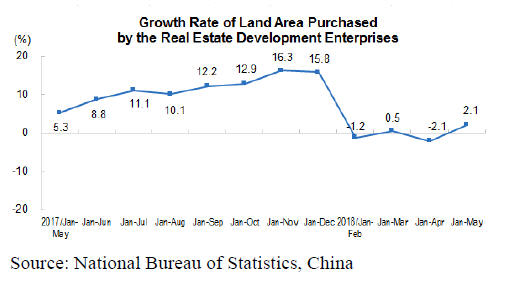 Despite recent reforms China¡¯s real estate sector is still
considered as in bubble territory. From June 2015 to the
end of last year 2017 house prices were up around 25%.

For more see:
http://www.stats.gov.cn/english/PressRelease/201806/t20180615
_1604949.html

Chinese private sector launches ¡®Timber Green Supply
Chain Initiative¡¯
At a recent international workshop a group of Chinese
enterprises launched a Green Supply Chain Initiative with
the aim of establishing and promoting green timber supply
chains.

The high-ranking Chinese government officials who spoke
at the opening ceremony were: Dr. Wang Dengju, Director
General of the Center for International Forest Products
Trade (CINF/NFGA); Mr. Wu Zhimin, Director General
for International Cooperation, National Forestry and
Grassland Administration (NFGA); Ms. Liang Hong,
Deputy Director General for International Cooperation,
Ministry of Commerce; (MOFCOM) and Ms. Jin
Hongman, Deputy Director General for Statistics and Data
Department from the General Administration of Customs
(GAC).

Participants recognised the value of establishing green
supply chains, not only for economic development but also
for achieving Sustainable Development Goals.

Speakers also expressed the view that green supply chains
are an excellent concept that must be embedded in
people¡¯s minds in producer, processor and consumer
countries to ensure mutual recognition and that fair and
equitable rules apply to all actors.

ITTO¡¯s Executive Director, Dr. Gerhard Dieterle, said that
successful green supply chains require a healthy private
sector grounded in sound enabling frameworks, including
incentives; fair taxation systems; clear rules; the absence
of corruption and illegality; clear land tenure and rights;
and the involvement of local people and smallholders.
For this reason, the private sector, governments and
international organizations need to combine their efforts,
he said and ITTO stands ready to work in partnership with
all parties.

For more see: http://www.itto.int/news_releases/id=5608

Cooperation between China and Central/Eastern
Europe on forestry
The first high level meeting under a forestry cooperation
mechanism between China and Central and Eastern
European countries, the so-called ¡®16+1¡¯, was held in
Buldo, Slovenia in late May and a ¡®Plan of Action for the
Coordination Mechanism for Forestry Cooperation
between China, Central and Eastern European Countries¡¯
was agreed.

The Chinese government is aware that countries in Central
and Eastern Europe are an emerging power in Europe and
aim to link this group to China¡¯s ¡®Belt and Road¡¯
initiative. Analysts write that there is great potential for
cooperation on forestry development and economic
cooperation between China and 16 Central and Eastern
European countries.

The Chinese government has pledged to vigorously
support the ¡®16 + 1¡¯ forestry cooperation initiative to
deepen cooperation. At the same time it will encourage the
development of a green economy and green industries and
encourage mutual exchange and transfer of green science
and technology.

China/Russia timber industry alliance
A China/Russia Wood Alliance was launched recently
with a alliance secretariat attached to the China Forestry
Property Right Exchange.

In the future the two countries will cooperate in areas of
forestry property rights trading and a forest products
information platform and on forest product certification,
financial services and areas of business interests for the
Chinese and Russian timber industry.

Fumigation of logs imported from US forbidden in
China
It has been reported that fumigation of imported logs from
the US has been forbidden in China.

China¡¯s General Administration of Customs (GACC) has
announced that Chinese ports are no longer allowed to
fumigate logs imported from the US. Furthermore, logs
fumigated in Hong Kong are not allowed to enter the
mainland.

The leaders of the US National Hardwood Lumber
Association (NHLA), the American Hardwood Export
Council, the Hardwood Federation and other US based
hardwood associations took part in teleconference to
discuss how to deal with this new directive.

It appears that agreement has been reached that logs
imported from the US before May 2, 2018 can be
fumigated provided that the exporting company could
prove that it had previously successfully exported logs into
China.

For more see:
https://baijiahao.baidu.com/s?id=1600231053989045254&wfr=s
pider&for=pc
http://www.forestry.gov.cn/portal/xdly/s/5188/content-
1098341.html

Finland boosts timber sales in Nankang
It has been reported that a cooperation agreement was
recently signed between the Finnish timber industry and
Nankang District authority in Jiangxi province.

It is estimated that almost 2 million cubic metres of high
quality Finnish timber has been exported to China
annually in recent years and that around 25% is consumed
in Nankang District. China¡¯s sawn softwood imports from
Finland in 2017 surged 88% to 1.71 million cubic metres.

Imported timber from Finland is mainly used in the
furniture, home furnishing and home decoration sectors
and it is estimated that 60% of Finnish timber is used by
Chinese enterprises for furniture making.

See: http://wemedia.ifeng.com/63745947/wemedia.shtml

China¡¯s first high-rise wood framework building
A ceremony was held recently to launch the China/Canada
Green Modern Wood Framework Industrial Zone and the
China/Canada Center. These events were a prelude to joint
work to construct a wooden high-rise building.

Construction of China¡¯s first multi-storey wood building
will be in Youxi County, Sanming City in Fujian Province.
It has been estimated that around RMB3.5 billion will be
invested in a China/Canada ¡®Modern Wood Framework
Industrial Zone¡¯ in Sanming City. The first high-rise
wooden building will rise some 70 metres or 12 storeys.

See: http://www.fjql.org/2018-05/10/content_21027825.htm

Correction
In the 1-15 June ITTO Market Report it was stated that ¡°Chinese
exports of panel products to UK were only 6,000 cu.m in the first
quarter of 2018.

This should read:
China's fiberboard exports to UK in the first quarter of 2018 were
just 6,000 cubic metres