2. GHANA
Forestry sector could make greater contribution to
economy
A Ghanaian tax expert, Abdallah Ali-Nakyea, has called
on the government pay more attention to hurdles faced by
the timber industry which was once the fourth largest
foreign exchange earner for the country.

This call was made during a workshop organised by the
Institute of Financial and Economic Journalists (IFEJ) in
partnership with German International Cooperation (GIZ)
in Ghana.

According to Ali-Nakyea, the timber industry has the
potential to make an enormous contribution to economic
growth but this will only happen if government addresses
the handicaps faced by the timber sector.

At the workshop Mr. Ali-Nakyea analysed exports by key
sectors for the period 2000 – 2016 pointing out that the
government is concentrating on the oil and gas sectors to
the disadvantage of other equally critical revenue
generating sectors such as the wood and timber sector.

Statistics show that the country's wood and timber
products are mainly primary and secondary products with
tertiary products accounting for less than 5% of production
and export.

Arming forest guards
The government has approved the request from the
Forestry Commission (FC) to arm forest guards. Speaking
during the International Day of the Forests Mr. Owusu-
Afriyie of the FC said, reasonable force would be applied
to stop the menace of illegal operations in the forest sector.

Cocoa farmers to plant high value trees
Ghana is benefitting from support from the Climate
Investment Fund (CIF) and the African Development
Bank as the country begins dealing with climate change
issues and moves to a low-carbon future. Plans have been
prepared to assist Ghanaian cocoa farmers increase yield
from forest cover which provides the shade needed by
cocoa trees.

According to the Technical Director of the Ministry of
Lands and Natural Resources, Mr. Musah Abu-Juam,
some six million trees have been planted since the
beginning of the CIF project around 10 years ago. The
Forestry Commission is working with project stakeholders
to ensure high quality seedlings of suitable species are
planted.

At a press conference the Communication Officer of the
CIF Project, Mr. Scott Vincent Andrews, said the Fund
has provided around US$75 million to help make Ghana
greener, more resilient and accelerate its low-carbon
development path.

Forest plantation development fund inaugurated
An 11-memeber board for the Forest Plantation
Development Fund has been inaugurated by the Minister
of Lands and Natural Resources, Mr Peter Amewu.

The board is to oversee the implementation of the Forest
Plantation Development Fund and to provide policy
guidance, review progress of the programme and approve
budgets for operational activities.

The Chairman of the board, Mr. Nana Yaw Osei Barima,
pledged to work to ensure compliance with the forest
plantation development fund Act 583 and to promote
forest projects and as well monitor the progress of the
scheme.
3. MALAYSIA
Ringgit falls below 4 to the dollar
The Malaysian ringgit has depreciated to its weakest level
in five months against the US dollar due to concerns over
the trade dispute between the United States and China.
Also, weakening crude oil prices had a downward
influence on the ringgit which was trading at over RM4 to
the dollar at the end of the month.

Plan to reduce dependency on foreign workers
Malaysia's Ministry of Human Resource Development is
looking at ways to reduce Malaysia's dependency on
foreign workers. In 2016, there were 1.8 million foreign
workers in the country and in 2017 the number fell slightly
to 1.7 million.

The new Minister, M. Kulasegaran, said the foreign
workers policy was now being reviewed with a view to
creating more opportunities for local workers.

The Minister also said the minimum wage is being
reviewed as the government has pledged to incrementally
raise the minimum to RM1,500 a month.

Clean Air Act to be enforced in 2019 for existing mills
Malaysian Timber Council (MTC) is organising a
Technical Seminar to enable enterprises to better
understand Malaysia's Clean Air Regulation 2014 (CAR
2014). The Clean Air Regulation controls emissions of air
pollutants from various industrial activities and the legal
requirements differ according to the risk from pollution.

Existing enterprises had a five-year period to comply and
this ends on 5 June 2019. New factories must comply with
CAR 2014 immediately. This regulation applies to timber
and timber products.

Plywood price firming
Sarawak's major timber companies are benefitting from
the upward trend in plywood prices especially in the
Japanese market (see Japan plywood page 13/14).
Plywood export prices for the Japanese market have risen
sharply since the beginning of this year. Japan imported
some RM2.27 bil. worth of Malaysian plywood in 2017.
In the first three months of this year, Japan's plywood
imports from Sarawak increased 14% over the same
period in 2017.

Call for Sabah to review management of natural
resources
Sabah Environmental Trust Chief Executive Dr.
Rahimatsah Amat, has called on the State Government to
review the management of natural resources and
strengthen biodiversity conservation in Sabah.

Dr. Amat suggested having more UNESCO World
Heritage national parks, assessing state marine resources
and biodiversity as well as protecting coastal and marine
areas. He said the success of the Heart of Borneo Initiative
is an excellent example of what can be achieved and that
by 2020 at least 10% of the State should be earmarked for
conservation.

Plywood prices
Meanwhile, plywood traders based in Sarawak reported
the following export prices: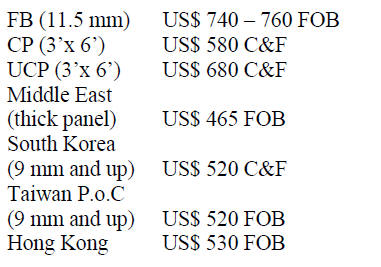 4. INDONESIA
Indonesian furniture at Canadian exhibition
Indonesian furniture makers exhibited at the recently
concluded Canadian Furniture Show held in Toronto. This
fair is considered the largest furniture exhibition in the
country.

Rafika Arfani, Head of the Indonesian Trade Promotion
Center (ITPC) in Canada, said that Indonesian companies
had the opportunity to interact with Canadian furniture
makers, retailers, designers and importers. In 2017,
Indonesian furniture exports to Canada were worth US$14
million and in the first quarter of this year some US$3.42
million had been exported, an increase of 8% over the
same period last year.

Timber legality verification for small businesses
The Ministry of Environment and Forestry (KLHK) has
plans to help small sized companies comply with the
national timber legality verification system (SVLK).

Until recently the main focus of efforts was on companies
exporting wood products. The Minister, Siti Nurbaya, said
there has been an increase in Indonesian shipments of
wood products and the adoption of the SVLK has helped
boost exports.

The Director General of Sustainable Production Forest
Management in the ministry, Hilman Nugroho, said the
aim is to have group SVLK certification so the cost to
individual companies would be minimised. He urged the
small companies to embrace the idea of cooperation to
secure SVLK certification.

The original statement can be found at:
https://www.republika.co.id/berita/nasional/lingkungan-hidupdan-
hutan/18/06/21/panxmn366-klhk-terapkan-verifikasilegalitas-
kayu-bagi-pengusaha-kecil

Forecast rise in exports to Taiwan P.o.C
The Director General of National Export Development in
the Ministry of Trade has spoken out on the potential to
expand exports to Taiwan P.o.C and has said Indonesia's
2018 exports to Taiwan P.o.C are forecast to rise 8% year
on year.
Indonesia's total exports to Taiwan P.o.C include coal,
bituminous coal, tin, plywood, copper waste, and scrap.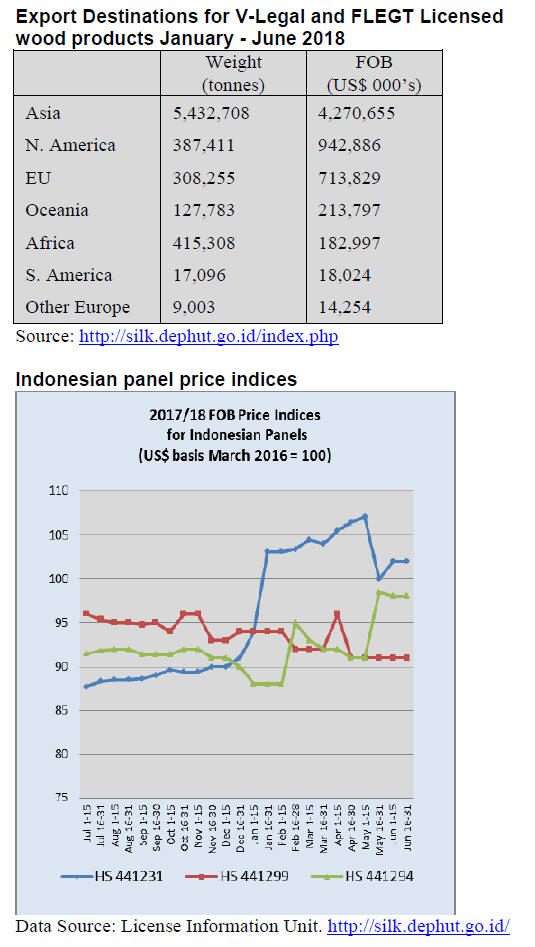 5. MYANMAR
Concern for Myanmar's teak exporters
In the first two months of this year exports of wood
products amounted to around US$30 million but prospects
are not bright for an expansion of trade. There is growing
concern for Myanmar's teak-oriented exporters because of
the strengthening of EUTR.

According to some timber exporters there was no clear
outcome from the recent meeting between the Myanmar
delegation and EC in Brussels.

Exporters fear that they will lose this important market for
teak products if the uncertainties surrounding the trade are
not resolved and are urging the government to become
more actively involved in finding a solution.

Exporters have expressed despair for the lack of the
recognition of all Myanmar has done on traceability and
legality verification.

Because little progress has been made they say they are
preparing for the possibility that they may lose access to
the EU market for teak products. Exporters are urging the
government to become more actively involved in finding a
solution.

For related news see:
EU yacht industry calls for co-operation with Myanmar on
teak. Page 20

Addendum
ITTO has been reminded that the Delegation to Brussels, first
mentioned in our report Volume 22, Number 11, 1-15 June 2018
was led by the Myanmar Timber Enterprise.

Company law takes effect
According to Notification 48/2018 of Office of the
President, Republic of the Union of Myanmar on 21 June
2018 the Myanmar Company Law took effect. Under the
new law foreigners can acquire up to a 35% shareholding
of local companies which was not allowed under the
previous law. The new law does not apply to the banking
sector.

U Zaw Phay Win, an economic adviser has said new
Myanmar Company Law will create equal opportunities
for both local and foreign investors.

The passing of this law is seen as one of the major
achievements of the government as the law replaces the
1914 Company Act and the 1950 Special Company Act.

Hurdles to growth outlined by Chamber of Commerce
A recent Business Sentiment Survey compiled by the
Local Industries Development Committee of the Union of
Myanmar Federation of Chambers of Commerce and
Industry (UMFCCI), suggests the current economic
conditions in the country are not strong and an immediate
recovery is not expected.

Among the major handicaps are the depreciation of the
Kyat against the US dollar, tax structures and tariffs and
weak financial services. These are in addition to the lack
of skill human resources and rapidly changing import and
export regulations.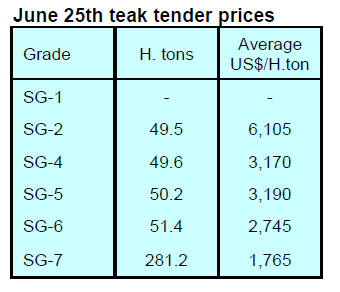 6. INDIA
Marayoor Forestry Department auctions 34 tons of
sandalwood
The latest e-auction of sandalwood conducted by the
Marayoor kerala Forestry Department earned Rs 281.10
million from the sale of around 34 tonnes of sandalwood
logs. Marayoor sandalwood is of high quality and is used
in the international cosmetic and perfume industries.

There has been a noticeable decline in the illegal
harvesting of sandalwood from the Marayoor forests with
only nine cases prosecuted in 2017. Illegal felling is still
common in private forests but has fallen in other areas
following the successful control by the police and forestry
officers.

For more see: 'Red sanders can be grown like any other crop' -
The Hindu

Plantation teak prices
Demand for imported logs continues unchanged but
imports are still affected by the withdrawal of credit
facilities.

Another factor impacting imports has been the weakness
of the rupee.The rupee has fallen against the US dollar by
around 5% over the past month making imports more
expensive.

Analysts write that "under these circumstances any rise in
C&F prices is ruled out". The trade feels that the normal
banking facilities could be restored by the end of July.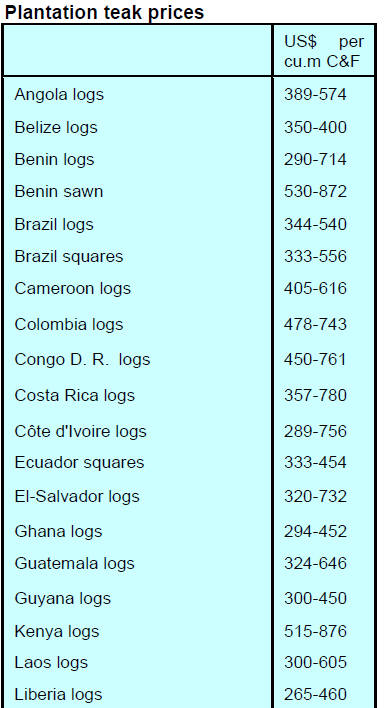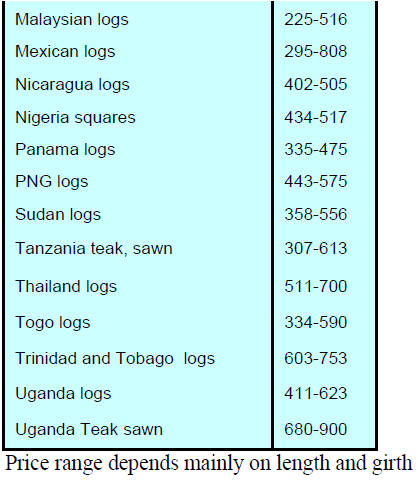 Locally sawn hardwood prices
Traders are under pressure from suppliers to raise prices
but say this is not possible because of stiff competition
amongst traders who are offering alternative timbers
coming from Guyana and Gabon, for example.

As is usual, consumers look at price and what is suitable
for the enduses and are less inclined to follow tradition.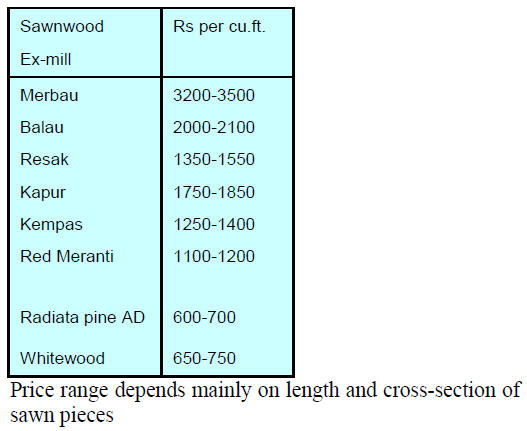 Imported sawn Myanmar teak
The consensus in the trade is that more and more endusers
are moving away from using Myanmar teak as they
find cheaper alternate species good enough for their
purpose.

The trading patterns are changing with teak and gurjan is
changing because of delivery issues and prices compared
to alternatives. Gurjan is being replaced by peeler quality
logs from Guyana and imports of okoume veneers have
encouraged some factories to switch completely over to
this new source. Indian companies are expanding veneer
production in Gabon.
However, Indian end-users still equate red coloured veneer
with strength which has driven some millers to use
pigments to colour pale imported veneers.
Prices for imported sawnwood
Prices for imported sawnwood (KD 12%) ex-warehouse
remain unchanged.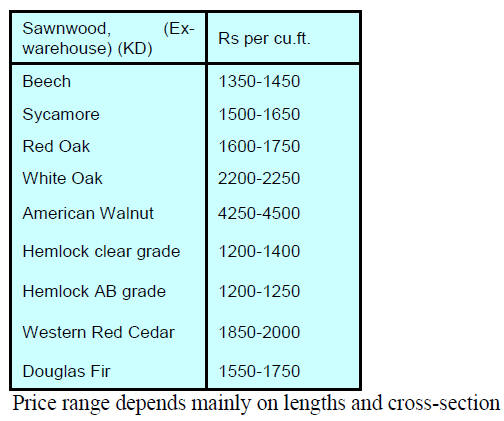 Domestic plywood update
As the prospects are for more rupee weakness which will
drive up raw material costs millers are intending to raise
plywood prices by between 5 to 10% from 1 July 2018.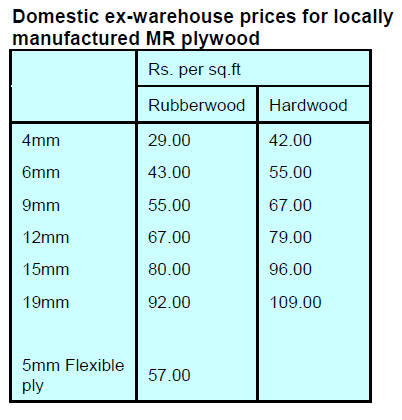 7. BRAZIL
Furniture output shows healthy growth but is below
average in major furniture producing states
April was a good month for the Brazilian furniture
industry as output increased across the country. However,
while the average national growth in output was 13.5% in
comparison with April last year in Paraná output expanded
just 9% and in Rio Grande do Sul, just 8%.

Between January and April this year, while national
furniture production grew 10%, in Paraná it reached 7%
and in Rio Grande do Sul, 5% year on year.

Price controls compromise competitiveness
The Center for Timber Producers and Exporters of Mato
Grosso State (CIPEM) has warned the minimum prices for
forest products set by the State Secretariat of Finance
(SEFAZ-MT) through Administrative Ordinance
"Portaria" Nº 052/2018, may compromise the commercial
competitiveness of timber production of Mato Grosso state
compared to other states.

To address this CIPEM has initiated a dialogue with
SEFAZ-MT emphasising that the state government should
consider the approach taken in other competing states
saying, if the current structure is maintained, there will be
an increased risk of weakened competitiveness.

CIPEM requested and was granted a suspension of
Portaria 052/2018 until a review can be conducted without
any immediate change in the basis of the tax Circulation of
Goods and Services). Forestry represents the main
economic activity in 44 municipalities in the Mato Grosso
State so disruption of industrial activity could undermine
State revenues.

Growth of tropical timber exports
Carrefour International Du Bois, considered one of the
largest wood products fairs, was held in late May and
entrepreneurs from Mato Grosso State participated in
search of new technologies and markets.

According to CIPEM local forestry sector entrepreneurs
picked up many tips on trading in international markets.
Encouragingly, it was learnt that global purchases of
Brazil's tropical wood products are expected to expand
around 30% this year, well above the forecasts made by
CIPEM at the beginning of this year.

Brazilian wood panels exports increase
Exports of Brazilian made wood-based panels in the first
quarter of 2018 totaled US$73 million, an increase of 14%
over the same period last year.

Between January and March of this year the main markets
for woodbased panels were Latin America (11% increase,
equivalent to US$39 million) and North America (21%
increase, US$17 million). In terms of volume, exports of
woodbased panels totalled 308,000 cubic metres in the
first quarter of this year, an increase of 8.5% over the same
period in 2017.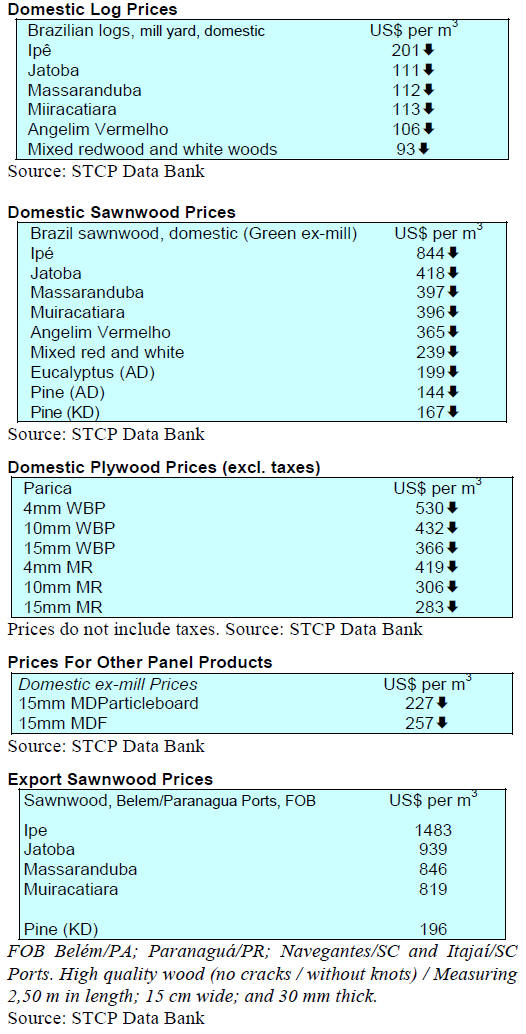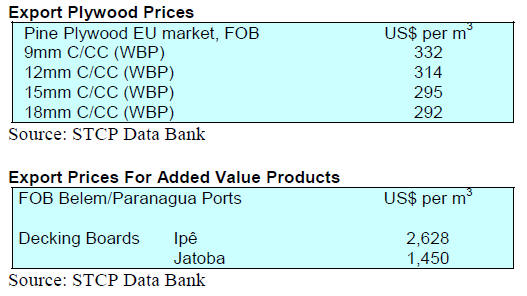 8. PERU
Peruvian exports of wood products
Peru's Association of Exporters (ADEX) has reported that
wood product exports up to April topped US$40 million
FOB, a vast improvement on levels in April 2017 when
the FOB value of exports was just US$37.7 million.

Of the US$40 million exported, China continued to be the
main export market for wood products accounting for 41%
of the total and up 15% in the four months to the end of
April. Mexico is in second place with a 12.5% share.
Exports to Mexico jumped almost 25% to the end of April.
The US market was in third spot at 10% of total wood
product exports.

Sawnwood exports between January-April 2018 were
worth US$7.8 million FOB up 27% year on year. The
main export market for sawnwood is the Dominican
Republic with a 31% share but this year sales have fallen
7% compared to 2017.

China accounted for 23% of sawnwood exports in the first
four months and there was a 55% increase in sawnwood
exports to this market. Mexico ranked third with a 20%
share and year on year exports increased 21%.

Imports of US hardwood flooring grows, but Peru's
exports fall
Peru's imports of wooden flooring from the US have been
increasing but Peru's flooring exports to the US have been
declining according to the commercial division of the
Peruvian consulate in Los Angeles.

Peruvian shipments od wooden flooring in 2017 dropped
53% year on year relegating Peru to 25th position in
respect of flooring shipments to the US. This negative
performance was due to the fact that Peru had problems
with verifying the legality of some shipments of wooden
flooring.

Peruvian composite panel imports rising
Between January and May this year Peruvian imports of
PB/MDP amounted to US$37 million, an increase of
around 16% compared to the same period of 2017.

The strong recovery of Peruvian imports of PB/MDP was
noteworthy in April and May as in the first quarter of the
year imports had fallen 14%.

Jaguars cope in well managed forests
The Scientific America has reported on a study published
in the March issue of Biological Conservation which
concludes that in some well managed and lightly logged
forests in Guatemala and Peru, Jaguar populations were
comparable to those in protected areas.The study was
conducted by scientists at the San Diego Zoo, the Wildlife
Conservation Society, and Peru's National Forest and
Wildlife Service.

See
https://www.scientificamerican.com/article/jaguars-thrive-inlightly-
logged-forests/