Report from North America
Tropical sawnwood imports down but values up in
April
U.S. imports of sawn hardwood (temperate and tropical)
declined in April for the third consecutive month to 66,749
cu.m. The volume of tropical sawn hardwood imports was
unchanged from the previous month at 17,484 cu.m.,
while the value of imports grew by 2%.

Year-to-date, tropical hardwood imports were down 12%
compared to 2017. The overall decline in tropical
sawnwood year-to-date is mainly due to lower balsa and
sapelli imports. Changes in year-to-date imports varied
greatly by species. Jatoba imports were up significantly
from 2017 along with keruing, while sapelli, acajou and
virola declined.

In April, balsa imports increased but imports of most other
tropical hardwood species declined month-on-month. Only
cedro and acajou sawnwood imports increased from
March, while meranti was unchanged.

In a recent survey by the Import/Export Wood Purchasing
News (June/July 2018) most imported wood suppliers
agreed that U.S. demand was strong, especially for African
species.

The rising euro to U.S. dollar exchange rate has increased
prices for US buyers. Several respondents reported higher
domestic transportation (trucking) costs and delays at
export ports in Africa.

For US hardwoods,the consulting firm Forecon reports
consistent and good demand from US manufacturers. US
hardwood prices have increased in 2018, but this is in part
due to strong demand in exports markets (Asia and
Canada).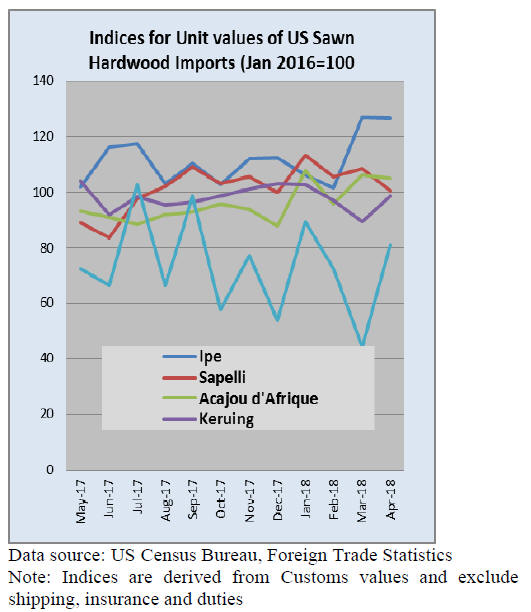 Canada imports more tropical sawnwood from Brazil
Canadian tropical sawnwood imports increased 10% in
April, while year-on-year imports were a quarter lower
than at the same time last year.

The month-on-month increase was largely in imports of
mahogany. Sawnwood imports from Brazil increased in
April, making Brazil Canada¡¯s third-largest source of
imports after the US and Cameroon.

Canadian retaliatory tariffs on US imports include
plywood
In late May the US administration announced tariffs on
Canadian, Mexican and EU aluminium and steel imports.
Canada retaliated with a plan to impose trade restrictions
for various products from the US including plywood and
upholstered seating:



Plywood, consisting solely of sheets of wood
(other than bamboo), each ply not exceeding 6
mm thickness: Other, with both outer plies of
coniferous wood



Other plywood, veneered panels and similar
laminated wood



Other seats, with wooden frames: Upholstered

These countermeasures are set to take effect on 1 July and
remain in place until the US lifts its tariffs on Canadian
steel and aluminium. Mexico has also announced
retaliatory tariffs on US exports targeting mainly
agricultural and steel products.

Timber Innovation Act supported by group of Senators
The recently proposed Timber Innovation Act received
support from a bipartisan group of Senators. The bill had
been introduced to the US Senate in 2017 and would direct
the Department of Agriculture (USDA) to conduct
research and development, education, and technical
assistance to facilitate the use of innovative wood products
in wood building construction in the US.

US building codes currently do not recognise ¡®novel¡¯
wood products such as mass-timber as official
constructional materials leaving the product without a
standard rating system for fire and earthquake resistance,
quality and other safety standards.

The Senators in support of the bill say that when approved
it will create jobs in rural areas, encourage sustainable
building construction, and encourage more forest
management in areas at risk of large wildfires.

Most mass-timber is made from softwoods but in Europe
beech hardwood cross-laminated timber (CLT) has been
manufactured and used. In the U.S. research and
development is underway to utilise tulipwood and other
low-value hardwood species for mass-timber in
construction.

American Hardwood Environmental Profile updated
The American Hardwood Export Council (AHEC) has
updated the sustainability information provided with
shipments of sawn hardwood to export markets. Last year
the Association developed a system for US exporters to
create a comprehensive report that aligns with the EU
Timber Regulation (EUTR) and this has been accepted in
other countries with due diligence requirements such as
Australia and Japan.

AHEC has updated the system to cover multiple shipments
within one document and provide forest regeneration
calculations. With one document US exporters can provide
their customers with information on the legality and
sustainability of the hardwood species and quantitative
data on the environmental impacts of delivering it
anywhere in the world.