Japan Wood Products Prices
Dollar Exchange Rates of 10th June 2018
Japan Yen 110.38

Reports From Japan
¡¡
Risk of recession could be avoided if private
consumption picks up
The economic contraction in the first quarter of this year
brought to an end the eight consecutive quarters of growth,
the longest sequence of growth since 1986.

Japan¡¯s GDP shrank 0.6% on an annualised basis in the
first quarter, driven down by weak private consumption. If
the second quarter data is also negative then Japan will be
in a technical recession which will put more pressure on
the already embattled prime minister. However, most
analysts think recession can be avoided as the latest
monthly data suggest consumption is picking up again as
demand in the US and EU is firm.

On the downside, Japanese workers¡¯ inflation-adjusted
real wages were unchanged in April from a year earlier
putting arise consumer spending at risk. The April
weakness follows a modest increase in real wages in
March. This latest data will disappoint the Bank of Japan
as it struggles to meet its 2% inflation target.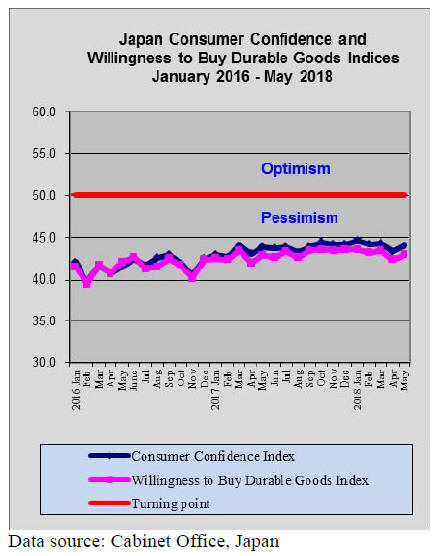 Domestic politics unsettling yen exchange rate
In mid-month and after the Trump/Kim summit the dollar
strengthened against the yen rising from 109.70 to 110.30
as it became apparent the summit was a success. The US
Federal Reserve raised interest rates for the second time
this year in June and this gave the dollar a boost.

Analysts point out that the main risk to the yen is domestic
politics as there appears to be a leadership battle looming
because of recent scandals involving the prime minister. A
change at the top of the ruling party may spell the end of
¡®Abenomics¡¯ the 'loose monetary policies that have kept
held the yen down and boosted exports.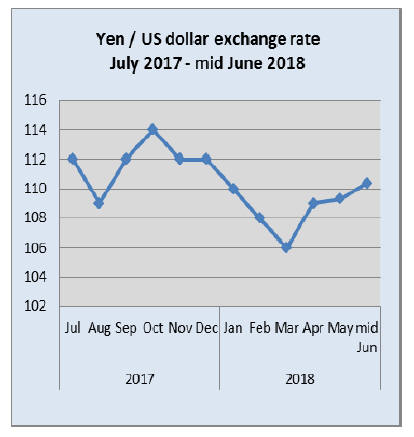 Boost to pre-owned home market
As new home prices in the main cities in Japan continue to
rise more first time buyers are beginning to look at the less
expensive pre-owned home market. For the last several
years, the market for pre-existing homes in Tokyo has
been expanding while growth in sales of new homes has
been more subdued.

Buying a pre-owned home and arranging for renovations
can be a difficult and risky. Until recently it was difficult
to find specialists able to assess the structural integrity of
old homes. This has now changed and could breathe new
life into the pre-owned home market.

A consortium of the ten biggest Japanese housing
developers in Japan have come together to form a ¡®Quality
Housing Stock Association¡¯ and this offers a service to
inspect and certify the quality of a pre-existing home. This
service will give buyers more confidence in distinguishing
good old properties from bad.

The Association announced last year that it would provide
free defect insurance to consumers buying a pre-owned
home built by one of its ten members. For five years after
purchase, new owners will be eligible for up to 10 million
yen in compensation to repair any major defect.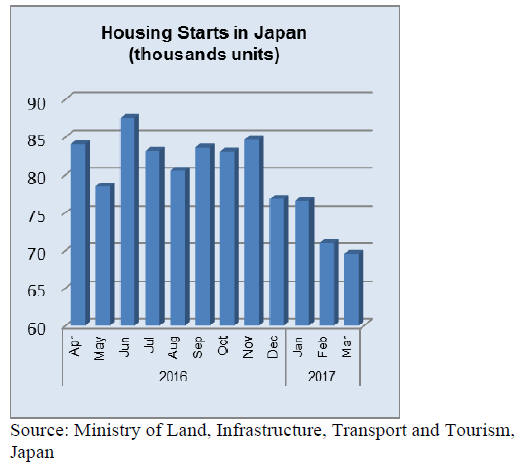 Furniture imports
In the first quarter of 2018 the value of imports of wooden
kitchen and bedroom furniture was higher than in the first
quarter of 2017. However, the value of wooden office
furniture imports over the same period declined.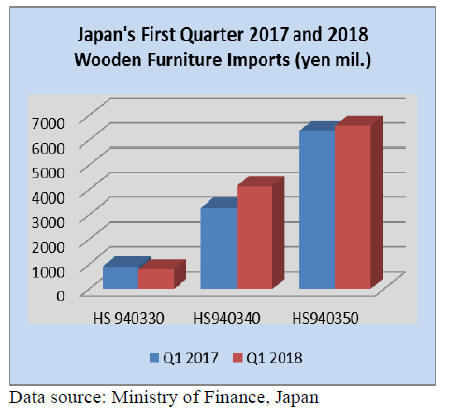 As was the case in the first quarter of 2017, wooden office
furniture imports accounted for around 8% of all wooden
furniture imports followed by wooden kitchen furniture at
around 30%. The main wooden furniture item imported
into Japan is bedroom furniture which regularly accounts
for around 60% of all wooden furniture imports.

Office furniture imports (HS 940330)
Since August 2017 the value of Japan¡¯s wooden office
furniture imports (HS940330) have been slowly rising
reflecting improving business confidence and corporate
spending.

The value of March 2018 imports were some 35% above
the low in August 2017. March saw a sharp decline in
shipments of wooden office furniture from China. In
previous months shipments from China regularly
accounted for around 70% of all wooden office furniture
imports but in March this year shipments accounted for
less than 50%.

Month on month, imports of wooden office furniture
dipped just 3% despite the big decline in shipments from
China and were supported by significant increases in
imports from Portugal and Poland.

Year on year, Japan¡¯s imports of wooden office furniture
in March were at around the same level as in March 2017.

Kitchen furniture imports (HS 940340)
Year on year, the value of Japan¡¯s March 2018 imports of
wooden kitchen furniture were 25% higher but compared
to levels in February 2018 March imports were down 6%.

Manufacturers in the Philippines have steadily gained
market share and in March this year were the number one
shipper of wooden kitchen furniture to Japan accounting
for around 50% of all wooden kitchen furniture imports by
value.

Vietnam is the second ranked supplier of wooden kitchen
furniture to Japan and in March accounted for over 30% of
Japan¡¯s imports of this category of wooden furniture.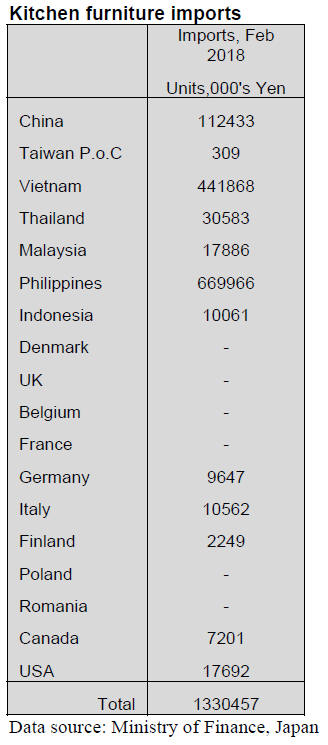 Bedroom furniture imports (HS 940350)
The sharp downward correction in February in the value of
Japan¡¯s imports of wooden bedroom furniture extended
into March. Year on year, wooden bedroom furniture
imports in March were down 20% and compared to levels
in February there was a 17% decline.

This downward trend has been a familiar pattern with
wooden bedroom furniture imports in Japan. Every year
the value of bedroom furniture dips around in the first and
second quarters and then picks out later in the year.

In March this year there was a steep fall in the value of
imports of wooden bedroom furniture from China (-29%)
but still manufacturers in China account for almost half of
the value of all Japan¡¯s wooden bedroom furniture
imports.

Vietnam was the second largest shipper of wooden
bedroom furniture in March this year and the combined
shipments from China and Vietnam account for over 90%
of Japan¡¯s imports of bedroom furniture.

Trade news from the Japan Lumber Reports (JLR)
For the JLR report please see:
http://www.nmokuzai.
com/modules/general/index.php?id=7

Demand shifting to domestic wood
It becomes apparent that worldwide demand for wood
products has kept growing year after year so the export
prices by the suppliers continue to climb.

Besides wood products¡¯ prices, other cost like oil price
rose to US$70 per barrel, the highest in three and half
years, which pushes cost of ocean freight, various
chemical products prices like adhesive for plywood and
laminated lumber.

Looking at sources of wood products supplying countries,
North American logs and lumber prices jumped up by
active lumber market with high housing starts in the
U.S.A. so the export prices soared and the supplying
volume declines.

European lumber is the same as the demand is expanding
worldwide, particularly by China and North America.

Hardwood plywood prices from Malaysia and Indonesia
soar to US$560 per cbm C&F, US$30 jump at one time.
Japan used to be the largest importing country of radiata
pine logs from New Zealand but now China is dominant
player by far so Japan has to follow China prices. Chilean
radiate pine lumber has steady demand in Japan but Japan
is not able to buy enough volume in competition with
other markets.

In short, Japan is no longer dictating the desired purchase
prices or importing volume.

In this situation, domestic wood is reviewed again.
Domestic products are nothing to do with exchange rate of
foreign currencies so the cost is closely forecasted.

In recent years, subject of large investment for
manufacturing domestic wood has been mainly plywood
plants but now large size sawmills have been built one
after another after sawmills receive steady lumber orders
when supply of imported wood products is unstable and
the prices of foreign products continue climbing.

Good example is Cypress Sunadaya, which used to be
major North American yellow cedar lumber manufacturer
but after supply of yellow cedar becomes desperately low,
it changed to domestic cypress as there is mounting
demand for domestic cypress sill. It consumes over 10,000
cbms of cypress a month.

According to the survey made by the Japan Forest
Products Journal, there are about 40 sawmills in Japan,
which consume more than 60,000 cbms of logs a year and
total log consumption by these is about 5,000,000 cbms.

Since total log consumption by all the sawmills in Japan is
about 16,000,000 cbms, these large ones takes about one
third of total sawmills. Number of sawmills, which
consume logs over 100,000 cbms a year is about 20 in
Japan. By species, cedar is by far the largest.

Chugoku Lumber¡¯s Hyuga mill consumes about 440,000
cbms of logs a year then it is preparing the second mill,
which will consume about 300,000 cbms so total log
consumption would be close to one million cbms
including other plants like laminated lumber and biomass
power plant.

National forest business plan for 2018
For fiscal year of 2018 (April 2018 through March 2019),
total sales of logs are 2,596,000 cbms, 0.6% more than
2017 and total sales of standing timber are 3,199,000
cbms, 10.5% more. System combined sales of national
forest logs and private logs will be 37 cases from 21 cases
in 2017.

To back up settlement of new forest management system,
which will start next year, large lot with long term of
harvest and sales of National Forest resources is newly
considered.

Plan to build new logging road system is 152 kilometers,
41 kilometers less than 2017 because of reduced
supplementary budget and acreage of thinning is 110,000
hectares, 10,000 hectares less.
Plantation area is 5,100 hectares, 13.3% more than 2017.

National Forest has been trying to reduce the cost of
replantation by introducing containerized nursery trees. In
2016, two million containerized nursery trees were planted
then in 2018, plan is to plant six million trees.

New forest management system, which will be introduced
in 2019, is for private forest. To support such system,
national forest will introduce timber harvest in large scale
and much longer period it has never done before. Concrete
schedule has not been disclosed yet but so far, timber
system sale can be extended for five years so this new
system should be much longer than this.

Climbing radiata pine log prices
Radiata pine log export prices from New Zealand have
been rising. The prices for China finally passed over
US$150 per cbm C&F. Log prices for Japan are also
climbing with higher ocean freight.

Present prices for China are US$151-152, about US$4
higher than last month. Log arrivals in China for March
and April marked record high level with steady shipments.
Port log inventories maintain at about five million cbms.
New Zealand log suppliers had held the export prices for
some time but seeing strong demand in China, they
decided to increase the prices.

Log prices for Japan are about US$160 per cbm C&F,
US$5-6 higher than April. Ocean freight is one of major
reasons of price increase. There are a limited number of
ships for Japan and higher crude oil price pushes freight
up. Exchange rate has been weakening, which pushes yen
log cost up higher so sawmills are in tougher spot. Crating
lumber demand is slowing after April.

Future is hard to predict but normally China market slows
down in June and July by seasonal reason so steep price
hike may ease.

South Sea (tropical) logs and lumber
Log market prices in Japan are holding unchanged. There
is no chance that log prices soften as export
prices continue climbing. Supply of keruing for lumber is
very tight so that the market is looking for
semi-finished products.

Products like window frame are made by South Sea
hardwood lumber but after availability of such lumber is
hard to come by, the demand is shifting to laminated free
board made by mercusii pine, acacia and radiate pine.

Demand of free board is expanding for DIY stores and
falcate product is getting popular because the prices are
lower than mercusii pine.

New move is that Japanese cedar logs are exported to
China, which is processed into laminated free board and is
shipped back to Japan, which competes with falcate
lumber

Tight supply of Vietnamese plywood
Supply of Vietnamese eucalyptus plywood for crating is
getting tight so the distribution volume in Japan is
dropping considerably.

In Vietnam, construction of large plywood mills by the
Chinese capital has started one after another. In April,
plywood plant with monthly production of 25,000 cbms
has started operation near Hanoi and another one with
monthly production of 12,000 cbms will start up in
coming summer also near Hanoi.

These plants purchase eucalyptus veneer in large volume
as raw material so smaller plants manufacturing for Japan
market are not able to have enough veneer.

The large plants use both eucalyptus and acacia veneer but
a majority is eucalyptus. Manufactured products are
interior materials for trailer and base materials for floor
heating for the U.S.A. and Korea. These items are much
higher priced so the large plants are unlikely to
manufacture low priced crating plywood for Japan market.

Purchase competition of raw material veneer pushes
plywood prices up as high as US$310 per cbm C&F and
further increase is expected. This level of price is way too
much for the market in Japan. The importers in Japan
think that this is not temporarily price increase but by
structural change so future supply is very uneasy.