Report from North America

Hardwood plywood imports from China continue to fall
Year-to-date hardwood plywood imports were down 40%
in March compared to March 2017. Imports from
Vietnam, Cambodia, Indonesia and other suppliers
increased, but do not yet make up for the plunge in
plywood imports from China
The US imported 191,567 cu.m. of hardwood plywood in
March, up 11% from February. Imports from China
continued to decline month-over-month, while Russia,
Malaysia, Vietnam and Cambodia increased plywood
exports to the US market.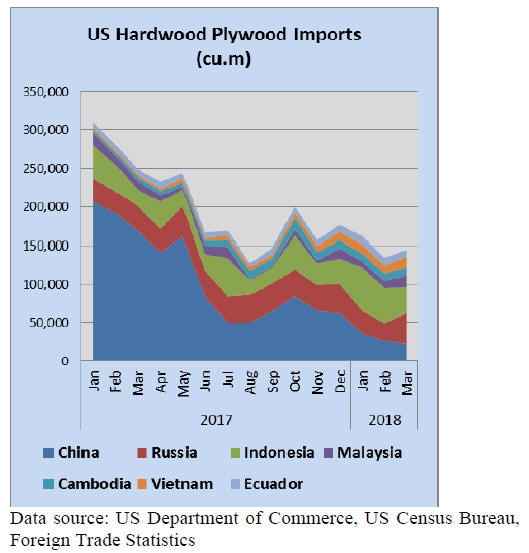 Vietnam, a major source of assembled flooring panels
Hardwood flooring imports increased for the third
consecutive month to US$5.8 million in March. The
growth was largely in Chinese shipments, while imports
from Malaysia and Indonesia declined.

Imports of assembled flooring panels (engineered and
laminate) declined for the third consecutive month.
Imports from China fell by half in March. Vietnam has
become a major source of assembled flooring panels with
over US$0.5 million worth of flooring shipped to the US
in March.

Drop in furniture imports from China and Vietnam
Wooden furniture imports declined for the second
consecutive month in March to under US$1.38 billion.
Year-to-date imports were 11% higher than in March last
year.

The decline was almost entirely in imports from China and
Vietnam. Chinese furniture shipments to the US fell 24%
month-over-month, although this drop was from very high
import levels over the last winter.

Wooden furniture imports from Mexico, Indonesia,
Malaysia and India were up in March. Imports of all types
of wooden furniture were down with the strongest
decrease in kitchen furniture/cabinets.

Furniture market indicators generally positive, but
cabinet sales slide
The wood products manufacturing sector reported the
strongest growth in April of all manufacturing industries,
according to the Institute for Supply Management¡¯s
Manufacturing ISM Report On Business. The furniture
industry also reported growth in April.

New orders in February 2018 were 5% higher than orders
in February 2017, according to the latest Smith Leonhard
survey of residential furniture manufacturers and
distributors. Year-to-date furniture shipments were up 1%
from last year.

Cabinet sales in March declined 1.7% from the same time
last year, according to the Kitchen Cabinet Manufacturers
Association (KCMA)¡¯s monthly Trend of Business
Survey.

Year-to-date cabinetry sales through March 2018 were
also down compared to the same quarter in 2017.
Retail sales of furniture and home furnishings declined
slightly in April from the previous month, but sales to date
in 2018 grew 5.3% compared to the same time in 2017.

No further decline in unemployment expected by
consumers
The unemployment rate declined from 4.1% in March to
3.9% in April, according to the US Bureau of Labor
Statistics. Similar to the previous month, employment in
manufacturing increased.

Consumer confidence in the US economy changed little
from April to May, according to the University of
Michigan survey of consumers. Most respondents expect
interest rate hikes during the year ahead. Consumers
expect the unemployment rate to not drop further, but
rather be steady at its current (low) level.

Housing affordability and supply remain key issues
Multi-family housing construction was down in April,
while single-family starts were unchanged from March,
according to the latest data release by the US Census
Bureau and the US Department of Housing and Urban
Development.

The overall decline is not unexpected since multi-family
starts were exceptionally high in March. The National
Association of Home Builders expects single-family
construction to grow in 2018, which would have a greater
knock-on effect on demand for wood products and
furniture than growth in multi-family construction.

Existing-home sales grew for the second consecutive
month in March, but lagging inventory levels and
affordability constraints kept sales activity below year ago
levels, according to the National Association of Realtors.