Japan Wood Products Prices
Dollar Exchange Rates of 25th May 2018
Japan Yen 109.39

Reports From Japan
Weak first quarter machinery sales
Data from the Cabinet Office shows that the value of
machinery orders received by major manufacturers fell by
almost 8% in March from the previous month. In the
January-March period it fell by 5.3% compared with the
previous quarter. Trends in expenditure on machinery are
a key indicator of the economic climate in the country.

The forecast growth in machinery orders in the April-June
period was around 10%. In Fiscal 2017 total machinery
orders increased by 6.3%.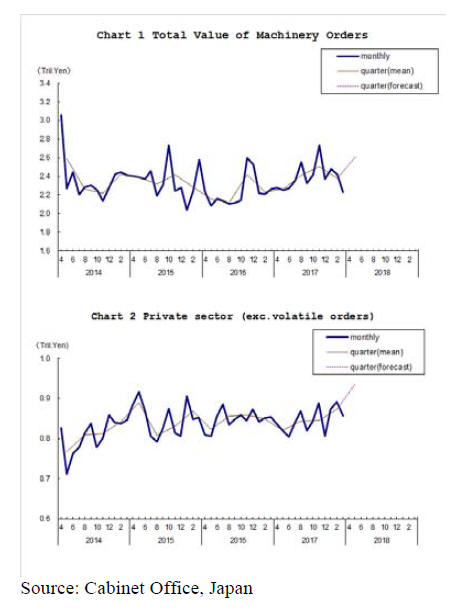 See http://www.esri.cao.go.jp/en/stat/juchu/juchu-e.html

Consumer confidence rises and spending expands
In its monthly economic report for May the Cabinet Office
stuck to its view that the economy is on a recovery track
indicating governments analysts remain confident the
economy will recover from the contraction in the first
quarter of this year. The main reason cited for the positive
view was the modest increase in consumer spending.

The Cabinet Office review also said capital expenditure
was gradually expanding, the same view as expressed in
the previous review. However the risk of a trade dispute
with the United States remains a risk to Japan¡¯s export-led
economy.

Japan's consumer confidence improved marginally in May
according to the latest survey conducted by the Cabinet
Office. The consumer confidence index rose in May
compared to a month earlier. The index measuring
willingness to buy durable goods also increased in May as
did the prospects for employment.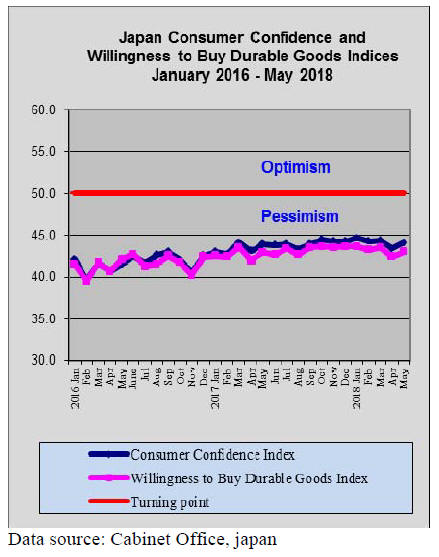 Foreign workers to alleviate labour shortages in
critical sectors
The domestic media has reported that the government is
considering easing the restrictions on employment of
unskilled foreign workers in some critical sectors such as
construction, agricultural, nursing and shipbuilding, all
areas currently facing labour shortages.

The media reports say foreign workers for the targeted
sectors would be able to work for up to five years if they
can pass a basic language test.

See:
//economictimes.indiatimes.com/articleshow/64381328.cms?utm
_source=contentofinterest&utm_medium=text&utm_campaign=
cppst

Vulnerability of economy puts brake on price rises
As raw material costs rise and as oil price increases drive
up transportation costs many Japanese enterprises are
considering raising prices even though the economy is still
vulnerable to even small shocks.

Analysts rightly point out that, while it is higher costs and
not expanding demand that are pushing up prices, the
danger is that any premature price rises will shatter what
confidence consumers are feeling at present.

The weak yen/dollar exchange rate means imports are that
much higher than if the yen was stronger. The yen has
fallen around 5% against the dollar since the end of the
first quarter.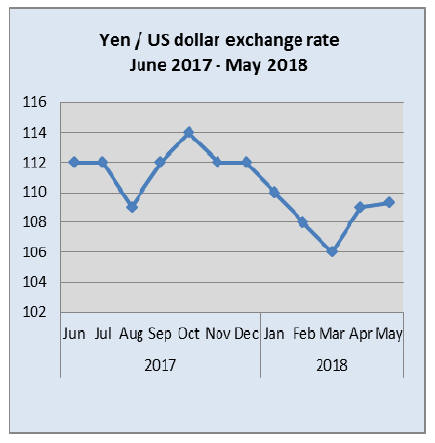 Sharp rise in April housing starts
Data from the Ministry of Land, Infrastructure, Transport
and Tourism showed that housing starts rose unexpectedly
in April rising slightly year on year and reversing the
sharp drop recorded in March. This was the first year on
year increase in ten months.

Data also showed that orders received by the top 50
construction companies were up 4% in April again
reversing the decline in March.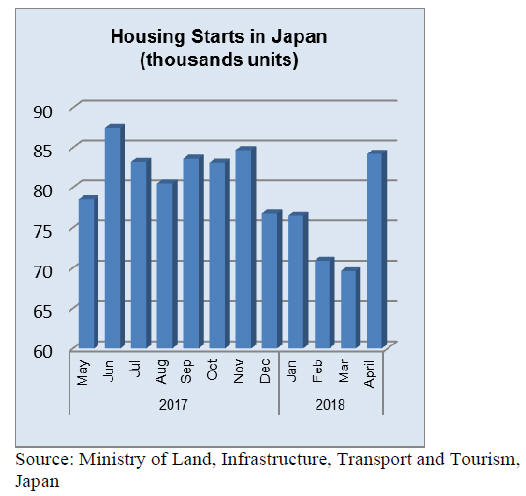 Mitsubishi Corporation expands into the Philippines
Mitsubishi Corporation has announced a joint-venture
with Century Properties Group, Inc. a real estate enterprise
in the Philippines

The new enterprise will develop affordable housing
communities in the Philippines at suburban locations with
convenient access to existing employment hubs.

With a target to supply 10 thousand units annually by
launching 3 to 5 projects every year at key locations in the
Philippines, the new company aims to satisfy the growing
needs of predominantly first-time homeowners for
affordable housing by supplying high-quality but
reasonably priced homes mainly ranging from 3 to 5
million yen.

For more see:
https://www.mitsubishicorp.com/jp/en/pr/archive/2018/html/000
0034729.html

Import round up

Doors

March door imports
There was a sharp correction in imports of wooden doors
(HS441820) in March. Year on year, March imports were
down over 14% and month on month the value of imports
dropped over 22%.

March imports were driven down by much lower
shipments from China and a modest decline in shipments
from the other main suppliers, the Philippines and
Malaysia. March imports of wooden doors were largely
supplied by China 56% of all imports, the Philippines 23%
and Malaysia 8%.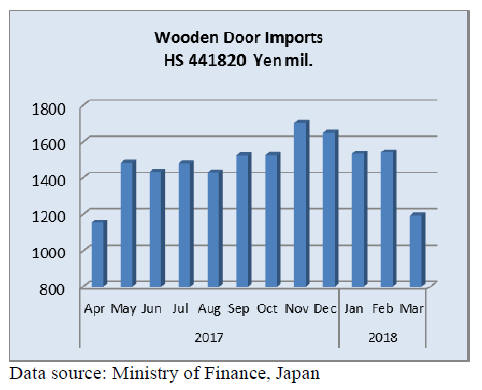 Window imports

March window imports
The value of March imports rose 14% from the previous
month breaking the three consecutive monthly declines
that began in December 2017.

Year on year the value of March 2018 imports of wooden
windows (HS 441810) rose 8%. The top three shippers of
wooden windows to Japan in March were the USA (35%),
China (28%) down from 45% in the previous month and
the Philippines (23%).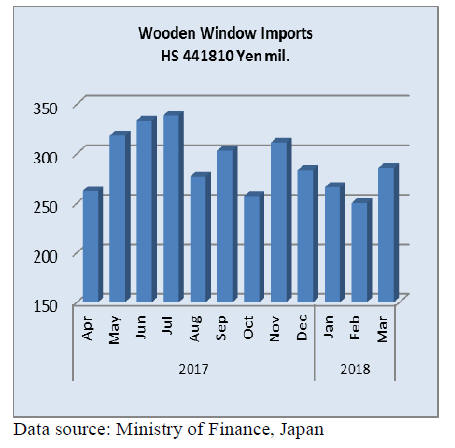 Assembled flooring

March imports
As in previous months wooden flooring imports were
dominated by HS 441875 followed by HS441879.
Together these two categories of assembled flooring
accounted for over 90% of the value of all assembled
wooden flooring imports.

In order of rank by value, China, Malaysia and Indonesia
were the main shippers of HS441875 in March while for
HS441879 the main shipper was Indonesia at 50% of all
shipments of this category of flooring followed by
Thailand at 13%.

In contrast to the usual upswing and downswing in the
value of flooring imports March marked an extension of
the downswing in February. The big loser in March was
China where there was a 50% drop in imports of HS
441875. For HS 441879 all shippers recorded lower
exports except Thailand.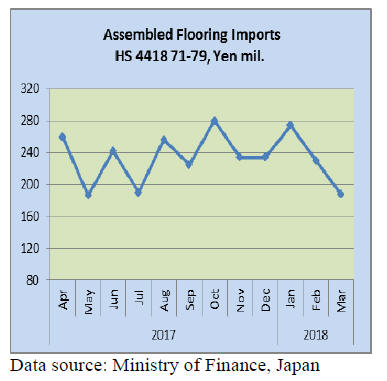 Plywood

January plywood imports
As in previuos months plywood in HS 441231 accounted
for most of Japan¡¯s imports of plywood. In March
HS441231 accounted for over 90% of all plywood
imports. HS441234 accounted for just 5.5% of March y
plywood imports and HS441239 less than 1% of imports.

Year on year plywood shipments from all sources dropped
20% with shippers in China seeing a 57% decline, those in
Malaysia a 20% decline and those in Indonesia a 13%
decline.

Month on month data are equally as disappointing with
shipments from all sources dropping 11%. China saw an
over 60% decline in shipments to Japan and both Malaysia
and Indonesia recorded falls of 4% each.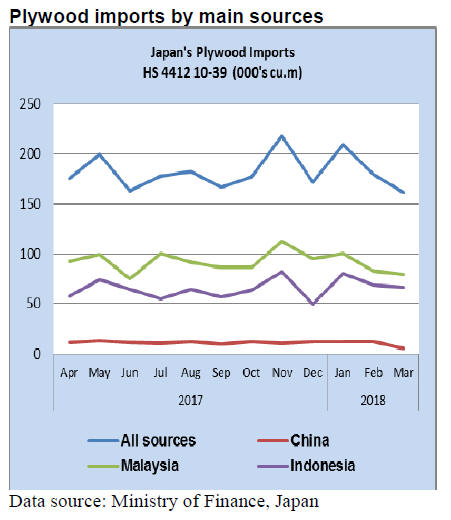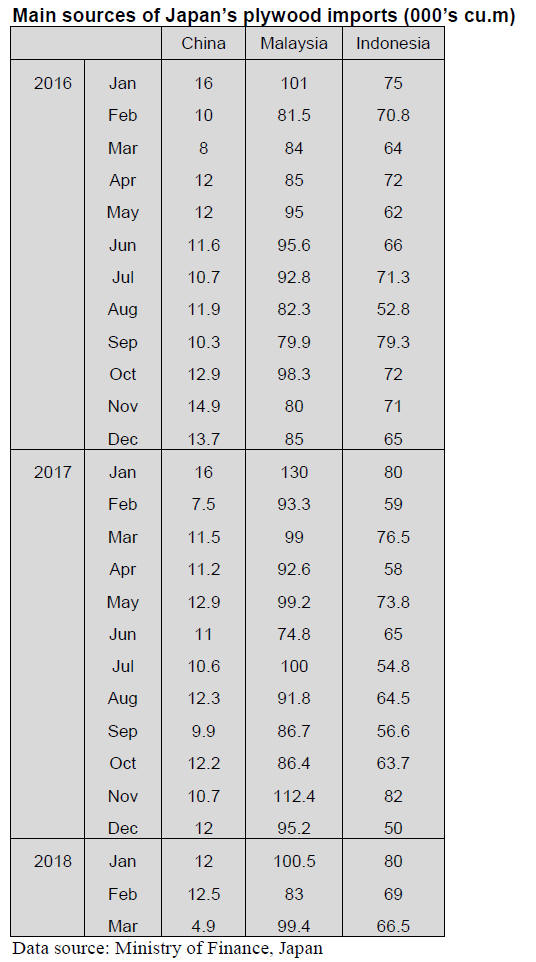 Trade news from the Japan Lumber Reports (JLR)
For the JLR report please see:
http://www.nmokuzai.
com/modules/general/index.php?id=7

Japan¡¯s wood products export rose 37% in 2017
Total value of wood products export in 2017 was 32,647
million yen, 37% more than 2016. Main factor is increased
export of logs to China and rapid expansion of cedar
lumber export to the U.S. market.

Log export to China was 776,004 cbms, 61.8% more than
2016 with the value of 10,299 million yen, 83.5% more.
The value has been increasing year after year. Unit price
per cbm in 2015 was 12,212 yen then 13,271 yen in 2017.
89.7% of logs exported for China was cedar.

They are used for crating lumber, concrete forming panel
and materials for public works construction so the prices
are more important than the quality but demand for low
priced logs in Japan has been climbing with increasing
starts of biomass power generation facilities.

Present log prices for biomass fuel are 7,000 yen per cbm
delivered chip yard while export cedar log prices are
8,000-9,000 yen per cbm delivered port so fuel log prices
may push export low grade log prices up higher.

China eyed the U.S. market for export of cedar lumber
then Japan also started exporting rough cedar lumber for
the U.S. market mainly for fencing. The U.S. market
prefers dark colored sap wood and black core, which
Japan market does not like. Also cedar has strong water
resistance and durability for exterior use. Cedar lumber
export to the U.S. market in 2017 was 15,000 cbms, four
times more than 2016.

Korea prefers Japanese cypress to cedar. Cypress is mainly
used for interior finishing. In Korea cypress is believed to
be good for health. Cypress price is higher than cedar so
that export value for Korea is higher than China. An
average unit price for Korea was 17,384 yen per cbm as
against 13,271 yen for China.

For Taiwan, log export volume is declining but lumber
export continues expanding. Majority of shipping ports are
in Kyushu, where is closer to China and Korea
geographically.

Imported plywood market
Exporting prices of plywood from Malaysia and Indonesia
continue climbing. Rainy season in producing regions is
over but log supply is still slow.

Rainy season is normally over in late February and early
March but it prolonged about a month this year so logging
road is still muddy and log hauling is difficult. It may take
another month until log hauling gets back to normal.

Therefore, plywood mills continue suffering log shortage
and are forced curtailed production, which pushes
production cost on top of higher log cost so major
plywood exporters like Shing Yang of Malaysia and
Korindo of Indonesia propose high prices for April. April
prices are about $580 for JAS 3x6 concrete forming panel
and about $680 for JAS 3x6 coated concrete forming
panels.

Japanese users expected larger offer volume since rainy
season is over but offered volume is much smaller than
expected. Some importers hesitate to commit with
continuous price increase and delayed delivery.

Market prices in Japan are increasing. Prices of coated
concrete forming JAS 3x6 panel are 1,460-1,470 yen per
sheet delivered, 20-30 yen up from March and 1,240-1,250
yen on JAS 3x6 concrete forming panel, 10 yen up.
Movement has been slow so pace of price increase is very
gradual.

The importers carry some low priced inventories so they
dispose of these little by little to average down the cost
since newly arrived cargoes cost higher. The suppliers¡¯
export prices keep rising way ahead of the market prices in
Japan so the importers need to keep pushing sales prices
up.

Plywood
Movement of softwood plywood is settling down so that
supply short items like 9 mm and 15 mm are now ample
in the market. There is no more panic buying but there is
no surplus. This year¡¯s housing starts seem to be almost
the same as last year.

Plywood manufacturing mills have been running 100% of
the capacity but now there is some spare time so they
shut-down for about ten days in early May during many
holidays for maintenance. Orders slowed down in April
then in late April there are rather heavy orders being
placed as precutting plants get busy in May again.

March plywood production was 266,700 cbms, 0.8% more
than March last year and 9.8% more than February. In this,
softwood production was 248,100 cbms, 2.3% less and
10.3% more. Shipment of plywood in March was
251,700cbms, 1.2% less and 5.7% more. In this, softwood
was 233,500 cbms, 4.4% less and 6.1% more.

C&F prices of import plywood continue climbing but
market prices in Japan are hardly climbing. Buyers in
Japan expected offers of more volume and prompt
shipment of delayed contracts after rainy season was over
but new offers in April are still low in volume.

Buyers in Japan hesitate to follow rapid rise of C&F prices
as the speed is too fast. Normally the arrivals increase in
May and June every year so recovery of the supply is
expected by which buyers hesitate to commit futures. The
importers need to pass onto high cost to the sales prices
but it is hard when the demand is weak.