Report from Europe
EU imports of hardwood mouldings led by Indonesia
and Brazil
EU imports of ¡°continuously shaped¡± wood (HS code
4409) includes both decking products and interior
decorative products like moulded skirting and beading.
Total EU imports of hardwood products under this
heading declined by just over 3% in 2017, to 122,800
metric tonnes (MT). However, imports from Indonesia and
Brazil, the two largest suppliers, increased last year.

Indonesia¡¯s leading role as a supplier of this commodity
group to the EU is due both to the popularity of bangkirai
for decking applications in Europe, and to Indonesia¡¯s ban
on rough sawn exports encouraging greater focus on
profiled products. After a steep rise in 2014, imports from
Indonesia remained broadly flat in the next three years and
were 69,600 MT in 2017, 1% more than the previous year
(Chart 1).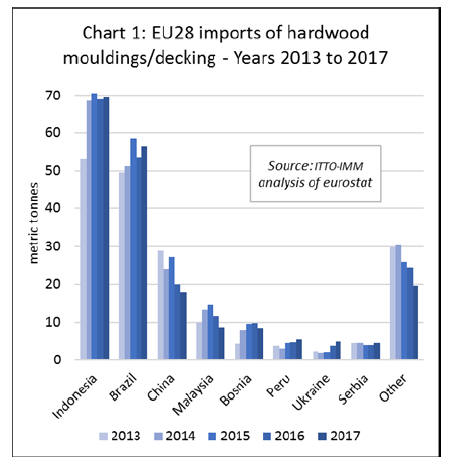 Brazil has access to several Amazonian species like ipe,
garapa and massaranduba that perform well as decking
timbers. Following a 9% decline in 2016, EU imports from
Brazil rebounded 6% to 56,600 MT in 2017.

China¡¯s trade in this commodity with the EU has been
declining in recent years owing both to rising costs of
production in China and declining availability of raw
material. Imports from China fell a further 10% to 18,000
MT in 2017. China depends on imported tropical timber
with a strong preference for teak in the decking sector.
China also supplies small quantities of interior hardwood
mouldings to the EU market.

While total EU trade in decking and similar garden
products has been gradually increasing in recent years due
to a slow improvement in EU construction activity,
tropical timber faces intense competition from substitute
materials in this sector, notably Wood Plastic Composites
(WPC), thermally and chemically modified European
hardwoods and softwoods, and preservative-treated
softwoods.

Tropical hardwood decorative mouldings for interior use
are also being replaced by European timbers and MDF.

EU market for glulam challenging for external
suppliers
Anecdotal reports indicate that the glulam sector in Europe
struggled with over-supply and low margins in the 2013 to
2016 period. Taken together these trends suggest relatively
poor prospects for external suppliers to expand glulam
sales in the EU market.

Nevertheless, EU imports of glulam were increasing
between 2013 and 2016 when they reached a peak of
128,700 MT. Last year total imports fell back 4% to
123,300 MT, but Malaysia, the leading tropical supplier,
continued to make gains. Imports from Malaysia increased
16% to 24,800 MT in 2017 (Chart 2).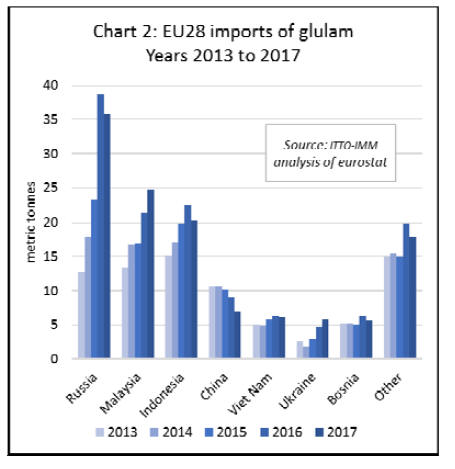 In contrast to Malaysia, in 2017 imports from Indonesia
declined by nearly 10% to 20,300 MT and imports from
Viet Nam fell nearly 4% 6,100 MT. Imports also fell 8%
from Russia to 35,800 MT and 24% from China to 6,900
MT.

The relative strength of tropical glulam imports at a time
of intense competition in the wider EU glulam market is
partly due to the specific mix of products involved.
Whereas much of the EU internal market comprises large
beams and other structural elements, a large proportion of
imports are more specialised small dimension products for
non-structural applications.

Imports of tropical glulam have remained reasonably
buoyant in response to improved demand in specific niche
sectors, notably for durable laminated window scantlings
in the Netherlands and Belgium.

EU imports of wooden doors lose ground in 2017
Most new wood door installations in the EU comprise
domestically manufactured products. Imports from outside
the bloc account for less than 5% of total consumption
value in the EU. Imports from the three largest non-EU
countries ¨C China, Indonesia and Malaysia ¨C all lost
ground in 2017. However, imports increased from several
smaller external suppliers last year, including South
Africa, Ukraine, Brazil and Turkey (Chart 3).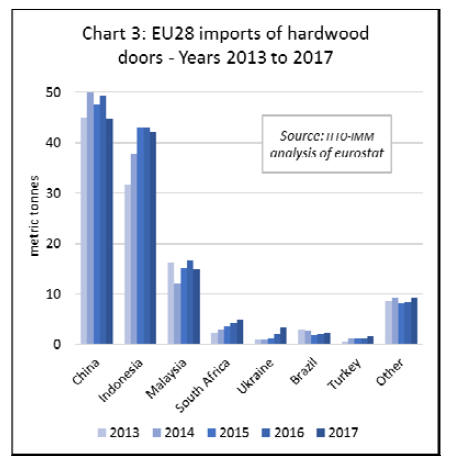 In 2017, EU imports of wood doors fell 9% to 44,700 MT
from China, 2% to 42,100 MT from Indonesia, and 11% to
14,900 MT from Malaysia. In contrast, imports increased
11% to 4,800 MT from South Africa, 69% to 3,300 MT
from Ukraine, 14% to 2,300 MT from Brazil, and 14% to
1,500 MT from Turkey.

The European wood door sector is increasingly dominated
by products manufactured using veneered panels and
finger-jointed timbers rather than from solid timber.
Requirements to comply with higher energy efficiency
standards and efforts to provide customers with long-life
time guarantees are driving this concerted shift to
engineered wood products.

Doors with a real wood veneer have also been losing share
to doors manufactured using High Pressure Laminate
(HPL) foils and white lacquered products. This is partly
due to a shift in overall door production from Southern
European countries such as Spain and Italy, which
strongly favoured real wood veneer, to Germany where
there is a very sophisticated foil and laminates industry.

German slowdown dampens European wood flooring
demand
An insight into the current status of the EU wood flooring
market and the wider economic situation in individual EU
countries is provided by the report of the meeting on 4
April 2018 of the Board of Directors of the European
Federation of the Parquet Industry (FEP).

According to the report, compared to the same period last
year, provisional results for the first quarter of 2018 point
to a continuation of the moderately positive European
parquet consumption trends observed in 2017 with the
exception of Germany which is reporting a significant
decrease.

The report notes that new build projects are the main
driver of the market for wood flooring in Europe, although
renovation is creates significant additional activity.

It also notes that despite the long and wet winter in
Europe, the availability of raw material is not a critical
issue for the time being. This implies some easing of the
supply problems that have emerged in recent years owing
to the sectors very heavy reliance on oak which now
accounts for around 80% of production.

The report includes a rapid-fire appraisal of the market
situation in each of the countries represented by the FEP
membership:

Austria: parquet sales continued to increase by 2% in the
first quarter 2018 compared to the same period last year.

Belgium: parquet sales are estimated to have 3% during
the first three months of 2018.

Baltic States: Baltic countries¡¯ markets showed a slightly
positive trend in the first quarter 2018.

Denmark: The Danish parquet market remains flat overall,
a decrease in the retail market is compensated by rising
demand from building contracts and projects.

Finland: parquet sales increased by 1% in the first quarter,
mainly driven by moderate growth in large projects while
the residential market is stable.

France: parquet sales are gradually recovering, rising an
estimated 2% in the first quarter of 2018.

Germany: parquet sales are estimated to have fallen 5% in
the first quarter of 2018 compared to the same period in
2017.

This decrease reflects the subdued residential market, a
lack of installation professionals, intense competition from
¡°wood look¡± floor coverings, and diminishing store space
allocated for hardwood flooring by DIY retailers.

Italy: parquet sales increased 2% in the first quarter of
2018 and continue to benefit from more positive economic
developments in the country.

Netherlands: parquet sales increased by an estimated 3%
during the first quarter 2018 in line with improving
economic conditions in the country.

Norway: the market was flat with some signs of slight
improvement (less than 1% growth) during the first
months of 2018.

Spain: despite the turbulent political situation, the Spanish
market expanded slowly by between 1% and 2% in the
first quarter of 2018.

Sweden: parquet consumption increased 2% in the first
quarter. Declining retail sales were offset by increased
demand from building projects. Sweden is currently the
most dynamic market in Scandinavia.

Switzerland: parquet consumption remains flat but at a
high level with numerous large on-going renovation
projects.

Weak start to the year in UK construction sector
As a country without a significant domestic flooring
manufacturing sector, the UK is the only large EU
consuming country not covered in the FEP¡¯s rapid
appraisal of market conditions. However, information
from the UK Construction Products Association (CPA)
indicates market conditions for flooring and other joinery
products in the UK deteriorated in the opening months of
2018.

According to the CPA¡¯s market statement for the first
quarter of 2018, the start of the year was a bad one for UK
construction. Carillion, the UK¡¯s second biggest
contractor, went into liquidation in January and this led to
an hiatus on infrastructure and commercial projects. Poor
weather also badly affected work on site in February and
March and, as a result, 2018 Q1 construction was around
£1.5 billion lower than in 2017 Q4.

The CTA statement goes on to note that construction
activity in the UK is forecast to be flat this year and rise by
2.7% next year, primarily driven by infrastructure and
private house building.

Infrastructure output is forecast to grow 6.4% this year and
13.1% in 2019 as main civil engineering work commences
on several large projects. In private housing, output is
forecast to rise 5.0%, with demand for new build
underpinned by government support for first home buyers.

This performance contrasts with other sectors of the
construction industry, however. The sharpest decline is
forecast in the commercial sector, where a post-EU
Referendum fall in contract awards for new offices space
since the second half of 2016 is expected to translate into a
fall in activity this year. Office construction is expected to
decline 20.0% in 2018 and 10.0% in 2019.