Japan Wood Products Prices
Dollar Exchange Rates of 25th April 2018
Japan Yen 109.743

Reports From Japan
2019 could mark a turning point on the road to
recovery
The Japanese economy has enjoyed a period of stable
growth buoyed in part by the Bank of Japan¡¯s weak yen
policy and more recently by improvements in global
economic expansion.

But short-term prospects have become precarious. The
government is under attack for a series of scandals
involving officials and public support for the Cabinet has
dipped. This, and the prospect of a hike in the sales tax
next year, is bearing down on both business and consumer
sentiment.

2019 could mark a turning point on the road to recovery
according the International Monetary Fund which is
forecasting slower growth. This, combined with an
anticipated fall in consumer demand because of the sales
tax increase and the suggestion from the BoJ that it could
begin unwinding its easy monetary policy, does not bode
well for the economy.

Angel Gurr¨ªa, OECD Secretary-General, was recently in
Tokyo and during a meeting with the media said Japan
faces important challenges if it is to achieve sustainable
and inclusive growth and labour productivity is one of the
major challenges.

The press release from the OECD says the government
recently launched the New Economic Policy Package,
which aims to double labour productivity growth to 2.0%
per year by 2020. The Package has a number of measures
to boost innovation, including financial support for
investment by SMEs and tax incentives for investment
increases. In addition, Japan is promoting the development
of new industries.

Japan has exceptionally high levels of human capital and a
skilled labour force, which, together with high R&D
intensity, has made it a world leader in technology.
Raising productivity requires better leveraging these
important strengths. Enhancing co-operation between
industry and academia and strengthening Japan¡¯s
integration in international research networks would
increase the return from R&D.

Strengthening Japan¡¯s integration into the global economy
would also boost productivity. Achieving the 2013 goal of
doubling inflows of foreign direct investment by 2020 and
continued measures to enhance openness to trade, building
on the TPP-11, are priorities in this regard.

See: http://www.oecd.org/about/secretary-general/oecd-sg-pressconference-
japan-april-2018.htm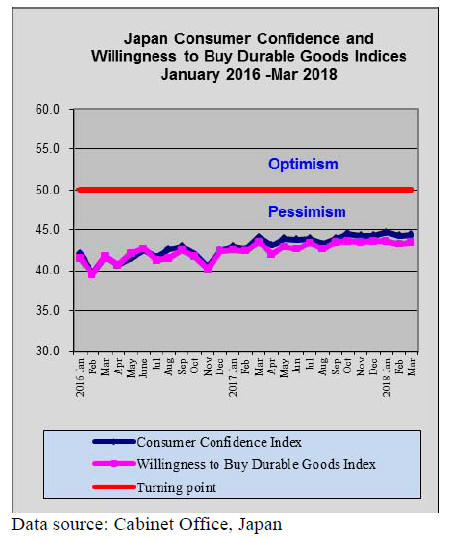 Up-tick in US dollar brings some relief to Japanese
exporters
The US dollar strengthened for five consecutive days
towards the end of the month driving down the yen
exchange to yen 109 to the dollar.

Japan¡¯s March trade balance continued in surplus but there
was a dip in exports to the US and the EU. The weaker
than forecast growth in exports, despite an improving
global economy, seems to be related to increased
uncertainty driven by fears of a trade war between the US
and China.

The modest weakening of the yen was also attributed in
part to domestic politics. The approval rating of the
Japanese cabinet has slumped as the opposition continues
to attack the ruling party. There have been calls for the
Prime Minister to resign.

Several analysts have commented that it seems odd that
the yen should weaken against the US dollar on rumours
that the Prime Minister may resign since it is he that firmly
supports the weak yen policy of the Bank of Japan (BoJ).
If he resigns there is no certainty that this support for the
BoJ would continue.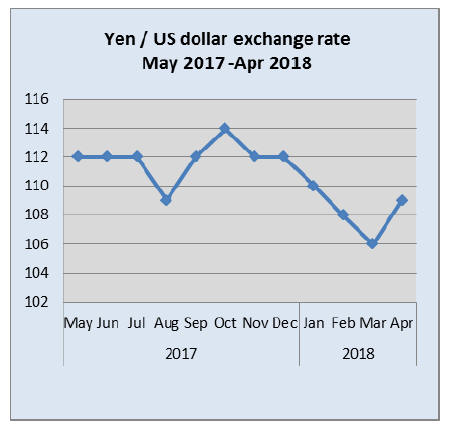 8% drop in March housing starts
Data from Japan's Ministry of Land, Infrastructure,
Transport and Tourism showed housing starts continued to
decline in March. Starts declined over 8% year-on-year in
March, much faster than the 3% year on year decline in
February. At the current pace annualised housing starts
would come in at 895,000 for the year.

Data also showed that construction orders received by big
50 contractors dropped 4% in March after a sharp growth
of 19% in February.

Foreign investment pouring into Japanese real estate
Foreign investors are pouring into Japanese real estate
particularly business premises. Between 2014 and 2017
overseas real estate investment funds have spent around
US$15 billion in Japan and continue to do so believing
that the Bank of Japan will hold down interest rates for the
medium term.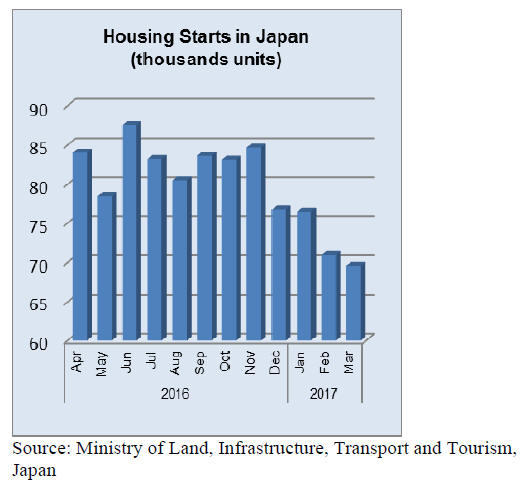 Demand for office accommodation has been boosted by a
period of economic expansion, the best for more than 15
years which buoyed capital investment especially by the
big corporations.

For as long as the yen is held down against the US dollar
exporters in Japan can expect healthy growth.

For more see: https://www.cbre.com/research-and-reports/apacreal-
estate-market-outlook-2018

Import round up

Doors

February door imports
February imports of wooden doors (HS441820) continued
to rise compared to a year earlier rocketing up almost 50%
year on year. However, compared to the value of imports
in January there was little change in February.

In February there was a sharp rise in imports from China
which accounted for almost 70% of all wooden door
imports to Japan (58% in January). The combined value of
imports from Philippines and Indonesia plus those from
China amounted to around 90% of all February imports.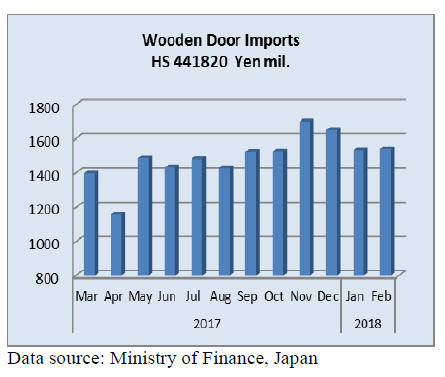 Window imports

February window imports
February marked the third straight decline in the value of
wooden window imports. Year on year February imports
dropped 8% and month on month the value of imports fell
6%.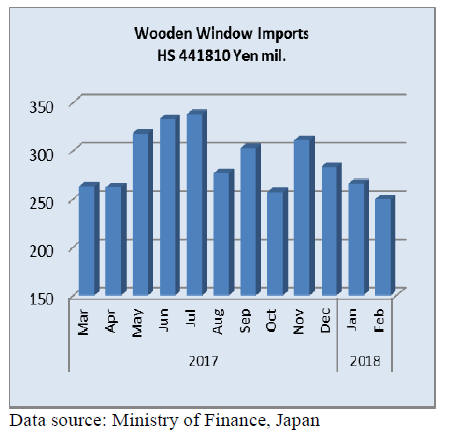 The top three shippers of wooden windows to Japan
remain China (45%), the Philippines (22%) and the US
(16%) thus accounting for over 80% of all wooden
window imports by Japan.

Assembled flooring

January imports
As in previous months wooden flooring imports were
dominated by HS 441875 followed by HS441879.

Together these to categories of assembled flooring account
for almost 90% of all assembled wooden flooring imports.

In order of rank by value, China, Sweden and Thailand
were the main shippers of HS441875 in February while for
HS441879 the main shippers, in order of rank, were
Thailand, China and Indonesia.

Year on year February imports rose over 45% but
compared to the value of imports in January there was a
16% decline in February.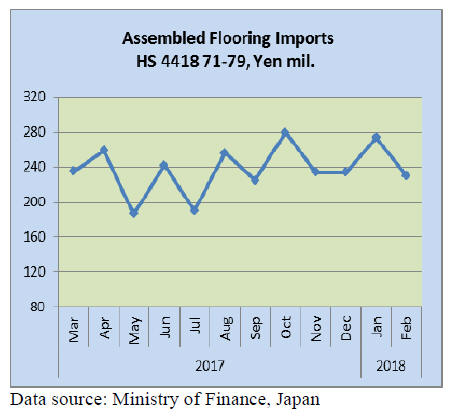 Plywood

February plywood imports
Plywood in HS 441231 accounted for most of Japan¡¯s
imports of plywood and in February accounted for over
85% of all plywood imports. HS441234 accounted for just
8% of February plywood imports and HS441239 less than
1% of imports.

Year on year two of the top three shippers of plywood
(Indonesia and China) increased exports to Japan in
February but shipments from Malaysia were down
compared to a year earlier.

However, month on month, both Malaysia and Indonesia
saw shipments to Japan decline. Shipments from Malaysia
were down 17% while shipments from Indonesia were
down around 14%.

Trade news from the Japan Lumber Reports (JLR)
For the JLR report please see:
http://www.nmokuzai.
com/modules/general/index.php?id=7

Wood use for public buildings
The Ministry of Agriculture, Forestry and Fisheries and
the Ministry of Land, Infrastructure, Transport and
Tourism announced that percentage of wood used for
public buildings built in 2016 fiscal year. After the 2010¡¯s
law to promote using of wood for lower level public
building, survey is made to see how much wood is used
for lower level public buildings (lower than three stories).

Result of wood use for 97 low level public buildings was
43.3%, 14.4 points lower than 2015. Wooden buildings
were 42, 22 units less than 2015 but by large buildings
with floor space of 1,500 square meters, total floor space
of wooden units doubled compared to 2015. Therefore,
total wood use including interior use increased by 60%.
The Ministries are investigating reasons why buildings are
not wooden.

In 97 public buildings with total floor space of 13,816
square meters, wooden units were 42 with 7,282 square
meters. In remaining 55 units, 35 units are not suitable for
wooden building. Some need to have structure with heavy
load with cranes and some use plenty of water for cleaning
like glass built sun room or storage of precision machines.

Anyway it is necessary to make more campaign to other
government offices to promote of using wood for newly
built buildings. Lack of awareness may be the largest
reason.

South Sea (tropical) logs and lumber imports in 2017
Total import of logs from South Sea countries was
146,806 cbms, 24% less than 2016. During 2017, one of
major South Sea plywood mills quit. Remaining plywood
mills purchase quality logs instead of volume.

By source, 71,202 cbms from Sabah, Malaysia, 29.7%
less. 40,689 cbms from Sarawak, Malaysia, 24.3% less.
6,029 cbms from Solomon Islands, 18.9% less. 28,886
cbms from PNG, 12.6% less.

During 2017, India¡¯s aggressive purchase pushed log
export prices up. In Sarawak, the government raised rate
of timber premium, which also pushed log prices.

In the South Sea countries, harvest restriction of natural
grown timber tightened not only in Malaysia but in other
countries like Myanmar, Laos and Cambodia so hungry
India and Vietnam bought heavily in the Solomon Islands.

In Sarawak, harvest quota is reduced by 20-30% while
quota for local supply expanded from 70% to 80%. With
all these factors, export price of merati regular soared over
US$300 per cbm FOB and even local plywood mills
suffered log shortage.

Log import from Africa in 2017 was 3,787 cbms, 4.1%
more than 2016.

Lumber import was 259,000 cbms, 4% less than 2016.
156,000 cbms from Indonesia and 71,000 cbms from
Malaysia. Both are almost same as 2016. Products are
259,000 cbms of free board, 80,000 ccbms of lumber and
130,000 cbms of processed products.

2017 review of plywood and board
Wooden panel (plywood and board) supply in 2017 was
9,122,748 cbms, 3.7% more than 2016. It is increase of
326,986 cbms. In this, domestic supply was 5,095,378
cbms, 2.8% more and imported panel was 4,027,370 cbms,
4.9% more.

Share of domestic and imports is 55.8:44.2. In volume,
domestic increased 137,320 cbms and the imports
increased 189,666 cbms.

Item of increase is almost all plywood. Domestic increase
of plywood was 146,949 cbms and the imports plywood
was 133,469 cbms.

Domestic softwood plywood production was 3,064,765
cbms, 6.1% more. This is the first time that the production
exceeded three million cbms.

New housing starts in 2017 were 964,641 units, 0.3% less
than 2016. Wood based units were 545,366, almost the
same as 2016. Wood panel supply peaked in 2013 and it
had been declining since then bottomed out in 2015 and
the increase has been for two straight years.

Looking at plywood supply, domestic supply keeps
increasing but the import plywood has been below three
million cbms since 2015.

Domestic plywood manufacturers enjoyed record profit.
Demand for structural panel continues firm then demand
for non-structural panel like floor base and concrete
forming is sharply increasing.

Plywood manufacturers dictate the prices, supported by
brisk demand. Prices of 12 mm 3x6 panel in January 2017
was 980 yen per sheet delivered. 1,000 yen in February.
1,030 yen in September. 1,050 yen in March this year.

Export of domestic plywood in 2017 was 113,846 cbms,
first time to pass 100 M cbms in last five years. The
largest destination is the Philippines.

Supply of South Sea hardwood plywood continues
declining because of log supply shortage in producing
regions by foul weather and various restrictions. Items like
floor base and thin plywood are very tight in supply.

Domestic production of other wooden panels in 2017 was
1,884, 857 cbms, 0.5% less than 2016 while supply of
imported panels was 1,123,251 cbms, 5.3% more.

Major item of the increase is MDF. MDF manufacturers
suffered procurement of material logs and higher prices.
Also high cost of adhesive bond affects manufacturing
cost.

Domestic softwood plywood production has been holding
high level all through 2017.Total production was
3,064,765 cbms, 6.1% more than 2016. This is record high
production and first time to pass three million cbms. Also
the shipment was record high at 3,055,708 cbms, 4.0%
more.

All the plywood plants continued unusually high level
production. With high level consumption, the inventories
have stayed low like only 93 M cbms at the end of
December for monthly shipment of over 250 M cbms so it
was practically hand-to-mouth situation.

The largest change in 2017 was increasing production of
non-structural panels like floor base and concrete forming
panel.

These items relied on South Sea hardwood plywood but
declining supply from Malaysia and Indonesia, domestic
floor manufacturers feel uneasiness for future supply and
have been shifting to domestic softwood plywood.

Production of non-structural plywood in 2017 was
139,172 cbms, 37.2% more than 2016. Plywood plants
have been busy satisfying brisk demand of structural
plywood but considering change of demand structure in
future, they have been producing these items.

Floor manufacturers speeded up shifting to softwood
plywood particularly in the second half of last year after
the prices of South Sea plywood soared. Problem for
softwood plywood plants is procurement of logs and
logistics. Shortage of truck drivers is serious problem so
delivery delays for long distance trucking.

Log procurement is another problem. Mills have made up
log supply network with forest unions and timber owners
but after mills started making non-structural panels, not
only volume but quality becomes important since floor
base needs higher quality logs.

In 2017, sawmills and laminated lumber manufacturers
showed strong demand for logs so competition became
severe for plywood mills.

There will be three more plywood mills starting up this
year so log demand further increases. Also recently started
sawmills have large capacity so log purchase scramble
will get fierce among users.