Report from North America

Keruing sawnwood imports rise twofold in February
The U.S. imported 80,012 cu.m. of temperate and tropical
sawn hardwood in February, up 18% from January, but the
value of imports was down. The volume increase was in
several temperate species, while tropical sawn hardwood
imports declined to 17,820 cu.m. Year-to-date tropical
hardwood imports were down 7% compared to February
2017.

The largest month-over-month decline was in imports
from Brazil. Imports of almost all species from Brazil fell,
with ipe sawnwood imports decreasing 15% from January
to 2,627 cu.m. Fewer than 200 cu.m. of Brazilian
mahogany were imported, down from 1,345 cu.m. in
January.

Sawnwood imports from Malaysia on the other hand
doubled from January due to higher keruing imports.

Canadian tropical sawnwood imports recover
Following three months of lower imports, Canadian
imports of tropical sawnwood increased to US$1.5 million
in February. Still year-to-date imports were down by
almost one third from February last year.

Imports from most major supplier countries declined
month-over-month except for imports from Congo
(formerly Zaire), Malaysia and the U.S. Imports from the
U.S. accounted for one third of total tropical sawnwood
imports.Over 40% of February imports were ¡°other
tropical¡± i.e. not captured in the HS codes that specify
species.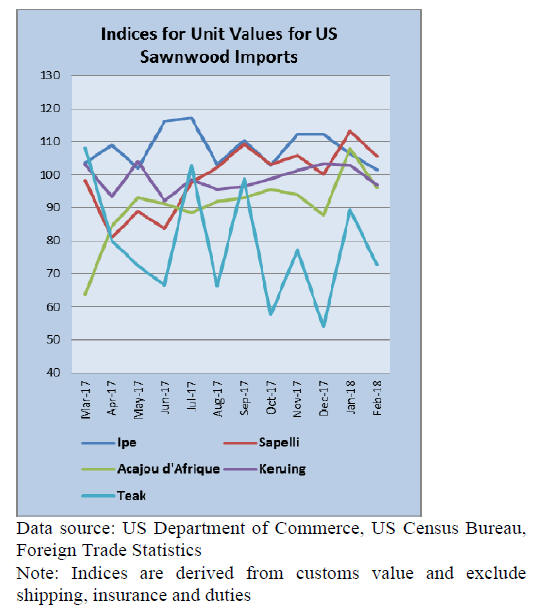 Formaldehyde emission limits, testing and labelling
As the June 1, 2018 deadline approaches for the main
requirements of the EPA¡¯s Formaldehyde Emissions
Standards rule, trade associations are offering guidance for
manufacturers and importers of composite wood products,
component parts, and finished goods containing composite
wood products, such as furniture.

The Composite Panel Association offers a comprehensive
overview including all compliance dates on their website
at https://www.compositepanel.org/publicpolicy/
formaldehyde-standards-tsca-title-vi.html

The American Home Furnishings Alliance is offering two
webinars in April. The first webinar reviews the
responsibilities of third-party certifiers and composite
board manufacturers relating to the new June 1 deadline,
while the second webinar is addressed at the downstream
users in the supply chain including fabricators and
importers.

The EPA offers information and resources for industry on
its website in the section ¡°Resources for Rule
Compliance¡± at https://www.epa.gov/formaldehyde

Furniture industry escapes Trump tariffs
In early April the Trump administration announced $50
billion of new tariffs largely targeted at China. The tariffs
appear not to directly affect imports of furniture,
components or textiles used in furniture manufacturing in
the U.S. Machinery and tools for wood processing and
furniture production may be affected by the tariffs. A date
has not been set for when the tariffs will go into effect.
China responded by announcing tariffs on U.S. exports to
China.

Canadian wood product industry applauds CP-TTP
Canada¡¯s wood product industry predicts better access to
key global export markets, especially in Asia. The
remaining members of the Comprehensive and
Progressive Agreement for Trans-Pacific Partnership
(CPTPP) - Australia, Brunei, Canada, Chile, Japan,
Malaysia, Mexico, New Zealand, Peru, Singapore, and
Vietnam ¨C agreed to a revised trade deal after the U.S.
under the Trump administration abandoned the agreement.

The Forest Products Association of Canada expects the
following reductions in tariffs on Canadian wood exports:
31% tariff to Vietnam for certain kinds of wood, going
down to 0% starting Year 1 of the agreement.
40% tariff to Malaysia for plywood, down to 0% by Year
6. 10% tariff to Japan for wood products, going down as
low as 5% in Year 1 and 0% as early as Year 11.