Japan Wood Products Prices
Dollar Exchange Rates of 10th April 2018
Japan Yen 107.20

Reports From Japan
Business sentiment close to 10 year high despite short
term risks to growth
The Bank of Japan¡¯s (BoJ) quarterly ¡®Tankan¡¯ survey
points to declining confidence on the part of major
companies, a reversal of the trend in the previous survey.
For small and medium sized companies which account for
considerable employment in manufacturing, their
assessment of prospects in the medium turn have become
more pessimistic.

Amongst the major companies sentiment worsened for the
first time in two years in just over two years and analysts
put most of the damage on the strengthening yen and fears
of a trade war between the US and China.

The Japanese government is concerned that a
strengthening yen and global trade friction could
undermine the economic progress that has been achieved
through its export led growth strategy which has benefitted
from improved global growth.

A strong yen drives down the competitiveness of Japanese
exports and also undermines overseas profits in terms of
yen.

However, the latest survey from the BoJ should be viewed
in the context of improvements that have been achieved in
economic growth in Japan The prime index for business
sentiment is still close to the highest in over a decade. In
Japan, the coincident index, which reflects the current
economic activity, rose confounding forecasters.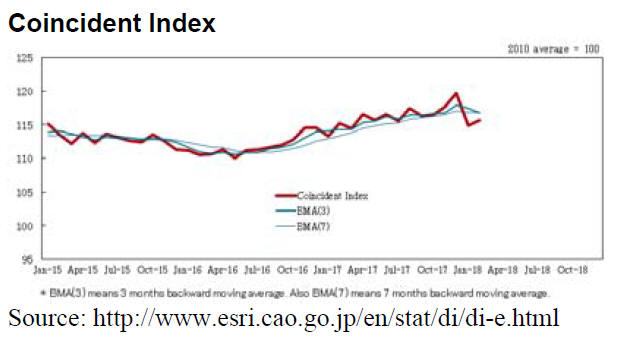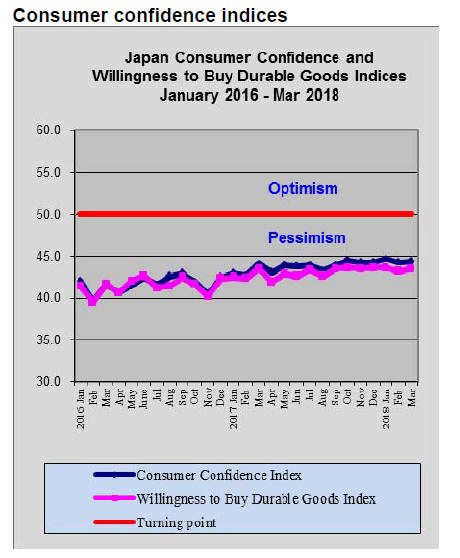 Weak yen policy likely face criticism from US
The Japanese government is preparing for tough
negotiations with the US government which is determined
to redress trade imbalances.

In particular, Japanese officials are worried that the US
will target the country¡¯s weak-yen policy which is helping
exporters and supporting economic improvement. If the
recent trade deal with South Korea is any guide, currency
devaluation will be on the negotiating table. Last month in
talks between the US and South Korea currency policies
were discussed.

If Japan¡¯s Prime Minister is faced with questions on the
yen weakness he will have great difficulty in convincing
the US that a weak yen is good for both countries and not
a source of the US deficit.

Analysts write that Japan accounts for less than 10% of the
US trade deficit but even the idea that the currency will be
a topic of discussion is driving the yen up. The strongest
argument for Japan is that over the past 20 years there has
been a marked change in the Japan/US economic
relationship from Japanese companies exporting to the US
to being major investors in the US to market directly to US
consumers.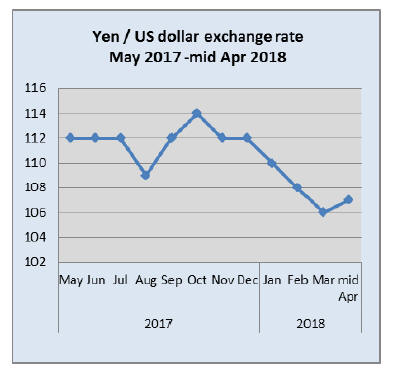 Affordable homes in Tokyo
Surprisingly, rents for homes in Tokyo are well below that
of other major cities around the world and rents have
remained at much the same level over the past 10 years. If
anything, there has been a downward pressure on rents.

Behind the ¡®affordable home¡¯ scenario, the envy of
urbanites in London, New York and Paris, is the continued
pace of new home starts. Tokyo adds around 100,000 new
homes annually which exceeds demand even given the
pace of migration from rural areas.

These new homes are mainly high rise, there is nowhere in
Japan to build dormitory cites, a common approach in
other parts of the world. This means that home size has not
been affected; in fact data show that the average home size
in Tokyo is increasing despite increased housing density.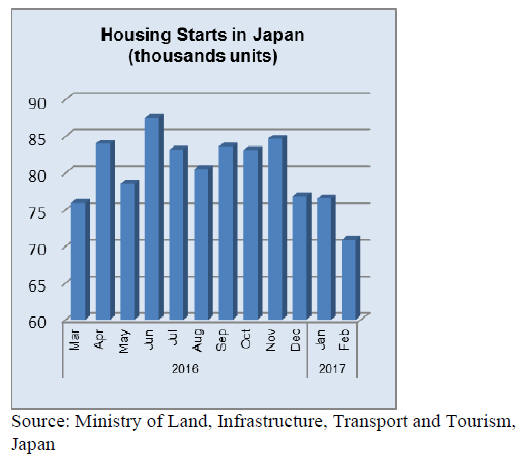 Furniture imports
The value of Japan¡¯s January 2018 wooden furniture
imports all trended higher. A sharp increase in month on
month imports of kitchen furniture was particularly
noticeable. Imports on wooden office and bedroom
furniture also trended higher in January compared to levels
recorded for the previous month.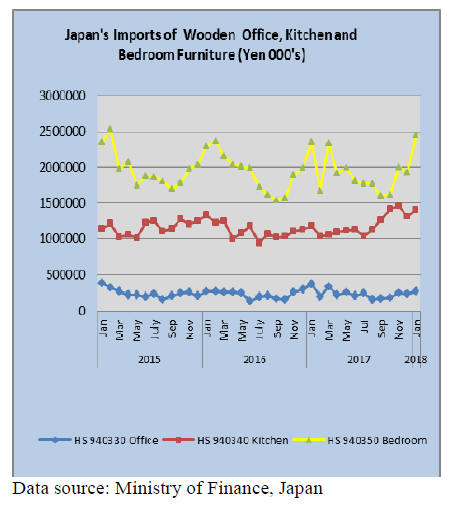 Office furniture imports (HS 940330)
Since the low reported for August 2017 Japan¡¯s imports of
wooden office furniture have risen for 5 consecutive
months. January 2018 imports were up 11% compared to a
month earlier but January imports were down 27%
compared to levels in January 2017.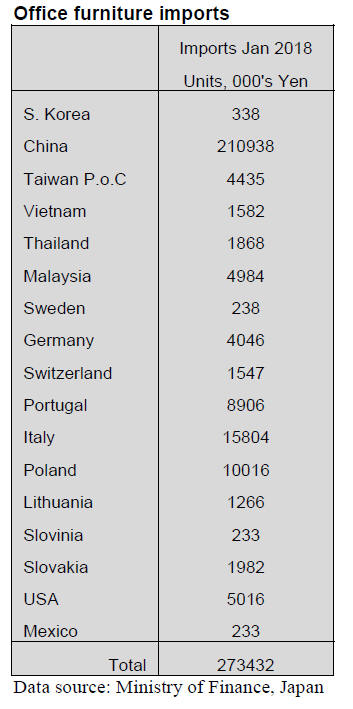 The top four shippers of wooden office furniture (HS
940330) to Japan in January 2018 accounted for almost
90% of all imports of this category of furniture. China was
the largest supplier at 77% of the total in January followed
by Italy, Poland and Portugal.
Of the top 4 shippers only Italy saw a drop in sales to
Japan in January. Shippers in the EU accounted for around
16% of Japan¡¯s wooden office furniture imports in
January.

Kitchen furniture imports (HS 940340)
There was a sharp rise in Japan¡¯s imports of wooden
kitchen furniture in January 2018. Month on month,
import values rose 7% and year on year January 2018
imports were 19% higher. The Philippines is emerging as
the major supplier of wooden bedroom furniture to Japan.

Shippers in the Philippines have consistently shipped to
japan but the 45% share of January imports of wooden
kitchen furniture is significant. Vietnam is the other main
supplier and in January its share of imports of this
category of furniture was 36%. China is the third ranked
shipper.
Bedroom furniture imports (HS 940350)
While January 2018 imports of wooden bedroom furniture
were only 4% higher than in the same month in 2017 there
was a 27% increase on month on month imports.

Japan¡¯s imports of wooden bedroom furniture dipped in
the second quarter of 2017following the trend observed for
both 2017 and 2016 but since the low in September 2017
import values for wooden bedroom furniture have been
rising. In January this year there was a 13% increase in
shipments from China, the number one supplier, a 45%
increase in shipments from Vietnam, the number two
supplier and a threefold increase in shipments from
Malaysia.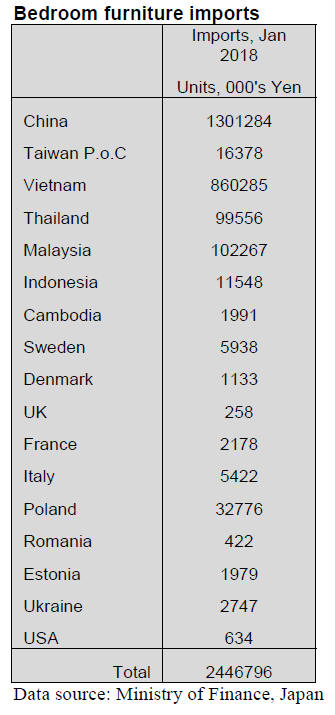 Trade news from the Japan Lumber Reports (JLR)
For the JLR report please see:
http://www.nmokuzai.
com/modules/general/index.php?id=7

Challenge of (domestic) afforestation
The Forestry Agency has stopped the policy of long range
harvest with thinning and changed to clear cutting and
afforestation since 2013 and speeds up this policy.
However, problems arose main harvest and ensuing
reforestation.

In last several years, replanted area is only 20,000 hectares
for the area of 50,000 hectares of main harvest. Main
reasons of difficulty of reforestation are labor shortage,
shortage of nursery stock, lack of subsidy and damages by
deer but the largest reason is unwillingness by forest
owners.

There is no solution to this problem. There is subsidy of
68% of reforestation cost yet owners need to spend
300,000-500,000 yen per hectare. It is owners¡¯ decision if
they are willing to reinvest for reforestation but it is not
attractive investment after log prices dropped. For owners,
there are plenty of other investments as compared to long
range investment of 50 years until trees grow and harvest.

Another problem is secret felling. After log prices
increased in Miyazaki prefecture, there are many robbing
of trees which owner is not aware so such forestland is left
without reforestation.

The new forest management law requires timber owners to
reforest after harvest as obligation with penalty but there is
no case of penalty so far.

Whenever timber is harvested, the owner needs to file
harvest plan to the government and it is required to
describe how the owner plans to do of harvested area.
Other than reforestation plan, natural regeneration is
another choice for the owner. If trees grow in certain
density and height after five years, it is acknowledged as
natural regeneration but there are many hectares of
unmanaged land covered with nothing but bushes.

Newly introduced forest management system is supposed
to put main harvest and replantation as one unit. Local
government is assigned management right from unwilling
timberland owners and ask highly motivated neighboring
owners to manage and replantation is obligation but for
owners, cost of replantation is deducted from revenue of
sales of timber.

After all, there is no incentive for the owners to invest for
replantation. This is serious issue for future of forest
management in Japan.

South Sea (Tropical) lumber and logs
Plywood mills South Sea hardwood log inventories
continue scarce. The mills are willing to pay higher prices
if quality logs are available but it is hard to see any
recovery of log supply so mills are looking for other
species but meranti.

Market prices of Sarawak meranti regular log C&F are
12,000 yen per koku or higher and Sabah kapur log prices
are 16,000 yen or higher.

Demand for concrete forming panel made by South Sea
logs is not so active but because of tight supply of
imported panels, certain amount of orders continue
coming in for domestic plywood mills.

Logs from PNG and Solomon Islands are heavily bought
by Chinese so Japan has very little chance to buy.

Demand for imported laminated free board is slow but the
supply from producing regions is declining because of
tight log supply. The market prices are holding steady.

North American log import in 2017
Total volume of logs imported from the North America in
2017 was 2,604,825 cbms, 6.7% less than 2016.

Decrease by species is 133,000 cbms of Douglas fir, 5.2%
less but in percentage, hemlock was the largest by 25.7%.
Also decrease of Sitka spruce by 19.0% and yellow cedar
(cypress) by 16.2% is large.

Decline is not only by demand decrease but by climate
factor in the North America and also by hot North
American lumber market, which pushed the prices sharply
in the second half of the year.

Despite starts of wood based units in 2017 increased by
8.1%, log import decreased, which means the market relies
less on the North American logs. Lumber demand declined
as structural laminated lumber with European lamina and
domestic logs took larger share in lumber market.

Douglas fir supply from the U.S.A. was 1,589,015 cbms,
8.3% less than 2016 and from Canada was 820,203 cbms,
1.4% more. This is two straight years¡¯ increase from
Canada. Compared to 2015, it is 31.7% increase.

With countervailing duty and anti-dumping duty imposed
on Canadian softwood lumber, robust lumber market in
the U.S.A and resultant higher log prices were expected
from the beginning of the year so that the Japanese
Douglas fir cutting sawmills increased purchase of
Canadian Douglas fir logs together with softwood
plywood mills in Japan but unexpected severe winter
weather and the worst forest fires reduced log production
and the prices soared.

IS sort FAS prices in July 2017 were $860 per M Scribner
then it shot up to $1,040 in January 2018.
Hemlock and yellow cedar grow in high elevation so
heavy snow delayed start of logging.

North American lumber import in 2017
Import volume of North American lumber in 2017 was
2,199,239 cbms, 1.6% less than 2016. This is four
consecutive years¡¯ decline. SPF lumber increased by 1.8%
but Douglas fir volume remained the same as 2016 then
volume of hemlock, spruce and yellow cedar (cypress)
decreased considerably.

Reasons of decline are hot North American lumber market
and higher prices for China then progress of demand
decline for traditional lumber use in Japan.

Import of SPF lumber was the highest since 2013 but it is
13.7% less than 2013 and compared to the peak of 2008, it
is 16.5% less. 2x4 housing starts continues high but the
main type is apartment so that use of 2x4 lumber per unit
is much less than detached unit. SPF lumber had been
superior in cost performance but now supply stability is
shaky with higher prices, the users are looking for
substitutions.

Hemlock declined largely by 15.0%. Compared to 2013,
decline is 37%. Hemlock lumber has competitive edge to
Douglas fir lumber but number of suppliers is limited so
the supply stability is not as good as Douglas fir. Hemlock
lumber took share of Douglas fir lumber but severe winter
weather and forest fires reduced the supply volume so
attempt to grab larger share of Douglas fir lumber market
failed. Yellow cedar lumber supply dropped much more
than hemlock by 20.5%.