Japan Wood Products Prices
Dollar Exchange Rates of 25th March 2018
Japan Yen 105.4

Reports From Japan
Missing element in plan to beat deflation
Wages for workers in Japan fell in December and worse,
the decline was the quickest in six months. This was
despite the continuous efforts on the part of the
government to try and convince companies to raise wages.

Rising incomes is a cornerstone of the government¡¯s plan
for the economy. The argument goes that as wages rise
this would spur consumption to lift the economy. This is
not happening even as the labour market heats up and
unemployment falls.

The Ministry of Labour, Health and Welfare figures
demonstrate that, year on year, wages (adjusted for
inflation) were down 0.5% in December 2017. What
seems to be missing from the economic plan is how to lift
confidence amongst households and release some of the
savings into the economy.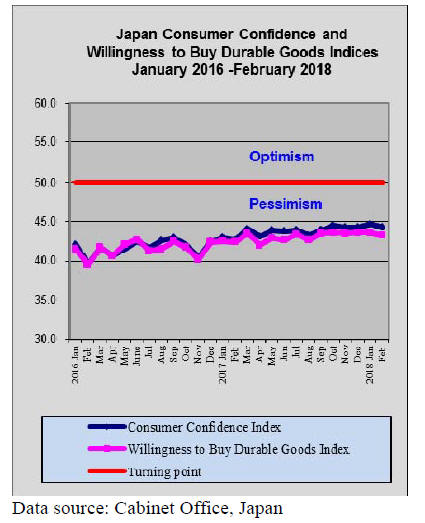 Trend to higher interest rates ¨C except in Japan
At its latest meeting the Bank of Japan (BoJ) indicated that
it plans to maintain its monetary policy despite the modest
economic expansion but also because expectations for
rising wages have not been met.

The risk is that any change to the policy of the BoJ will
immediately impact the yen/dollar exchange rate and for
now the Bank does not want to see the yen strengthen and
undermine exports. If the yen appreciates beyond 100 to
the US dollar Japanese exporters will suffer. Currently the
yen is 106 to the dollar after strengthening sharply over
the past 3 months.

Analysts point out that in most other major economies the
trend is towards higher interest rates which puts Japan in a
class of its own. Interest rates in the US are set to rise
throughout the year and in the EU rates are firming as they
are elsewhere creating even more of a divergence between
Japan and the rest of the world.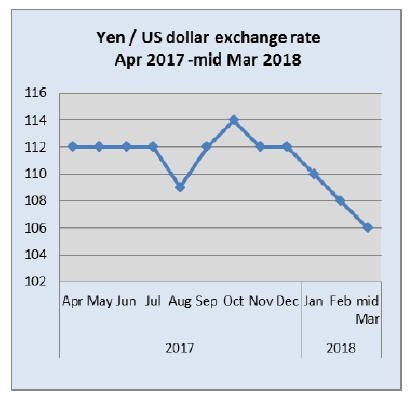 ¡®Slash and burn¡¯ Japanese homes
The housing market in Japan is unique in that the value of
an average Japanese home depreciates rapidly, in sharp
contrast to other countries where the home is considered as
a sound investment and retains its value.

In Japan, after around 30 years families usually follow the
local tradition and consider demolishing the house and
rebuilding. Across Japan, sales of new homes are much
higher than second hand homes, the reverse of the
situation in western countries.

The short replacement cycle is good for home builders but
a waste of resources and does not create wealth and the
confidence that brings to home owners.

The Economist Newspaper has quoted Chie Nozawa of
Toyo University as saying this is just like ¡®slash-and-burn¡¯
farming. As the population declines there is little
justification for continuing this cycle of home
replacement. To give it credit the Japanese government is
looking to realign housing policies to encourage the sale of
secondhand homes.

As if to drive home the state of the Japanese real estate
market, the domestic media has reported that in 2017 over
US$3 billion was invested in overseas real estate by
Japanese companies and pension funds. This was almost
double the investment in 2016.

This marks a significant shift as previously investments
have been focused on the domestic market.

Japanese real estate developers have also been moving
into new markets, for example Sumitomo is investing in
multi-million dollar residential projects in India and
Vietnam.

For more see:
https://www.theinvestor.jll/news/japan/others/japanese-investorsboost-
spend-overseas-real-estate/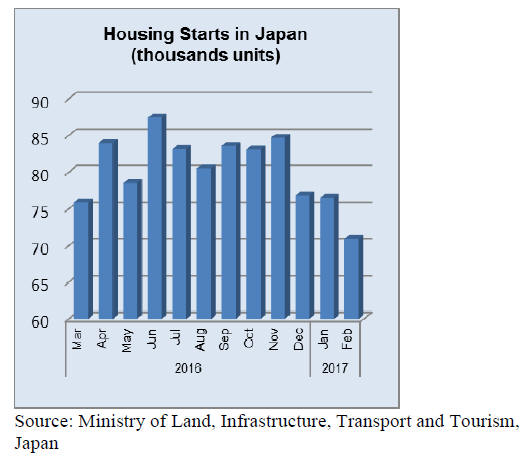 Import round up

Doors

January door imports
January imports of wooden doors (HS441820) were up
20% year on year with the top four shippers, China (58%),
the Philippines (18%), Indonesia (8%) and Malaysia (75)
accounting for over 90% of all January imports.

Compared to a month earlier January imports were down
7%, a reflection of slowed in building activity due to
winter storms across the country.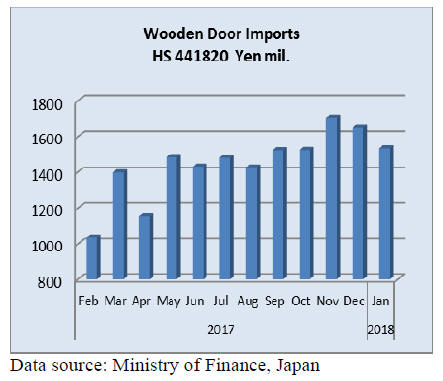 Window imports

January window imports
Four shippers accounted for over 90% of Japan¡¯s January
2018 wooden window imports; China (32%), US (24%)
the Philippines (22%) and Sweden (14%).

Month on month wooden window imports were down 6%
in January but year on year there was a 5% gain in wooden
window imports.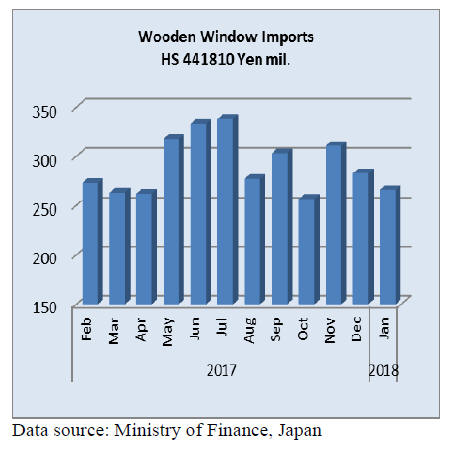 Assembled flooring

January imports
As in previous months wooden flooring imports were
dominated by HS 441875 which accounted for 78% of
January imports followed by HS441879 (13%). China,
Finland, Malaysia, Indonesia and Thailand were the main
shippers of HS441875 (59%, 12%, 7%,6% and 5%
respectively).

Year on year, January 2018 imports of assembled wooden
flooring were down 13% but month on month imports
were up 22%. The figure below illustrates the upward
trend in assembled wooden flooring over the past 12
months.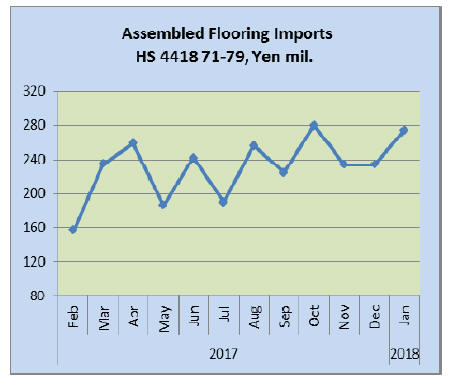 Plywood

January plywood imports
Year on year, Japan¡¯s January 2018 plywood import
volumes were down13% with Malaysia seeing exports to
Japan fall in contrast to the steady year on year shipments
from Indonesia. Shipments of plywood from China
remained stable at around 12,000 cu.m for the month.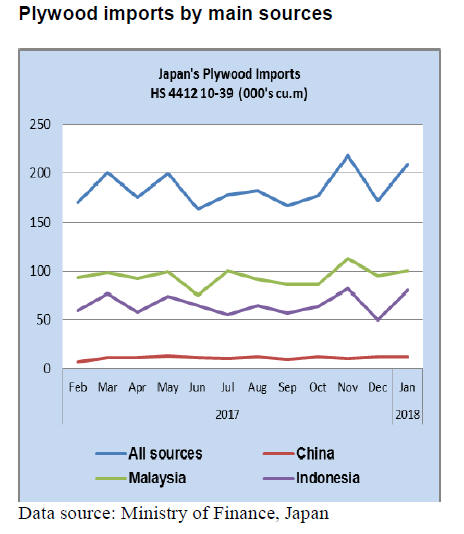 Plywood in HS 441231 accounts for most of Japan¡¯s
imports and in January this category of plywood
accounted for 88% of all imports followed by HS441234
at 6% and HS441239 at just 2%. The balance was
HS441210.

Compared to a month earlier shipments from China were
flat while shipments from both Malaysia and Indonesia
rose. Shipments from Indonesia rose 60% compared to
levels in December 2017.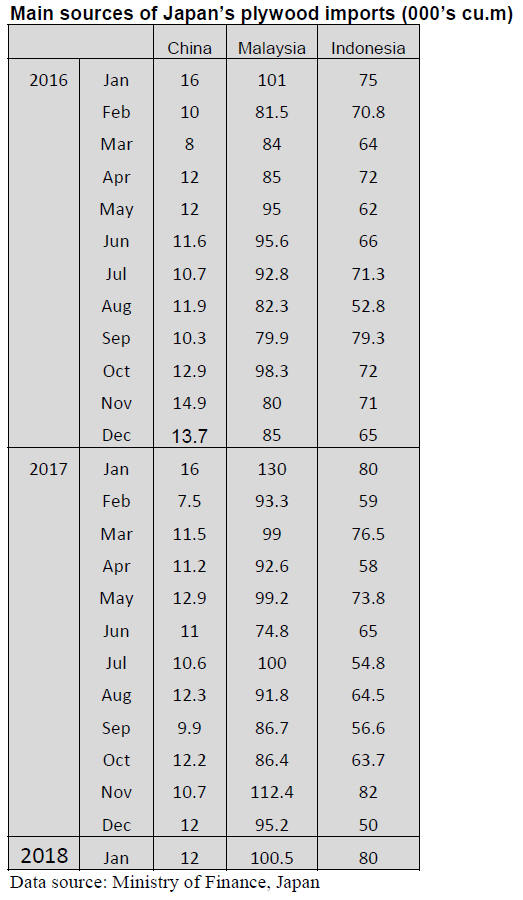 Trade news from the Japan Lumber Reports (JLR)
For the JLR report please see:
http://www.nmokuzai.
com/modules/general/index.php?id=7
Japan¡¯s wood export in 2017
Total value of wood products¡¯ export was 32.6 billion yen,
37% more than 2016. By items log export was 970,000
cbms, 49% more than 2016 and lumber was 130,000
cbms, 49% more. Wood export started increasing since
2013. Total value in 2013 was 12.37 billion yen then it
increase by three times in 2017 with total value of 32,648
billion yen.

The largest factor of the increase in 2017 was log export
particularly for China. Value of log export to China in
2017 was 10.3 billion yen, 84% more.

Volume of log export was 780,000 cbms, 62% more. An
average value per cbm was 13,271 yen as compared to
11,701 yen in 2016, 1,570 yen more in 2017.

Log export to Korea in 2017 was 130,000 cbms, 29%
more with the value of 2.3 billion yen, 22% more. Since
Korea buys heavy to cypress, an average value per cbm
was high at 17,384 yen.

Log export to Taiwan decreased in volume but the value
increased. An average unit price per cbm was 16,000 yen,
3,084 yen more.

Lumber export increased for two straight years by both
volume and value. Main markets of China, Philippines,
Taiwan and Korea increased the volume then cedar fence
lumber for the U.S. market increased by four times by
shortage of North American red cedar supply and soaring
prices. Rough lumber with dark red color is preferred.

Forest Management law to be submit
To support new forest management system, basic idea of
forest management law is drafted. Main idea is
management of forest, which ownership is unknown.
When forest owners consign forest management to local
government, management right of forest, which ownership
is unknown, can be shifted to the local government with
certain procedures, which opens up log harvest from such
forests.

The new forest management system is that local
governments are assigned or donated forest management
right from forest owners, who have no will to manage by
themselves so that the governments can assign log harvest
and replantation to forest owners, who have will and
ability.

For forests, which ownership is unidentified, local
government would give public notice to shift management
to the government and if there is no response in six
months, management right is shifted to the public
government with governor¡¯s decision.

Also if certain forest owner does not agree to consign
management right but it is not managing forest properly,
the government can have management right if neighboring
forest owners hope public management. There are many
forests, which have good condition for log harvest but
ownership is unknown so legal log harvest is impossible.

This new law opens up solution for log harvest from such
forests.

To promote shifting of management right, the government
requires proper forest management as owner¡¯s
responsibility and if mismanagement could cause natural
disaster such as landslide and floor, local government can
order owner to take necessary precautions or the
government can take over and take necessary measures.

Skyrocketing Indonesian plywood prices
Export prices of Indonesian plywood continue to climb
with no sign of slowing down. In particular, thin panel of
2.5 mm prices shot up to about US$1,000 per cbm C&F,
the highest record.

Weather in Indonesia is much worse than Malaysia and
with tightening control of illegal harvest, log production is
plunging. Log production seems to have dropped more
than half of normal pace with no sign of recovery. By this
log supply shortage, plywood mills¡¯ deliveries are largely
delayed.

Even regular suppliers are two to three months behind
schedule and some have not delivered volumes contracted
last summer.

Looking at price trends for Indonesian plywood, the
bottom prices were summer of 2016. 4 mm plywood
prices were about US$600 per cbm C&F, which are about
US$750, 25% up. 2.5 mm panel prices were US$720-750
in 2016, which are now over USUS$950 with some offer
of US$1,020.

In Japan, 2.5 mm panel market prices were 350-390 yen
per sheet in summer of 2016, which are now about 500
yen. 4 mm prices are 630-650 yen, 30-50 yen up from
February.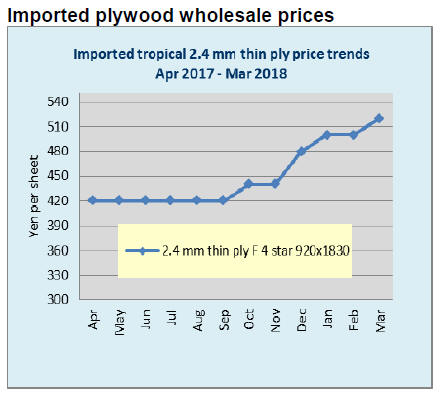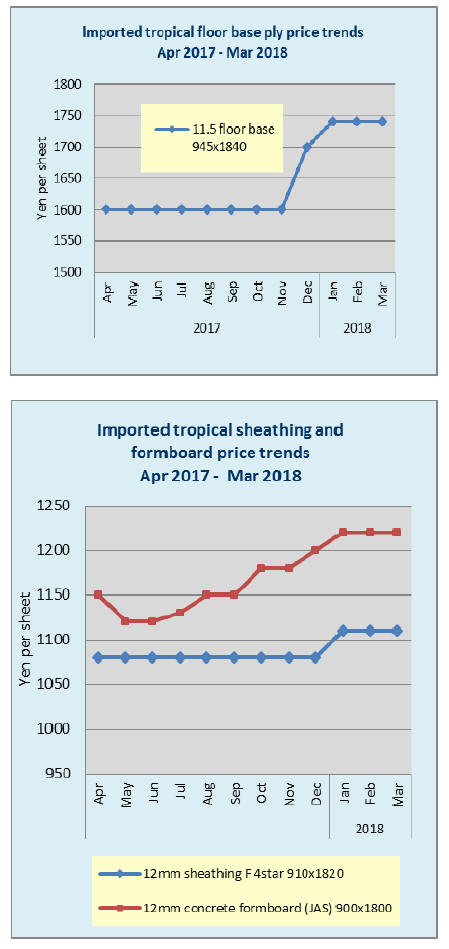 Malaysian plywood market in Japan
Log production in Malaysia continues slow due to
prolonging rainy season so many plywood plants are
forced to shut down and the supply for Japan is largely
delayed.

Supply of coated concrete forming panel is particularly
tight so the prices are firming. Prices of 3x6 JAS coated
concrete forming panel are 1,410-1,420 yen per sheet, 10
yen up from February. The importers are now asking
1,450 yen but there are still some low price offers so price
hike is not going so easy.

However, there is no more offers of less than 1,400 yen so
the pries are gradually climbing. Green 3x6 JAS concrete
forming panel prices are 1,230-1,240 yen, 20 yen up from
February.

Offers made in February are US$530-540 on 3x6 JAS
green concrete forming panel and US$640-650 per cbm
C&F on JAS 3x6 coated concrete forming panel, nearly
US$50 increase. In tight supply, Japan has not much
choice but to accept higher prices to secure the volume.

Plywood
Future supply of South Sea (tropical) hardwood plywood
is becoming more uncertain but with dull demand in
Japan, end users are not so concerned.

Domestic softwood plywood movement is slowing so
supply tightness is easing. Supply of imported plywood in
January was 273,800 cbms, 11.2% less than January last
year and 17.9% more than December.

By source, Malaysian was 103,500 cbms, 22.4% less and
6.4% up. Indonesian was 87,600 cbms, 1.0% less and
54.0% more. Chinese was 63,600 cbms, 7.9% less and
3.9% up. Although the arrivals increased in January, port
inventories remain low and some large warehouse
company commented that the inventories are dropping so
much that they have never experienced.

In Malaysia and Indonesia, rainy season still continue even
in March and high quality logs to produce thin plywood,
floor base and coated concrete forming panel, are very
hard to get so plywood mills have very little log
inventories.

By higher export prices, Japanese floor manufacturers are
increasing the sales prices of flooring and other building
materials since late February. Market prices of coated
concrete forming plywood are hard to go up by inactive
demand.