Japan Wood Products Prices
Dollar Exchange Rates of 10th March 2018
Japan Yen 106.41

Reports From Japan
CP-TTP heralds reduced import tariffs
Japan is one of eleven countries to have signed the
Comprehensive and Progressive Agreement for Trans-
Pacific Partnership (CP-TPP) which was negotiated after
the US pulled out of the Trans-Pacific Partnership
negotiations when the new US administration came to
power.

The CP-TPP will reduce tariffs in participating countries
that together account for over 10% of the global economy
worth US$10 trillion. The CP-TTP eliminates some
requirements of the original TPP demanded by US
negotiators at the earlier TPP talks so efforts to bring the
US into the new agreement will be difficult.

It is difficult to anticipate how long it will be before the
new tariff structures impact consumers in Japan who are
still waiting for signs of improved incomes so continue to
hold onto savings rather than boosting the economy by
spending.
The latest consumer survey by the Cabinet Office in Japan
shows that in February consumer confidence slipped
slightly. The overall index dropped to 44.3 from 44.7 in
January, analysts had anticipated a rise.

The index for livelihood expectations fell as did the
indices for employment and the willingness to buy durable
goods. The only positive news was that consumers are
anticipating some level of income growth.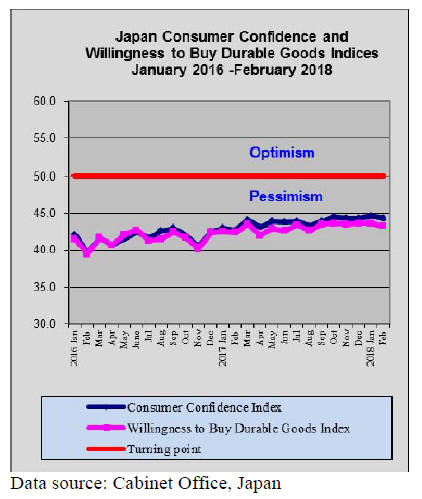 Dollar repatriations drives up yen
After hovering around yen 112 to the US dollar for months
the yen has suddenly strengthened and analysts say this is
likely to continue until the end of March as Japanese
companies with overseas operations repatriate foreign
funds before the end of the fiscal year.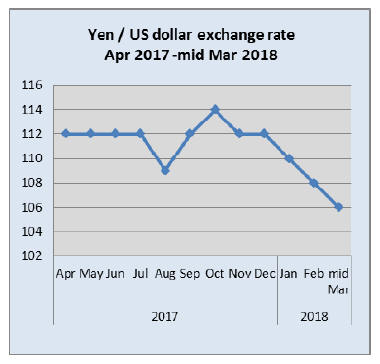 This annual transfer is a feature of the yen dollar exchange
rate and this year the conversion of foreign dollars to yen
should sustain the yen strength for some time.

However, at the current rate of yen 106 to the dollar seems
unusually weak given the wide divergence between the
policies of the US Federal Reserve which is set to raise
interest rates and the Bank of Japan which is committed to
ultra-loose monetary policy for the foreseeable future.
Seven years on from the 11 March earthquake
March 11 2018 marked seven years since a massive
earthquake in NE Japan caused a tsunami which claimed
thousands of lives and destroyed coastal towns and
villages. Ceremonies have been held to try and remind the
nation that there are valuable lessons to be learned from
this disaster and that everyone must be better prepared for
the next major quake.

In the worst affected areas rebuilding of infrastructure is
almost complete but there are still around 30,000 people
living in ¡®temporary¡¯ housing in the worst affected areas of
Iwate, Miyagi and Fukushima.

Relaxed regulations and aversion to second hand
homes raises concerns
According to Chie Nozawa, a science and engineering
professor at Toyo University in Japan, the country has too
many homes while still more continue to be built. Her
main contention is that the children of current home
owners will be stuck with the burden of worthless
inheritances. The issue is that homes in Japan are not built
to last, commonly being torn down and replaced after 30-
40 years.

In an informative interview she blames policies by local
governments saying local authorities are competing to
attract migrants and are easing regulations to make more
land for residential development available.

Another major cause, says professor Chie, is that the
business model of construction companies is built around
new home building and not renovation of existing
properties. This unfortunate cycle reflects desire of home
buyers to have a newly built home, Second hand homes in
Japan are considered second class.

For more see: http://the-japannews.
com/news/article/0004261801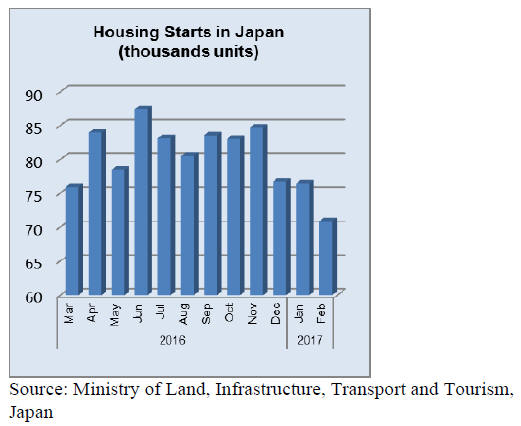 Furniture imports
The graph below shows the trends in Japan¡¯s imports of
office, kitchen and bedroom furniture (HS 940330/40 and
50). For the three years illustrated in the graph a familiar
trend of end year highs and mid-year lows was observed
for wooden bedroom furniture.

Over the three years illustrated there was little movement
in wooden office and kitchen furniture imports. The 2017
rise in wooden kitchen furniture is thought to be mainly in
response to the surge in apartment renovations in the buyto-
let market in Japan.

The value of Japan¡¯s 2016 imports of wooden office,
kitchen and bedroom furniture were all below levels in
2015. Imports of wooden office furniture declined 6%,
imports of wooden kitchen furniture dropped 4% and
imports of wooden bedroom furniture dropped over 2%.

In contrast, 2017 wooden furniture imports expanded with
wooden office furniture imports growing 4%, wooden
kitchen furniture growing 6% with only imports of
wooden bedroom furniture falling (-2%).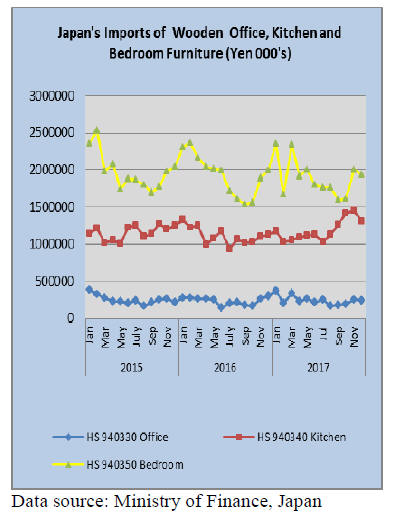 Office furniture imports (HS 940330)
The value of Japan¡¯s imports of wooden office furniture
continues to represent a declining proportion of the value
of wooden bedroom and kitchen furniture imports. Year
on year, the value of December imports of wooden office
furniture fell by 18% and month on month the value of
imports barely changed.

In December shipments from China accounted for around
71% of the value of Japan¡¯s wooden office furniture
imports down slightly from a month earlier. The other
main shippers in December were Italy (10%), Vietnam
(3%) and Taiwan P.o.C (2%).

Kitchen furniture imports (HS 940340)
The value of Japan¡¯s imports of wooden kitchen furniture
grew in the third quarter of 2017 but then reversed
direction in the final months of the year. Year on year
Japan¡¯s imports of wooden kitchen furniture were up 16%
but month on month imports fell around 10%.

The combined shipments from the Philippines, Vietnam
and China once again account for over 90% of all
December shipments of wooden kitchen furniture. The
Philippines accounted for 46% of the value of Japan¡¯s
wooden kitchen furniture imports followed by Vietnam
(36%) and China (12%).

Bedroom furniture imports (HS 940350)
The surge in Japan¡¯s year-end imports of wooden bedroom
furniture came to an end in December. Year on year
December imports were down 3% and month on month
imports dropped around 4%. Looking at previous years the
2017 year end surge was well below expectations.

Shippers in China and Vietnam continue to dominate
Japan¡¯s imports of wooden bedroom furniture accounting
for 60% and 30% of the value of December imports.
Compared to a month earlier December imports from
China were up around 10% while imports from Vietnam
dropped 13%.

Trade news from the Japan Lumber Reports (JLR)
For the JLR report please see:
http://www.nmokuzai.
com/modules/general/index.php?id=7
Import of wood products in 2017
The Japan Lumber Importers Association disclosed total
import of foreign wood products in 2017. Total of logs
and lumber was 9,740,000 cbms, first time to drop under
10,000,000 cbms after two years. Lumber import has been
almost flat but log import was 3,275,000 cbms, which was
less than 1958¡¯ 3,340,000 cbms.

According to the statistics since 1950, South Sea log
import is the second from the bottom. Russian log import
is the fourth from the bottom and North American log
import is the fourteenth from the bottom.

Log import dropped by 320,000 cbms out of which about
half is North American logs of about 180,000 cbms then
logs from New Zealand dropped by 67,000 cbms. Log
supply situation of South Sea countries and Russia
becomes inflexible with high prices so that log users in
Japan have lost interest.

On lumber import, the volume from Europe and Chile
exceeded previous year¡¯s volume, which covered drop of
import from other sources. In 2016, there was large price
gap between Japan market and European export on items
like stud so the importers suffered large loss.

1,940,000 cbms of North American lumber import was
Canadian products. Chilean radiate pine lumber volume of
288,000 cbms was the second highest next to 2008¡¯s
320,000 cbms. The demand of radiate pine lumber is
shifting from New Zealand to Chile after log purchase
from New Zealand is overpowered by China.

Import of plywood did not reach 3,000,000 cbms but
increased from 2016. Demand for MDF in Japan was very
active so orders for both softwood MDF and South Sea
hardwood MDF increased. Import of structural laminated
lumber was 867,000 cbms, 12.5% more than 2016, which
was the record high volume.

Soaring wood fuel import in 2017
According to the statistics the Ministry of Finance
publicizes, import of biomass fuel (wood pellet and PKS)
increased. Main demand is for newly built biomass power
generation plants by FIT system and combined use of
biomass fuel by coal burning power plants. There will be
more large FIT system power generation plants on the
coast so import of biomass fuel will keep increasing.

Wood pellet import in 2017 was about 510,000 ton, 46%
more than 2016 and PKS was about 1,140,000 ton, 49.4%
more. This is the first time that PKS import volume
surpassed one million ton.

Main sources of wood pellet are Canada with 360,000 ton,
38% more than 2016 and Vietnam with about 130,000 ton,
110 % more. These two takes 97% share of total volume.

Sources of PKS are Indonesia with about 790,000 ton,
99.1% more and Malaysia with about 340,000 ton, 5.1%
less because of active demand in the Peninsula Malaysia.

Newly built FIT power generation plants in 2017 are
Summit Handa Power (Aichi Prefecture) with output of
75,000 kw, Tsuruga Green Power (Fukui prefecture) with
output of 37,000 kw, SGET Sanjo Biomass (Niigata
prefecture) with output of 6,300 kw and Paltec Energy
(Hyogo prefecture) with 22,100 kw. Both Handa and
Tsuruga use imported wood chip with annual consumption
of 275,000 BD ton.

Total wood chip import in 2017 was about 14,354,000 BD
ton, which is mainly used for paper and pulp
manufacturing.

South Sea (tropical) lumber and logs
Both plywood mills and lumber mills struggle to secure
volume of South Sea hardwood logs. South East Asian
countries are in rainy season and heavy rain fall continues
so log production is sharply dropping.

Export prices in Sarawak and Sabah, Malaysia and PNG
and Solomon Islands are climbing. Meranti regular log
prices in Japan are 12,000 yen plus per koku CIF.

Logs like keruing for lumber are harder to get. Log
inventories by lumber manufacturers in Japan are in
critical level but as there is traditional ceiling prices for
solid wood hardwood lumber, sawmills are caught in
between high cost and limited sales prices.

Prices of laminated free board are unchanged on both
supply side and Japan market. Supply volume of
Chinese red pine lumber is decreasing due to active
demand in China. The prices are firming at 110,000 yen
per cbm FOB truck.

Prospects for material supply in 2018
Focus of materials¡¯ supply in 2018 is supply situation of
European and North American lumber, which are main
building materials.

Housing starts in 2018 are forecasted about the same as
last year. If the supply would get tight from these sources
or the prices soar, it would become challenging year for
supply of substituting materials of domestic wood
products. The Forestry Agency has been promoting to
increase share of domestic wood by taking share from
importing materials.

North American logs and lumber prices for Japan have
been climbing as U.S. economy is booming and export to
other countries are also active so that the export prices
continue rising. Japanese sawmills manufacturing lumber
from imported North American logs have been increasing
sales prices but log cost climbs faster than lumber price
hike.

North American lumber export prices also go up in fast
pace. European lumber is the same. Redwood beam and
whitewood post export prices will be higher so unless
Japan follows higher export prices, the supply would
decline as the suppliers have options to go other markets.

Russian lumber, New Zealand radiate pine logs and South
Sea hardwood logs depends on China since China
becomes dominant buyer and price leader.

Demand for domestic wood has been expanding in various
fields of not only plywood and lumber but also for export
of logs and lumber for neighboring countries. North
America becomes a new market.

Domestic log supply and demand should stay firm through
the year with temporary softness during rainy season.
There will be new sawmills and plywood mills starting up
so despite demand situation, log demand should continue
to increase.

Small mills may face difficulty of getting enough logs by
start-up of new large mills. Log production has been
steady since beginning of the year so that the market eased
after sharp increase of log prices in last fall but cypress
should stay firm with positive demand for sill lumber.

Plywood mills may have difficulty of obtaining quality
logs for face and back particularly plywood mills are now
producing not only structural but floor base and concrete
forming panel, which are new additional market. Log and
lumber export of domestic wood will continue increasing
this year.

Log export was about one million cbms in 2017 and
lumber export was more than 100,000 cbms and they will
be much more this year, particularly lumber export. Cedar
lumber for exterior use in the U.S. market is new market
and this will also be climbing.

Focus on North American logs is fast rising Douglas fir
log prices for sawmills in Japan and how much surplus
logs B.C., Canada will put up for export. Log supply last
year was largely influenced by weather factor like heavy
snow and forest fires in summer then housing starts
increased in the U.S.A.

This year¡¯s housing starts in the U.S.A. are predicted more
than last year so the lumber market prices are likely tostay
firm. Lumber supply in the North America could not catch
up expanding demand last year, which pushed the lumber
market prices and the same would happen this year.

IS sort Douglas fir log FAS prices were $860 per M
Scribner in July last year then they have kept rising to
US$1,040 in January this year. Douglas fir cutting
sawmills in Japan increased the sale prices of lumber four
times last year but not enough to fast rising log cost so
mills need more price hike.

Same as logs, North American lumber export prices will
continue rising this year. Export prices of SPF, Douglas fir
and hemlock lumber for Japan market increased across the
board but not high enough to attract the suppliers so if
Japan is not able to follow higher prices, the supply
volume would decline after the second quarter.

There is no immediate substitution of SPF lumber so the
component companies have to follow higher export prices
but they will seek other sources like domestic cedar and
European dimension lumber.

European lumber has two different move. Redwood
lamina for laminated beam continue to be firm while
demand for whitewood lamina will decline for the first
half of the year because of sluggish demand for laminated
post in competition with domestic cedar laminated post.

For the European suppliers, there are other active markets
for whitewood products. Specifically China is expanding
purchase of European wood. The volume for China from
Finland and Sweden is more than Japan. Supply of
whitewood KD stud is reduced after hot North American
market buys more volume. After all, supply volume and
the prices for Japan depend on other markets.

Laminated lumber supply may not be the same as last
year. Redwood laminated beam should stay the same but
whitewood laminated post is likely to drop due to
stagnated market. Problem is climbing lamina cost.

Redwood lamina cost for the first quarter is 42,000 yen per
cbm FOB truck port yard, which is 7,000 yen higher than
the first quarter last year. Present redwood beam prices are
63,000 yen per cbm delivered but to cover higher lamina
cost, they have to go up to 66,000 yen. Imported redwood
beam prices are 63,000-66,000 yen per cbm FOB truck.

Competing Douglas fir KD solid wood beam prices are
58,000 yen per cbm delivered, only 4,000 yen higher than
the same quarter last year so difference between laminated
beam and solid wood beam is about 5,000 yen, which was
2,000 yen a year ago. Solid wood KD beam prices should
go higher as sawmills face climbing Douglas fir log prices.

Prices of hybrid laminated beam of cedar and Douglas fir
are 62,000-63,000 yen per cbm delivered. Lamina prices
for whitewood laminated post for the first quarter are
39,000 yen per cbm FOB truck, 4,000 yen higher than the
first quarter last year but prices of laminated post are 1,880
yen per piece delivered, only 20 yen higher so the
manufacturers are notable to pass high lamina cost.
Reasons are increasing volume of imported whitewood
laminated post and low priced domestic cedar laminated
post.

Domestic whitewood laminated post manufacturers need
to reduce the production to avoid loss. Supply of imported
post will continue at high level and prices of domestic
cedar laminated post do not seem to drop so price hike of
whitewood laminates post is remote.