2. GHANA
Dramatic cut in power charges delights manufacturers
Described as the best news of the year, manufacturers
have warmly welcomed the decision of the government to
reduce electricity tariffs by 30% from mid-March this
year.

A statement from the Public Utilities Regulatory
Commission (PURC) Executive Secretary, Ms. Mami
Dufie Ofori, said residential customers will enjoy a 17.5%
reduction, while those in the manufacturing sector will see
their tariffs cut by 30%.

Analysts write that the tariff reductions are aimed at
lightening the burden on consumers and reducing
production costs to make Ghanaian manufactured products
more competitive thus driving industrialisation.

Proposals have also being made for a review of water
tariffs which, says the PURC, will require time so that
consultations can be undertaken.

Transparency in forestry sector gets a boost
A 2-day BVRio conference also known as the Responsible
Timber Trade Fair was held recently. This aimed at
generating an increase in the international demand for
legally and sustainably sourced timber products
particularly from West and Central Africa.

At a news conference John Allotey, Deputy Chief
Executive of the Forestry Commission (FC), said Ghana
has a system to provide forest management information on
the commission website to assist buyers of wood products
satisfy due diligence requirements. In support of efforts to
boost international acceptance of Ghana's wood products
Allotey mentioned the Ghana Wood Tracking System
(GWTS) Portal, which provides forestry sector
transparency.

Adding value the key to Industrialisation
Speaking during Ghana's independence anniversary
celebrations the President, Nana Addo-Dankwa Akufo-
Addo, stressed the key to expanded industrialisation lays
in adding value to the country's raw materials. He
mentioned in particular the opportunities for further
processing in the cocoa and forestry sectors.

To build a strong industrial base the President said his
government is working on policies to digitalise Ghana and
build a modern self-driving economy.

In related news the World Bank, in its Ghana Economic
Update report, has urged the government to sustain its
fiscal consolidation efforts and to improve domestic
resource mobilisation. The report also said the country's
macroeconomic performance improved in 2017 after a
difficult 2016.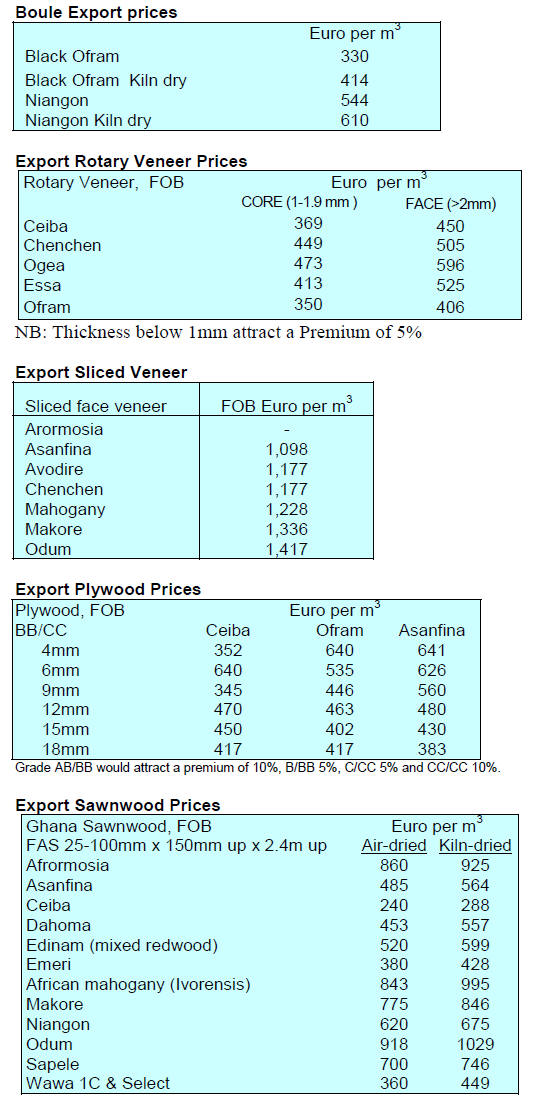 3. MALAYSIA
Malaysia expand trade deals through CP-TTP
Malaysia is a signatory to the Comprehensive and
Progressive Agreement for Trans-Pacific Partnership (CPTPP)
along with Australia, Brunei Darussalam, Canada,
Chile, Japan, Mexico, New Zealand, Peru, Singapore and
Vietnam.

This increases the number of countries with which
Malaysia has trade deals as previously Malaysia did not
have agreements with Canada, Peru and Mexico.
Analysts write that soon Malaysian consumers will benefit
from an expanded choice of goods and services.
The benefits to signatories will be significant but
economists say compared with the earlier TPP countries
such as Vietnam, Malaysia and Japan will not benefit as
much since much of their trade is with the US.

Other countries, such as Indonesia, South Korea, the
Philippines, Taiwan P.o.C and Thailand have expressed
an interest in joining the CP-TTP which would expand the
benefits to all signatories.

MTC Chairman outlines support for mechanisation and
automation
The Chairman of the Malaysian Timber Council (MTC),
Dato' Gooi Hoe Hin, has acknowledged that the Selangor
and Kuala Lumpur Wood Industries Association
(SKLWIA) has made tremendous progress in the
manufacture of wood products over the past six decades
and has demonstrated that the Malaysian timber industry is
indeed sustainable, progressive and robust.

Speaking at a SKWIA recent event Dato' Gooi drew
attention to the MTC 'Financial Incentive For Purchase of
Machinery' (FIPM) programme aimed at complementing
the government's efforts to elevate the level of
mechanisation and automation in the industry, thereby
helping address the labour shortage challenge.

Under the FIPM, an allocation of RM3 million has been
set aside and RM1 million will be disbursed yearly to
encourage industry members, particularly the SMEs, to
mechanise or automate their operations.

In addition, MTC's 'Mechanisation and Automation'
(M&A) programme is also geared towards improving
production efficiency by reducing dependency on labour
and wastages as well as increasing output with consistent
product quality.

See press release at:
http://www.mtc.com.my/images/media/572/Press_Release_on_S
KLWIA_---ENG-.pdf

Furniture industry a major force in Malaysian economy
The Malaysian International Furniture Fair (MIFF) 2018
ran for four days in March. International exhibitors
included those from China, Taiwan, Indonesia, Hong
Kong, South Korea, India, Japan, Vietnam, Thailand,
Turkey, Singapore and the United States.

Malaysia's Plantation Industries and Commodities
Minister, Mah Siew Keong, who spoke at the opening said
Malaysia's furniture industry has been a key driver for the
economy and prospects are bright for a RM12 bil. export
target in 2020.

Trans-boundary conservation – Heart of Borneo
initiative
At a recent ASEAN/ITTO workshop: "Asia-Pacific
Regional Workshop on Trans-boundary Biodiversity
Conservation: Empowering Forestry Communities and
Women in Sustainable Livelihood Development" held in
Pontianak, West Kalimantan, the Acting Director of the
Sarawak Forest Department Hamden Mohammad.

confirmed that Sarawak will collaborate with Indonesia in
protecting its watershed and water catchment areas at the
Heart of Borneo (HoB) Trans-boundary Conservation
Area.

This area is rich in biodiversity and is also the source of
water for all the hydroelectric power (HEP) dams in the
state.

Through cooperation between Malaysia and Indonesia,
ITTO was able to pioneer the concept of trans-boundary
conservation as forest areas in Sarawak and Kalimantan
were combined to create a 970,000 ha. biodiversity
conservation area called Lanjak Entimau – Bentuang
Karimun.

Foreign workers levy now in force
The Sarawak Timber Association (STA) website carries a
news item on the levy charged on companies employing
foreign workers. See http://sta.org.my/

Quoting the STA website "The Labour Department
Sarawak has issued a letter ref: JTKSWK-DG-
23(A)JLD.11(6) dated 6 March 2018 to confirm
employers in Sarawak shall bear the cost of foreign
workers levy with effect from 1st January 2018."

The STA provides a summary of the notification from the
Federal government which reads "Please be informed that
the Cabinet had on 25th March 2016 decided that levy
payment by employers for foreign workers which was
supposed to be implemented with effect from 1st January
2017 be deferred for one year.

The Government had also decided that employers
throughout Malaysia shall be responsible to pay foreign
workers' levy with effect from 1st January 2018."

The full text can be found at:
http://sta.org.my/images/staweb/New_Archived/2018/Letter%20f
m%20LDS%20FW%20Levy%206318.pdf

4. INDONESIA
Factors other than certification affecting exports to the
EU
The Association of Indonesian Forest Concessionaires
(APHI) has reported that there are 3.3 million hectares of
certified forest in Indonesia and that the Association is
continuing to encourage members to fully implement
sustainable forest management so as to secure
certification.

In Indonesia, forest certification is being encouraged by
the Forest Stewardship Council (FSC), the Borneo
Initiative, WWF and the UK Timber Trade Federation and
this is adding to the momentum in the forestry sector
driven by the domestic timber legality verification system..
The SVLK and its recognition in the EU have however,
not created expanded marketing opportunities in the EU
despite the introduction of FLEGT licenses according to
the Association.
Commenting on this, Ida Bagus Putera Parthama, Director
General of Sustainable Production Forest Management in
the Ministry of Environment and Forestry, said there are
several factors other than certification and licensing that
affect demand for Indonesia's wood products, the main
being design, quality and price.

Ida Bagus Putera Parthama, APHI Executive Director, said
that greater efforts are needed to promote Indonesian
certification in the EU because after years of shipping to
the EU with no problem exporters have become
complacent but now they must address all the concerns in
the EU market. To begin a new year of promotion APHI
will work with non-profit organisations in the EU to
promote Indonesia's timber certification system to
consumers.

Momentum gathers for approval of plantation log
exports
The Ministry of Environment and Forestry reported that its
proposal to allow plantation log export has received
support from the Ministry of Trade. The Director General
of Sustainable Production Forest Management in the
Ministry of Forestry said most ministries support the
proposal, including the Ministry of State Owned Industries
and the Directorate General of Customs and Excise under
the Ministry of Finance.

Putera said approval for plantation log export needs to be
addressed immediately to maximise the returns to
plantation owners who have seen prices fall because of
oversupply to domestic mills.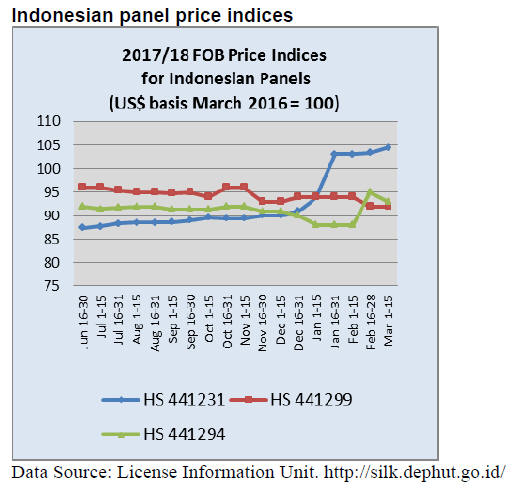 5. MYANMAR
Wood products now on 'negative list' –export permits
required
The Myanmar Times is reporting that, according to the
Ministry of Commerce (MOC), as of March 2018 over
3000 items including forestry products will be in an
Export Negative List meaning for named products export
licenses will be required.

The MOC's notification (9/2018) came into effect 1
March. The rationale being given is that this will ensure
maintain food security and help address environmental
degradation.

The items for which export licenses are required are;
animals and animal products, rare plants, seeds, rice, oil
and oil-producing plants, raw-product from mines,
chemical products, fertilizers, forestry products, precious
gems and stones, vehicle and heavy machineries and
antiques. In total some 3,345 items have been placed on
the list.

The new regulation explains that even if products were
previously exempted under notification (60/2017) an
export license will now be required by the 90th day the
notification came into effect.

See: https://www.mmtimes.com/news/new-export-negative-listinclude-
3345-items.html

MTE tapping Asian markets - private sector focus on
EU and India
According to the Ministry of Commerce forest product
exports totaled US$194 million for the financial year to
the end of February. Exports of wood products by the state
sector companies totalled almost US$12 million.

Analysts interpret this to indicate that the Myanma Timber
Enterprise is exporting sawnwood to mainly Asian
markets and that the balance is exported by the private
sector.

There are about 110 active manufacturers who are
exporting mainly to the EU and India which are regarded
as major markets for high valued teak sawnwood and
veneers.

Carbon credits cannot match returns from clearing
forests for rubber
A press release from the University of East Anglia in the
UK draws attention to a study published in Nature
Communications that finds that schemes designed to
protect tropical forests from clearance based on the carbon
they store do not pay enough to compete financially with
potential profits from rubber plantations.

The authors argue that, without increased financial
compensation for forest carbon credits, forest clearing will
remain more attractive than protecting them.
Carbon credits are currently priced at US$5-13 per tonne
of CO2 on carbon markets. But this doesn't match the real
break-even cost of safeguarding tropical forests from
conversion to rubber in Southeast Asia – between US$30-
51 per tonne of CO2 says the report.

This research was led by the University of East Anglia, in
collaboration with scientists from the universities of
Copenhagen, Exeter, Oxford and Sheffield as well as the
Wildlife Conservation Society.

The lead researcher, Eleanor Warren-Thomas, from
UEA's School of Environmental Sciences, now working at
the University of York, said: "Forests are being converted
to rubber plantations in Southeast Asia – especially in
Cambodia, China, Laos, Myanmar and Vietnam".
The study, 'Protecting tropical forests from the rapid
expansion of rubber using carbon payments' was
published in the journal Nature Communications in early
March this year.

For more see: http://www.uea.ac.uk/about/-/payments-to-protectcarbon-
stored-in-forests-must-increase-to-defend-against-rubberplantations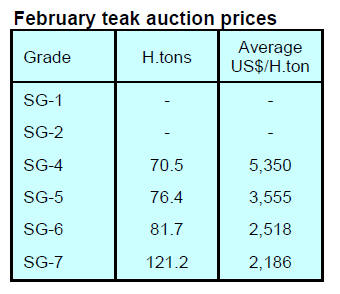 6. INDIA
Manufacturing activity continues to expand
Analysts report that manufacturing output in February rose
marking the seventh consecutive rise however the pace of
growth in new orders slowed from the previous month.

The response of enterprises has been to increase job offers
and this is having a knock-on impact on the overall
economy. The bad news for consumers is that increased
demand has given companies the opportunity to raise
prices.

Red Sanders logs seized
The Indian authorities recently seized more than 7 tons of
red sanders in two containers at Nhava Sheva Port in Navi
Mumbai. The illegal timber was en route to Dubai.

Reports say the exporter illegally opened sealed shipping
containers by removing the doors so the timber could be
concealed.

Housing market stirs as RERA enforced
The enforcement of the Real Estate (Regulation &
Development) Act (RERA) has resulted in lower house
prices and an almost 20% increase in home sales in
Mumbai Metropolitan Region according to the Knight
Frank India report 'India Real Estate'.

The report says the recent price discounts are the first
since the housing boom in 2010. The report also says
housing stocks fell by a quarter between 2016 and 2017.

See:
http://www.knightfrank.co.in/research/india-real-estate-januaryjune-
2017-4796.aspx

Farm grown sandalwood - a bright future in India
As restrictions on growing and selling sandalwood have
been eliminated in most Indian states farmers are planting
this valuable species knowing they can legally sell and
raise their income.

Sandalwood heartwood can be sold for as much as
Rs.14,000 per kg which is driving planting utilizing
seedlings provided by commercial nurseries. Sandalwood
needs careful nurturing as the species photosynthesises but
takes water and inorganic nutrients from other plants via
'parasitic' roots. Analysts say that growing sandalwood
appears to have a bright future in India.

The growing interest in private sandalwood wood lots is
being supported by the State Forest Department and nongovernmental
organizations.

Teak log auctions in Central India
Teak logs in the Harda, Jabalpur, Hoshangabad and Betul
areas are mainly in 2 to 5 metre lengths and mostly of a
girth of 120 cms and below. Logs in these areas are
cylindrical and the timber is a golden colour with black
stripes. Teak log auctions at almost all the depots in
Harda, Jabalpur, Hoshangabad and Betul divisions are
now over.

Analysts write that sales were brisk and attracted local
buyers as well as those from Gujarat, Maharashtra,
Rajasthan and Southern India.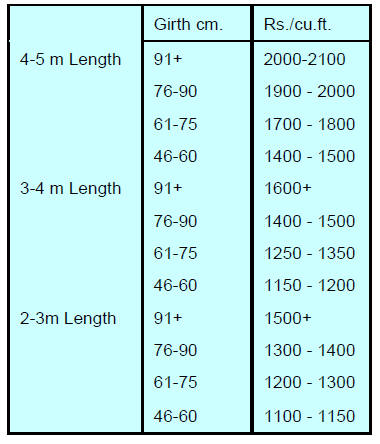 Good quality non-teak hardwood logs attracted firm
prices. Logs 3 to 4 m long, having girths 91 cm and above
of haldu (Adina cordifolia), laurel (Terminalia tomentosa),
kalam (Mitragyna parviflora), bhirra (Chloroxylon
swietenia) and Pterocarpus marsupium, fetched around
Rs.700 to 750 per c.ft. Second quality logs attracted prices
of between Rs.350 to 500 per c.ft and prices for the lowest
quality were from Rs.250 to 300 per c.ft.

Imported plantation teak prices
Analysts write that the quality of plantation teak logs is
not as good as in previous years and average girths appear
to be declining. Under these circumstances importers are
in no mood to offer better prices.

Locally sawn hardwood prices
Ex-mill hardwood prices are shown below.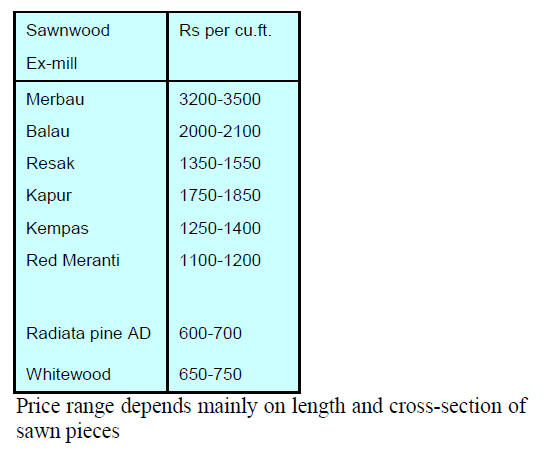 Imported sawn Myanmar teak
The level of imports of Myanmar teak continues as stable.
The only price change reported was that for plantation teak
from Myanmar.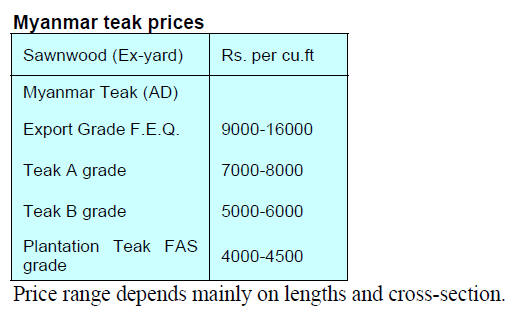 Prices for imported sawnwood
Prices for imported sawnwood (KD 12%) remain
unchanged.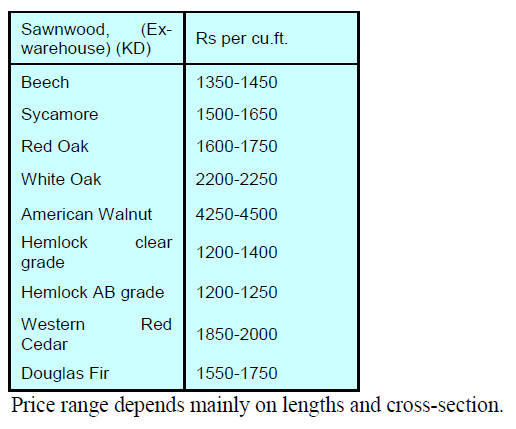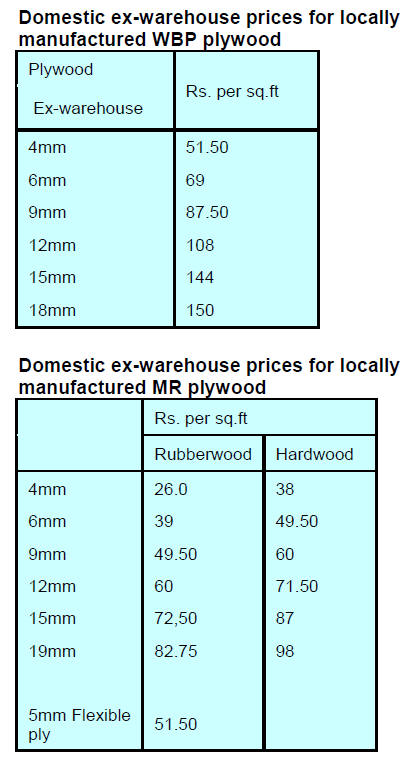 7. BRAZIL
Firmer domestic demand for furniture offers
opportunity for manufacturers to raise
According to the monthly survey by the Instituto
Brasileiro de Geografia e Estatística (IBGE) the Producer
Price Index (IPP) for January reflects a significant upward
trend in furniture prices.

The Producer Price Index - IPP, whose scope is mining,
quarrying and manufacturing industries, has the purpose of
measuring the average change of the sales prices received
by domestic producers of goods and services.

According to IBGE the index gained 1.4% in January and
the accumulated rise in 2017 was around 5%. Analysts
note that the January 2018 data suggests that the furniture
sector will see a recovery in prices in the domestic market
reversing a downward trend that began in 2014.

Analysts caution that the positive index data does not
necessarily mean there will be an adjustment of prices for
products on the market but future price levels should
improve slowly.

Main factors influencing the solid wood market in
Brazil
Investment in the forest sector continues to rise but returns
on investment have been disappointing many. Among the
main factors influencing the solid wood market in Brazil
analysts say success depends on the following:



Having a clearly defined production and
marketing plan that takes account of market
demand fundamentals.



Be innovative and develop new ideas, this applies
to companies of all sizes.



Through market analysis define the ideal scale of
production taking into account the trends in the
market not only for logs and sawnwood but the
entire wood consuming sector including pulp and
paper, furniture and construction and plan
marketing strategies based on prospects in each.



Finally, pay attention to the causes of price
differentials between markets and price products
accordingly.

Forestry sector exports growing
In January 2018, forestry sector exports totalled US$901
million, an increase of 18% compared to a year earlier.
The rise was largely because of increased exports of pulp,
woodbased panels and paper. Forestry sector exports
account for almost 15% of the value of all Brazilian
agribusiness exports and 5% of total foreign export.

China remained the main buyer of Brazilian pulp in
January, accounting for 47% of the total. The total value
of pulp exported to China in January this year (US$338
million) was 21% more than in the same month in 2017.
Exports to Europe increased by 16%.

For woodbased panels and paper markets in Latin America
remained well ahead of other regions. Latin American
markets accounted for more than half (US$12 million) of
all volumes exported, a 9% increase over January 2017.
As for paper products, demand in Latin America grew
14% year on year.

Amazon tree DNA database planned
Scientists at the National Institute of Amazonian Research
(INPA) and the Center for Natural Biodiversity in the
Netherlands, in partnership with other institutions with
collections of Amazon flora will construct a DNA
database of tree species found in the Amazon region.

This initiative is part of "The DNA-mark" project, which
will consolidate information on Amazonian species in an
interactive database accessible by scientists round the
world. Analysts say this information will help
environmentalists develop strategies for the preservation
and sustainable use of forests.
The Amazon has an amazing diversity in its flora but also
suffers the most deforestation. Brazil committed to zero
deforestation by 2030 and cataloging the genetic material
of tree species is an important tool in this process.

For more see:
http://portalamazonia.com/noticias/projeto-pretende-identificarplantas-
da-amazonia-a-partir-de-informacao-no-dna


8. PERU
Trade mission to the Dominican Republic
The recent trade mission to the Dominican Republic for
companies exporting tropical wood from Ucayali, Loreto
and Madre de Dios organized by the company Tropical
Forest has been deemed successful.

Participating companies held business meetings with
Dominican importers and visited sawmills and wood
processing plants in Santo Domingo. The participants are
confident that they can secure orders for sawnwood,
decking, structural timber and doors.

For 2018 Tropical Forest is planning missions to Interzum
Guangzhou, March 28 to 31, a mission to the Milan
Furniture Fair, April 17-22, a mission to Xylexpo Milan,
May 8 to 12, a mission to IWF USA fair August 22 to 25
and a mission to the Furniture China fair, September 11 to
14.

Plans for major investment in plantations
A major global investment company based in the US is
planning a significant investment in forest plantations in
Peru having just completed a pre-feasibility. Initially the
plan calls for the planting of 1,500 hectares of native
bolaina as part of the overall plan for an eventual 8,000
hectare plantation investment.

The company says its choice of bolaina is to provide an
alternative to imported pine for domestic consumption.
Bolaina is an alternative to imported pine due to its
technical characteristics and its dimensional stability says
the company.

Furniture imports worth US$60 million in 2017
In 2017 Peruvian imports of wooden furniture totalled
US$57 million, The main importers of wooden furniture in
2017 were Sodimac with US$17 million and Homecenters
of Peru through its Promart stores (US$11 million).

The consolidated imports of these two home improvement
retailers represented almost 50% of imported wooden
furniture in 2017.

Brazil was the main supplier country in 2017 with exports
to Peru of around US$38 million followed by China with
US$6 million and Malaysia US$2 million.

USTR tests Peru's progress in timber tracking
The United States Trade Representative (USTR), on
behalf of the Interagency Committee on Trade in Timber
Products from Peru, has called on the Government of Peru
to verify that three timber shipments exported to the
United States in 2017 complied with all applicable
Peruvian laws and regulations. This action was announced
in a press release from the USTR in early March.

See: https://ustr.gov/about-us/policy-offices/press-office/pressreleases/
2018/february/ustr-tests-peru%E2%80%99s-progress
The press release goes on to explain the timber verification
provision is a monitoring tool provided for in the United
States – Peru Trade Promotion Agreement (PTPA) to
ensure robust monitoring and enforcement of Peruvian
forestry laws throughout the supply chain.

The United States and Peru have an active record of
engagement on timber-related issues under the PTPA.
However, despite improvements in some areas, serious
concerns about illegal logging in Peru remain.

The call for verifying the legality of some 2017 shipments
will, says the USTR, provide an opportunity to test Peru's
progress in addressing this continuing challenge and help
ensure that Peruvian timber is legally harvested and
violators are held accountable.

By way of background, the USTR press release says "The
PTPA contains a landmark Environment Chapter and
Forest Annex, which includes a requirement for Peru to
conduct audits and verifications of particular timber
producers and exporters upon request from the United
States and provides for U.S. participation in the
verification process. The PTPA further permits the
United States to take compliance measures based on the
results of such verification".