Report from North America

Hardwood import volumes down but values up in 2017
The volume of US imports of temperate and tropical
sawnwood fell for the second year in a row in 2017.
Annual imports of sawn hardwood fell 13% in 2017 from
the previous year, but the value of imports was up.

While overall hardwood imports were down tropical
sawnwood was not affected by the overall decline in 201,7
instead tropical imports increased 2% from 2016 to
239,738 cu.m.

The lower sawnwood import volumes may not be all bad
news for wood product suppliers as this appears to be part
of the continuing trend towards higher US imports of
semi-finished and finished wood products, something
tropical sanwood suppliers should take note of. Imports of
most finished products such as flooring and furniture were
significantly up in 2017.

The value of sawn hardwood imports was steady at
US$252 million. The share of tropical sawnwood in the
total value of US hardwood imports was 52% in 2017,
unchanged from 2016.

The following species posted the largest volume gains in
the US market in 2017: jatoba, balsa, sapelli and cedro.
Imports of mahogany and keruing sawnwood declined
from the previous year.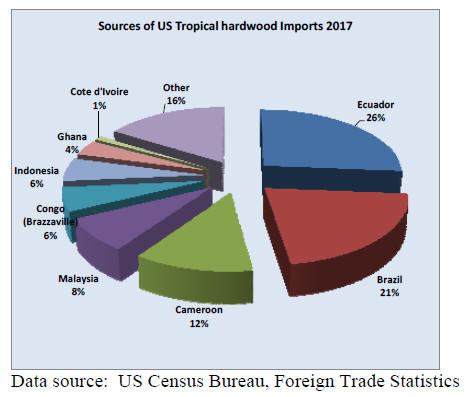 Canadian imports of tropical sawnwood mainly via US
Canadian imports of tropical sawnwood declined 3% in
2017 to US$19.8 million. The decline was largely in the
¡°other¡± category.

Mahogany sawnwood imports more than doubled in 2017
to US$1.7 million. Imports of sapelli and the collective
category of virola, imbuia and balsa also grew in 2017.
Imports through the US tripled in 2017, while direct
imports from tropical countries declined for most species.
Imports from the US accounted to one quarter of all
Canadian tropical sawnwood imports in 2017.

Analysis of trends in US hardwood markets
A recently published article explores US market
developments that affect hardwood demand. Some
industrial markets, such as pallets, packaging and railway
ties, concern only temperate hardwoods, but most trends
apply to tropical species as well.

Up until the housing market crash in 2007/2008,
residential construction had become an increasingly
important market for hardwoods in the US. Hardwood use
in domestic furniture manufacturing steadily declined as
furniture imports captured an increasing share in the US
market. About one third of all sawn hardwood was used in
housing before the financial crisis.

Not only did the housing market crash and recession
reduce demand for hardwoods, but per capita sawn
hardwood consumption decreased due to increasing
imports of finished products. US sawn hardwood
consumption fell from 104 cu.m. per person in 1995 to 49
cu.m. in 2013.

Housing construction, renovation and remodeling, and
furniture manufacturing accounted for 36% of US sawn
hardwood consumption in 2014, down from 50% in 2002.
While wood demand in construction will increase again as
the recovery in housing starts continues, the report authors
expect the types of hardwood products to change.

New hardwood products for US housing and construction
markets include thermally-modified wood and crosslaminated
timber (CLT).

Thermally-modified temperate hardwoods and softwoods
have ideal properties for siding, decking, flooring,
millwork and other applications that are also typical end
uses for tropical hardwoods. Much of the US production
of thermally-modified wood is currently exported to
Europe, but domestic demand could grow when builders
and homeowners become more aware of the products.

CLT panels are a fast growing product for structural use in
larger and taller wood buildings, including non-residential
construction. CLT is primarily manufactured from
softwoods, but it can also be made from hardwoods. The
US is at the forefront of research and production of
hardwood CLT. Yellow poplar is the primary species used
for hardwood CLT at this time.

The full article is available at the US Forest Service library:
https://www.fs.fed.us/nrs/pubs/jrnl/2017/nrs_2017_buehlmann_0
01.pdf

Small chamber testing for formaldehyde emissions
The Environmental Protection Agency (EPA) now allows
for small chamber testing after amending the testing
methods for the Formaldehyde Emission Standards for
Composite Wood Products. The final rule on small
chamber testing was published in early February and is
effective immediately.

More information including links to an FAQ and other
documents of interest to composite panel manufacturers
are available at Woodworking Network:

See
:https://www.woodworkingnetwork.com/news/woodworkingindustry-
news/epa-issues-final-rule-formaldehyde-testingcomposite-
panels

IKEA purchased forest in Alabama
The IKEA Group has purchased its first forest asset in the
US, according to a media release by the company. The
forest is in Alabama and covers more than 10,000
hectares. IKEA Group owns more than 100,000 hectares
of forests in Europe. The company plans to apply for FSC
certification for its Alabama forest.

The forest will support IKEA¡¯s goal of sustainable use of
resources for operations (such as energy) and for the
manufacturing of products sold to consumers. The
company opened four new stores and one new distribution
centre in the US in 2017 and made several other
investments in the market to increase competitiveness and
renewable energy supply.

In other markets IKEA is testing furniture rental and
furniture buyback. The buyback scheme is being tested in
Japan where customers can sell furniture back to IKEA
when they no longer need it, so the furniture can be
recycled instead of disposed of.

In Finland a programme was tested where customers
received a gift card for returning furniture to IKEA.
Furniture is the least recycled item in a household
according to the EPA.