Japan Wood Products Prices
Dollar Exchange Rates of 10th February 2018
Japan Yen 108.00

Reports From Japan
Disappointing wage growth in 2017
2017 data on Japanese wage growth released by the
Ministry of Labour has shown real wages adjusted for
inflation were actually lower than in 2016. This, and the
news that consumer prices barely budged in 2017, has
undermined the attempts by the government and the Bank
of Japan (BoJ) to stimulate inflation.

December data shows that wages of Japanese workers fell
in December at their fastest pace in five months. Against
this backdrop the task of convincing companies to raise
wages during the spring wage negations with employee
groups will be tough.

Consumer confidence un-moved
Japan¡¯s Cabinet Office released the results of its January
consumer confidence survey at the beginning of February.
This reveals a largely unchanged situation. The index for
overall livelihood expectations fell slightly in January as
did the perception for income growth. On the other hand,
consumers were more optimistic on prospects for growth
in employment opportunities.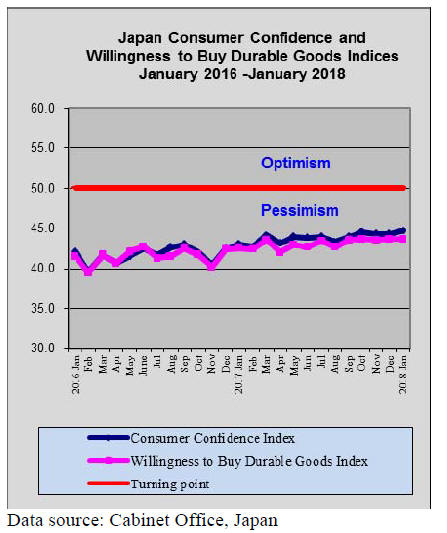 Bank holds steady as yen strengthens
After a sharp decline early in the month stock markets
around the world recovered slightly bringing some relief
to Japan¡¯s policy makers.

The impact of falling stock prices, especially in the US,
caused investors to seek a safe haven, the Japanese yen.
From around yen 112 to the US dollar in mid-January the
rate strengthened to yen 108 to the US dollar at one point
in February. A strong yen is bad for exporters and this was
reflected in a sell-off on the Tokyo stock market.

If the yen strengthens in the short-term importers will be
pleased but a prolonged spell of a strong yen will
eventually impact prospects for growth in the economy.

In the face of the strengthening yen, BoJ governor,
Haruhiko Kuroda, said this is likely a short term response
to the prospect of higher US interest rates and that it was
certainly not the time for Japan to be thinking of raising
rates.

BoJ Governor likely to be reappointed
The Japanese media are reporting that the Prime Minister
seems to have decided to allow Bank of Japan (BoJ)
Governor, Haruhiko Kuroda, to continue leading the BoJ.
This will see Kuroda in post until 2023 allowing him
to continue trying to create conditions for sustained
inflation in Japan.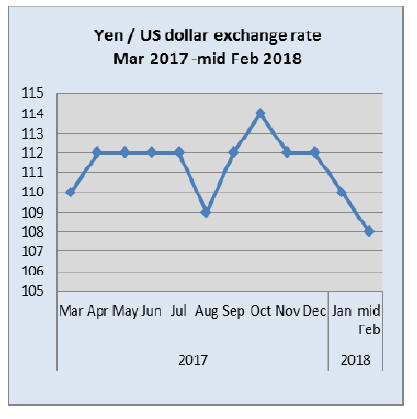 Smart home market potential
A press release from Research and Markets is promoting a
new report ¡°Japan Smart Home Market, Volume,
Household Penetration and Key Company Analysis -
Forecast to 2024¡±.

The press release says the Japanese smart home market is
likely to grow fivefold by the year 2024 from its current
level. Smart home is a system that allows home owners to
control and monitor different devices in the home
including heating, lighting, security and entertainment
remotely via the Internet. In Japan, there is a demand for a
safe and secure living environment especially for elderly
people.
Growth in the smart home market is attributed to factors
such as a significantly expanding middle class, cost
reduction measures enabled by home automation systems,
the large number of manufacturers expanding their product
portfolios and increasing importance of home monitoring
from remote locations.

With the increasing use of smart home devices the risk of
security and privacy breach will also increasing. Issues
pertaining to privacy and security are currently holding
back the growth of the smart home market.

For details see :
https://www.researchandmarkets.com/research/x6f4vl/japan_sma
rt_home?w=4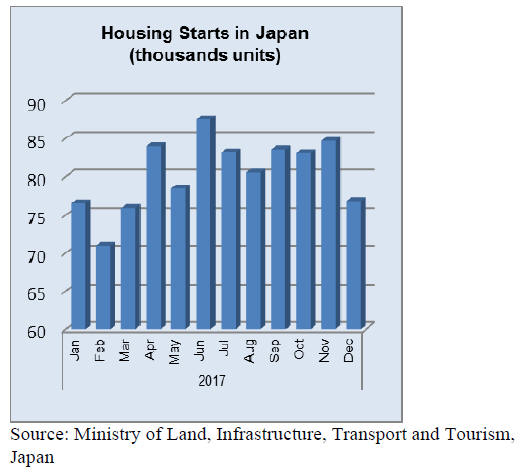 Furniture imports
The value of Japan¡¯s November wooden furniture imports
were higher month on month and year on year except for
wooden office furniture which was down 7% year on year.
Wooden office furniture (HS 940330) imports were up
over 30% month on month in November.

November data for both wooden kitchen and bedroom
furniture imports followed the upward trend seen in
previous years. The traditional cyclical up-tick in the final
quarter of the year is partly the result of retailers getting
ready for when consumers spend their year-end bonuses.

In Japan, most companies pay bonuses twice a year to full
time employees. The summer bonus or Kaki Shoyo is paid
in June or July and Toki Shoyo or Winter bonus is paid in
December. The bonus amount varies from company to
company and from year to year, but is generally several
months¡¯ salary.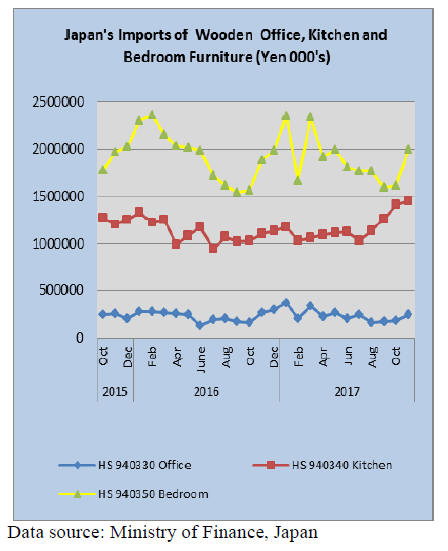 Office furniture imports (HS 940330)
Japan¡¯s imports of wooden office furniture are becoming a
smaller and smaller proportion of the value of wooden
bedroom and kitchen furniture imports.

Year on year, the value of November imports of wooden
office furniture down 7% but month on month imports
jumped over 30%. For 2017 it would appear that wooden
office furniture imports will be slightly above that for
2016.

In November shippers in China accounted for around 75%
of Japan¡¯s wooden office furniture, up from the approx.
60% a month earlier. The other main shippers were the US
(6%), Poland (4%) and Italy (3.6%).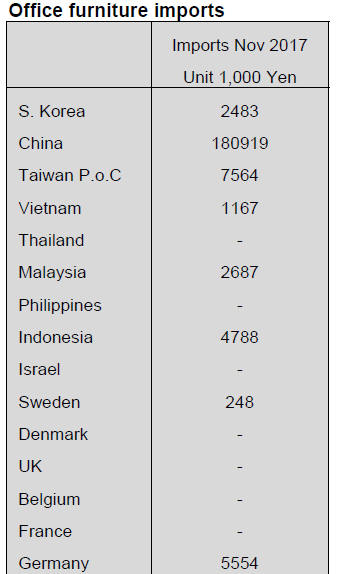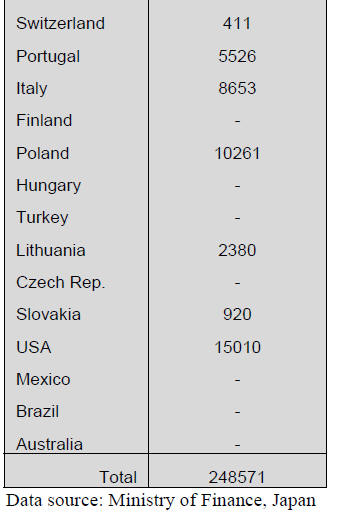 Kitchen furniture imports (HS 940340)
The value of Japan¡¯s imports of wooden kitchen furniture
has been steadily rising since July and November marked
the fourth straight monthly rise.

This year end surge in imports has been observed in past
years and, as mentioned above is related to consumers
spending year-end bonuses. The up-tick in wooden kitchen
furniture imports between July and November 2017 was
greater than in the same period in 2016.

Year on year, November 2017 imports were up 31% but
compared to a month earlier imports were flat.

The combined shipments from the Philippines, Vietnam
and China once again account for over 90% of all
November shipments of wooden kitchen furniture.
November shipments from the Philippines and China were
at almost the same level as a month earlier but shipments
from Vietnam jumped month on month.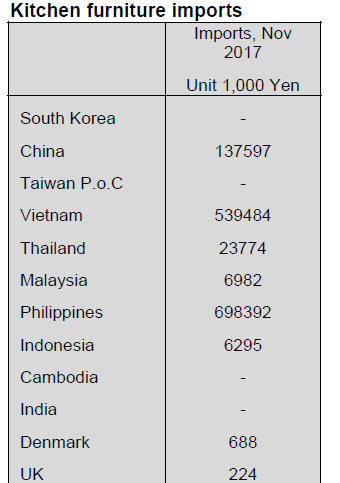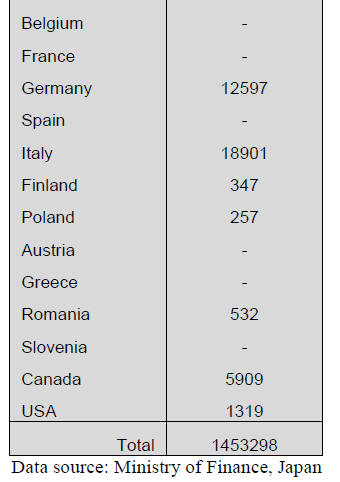 Bedroom furniture imports (HS 940350)
The 25% burst in November 2017 imports of wooden
bedroom furniture is reinforcing the traditional year-end
increase in imports of this category of wooden furniture.
Iif December imports follow this trend then it appears as if
the value of 2017 imports of wooden bedroom furniture
could be slightly above that for 2016.

Shippers in China and Vietnam continue to dominate
Japan¡¯s imports of wooden bedroom furniture accounting
for 52% and 34% respectively of bedroom furniture
imports.

If shipments from Thailand are added then around 90% of
all wooden bedroom furniture imports is accounted for. In
November shippers in Vietnam did well seeing a
significant jump in the share of imports but, not to be
outdone, shippers in China and Thailand saw November
shipments to Japan rise.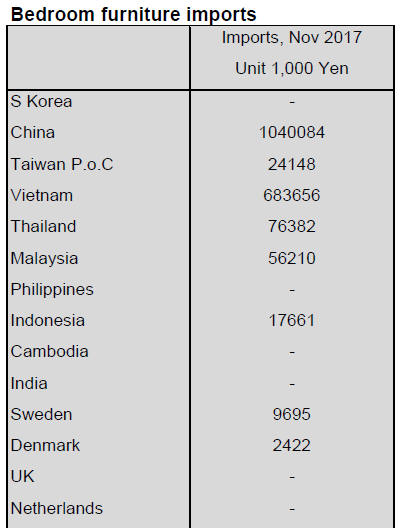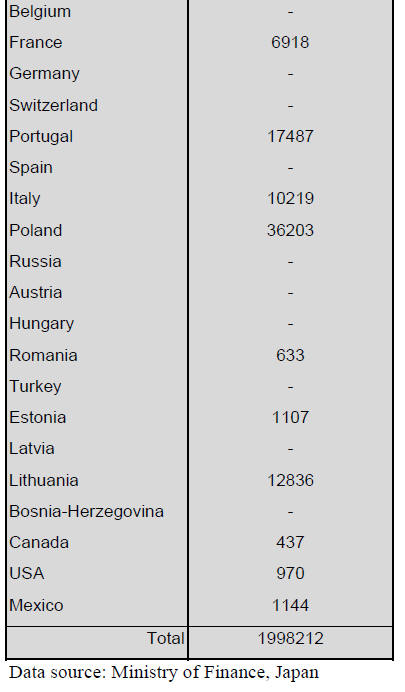 Trade news from the Japan Lumber Reports (JLR)
For the JLR report please see:
http://www.nmokuzai.
com/modules/general/index.php?id=7

Plywood production in 2017
Total plywood supply in 2017 was 6,114,600 cbms, 4.8%
more than 2016. Domestic production was 3,210,500
cbms, 4.8% more. In this, softwood production was
3,064,700 cbms, 5.8% more. Imported plywood was
2,904,100 cbms, 4.8% more. Consequently, share of
domestic and imports is 52.5% of domestic and 47.5% of
imports and domestic share is over imports for two straight
years.

Production of softwood structural panel was 2,925,500
cbms 5.0% more and the shipment was 2,914,400 cbms,
3.3% more so produced volume was shipped immediately
by active demand for housing. Production of nonstructural
panel was 139,100 cbms, 37.2% more. Because
of considerable delay of shipment of floor base by the
suppliers from South East Asian countries, Japanese floor
manufacturers rapidly shift to use domestic softwood
plywood and other building materials manufacturers also
shift to domestic softwood plywood to avoid risk of
exchange rate fluctuation.
Production of softwood concrete forming panel was
28,800 cbms, 6.5% more. The increase is small due to
slow demand for concrete forming panels. Plywood
inventories remain low with only 93,000 cbms at the end
of last December.

As to imported plywood, Malaysia supply was 1,190,400
cbms, 10.7% more. Malaysian supply peaked in 2013
with 1,604,400 cbms then it had been dropping
considerably for three years but this is the first time in two
years that the volume exceeded 1,100,000 cbms.
Indonesian supply had been steady for the first half of the
year then it started dropping in the second half by about
30% less every month and ended up with 877,700 cbms,
2.8% less.

Concern to the Chinese supply was mills¡¯ closures by
strict environmental restrictions but it did not have much
impact on the supply so far.

Plywood in December
Softwood plywood demand is easing but precutting plants
are asking delivery of delayed production. Normally the
movement slows down in the first quarter but because of
labour shortage, construction works are delayed so the
demand is being carried over. Domestic plywood
manufacturers are busy catching up delayed orders.

December production and shipment maintained high level
despite many holidays. December domestic plywood
production was 271,100 cbms, 4.8% more and 4.1% less.
Softwood production was 259,300 cbms, 8.6% more and
4.4% less. Softwood structural panel production was
244,800 cbms, 6.5% more and 5.0% less.

December imported plywood was 232,300 cbms, 0.5%
less than December last year and 16.7% less than
November. Malaysian supply was 97,200 cbms, 10.7%
more and 15.9% less.

Indonesian supply was 56,900 cbms, 20.8% less and
37.6% less. Major plywood mills in Indonesia stopped the
operation because of log shortage so the arrivals dropped
considerably.

The production in Malaysia and Indonesia should stay low
during rainy season so the arrivals do not seem to increase
until next spring. The inventories of imported plywood in
Japan keep declining by reduced arrivals.