Report from North America

Duties on Chinese plywood benefit other suppliers
Hardwood plywood imports grew strongly in October
before declining again in November.

Not surprisingly imports from China were significantly
down because of the US antidumping and countervailing
duties on plywood from China. Year-to-date plywood
imports from China were 24% lower than in November
2016.

All other major plywood suppliers shipped more to the US
year-to-date compared to the same time last year. Despite
the increase in imports from Indonesia, Malaysia, Ecuador
and others, the total volume of US hardwood plywood
imports was 5% lower year-to-date than in November last
year.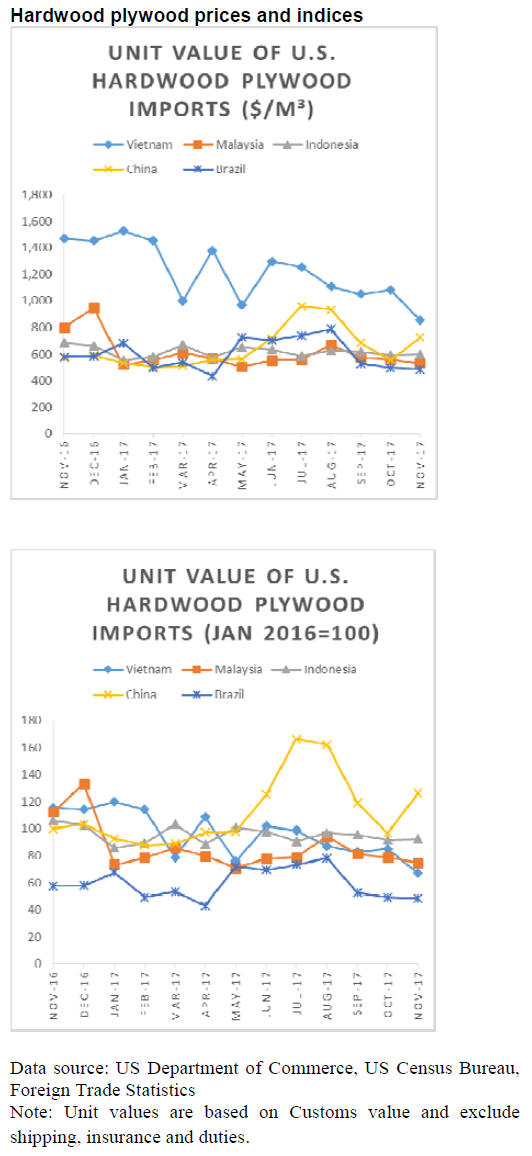 Higher flooring imports from Indonesia and Thailand
Imports of most processed wood products from tropical
countries declined in November. Only tropical hardwood
veneer imports recovered in November with Italy
accounting for almost half of all US imports of tropical
veneer.

Hardwood moulding imports from Brazil were also down
significantly in November, both month-on-month and
year-to-date.
On the other hand, hardwood flooring imports from China
were up in November, despite an overall decline in US
flooring imports. Assembled flooring imports from both
Indonesia and Thailand gained significantly in the US
market compared to 2016.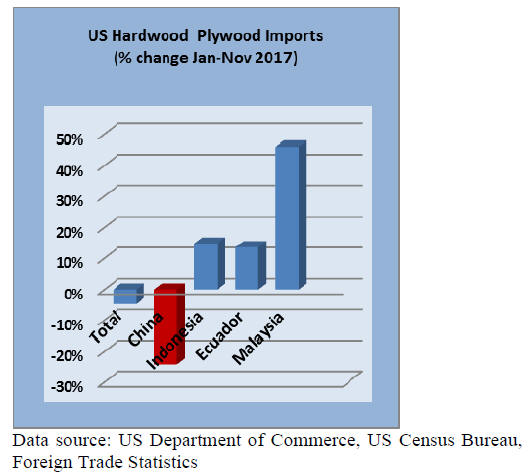 US furniture market outlook positive
Imports of wooden furniture were up 4% in November.
Except for Canada and India, most countries increased
furniture exports to the US. Malaysia was the strongest
performer in November.

Wooden kitchen furniture imports grew the most in
November, followed by upholstered and non-upholstered
seating and bedroom furniture. Wooden office furniture
imports declined.

The US furniture industry reported growth in December,
according the Institute for Supply Management, while
wood product manufacturing declined. Retail sales by
furniture stores increased 8% from October to November
according to US Census data. When home furnishings are
included, retail sales grew 5% during the previous twelve
months compared to the year earlier.

The latest Smith Leonard survey of US residential
furniture manufacturers and distributors reports the
following growth figures for October 2017: New furniture
orders increased 8% compared to October 2016. Furniture
shipments were up 5% year-to-date from October last
year.

Strong economic indicators
Employment in US manufacturing and construction
increased in December. The overall unemployment rate
was unchanged in December 2017 at 4.1%. US GDP
increased at an annual rate of 2.6% in the fourth quarter of
2017 according to the preliminary estimate by the Bureau
of Economic Analysis. In the third quarter GDP growth
was 3.2%.

US tax reform enacted
The US recently enacted the most comprehensive tax
reform since 1986. The tax plan cuts corporate tax rates
permanently from 35% to 20%. Individual tax rates for
certain income brackets are lowered temporarily until
2025, unless the cuts are extended at a later date.

Despite the tax cuts consumer confidence was largely
unchanged in January according to the University of
Michigan Surveys of Consumers report. More consumers
thought the tax reform would be positive than the number
of respondents who said it would be negative.

2017 US housing starts highest since 2007
Housing starts were up 2.4% in 2017 compared to 2016
according to newly released data from the US Department
of Housing and Urban Development and the Commerce
Department. Total housing starts were 1.2 million in 2017.
Residential construction was strongest in the West in
2017.

Over 70% of total starts were single-family homes, which
is a positive signal for the economy and for wood product
demand. Single-family starts grew by 8.5% from 2016,
while multi-family construction fell by over 10%.

The National Association of Home Builders predicts
continued growth in housing production in 2018. The
association forecasts a 2.7% growth in starts to 1.25
million units in 2018.

Canadian housing starts up 12% in 2017
Housing starts in Canada were higher in 2017 than
predicted by the Canadian Housing and Mortgage
Corporation (CMHC) at the start of last year. Housing
starts increased 12% compared to 2016, based on
preliminary starts data for December 2017.

Multi-family construction grew 16% in 2017, while
single-family starts increased 5%. CMHC remains
concerned about overvalued housing in several areas of
Canada relative to population and income.

ITTITTO/EC IMM ReportO/EC IMM Report
ITTO/EC IMM Report
ITTO-IMM reviews Indonesian furniture presence in
Cologne
IMM Cologne 2018 was attended by Robin Fisher,
consultant to the ITTO¡¯s Independent Market Monitor
(ITTO-IMM) initiative. On behalf of ITTO-IMM, Mr
Fisher identified and interviewed a large number of
furniture retailers, wholesalers and manufacturers,
focusing particularly on those engaged in supply of
Indonesian products to the European market.

The interviews undertaken by Mr Fisher are the first stage
of a larger study commissioned by ITTO-IMM with the
objective of better understanding the structure of the trade
in FLEGT licensed furniture products with the EU, with
respect to products, competitiveness, and distribution
networks. The results of the larger study will be made
available during 2018 at the ITTO-IMM website
(www.flegtimm.eu).

There was a wide variety of furniture sourced from
Indonesia on display at the show, and the range of
exhibitors also highlighted the different market niches and
distribution channels involved in supply of Indonesian
wood furniture to the EU, for example: Lower-end mass
produced outdoor furniture, mainly in plantation grown
teak, as exemplified by Indoexim, selling to larger
department chain stores, furniture retailers, and garden
centres throughout Europe.

Higher-end outdoor furniture ¨C high quality products
usually designed by European designers and distributed
under European brands such as Gloster, Fischer-Möbel,
Ethimo, Life Outdoor Living, and Kettal which market
themselves as ¡°outdoor space designers¡± particularly
towards contract customers in the hotel and hospitality
sector.

The products combine teak, both from plantations and
often recycled, occasionally acacia and mango wood, with
other high-quality materials such as stainless steel,
lacquered aluminium, powder coated steel, glass. In some
cases, the product is entirely manufactured in Indonesia in
others certain components are made in Indonesia and
assembled in Europe. Products are distributed via
specialist retailers of top end outdoor furniture.

Locally-designed Indonesian indoor furniture, which tends
to be hand-crafted in solid wood, often quite heavy and
with a rustic and rough finish and targeting the low to
middle end of the market.

The most commonly used species are teak, mahogany
(Toona Sureni), mango wood, munggur (Indonesian
redwood) and acacia. The use of black forged iron
combined with the solid wood is a dominant trend in this
style of furniture.

Large industrial Indonesian manufacturers of both interior
and exterior furniture. The Vivere Group which was
exhibiting in Cologne is an example of an Indonesian
company making a very wide variety of furniture
including mass-produced panel-based furniture with
modern design concepts, often for large scale contracts,
and which also has a subsidiary that specializes in high
end furniture for the export market.

The competitive market position of each of these types of
Indonesian furniture varies widely and needs to be better
understood to fully appreciate the impact of policy
measures like FLEGT licensing.

For example, the more traditional locally-designed
Indonesian furniture is competing directly with, and was
often exhibited alongside, furniture from India of a similar
type and in similar species (although furniture in sheesham
wood was specific to the Indian continent).

Some EU-based furniture importers and wholesalers are
working with some of these smaller craft-based Indonesian
manufacturers and are helping them to ¡°westernize¡±
furniture product lines to meet customer trends in Europe.
These companies are now selling Indonesian interior
furniture to a wide range of customers from big to small
retailers as well as online.

In contrast a large Indonesian group like Vivere is
competing more directly with large manufacturers
elsewhere in Asia. However, part of their strategy is also
to differentiate in the international market by bringing
Indonesia¡¯s traditional strong craft skills into more modern
designs.

Vivere have called on Indonesian designers to come up
with furniture designs that highlight Indonesian hand
weaving skills with natural rattan while embracing
contemporary design with clean lines and a light touch.

Rattan is combined with coated metal frames and
occasionally some elements in teak. In Cologne they were
launching Sadha an indoor furniture range which includes
teak hand rests for their sofas and armchairs.

Trade consultations on the EU FLEGT VPA initiative
In March, The Building Centre in London, UK will host
the first in a series of trade consultations on the EU
FLEGT VPA initiative and FLEGT licensing system.

This event is being organised by the EU FLEGT
Independent Market Monitoring (ITTO EC/IMM) project
in cooperation with the Global Timber Forum (GTF).

For more see: http://www.ttf.co.uk/article/imm-to-hold-flegtradeconsultation-
in-london-on-8-march-672.aspx