Report from Europe
Mood of optimism pervades European trade shows
The European trade show season is now well underway,
starting in Germany during January with the Domotex
flooring show in Hanover and the IMM furniture show in
Cologne. The shows provide good insights into European
wood market prospects in the year ahead.

There was mood of optimism at both shows this year, with
each reporting a significant rise in visitor numbers and
exhibitors, in line with the general improvement in
economic performance across the continent.

However, the shows once again highlighted the challenges
both for tropical manufacturers in relation to other wood
manufacturers, and for wood generally compared to nonwood
materials in the European furniture and interiors
sector.

DOMOTEX 2018 showed that the European flooring
sector continues to be a diminishing market for tropical
wood suppliers and product manufacturers.

The IMM show was more positive for tropical suppliers,
highlighting that some furniture manufacturers in the
tropics are successfully implementing innovative market
development strategies in Europe, building on traditional
skills and craft traditions, as well as lower labour costs and
environmental initiatives like FLEGT licensing.

Natural materials preferred at Cologne furniture show
IMM held in the German city of Cologne between 15th
and 21st January, was host to around 1200 exhibitors ¨C
over 70% from outside Germany ¨C and 125,000 visitors, a
slight increase compared to the similarly-sized event in
2016, with larger numbers attending from both Europe and
Asia.

The proportion of foreign visitors rose to around 50%
compared to 46% in 2016. From Europe, increases in
visitor numbers were particularly evident from Spain
(+31%), Belgium (+16%), France (+11%) and Eastern
Europe (+54%). Significant increases were seen in visitors
from Asia (+50%), with especially strong growth from
China (+82%) and Japan (+63%), as well as the Middle
East (+15%), Australia/Oceania (+51%), North America
(+12%) and Central America (+21%).

In terms of overall styles, the show highlighted once again
the fashion in Europe for contemporary furniture with a
Scandinavian touch. Discreet designs, fresh new
interpretations of traditional forms, mainly small and
practical furniture with charm in pleasant colours were on
show.

These styles conform to the current European desire for
simplicity and a sense of orderliness in the home, to help
cope with modern life flooded with information, while
also providing comfort and reassurance. Solid wood,
accompanied by appropriate natural materials, such as
stone, wool or wool-like textiles, wicker, leather and
metal, dominate as materials.

The preference for natural materials went hand in hand
with an interest in sustainability which permeated the
show, with an expanded range of sustainable and fair-trade
furniture and an emphasis on healthy home living. This
extended to the choice of colours, with a strong preference
for warm earth colours, including shades of smoked oak
and teak.

Attendance at DOMOTEX 2018 at all-time high
DOMOTEX held in Hannover, Germany, between 12th
and 15th January claims to be the world's leading trade fair
for floor coverings.

It was host to 1,615 exhibitors this year, an all-time record,
with the largest exhibitor nations other than Germany
being Turkey, India, Belgium, China, Netherlands, Iran,
Italy, Egypt and the USA.

There were 45,000 visitors to the show, another record and
up from around 40,000 last year.

Nearly 30,000 visitors came from outside Germany, of
which around 60% were from other European countries,
25% from Asia and 11% from the Americas. This year
there was a significant increase in attendance from the
United States and South and Central America.

The majority of DOMOTEX visitors were buyers from
specialist retailers and wholesalers as well as architects
and interior designers and workers from the skilled trades.
A significant increase in attendance was particularly
evident among home furnishing and furniture stores,
architects, interior designers, contract floorers and skilled
tradesmen.

The trade background to DOMOTEX 2018 is shown in
Chart 1. This highlights that the recent trends towards a
narrowing in the EU trade deficit in wood flooring and a
rise in internal EU trade levelled off in 2017. Both these
trends were indicative of a rise in the relative
competitiveness of domestic European flooring
manufacturers compared to external suppliers and were
partly driven by the relative weakness of European
currencies.

Recent strengthening of European currencies against the
US dollar has helped boost the competitiveness of external
suppliers of flooring to the EU market, but so far this has
only slowed their decline in share and not led to any
significant improvement in sales.

EU imports from China, by far the largest external
supplier accounting for around 60% of total imports, were
16.0 million sq.m in the 12 months to end November
2016, compared to 16.2 million sq.m a year earlier and
over 21 million sq.m in 2012.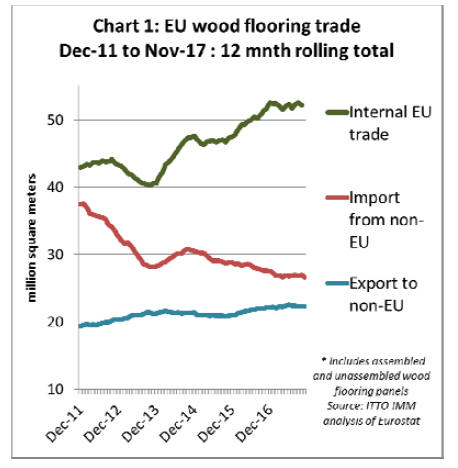 EU imports of wood flooring from tropical countries also
declined again in 2017. EU flooring imports from tropical
countries were 3.04 million sq.m in the 12 months to end
November 2016, compared to 3.68 million sq.m a year
earlier and 5.61 million sq.m in 2012.
In the 12 months to November 2017, imports from
Malaysia were 2% more than the same period the previous
year. However, imports from Indonesia, Brazil, and Peru
all fell by over 25% in the same period (Chart 2).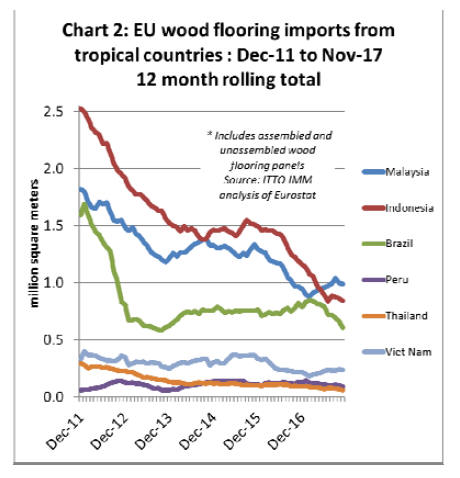 The report of the European Federation of the Parquet
Industry (FEP) board meeting held at DOMOTEX 2018
also shows that total European consumption of parquet
flooring (i.e. faced with real wood and excluding
laminates) is growing only very slowly, despite the
improvement in economic conditions.

According to FEP¡¯s first estimates for the year, total
parquet consumption in Europe increased only 1% in
2017, a slowdown compared to the 1.7% increase reported
in 2016.

This implies that overall in 2017, the EU consumed
around 101 million sq.m of real-wood flooring, around
70% from domestic manufacturers and 30% from imports.
This estimate is based on information received from
member country and company representatives present at
the board meeting. It should be seen as a first estimate
subject to variations, in anticipation of the consolidated
results to be presented at FEP¡¯s annual General Assembly
next June in Sorrento, Italy.

This moderate progression is mainly a result of a decline
in consumption in Germany, the biggest European market
for parquet, and Switzerland. In contrast, all other
European countries are benefiting from positive trends
reported in the construction sector and rising consumer
confidence.

At country level, Poland, The Netherlands, Belgium and
Sweden are experiencing the highest growth in parquet
consumption, followed by the Czech Republic, Austria
and France. Parquet consumption in the Southern
European markets such as Italy and Spain is also
progressing though to a lesser extent.
The political situation in Spain and the coming elections in
Italy are somewhat limiting the positive developments
observed in 2016. The Nordic market (Denmark, Finland
and Norway) remains stable after years of turbulence.

FEP reports that the slow pace of increase in European
wood flooring consumption is partly owing to difficulties
in wood procurement, particularly for oak which now
surfaces around 80% of all parquet manufactured in
Europe. EU manufacturers have been particularly affected
by restrictions on exports of oak timber imposed by
Russia, Belarus, Ukraine, and Croatia.

FEP also noted the tough competition from ¡°wood look
flooring substitutes¡± as another reason for the very slow
increase in parquet flooring consumption in recent times.

Laminate flooring losing share to non-wood
alternatives
Much of the competitive pressure on real-wood flooring
comes from the laminate flooring industry, which is large
with sales figures dwarfing those of the parquet industry.
However, this sector is also now losing share in Europe to
a range of non-wood flooring solutions such as luxury
vinyl tiles, porcelain tiles, and products made of recycled
materials and other renewables like bamboo and cork.

According to data released by the Association European
Producers of Laminate Flooring, to coincide with
DOMOTEX 2018, total European sales of laminate
flooring were 346 million square meters in Europe in
2017, around 1% less than in 2016. Sales in Eastern
Europe increased 2% to 128 million square meters.
However, this was insufficient to offset a decline in sales
in Western Europe, by 2% to 218 million square meters.

European laminate flooring manufacturers are
compensating for the decline in European consumption by
increasing sales in other parts of the world, particularly
North America and Asia. (Chart 3).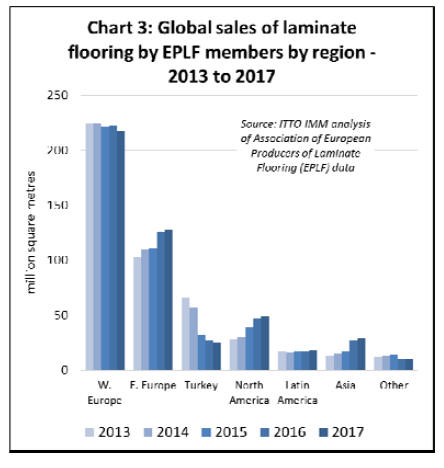 Meanwhile, there are signs that the carpet sector, which
remains dominant in European flooring despite the recent
trend to harder and cleaner flooring types, is now
responding more effectively to the competition. Annual
sales of carpets in Europe are still around 700 million
square meters.

Carpet manufacturers are now concentrating on improved
durability and performance, and are exploiting the wide
variety of designs, styles, and colours, and benefits of
noise reduction. They are also responding to rising
environmental concerns in Europe by investing in
development of biodegradable and more sustainable
products.

Some indication of intense competitive pressure on wood
floors is provided by the media coverage of DOMOTEX
2018 which barely touched on new wood products and
instead focused heavily on innovations to increase the use
of recycled and alternative materials.

For example, the designer website IDEAT spoke about the
¡°omnipresence of eco-designed products, innovations in
floors made from natural materials and processed without
chemicals, and coatings derived from recycled products¡±.
Despite this focus on the environment, only recycled wood
flooring products featured in the article alongside products
in a range on non-wood materials.

An example is a new wood-look floor covering
manufactured by German giant Windmöller derived
primarily from rapeseed and other natural vegetable oils
celebrated because ¡°it contains no PVC or petrochemical
elements¡±.

IDEAT also highlighted the ¡°insistent presence of cork¡± at
DOMOTEX 2018, including a product by the Portuguese
company Wicanders with a high definition wood finish
printed directly on to the cork.

In addition to the green theme, exhibitors at DOMOTEX
2018 were keen to align with the show¡¯s motto "Unique
Youniverse" which was splashed across the various
exhibitions and aimed to highlight an industry trend
towards individualization; the tailoring of flooring
products and support services to customers' needs and
lifestyles.

Although natural wood products are by their nature
¡®unique¡¯ and ¡®individual¡¯, this theme creates challenges for
suppliers of wood flooring, particularly overseas suppliers
located at some considerable distance from the final
consumer.

Non-wood flooring suppliers were very keen to emphasise
the huge range of colours and finishes they can offer, in
large volumes, including the ability to duplicate the look,
and increasingly the feel and texture, of wood and other
natural materials as required, and their ability to respond
immediately to changeable customer demands.

Wood flooring innovations
While the European parquet flooring sector was not the
headline act at DOMOTEX 2018, the industry was keen to
demonstrate various innovations to maximise the
advantages of natural wood, improve the quality of
products and the range of applications, and to simplify the
installation process.

An example was the Italian company Garbelotto which
works creatively with lengths and widths of wood to
produce unusual herringbone patterns, and also offers a
new line of floors designed ¡°to optimize the natural
essence of wood¡± through use of a water full-cycle coating
treatment that slows down the oxidation of the boards and
leaves them exceptionally matt.

Another example was the German company HocoHolz
promoting a new line responding to rising demand for
flooring in very wide natural boards, offered with the
company¡¯s standard 19 surface finishes and either a
patented click system or tongue and groove connection for
bonded laying if required, with the aim of ensuring that
¡°all rooms can be planned to suit individual, customized
requirements.¡±

Similarly, the Belgian Vetedy Group which specializes in
producing and distributing high-quality outdoor terrace
decking and indoor parquet flooring - often using tropical
woods including teak, merbau, iroko, padauk, doussie, and
weng¨¦ - has built sales on the success of its internally
developed Softline system which allows fitting of wooden
terraces with no visible fastenings.

At DOMOTEX this year, the company showcased another
innovative system, Techniclic, which extends the
advantages of invisible fastening to luxury wooden
facades, walls and ceilings.