US Dollar Exchange Rates of 25th January 2018
China Yuan 6.3154
Report from China
Pace of real estate investment slowed in 2017
According to China¡¯s Statistics Office, investment in
domestic real estate in 2017 increased 7% year-on-year
however, the pace of growth slowed compared to a year
earlier. Investment in residential buildings in 2017 was up
by 9.4%.

Investment in eastern region grew by over 7% year-onyear.
Growth in the central region went up by almost 12%
but growth was much slower in the western and
northeastern regions.

Despite the slower pace of investment in construction
projects the pace of growth in land purchases was in the
opposite direction. In 2017 the land area purchased by real
estate developers expanded by almost 16%.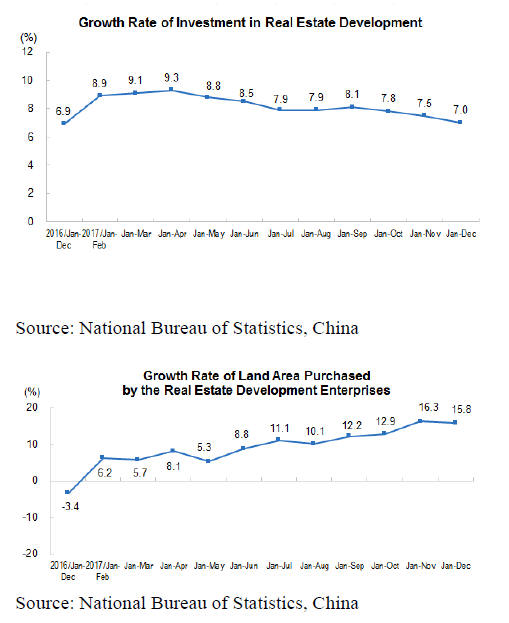 Behind the slowing pace of construction was the
toughened conditions put on housing loan applicants.

According to a report from the People's Bank of China bat
the end of last year loans to the property sector were
slower than in 2016 due to intensified government efforts
to curb housing market speculation. Many cities and
government agencies introduced a host of restrictions to
curb speculation in the housing market.

The latest data from the National Bureau of Statistics is
showing that new housing sales prices fell in December.

See:
http://www.stats.gov.cn/english/PressRelease/201801/t20180126
_1577671.html

Association to challenge US anti-dumping duties
China¡¯s National Forest Products Industry Association
(CNFPIA) has indicated it would challenge the ruling on
plywood anti-dumping rates imposed in the US. The
Association is calling on enterprises that have been
penalised to appeal the US Commerce Department¡¯s
ruling.

Formaldehyde listed as a controlled chemical
In late December the list of controlled chemicals
announced by the Ministry of Environmental Protection,
the Ministry of Industry and Information Technology and
the Health and Family Planning Commission defines 22
including formaldehyde.

The listing aims to ensure proper handling and diaposal of
dangerous substances in order to implement the Action
Plan of Water Pollution Prevention and Control.

Analysts report that the Environment Ministry will act to
control formaldehyde emissions as this is recognised as a
hazardous chemical. This latest move will present
woodbased panel manufacturers with a considerable
challenge.

For more see:
http://www.zhb.gov.cn/gkml/hbb/bgg/201712/t20171229_42883
2.htm

Water paint instead of oil paint
Beginning January this year China began collecting an
environmental protection tax and has changed the
regulations on waste and pollutant disposal mechanism
which have not been strengthened for 40 years. Analysts
say this first ¡®green tax¡¯ will require enterprises to
contribute more to protecting the environment.

In recent years efforts have been made to promote
waterborne coatings whose use leads to reduce VOC
emissions.

In 2015 what was locally called the strictest environmental
protection law in the history of China was introduced and
included a 4% tax on oil based and paint manufacturers.
At the same time many cities in China began to say ¡®no¡¯ to
solvent based paints. Beginning in July 2015, the use of oil
based paint was banned in Shenzhen City.

Following this the use of paint spray was prohibited in the
Beijing furniture manufacturing industry. Also, in
February 2017 enterprises in Jiangsu province were
required to complete a transfer from the use of oil based
paint to water based alternatives.

The momentum for cooperation between national and
local policies to control the production and use of oil
based paint is gathering pace say analysts.
Panel production halted due to frozen logs
According to panel manufacturers in Shuyang and Pizhou
City in Jiangsu Province and those in Heze and Linyi City
in Shandong Province, it is so cold that the poplar logs
used for panel production have become frozen and cannot
be peeled.

With the Chinese traditional New Year coming in mid-
February companies have decided to cease production
early allowing workers to enjoy a longer holiday. Analysts
anticipate that the early cessation of panel production is
likely to lead to shortages and price increases.

Furniture enterprises moved out of Beijing
According reports from the Beijing Furniture Industry
Association Congress held in early January, the income of
furniture manufacturers in Beijing rose 3.5% to RMB5.7
billion in the first ten months of last year.

The Congress also reported that around 150 furniture
enterprises moved out of Beijing in 2017. To
accommodate them three furniture industry clusters have
been built in Lutai, Hangu and Shenzhou Cities.

Environmental Protection was the most debated topic
amongst the Beijing furniture industry participants at the
Congress as they were aware the Beijing Environmental
Protection Department would require enterprises to have
pollutant discharge licenses but only after environmental
impact assessments have been concluded.

Jingjiang ¨C a new imported timber manufacturing base
With the opening of the Jiangsu Wanlin International
Timber Market, a RMB4.5 billion investment in the
Jingjiang national development zone Jingjiang City,
Jiangsu Province has become a major national base for
imported timber and processing.

It has been forecast that more than 1 million cubic metres
of timber will be traded through the market.

The new development zone is in the Yangze River Delta at
Jingjiang Port which has a capacity to handle 100 million
tonnes.

Seven enterprises have established production operations
at the new site and they can produce around 1.3 million
cubic metres of wood products annually.