2. GHANA
Readying for FLEGT licenses this year
Ghana is ready to run trials on its FLEGT licensing system
this year despite delays in the process to conclude the
work. This news was announced during a workshop
organized for timber exporters.

Alexander Dadzie, the Vice President of the Ghana
Timber Association (GTA), told attendees the delay in
implementation was due to the care required in developing
the necessary regulations and legislation.

At the same meeting with exporters, Eric Abbeyquaye, the
Permit Manager in the Timber Industry Development
Division of the Forestry Commission, said that Ghana
signed the VPA with the EU demonstrated Ghana's
commitment towards ensuring only verified legal timber
was exported.

Illegal harvested rosewood auctioned
The Ghana Minister for Lands and Natural Resources
reported to parliament that 4,986 cubic metres of seized
illegally harvested rosewood was recently auctioned. This
auction, in addition to the sales price, netted government
around GHc296,000 in auction fees.

The logs in question, said the Minister, had been seized
from operators whose felling licences had been withdrawn
but who continued to harvest rosewood logs.

The government has now banned the harvesting and sale
of rosewood. Future trade in this valueable timber, said the
Minister, will be governed by CITES regulations.

Minister's efforts to stop illegal mining recognised
A Christian group in Ghana has named the Minister of
Lands and Natural Resources, John Peter Amewu, as the
'Best Minister for 2017'. This, say local media reports,
was because the Minister fought hard in 2017 to protect
Ghana's water bodies and forests and bring a halt to illegal
mining which was destroying the environment and the
country's forest cover.

The Ministry of Science and Environment has suggested
that the country will need external help in reclaiming
forests destroyed by illegal miners.

Ghana's economy rebounding
Ghana's President has said economy is improving such
that soon it would be able to forego the financial support
provided by the World Bank. This, he said, will be
possible because of the government's fiscal responsibility
and the crackdown on corruption. Ghana's GDP growth
for Q3 2017 shot up to 9.3% from 3.5% in the same period
2016.

For more see: https://www.reuters.com/article/us-ghanapolitics/
president-says-ghanas-economy-back-on-trackidUSKBN1F62FH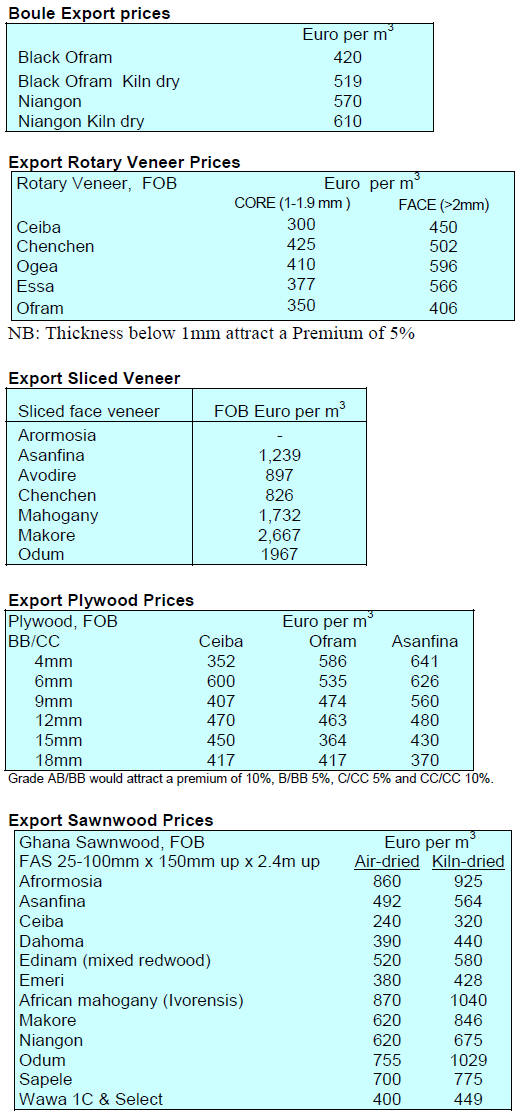 3. MALAYSIA
Industry to face challenges on several fronts
The Borneo Post has reported on prospects for the woodbased
industries in Malaysia as assessed by the research
arm of Hong Leong Investment Bank.

Hong Leong says in 2018 the timber sector will face a
challenge because of the strengthening of the ringgit
which will undermine competiveness and profits. A
particular challenge will derive from the fact that most
export pricing is in US dollars and if the dollar edges up
competiveness will be undermined.
Another issue raised in the Bank assessment was that as
oil prices climb this will push up resin and other chemical
costs leading to higher production costs.

In related news, Malaysia's Minister for Plantation
Industries and Commodities, Mah Siew Keong, has laid
raised the prospects for a National Oil Palm Trunk
Development Plan that will focus on the use of oil palm
trunks as an alternative raw material supply.

See: http://www.theborneopost.com/2018/01/17/wood-basedmanufacturers-
earnings-prospects-to-face-challenges-in-2018/

Professional Designers Programme (PDP)
The third round of the Professional Designers Programme
has been launched through collaboration between the
Malaysian Timber Industries Board, the Malaysian
Furniture Council and the Australian Furniture
Association.

This latest programme will focus on lifting Malaysian
furniture designs to a higher level through involvement of
professional designers. The aim, says the MTIB, is to
achieve 70% 'Own Design Manufacturing' in the
Malaysian furniture sector by 2020.

This PDP programme will combine domestic culture and
styles with production capabilities of local furniture
manufacturer to produce attractive designs for the local
and international markets.

Sarawak to collaborate with Finnish Institute on
sustainable forestry
A spokesperson for the Sarawak State government has
said an agreement has been reached with the Natural
Resources Institute Finland (LUKE) for collaborative
work on sustainable forestry in Sarawak. Plans are being
developed for securing funding for efforts on sustainable
forestry, integrated land management, forest carbon
management and climate change issues.

See: https://www.theborneopost.com/2018/01/25/sarawak-tocollaborate-
with-luke-on-sustainable-forestry/

Panel furniture a feature of upcoming furniture fair
In the lead up to the March Malaysian International
Furniture Fair set for 8-11 March this year the organisers
have a feature article on wood based panel furniture. The
MIFF article explains the panel-based furniture market
especially in the US is firm on the back of the trend for the
younger generation to opt for more affordable furniture.

In the coming MIFF 2018, says the article, an extensive
collection of both panel-based furniture and Malaysia's
renowned solid wood furniture collection from top
domestic and international furniture manufacturers will be
on display.

For more see: http://2018.miff.com.my/media/news-andfeatured-
articles/92/the-popular-demand-wood-panel-basedfurniture/

Plywood price update
Plywood traders based in Sarawak reported the following
export prices: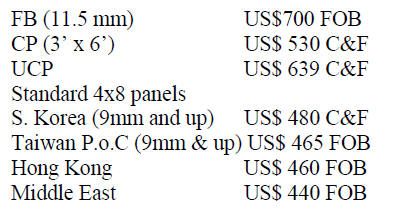 4. INDONESIA
US$3 billion furniture and handicraft export target
Secretary General of the Indonesian Furniture and
Handicraft Association (HIMKI), Abdul Sobur, has said
furniture and handicraft craft exports in 2018 could top
US$3 billion, up over 15% on 2017.

Sobur commented that 2017 exports were not much higher
than a year earlier because of problems with productivity
and competition from low cost producers in the region.
The fact that some foreign companies with factories in
Java decided to relocate operations to Vietnam made
matters worse for the sector.

Nevertheless, Sobur is still optimistic that the export target
of US$5 billion in 2019 can be achieved if regulations that
hamper and reduce industrial competitiveness are
addressed. To achieve US$3 billion in exports Sobur
pointed to the need to address raw material supply issues,
improve productivity and designs.

HIMKI companies plan to participate in exhibitions of
furniture and craft industries abroad. This year, some
exhibitions in countries such Germany, the United States
and China will be encouraged and supported by
government.

In related news, Bank Indonesia has revealed banks
provided loans to furniture manufacturers worth Rp860.01
billion, up almost 15% on 2017.

Indonesia ready to return to Salone del Mobile
At a recent press conference Joshua Simanjutak, of the
Creative Economy Agency said Indonesia companies will
be assisted in participating in Italy's main furniture show
Salone del Mobile set for 17-22 April.

Social forestry programmes to be more closely
coordinated
Indonesia's Peat Restoration Agency (BRG) along with
some NGOs, has called on the government to develop
programmes to support communities living in degraded
peatland areas. Myrna Safitri, Deputy Head of BRG, said
BRG will coordinate its peatland restoration programmes
with the social forestry programmes being undertaken by
the Ministry of Environment and Forestry.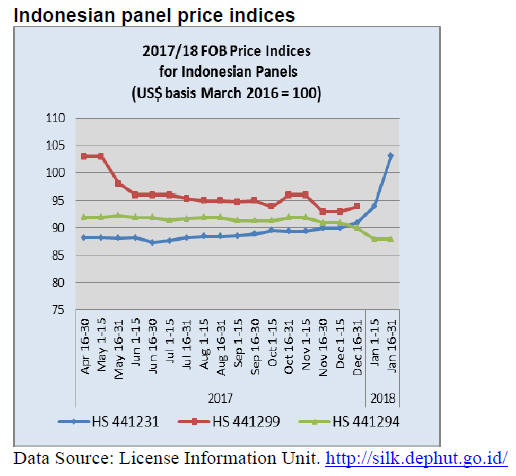 5. MYANMAR
Frequent changes to tax laws a problem for
enterprises
At a recent workshop, representatives of the American
ASEAN Traders Association, along with others, raised the
issue of the regular changes that are made to tax laws in
the country which make it very difficult for manufacturers
to calculate their tax liabilities and production costs.

It was mentioned that it is only in Myanmar that such
regular changes are made to tax laws and this can
negatively impact potential investors wishing to begin
manufacturing operations in the country.

In related news, the American ASEAN Traders
Association has called for a review of the current tax
regimes which include a commercial tax, a special
commodity tax, municipal taxes in addition to corporate
tax. They argue that an overall reduction in the tax burden
on companies would stimulate further domestic and
foreign investment .

The Myanmar Investment Commission has said it hopes
that the new Companies Law, set to come into force in
August, will create a more investor-friendly environment.

Volume of seized teak logs exceeds planned harvest
During the first three quarters of fiscal 2017-18 around
36,000 hoppus tons of timber was confiscated. This
include over 7,000 hoppus tons of teak and 29,000 hoppus
tons other hardwoods.

In the current fiscal year the Myanma Timber enterprise
(MTE) planned to harvest 15,000 hoppus tons of teak.
Against this background the authorities and civil society
groups are seriously worried about the huge quantity
which has been seized since it represents such a high
proportion of the planned legal harvest.

In a related development, since 29 Dec 2017 the Forestry
Department has suspended the auction of those logs
rejected by MTE because of their poor quality. Such
auctions, which are typically held across the country, have
been temporarily suspended in an attempt to control illegal
trading of Myanmar timber.

Currently, timber purchased by sawmillers during these
Forestry Department auctions are not allowed to be
transferred between regions and states and products
manufactured from these logs shall not be exported.

However, despite the best efforts of the authorities, illegal
timber traders and brokers continue to conduct log trading
in Myanmar's border towns. Demand for teak in border
towns is driving up prices and this illegal trade is
distorting prices for verified legal teak used by domestic
industry making it difficult for them to operate profitably.

MTE commitment to transparency in harvesting
contracts applauded
MTE has made available details of the service contracts
with the private sector for this years' harvesting,
specifically for felling/cutting, skidding,
loading/unloading, road construction and transportation.

The information available shows the name of the service
providers, the type of service and the region/area of forest
where harvesting will be conducted.

Last year there was confusion over the interpretation of
private sector involvement in harvesting.

MTE has confirmed that the past system, whereby private
sector contractors were granted permission to buy the logs,
will not be continued.

MTE has said clearly they will pay for the service of
contractors and that contractors will only be used if MTE
finds itself unable to undertake the respective operations.
Local analysts are very much encouraged by the serious
commitment to transparency by MTE.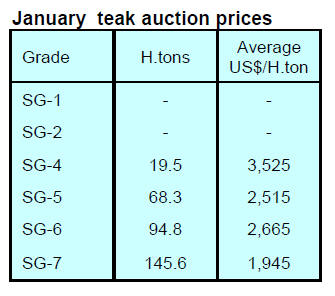 6. INDIA
Factory output at 17-month high
Data from the Central Statistics Office (CSO) has shown
that November 2017 factory output increased at its
quickest pace in two years spurred by expansion in the
manufacturing sector. Analysts read the data as signalling
stronger growth in 2018.

CSO data shows that 15 out of the 23 industry groups in
the manufacturing sector had positive output growth in
November, the latest for which data is available. This is
very goodness for employment.

India/ASEAN collaboration on forestry
According to a press statement from the ASEAN
Secretariat, ASEAN Ministers of Agriculture and Forestry
and the Indian Minister of Agriculture and Farmers'
Welfare welcomed progress made in the implementation
of the ASEAN-India Plan of Action 2011-2015 to
implement the ASEAN-India Partnership for Peace,
Progress and Shared Prosperity.

Under an action plan 'Promoting Capacity Building,
Technology Transfer and R&D for Global Competence in
Agriculture', four capacity building activities have been
undertaken on IT Application for Agricultural Extension,
National seed quality control systems, Organic
certification for fruit and vegetables and conventional and
molecular techniques for diagnosis of trans-boundary
animal diseases.

The ministers also supported joint collaborative projects in
the areas of (i) Agroforestry interventions for livelihood
opportunities, (ii) Demonstration and exchange of farm
implement and machinery, and (iii) Genetic improvement
of parental lines and development of heterotic rice hybrids.
They noted the endorsement of the Medium Term Plan of
Action for Asean India Cooperation in Agriculture and
Forestry for 2016–2020 by the SOM AMAF and India.

http://asean.org/storage/2018/01/Joint-Press-Statement-4th-
AIMMAF.pdf

Dubai property show delivers good results
CREDAI's Indian Property Show was held in Dubai in
early December and attracted over 13,500 visitors. The
Exhibition, in collaboration with Dubai based Sumansa
Exhibitions, was the first international exhibition of Indian
Properties in Dubai after the introduction of India's Real
Estate Regulation and Development Act (RERA).

This act has led to a highly positive sentiment amongst
homebuyers and this was reflected in the sales of over
1,000 properties on offer at the exhibition.

The event also included state pavilions representing
Gujarat, Maharashtra, Delhi – NCR, Rajasthan, Karnataka,
Tamil Nadu, Kerala, Andhra Pradesh, West Bengal, Goa,
amongst others. Properties in Southern India were in
demand.

CREDAI President, Mr. Jaxay Shah said "CREDAI, along
with Sumansa Exhibitions, have been able to display the
most prime properties from the most credible developers
of India in Dubai.

The combination of CREDAI's goodwill and the new era
of RERA in the Indian real estate gave the event an
extremely strong foundation to flourish amongst a base of
keen NRI buyers who also displayed an extremely strong
interest in buying Indian properties."

See
https://credai.org/press-releases/credais-indian-property-showwitnesses-
strong-participation-from-210-developers-and-13500-
visitors

Teak auction prices
Auctions at forest depots in North and South Dangs
Divisions ended on 22 January. Of the approximately
5,000 cubic metres sold most were teak logs the rest being
tropical hardwoods such as Adina cordifolia, Gmelina
arborea, Pterocarpus marsupium, Acacia catechu and
Mitragyna parviflora.

Domestic millers are keen to purchase larger girth
domestic teak logs as imported teak logs are mainly of
small girth material. One significant advantage of
purchasing domestically grown teak logs is that the logs
are sold with the bark and sap removed. Prices at the
recent sale are shown below.

Prices at the recent sales are shown below.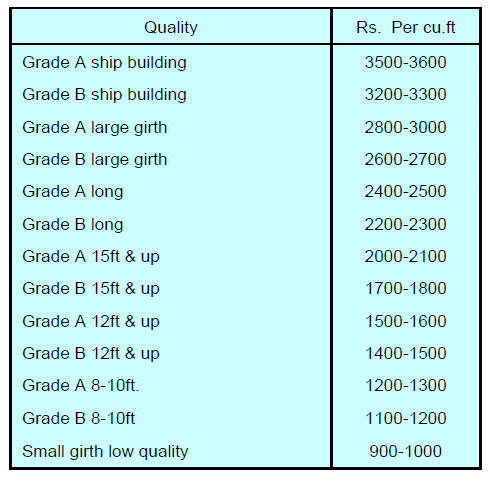 First quality non-teak hardwood logs 3-4m long having
girths 91cms & up of haldu (Adina cordifolia), laurel
(Terminalia tomentosa), kalam (Mitragyna parviflora) and
Pterocarpus marsupium attracted prices in the range of
Rs.800-1000per cu.ft. Second quality hardwood logs were
sold at between Rs.600-700 and low grade logs sold for
Rs.250-400 per cu.ft.
Imported plantation teak
Demand for imported logs and the pace of supply has been
steady. The combined impact of freight rates and a slightly
weaker dollar/rupiah exchange rate, along with increased
availability has meant that prices offered to exporters
remain unchanged.

Locally sawn hardwood prices
Prices for locally milled hardwoods continue unchanged
from the beginning of the year. Millers report demand is
firming on the back of increased investment in housing
projects especially the affordable housing sector. Analysts
note that the acceptance by endusers of red meranti is
improving.
Despite the brighter demand, importers are resisting
demands from suppliers for price increases citing tough
market competition.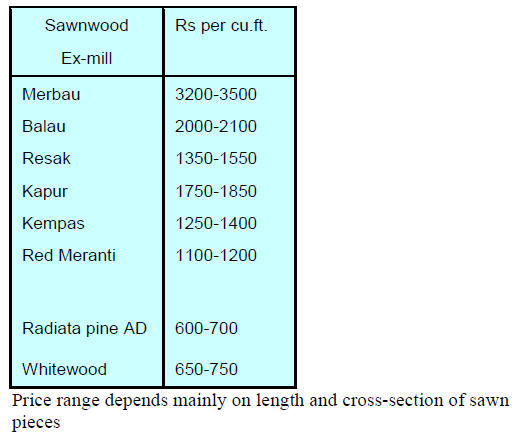 Imported sawn Myanmar teak
Analysts say that, while there is a steady demand from
dedicated Myanmar teak users, others are opting for other
hardwoods which are available at more competitive prices.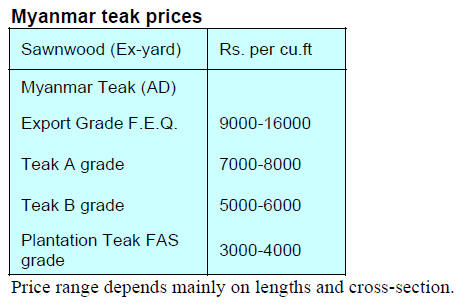 Prices for imported sawnwood
Prices for imported sawnwood (KD 12%) remain
unchanged.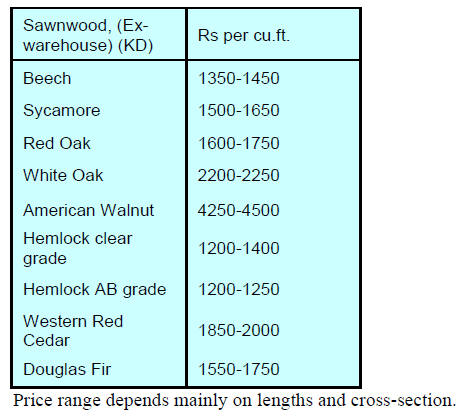 Domestic plywood prices
Plywood manufacturers are happy that the Goods and
Services Tax (GST) on plywood has been reduced from
28% to 18%. However, now they face another issue in
rising resin and other chemical costs which has forced
them to raise prices.

The current prices, after adjusting for GST and raw
material costs are shown below.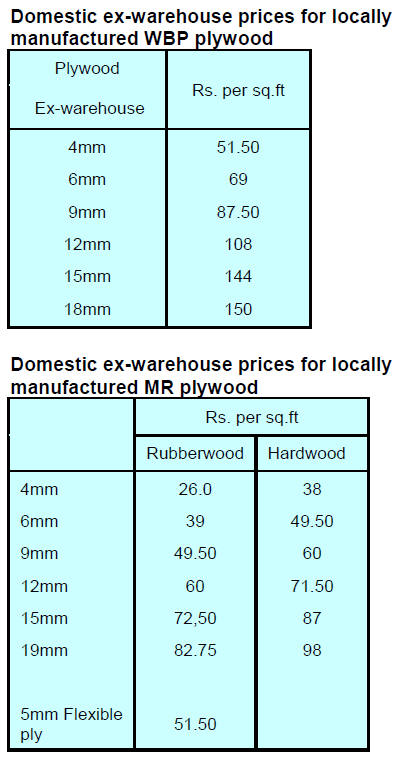 7. BRAZIL
Recover in furniture sector some way off say analysts
According to the Brazilian Institute of Geography and
Statistics (IBGE) furniture production increased 4.4% in
the first eleven months of 2017, the fastest pace of growth
since 2011.

The IBGE conducted state surveys in Paraná and Rio
Grande do Sul. In Paraná production rose just over 3% in
the first eleven month period but in Rio Grande do Sul
there was a decline in production. In comparison to
November of 2016, furniture industries in Paraná
registered strong growth (+13.5%) while those in Rio
Grande do Sul saw a decline of 8%.

Despite the rise in production analysts point out there is
little to celebrate as the 4.4% increase is small compared
to the overall decline of almost 30% over the previous
three years.

Looking at furniture retail prices in 2017 where there was
a 0.5% decline and the 5.5% drop in sales volume up to
October, analysts estimate furniture consumption in 2018
could be lower than forecast. This suggests that it will be a
few years before the furniture sector recovers anywhere
close to the boom year of 2010.

IBAMA investigates timber companies – several face
charges
In January this year the Brazilian Institute for
Environment and Renewable Natural Resources (IBAMA)
conducted spot checks on logging companies in the
Amazon to investigate potential fraud in payment of the
Environmental Control and Inspection Fee (Taxa de
Controle e Fiscalização Ambiental - TCFA).

IBAMA has reported 2,255 infractions and fines
amounting to around R$7 million. In Mato Grosso State
alone irregularities were identified in 616 companies. In
Pará 355 cases were identified, in São Paulo 308 case and
in Rondônia 235 cases.

IBAMA says the main issue was that companies traded
forest products with a higher volume than declared in the
Federal Technical Register System (CTF).

November export update
In November 2017 Brazilian exports of wood-based
products (except pulp and paper) increased 14.9% in value
compared to November 2016, from US$211.7 million to
US$243.2 million.

Compared to the same month a year earlier the value of
pine sawnwood exports increased 35% in November 2017
(US$ 32.5 million). In terms of volume, exports increased
29% over the same period, from 165,400 cu.m to 213,700
cu.m.

Tropical sawnwood exports also increased rising 33% in
volume, from 31,800 cu.m in November 2016 to 42,400
cu.m in November 2017. The corresponding rise in value
was 25%, from US$15.4 million to US$19.2 million.

Exports of pine plywood exports surged 57% in value in
November 2017 comparison with figure of November
2016, from US$ 5.0 million to US$55.0 million. In terms
of volume, exports increased 36% over the same period,
from 132,400 cu.m to 180,100 cu.m.

In November 2017, tropical plywood exports increased
23% in volume, from 12,500 cu.m in November 2016 to
15,400 cu.m and from US$ 5.2 million in November 2016
to US$ 6.2 million in November 2017, a 19% increase.

Brazil's wooden furniture exports rose from US$38.2
million in November 2016 to US$ 41.2 million in
November 2017, a 7.9% rise.

December export update
In December 2017 the total value of Brazil's exports of
wood-based products (except pulp and paper) increased
26% in value compared to December 2016, from
US$220.8 million to US$277.4 million.

Pine sawnwood exports increased 21% from US$ 35.1
million in December 2016 to US$ 42.4 million in 2017
December. In volume, exports increased 15.5% over the
same period, from 174,000 cu.m to 201,000 cu.m.

Tropical sawnwood exports rose 16.3% in volume, from
36,700 cu.m in December 2016 to 42,700 cu.m in
December 2017. In value, exports increased 14.0% from
US$ 17.9 million to US$ 20.4 million, over the same
period.

December 2017 pine plywood exports increased 41% in
value year on year from US$40.0 million to US$56.3
million. The volume of exports increased by just 15.5%
from 154,000 cu.m to 177,800 cu.m.

December 2017 tropical plywood exports increased in
both volume and in value, from 17,900 cu.m (US$7.3
million) in December 2016 to 18,400 cu.m (US$ .6
million) in December 2017.

There was also a continuation of the rise in furniture
exports which jumped from US$ 39.3 million in December
2016 to US$ 43.9 million in December 2017, an almost
12% rise.

2017 furniture trade – a call to diversify markets
A look at residential furniture export shows that there was
an almost 7% rise in 2017 compared to 2016. But analysts
consider this a poor performance as half of the exports
were dependent on just three countries, the United States,
the United Kingdom and Argentina.

Exports to Argentina fell 9% and exports to the UK
dropped 13%. The three markets accounted for about 47%
the total, just 1% higher than in 2016. The total value of
furniture exports was U$633.5 million, some US$50
million below that in 2014.

By State, Santa Catarina continues to lead exports with
36% of the total followed by Rio Grande do Sul, with
29%.

Brazil's imports of furniture continue to rise. 2017 imports
totaled US$538.5 million, an almost 16% increase on
2016. China accounted for 33% of this total, a 34%
increase over the previous year.

8. PERU
Exports fall for the third consecutive year
Peru's wood product exports to the US dropped by over
50% in the first eleven months of 2017 to US$110.5
million. It is likely that 2017 exports will be the third
consecutive year of decline says ADEX, the exporters
association in Peru.

The chairman of the Wood and Wood Industries
Committee of ADEX, Erik Fischer, has blamed the
persistent attacks on the reputation of timber companies in
Peru and the detention for months of shipments by US
Customs because of spurious claims that shipments were
of illegally harvested timber.

Wood product exports to the US were down around 50%
in the first eleven months of 2017 compared to the same
period in 2016. Because of the problems of shipping to the
US this market is becoming less important to Peruvian
exporters according to Fischer.

Last year the main markets were China, (US$55 million)
followed by Mexico (US$16 million). Other significant
export markets included some EU member states
countries, the Dominican Republic and New Zealand.

In terms of product, of significance were exports of semi
manufactured products (US$68.8 million) such as
mouldings and flooring. In addition, there were exports of
sawnwood (US$22 million), veneers and plywood (US$9
million), joinery products (US$5 million), furniture and
parts (US$3 million).

Promote businesses and forest conservation in
Atalaya
When speaking to regional representatives of indigenous
organizations, the Ucayali Regional Government, the
Municipality of Atalaya, Sernanp and representatives of
SERFOR, the Head of the Incentives Unit for the
Conservation of Forests (part of the Forests Programme)
said investment projects for the Mitigation of Climate
Change will support the generation of sustainable
businesses in native communities.

The aim of the Forests Programme is to promote the
sustainable use of the forest in the region, reduce
deforestation and improve the quality of life of the
population that live in or depend on the forest.

The president of the Confederation of Amazonian
Nationalities of Peru (Conap), reminded the meeting that it
is important to generate economic initiatives for
indigenous and native communities to raise living
standards. This, he said, can be achieved through support
for small businesses in the cultivation of coffee, cocoa,
fish farming and community forestry.

25% of Madre de Dios forest under sustainable
management
According to the records of the National Forestry and
Wildlife Service (SERFOR), Madre de Dios has over 25%
of its forests under sustainable management.

Around half of this is forest area is for timber harvesting,
the other half being for production of chestnuts, shiringa
(rubberwood) and aguaje (the so-called miracle fruit for
women), important crops which generate significant
employment.

In Madre de Dios there are also 190,000 hectares of
concessions for conservation there are also areas for
afforestation and reforestation.

Madre de Dios is the third largest department in the
country and has the largest forest area after Loreto and
Ucayali. However, analysts complain the potential of the
natural resources is still at risk from deforestation.

Between 2001 to 2016 an area of around deforestation of
163,000 hectares, was lost to small-scale migratory
agriculture and illegal mining.