US Dollar Exchange Rates of 10th January 2018
China Yuan 6.4953
Report from China
Real Estate Development January ¨C November 2017
Investment in Chinese real estate in the first eleven months
of 2017 increased 7.5% year-on-year but the pace of
growth slowed. Investment in residential buildings
expanded almost 10% over the same period.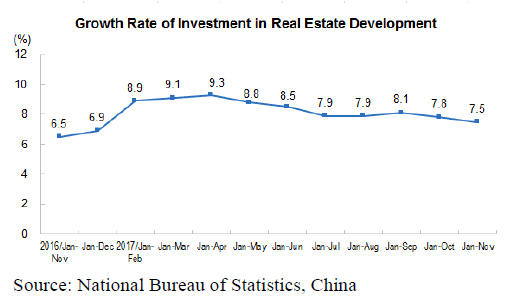 In the first eleven months of 2016 the land area purchased
by the real estate development enterprises was up by 16%
year-on-year and the pace of expansion grew.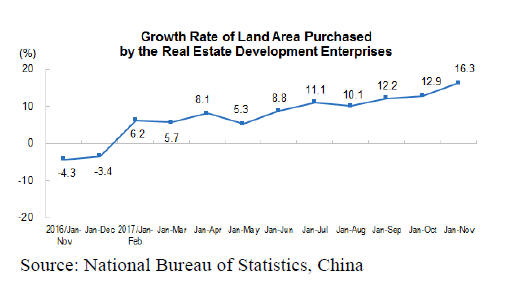 See:
http://www.stats.gov.cn/english/PressRelease/201712/t20171219
_1564825.html

Last year property sales slowed because of measure
introduced by the government to cool an over-heated
market.

The unexpected effect of the government action has been
to concentrate real estate development in the hands of the
major companies at the expense of smaller enterprises say
analysts. This has occurred as the larger companies have
better access to credit from banks, better access to land via
regional governments and because they successfully
weathered the housing market downturn in 2016.

According to China Index Academy, an independent
property research organisation, the market share of the top
10 developers in Beijing grew from 35% to 49% between
2016 and 2017 a trend that has been observed in other
major cities across China.

See: http://industry.fang.com/en/default.html

End to volume checks on imported timber
China¡¯s General Administration for Quality Supervision,
Inspection and Quarantine has announced that the
requirement for checking the volume of imported timber
has been terminated. This, say analysts, was decided in
order to facilitate faster clearance for the ports and could
lead to lower transit costs for importers.

Information in Chinese can be found at:
http://www.aqsiq.gov.cn/xxgk_13386/jlgg_12538/zjgg/2017/201
710/t20171030_500681.htm

Closure of timber enterprises in Taicang city
It has been reported that a zero tolerance measure has been
taken on pollution from wood processing factories in
Taicang City. This is part of the action on environmental
pollution controls in Jiangsu province. An official notice
(20 December 2017) was posted declaring that all wood
processing factories in Taicang City must immediately
cease production. All wood processing companies are
required to relocate before 20 January this year.

A copy of the official notification can be seen at:
http://www.yuzhuwood.com/news/details_40287d73606f5d8e01
607eb389680d8b.htm
Firm demand for custom home furnishings
It has been reported that due to the growing environmental
awareness amongst consumers, demand for ¡®green¡¯ custom
made home and household goods is rising.

The products in demand include wooden doors, cabinets,
dinning furniture, and wood panels and furniture and
makers of custom made items report that they are able to
secure a price premium for custom made items.

Rise in log imports through Xiamen
According to the Xiamen Entry-Exit Inspection and
Quarantine Bureau, log imports through Xiamen Port
totaled 1.905 million cubic metres valued at US$46
million in 2017, up 10% in volume and 11% in value
compared to 2016.

The imported logs were from 37 countries with New
Zealand, Australia, the USA and Estonia topping the list in
terms of volumes. Imports from New Zealand totaled
962,000 cubic metres valued at US$130 million and
accounted for over 50% of the total volume and total value
of imports through Xiamen Port.

The volume and value of imported logs from Estonia rose
103% and 138% respectively in 2017. According to the
statistics, imported goods from Estonia through Xiamen
port were valued at US$9.42 million of which 98% were
logs.

The species of imported logs through Xiamen port are
radiata pine, spruce, scots pine, ponderosa pine and
loblolly pine but over 70% of the logs imported were
radiata pine.

Wood products trade in Guangdong province


Imports
According to Guangdong Entry-Exit Inspection and
Quarantine Bureau, between January and November 2017
log imports into Guangdong Province rose 11% to 34.67
million cubic metres. Sawnwood imports were 8.51
million cubic metres, up 21% over the same period in
2016.

On the other hand, MDF imports dropped 13% to 72,500
cubic metres. Particleboard imports in Guangdong
Province amounted to 194,700 cubic metres, a year on
year increase of 41%, accounting for 21% of the national
total. Many furniture manufacturers in Guangdong
province imported high quality particleboard to produce
furniture.

Plywood imports into Guangdong Province fell 14% to 65,
800 cubic meters, accounting for 38% of the national total.

The value of Guangdong wooden furniture imports surged
95% to US$166 million between January and November
reflecting increased disposable incomes and rising living
standards of residents in the Province.



Exports
Plywood exports from manufacturers in Guangdong
Province fell in the first 11 months of 2017 with the
largest drop seen in exports to the US, the largest market
for Guangdong based companies.

Plywood exports from Guangdong to the US, South
Korea, the UK, and Saudi Arabia fell 15%, 21%, 12% and
26% respectively. However, plywood exports to Japan
rose 6% and trade with Hong Kong rose to 172,200 cubic
metres, representing a large part of exports from
Guangdong.

MDF exports from makers in Guangdong Province rose
11% to 119,600 cubic metres in the first 11 months of last
year. MDF exports to traditional markets such as to the
US, Canada, South Korea and Iran fell.

In the case of particleboard, exporters in Guangdong
Province are tapping new markets such as Nigeria
(180,000 cu.m), Vietnam (147,100 cu.m), India (49, 500
cu.m) and United Arab Emirates (130,000 cu.m).