US Dollar Exchange Rates of 10th December 2017
China Yuan 6.6084
Report from China
Real estate investment powers ahead
In a press release the National Bureau of Statistics of
China shows that total investment in real estate
development in the first ten months of 2017 increased by
almost 8% year on year but that the pace of growth has
been slowing throughout the year.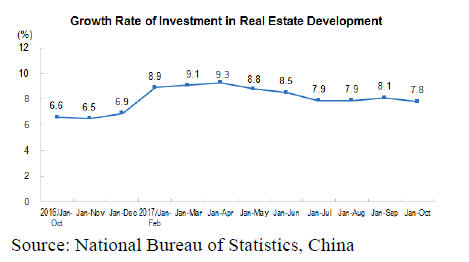 Real estate investment in the eastern region was up 8%
year on year as it was in the central region which clocked
a 13% increase year on year. Investment in the western
region was also up but by a more modest 4% and in the
northeast real estate investment fell marginally.

For more see:
http://www.stats.gov.cn/english/PressRelease/201711/t20171115
_1553774.html

Prospects for further growth appear good as the land area
purchased by real estate developers continues to rise and is
up almost 13% year on year.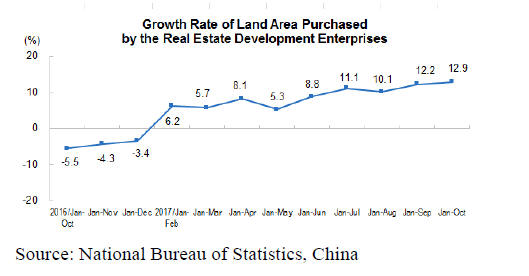 The Nikkei Asian Review, quoting the Financial Times
has reported that China¡¯s stock of unsold homes continues
to fall. Analysts suggest activity in the building and
construction sectors could soften the negative impact of
the likely economic slowdown next year.

China¡¯s real estate sector is a major driver of growth
accounting for about a fifth of GDP if output from other
industries driven by housing such as household items,
wood products, steel and cement are included.

See:
https://www.ft.com/content/e7627c22-d413-11e7-a303-
9060cb1e5f44
Environmental tax will add to production costs
It has been reported that China will introduce an
environment protection tax in January next year. This will
be the first tax reflecting a ¡®green tax system¡¯ aimed at
creating awareness in society of the need for
environmental sustainability. Manufacturing enterprises
will be affected as they will be encouraged to increase
investment in environmental protection.

Currently most of provinces in China have specific
environmental taxes the standards of which vary
considerably depending on the carrying capacity of the
local environment, pollutant types as well as the
development goals behind the environmental laws.

The highest environmental taxes are levied in Zhejiang,
Hubei, Hunan, Guangdong, Guizhou, Yunnan and Shanxi
provinces. The tax levels are moderate in Jiangsu, Henan
and Sichuan provinces. But the taxes are very high in
Beijing, Tianjin and Hebei province.

As a result of the new taxes production costs are set to rise
for wood product manufacturers but it will take time
before the impact of the taxes can be assessed.

10 million cubic meters of timber through Taicang Port
According to the Taicang Entry-Exit Inspection and
Quarantine Bureau, timber imports through Taicang Port
rose 27% to 10.29 million cubic metres between January
and November 2017.

This is the first time imports through this port exceeded 10
million cubic metres. The cargoes comprised 7.26 million
cubic metres of logs (up 41% year on year and 3.04
million cubic metres of sawnwood (up 10%).

The timber arrived from Canada, New Zealand, Russia,
Australia and the USA and these five suppliers accounted
for 93% of the total imports through Taicang.

Imports from Australia more than doubled, imports from
the USA increased 83% while imports from New Zealand
were up 73%. Furthermore, imports through the port from
Canada rose 10% but imports from Russia fell 3%.

Zhenjiang City ¨C major processing and trading base for
imported timber
It has been reported that a major industrial zone, the
Xinminzhou Industrial Zone, has been constructed
specifically for processing imported timber. This
industrial complex in Zhenjiang City, Jiangsu Province
covers an area of over 300 hectares.

Timber imports through Zhenjiang Port rose 18% to 1.15
million cubic metres up to the end of November fueled by
shipments from New Zealand, Australia, Canada, the
USA, Uruguay, Japan, Estonia and Guatemala. The main
species imported were radiata pine, douglas fir, Caribbean
pine, Japanese cedar and hoop pine.

Transfer of furniture manufacturers away from main
cities
In a new round of industrial restructuring many furniture
manufacturers have been required to relocate away from
the main cities.

Almost all of furniture manufacturers in Beijing have
transferred operations to surrounding provinces because
they are responsible for polluting the city environment.

In addition around 70% of the furniture manufacturing
enterprises in Chengdu city have been moved out. There
were more than 6,000 home furnishing enterprises in
Cheng with a combined output of around RMB100 billion.