Japan Wood Products Prices
Dollar Exchange Rates of 10th December 2017
Japan Yen 112.22
Reports From Japan
Modest economic growth but prices stagnant
The Finance Ministry said in the July-September period
capital investment by Japanese companies rose over 4%
year on year marking the fourth straight quarter of gain.
This has encouraged analysts to suggest the signs are of a
modestly improving economy.

In the third quarter of 2017 the Japanese economy grew at
an annualised rate of 1.4%, the longest period of
consecutive growth in 16 years.

On the basis of recent data the Japanese government is
expected to revise up its growth forecast for 2018 as an
expanding global economy should drive capital
investments by Japanese companies even higher.

Economists say monetary policy is a strong driver of
current growth and, while the macro-picture is
encouraging, prices are not rising much which calls into
question the approach being taken by the Bank of Japan.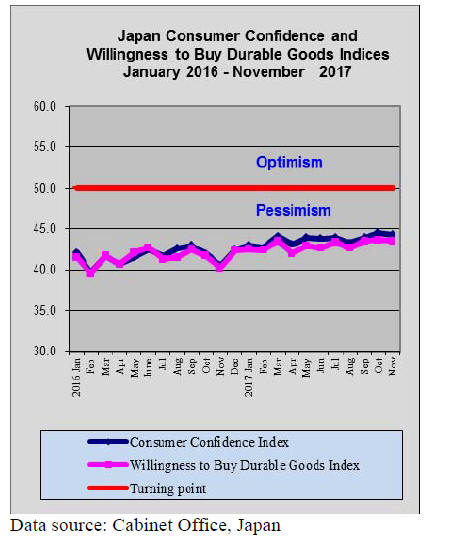 Dollar falls on Jerusalem announcement then up on
US tax plan
After suffering from a decline when the US administration
announced recognition of Jerusalem as the capital of
Israel, the US dollar rebounded to a 3 week high against
the yen in early December driven higher after the US
Senate approved the tax reform bill. This strengthening
was also supported by improved private-sector
employment data.

In mid-December the US dollar was trading at around yen
112 to the US dollar, a rate that is favourable to exporters.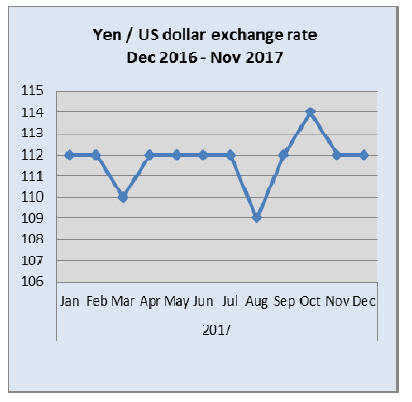 Inheriting a house ¨C a potential nightmare
In Japan the prospect of inheriting the parental home has
now become a nightmare, particularly those who live and
work far from their parents¡¯ home and do not plan to
return. Inheriting a house involves becoming responsible
for maintenance and taxes and perhaps a hefty inheritance
tax bill, the law for which has recently been changed to
widen its net.

An inheritance can be disclaimed which would mean the
house can be abandoned adding to the already massive
stock of empty houses in Japan. The alternative would be
to pay for the property to be demolished but then the land
tax would kick-in at a much higher rate than if there was a
house on the land.

This very unusual state of affairs and has spawned a
growing business in house renovations. Several of the
major houses building companies are expanding their
businesses into house refurbishment but this is still
relatively rare in Japan. As the population of Japan
shrinks and with the economic prospects still bleak
renovated buildings represent a niche in the housing
market.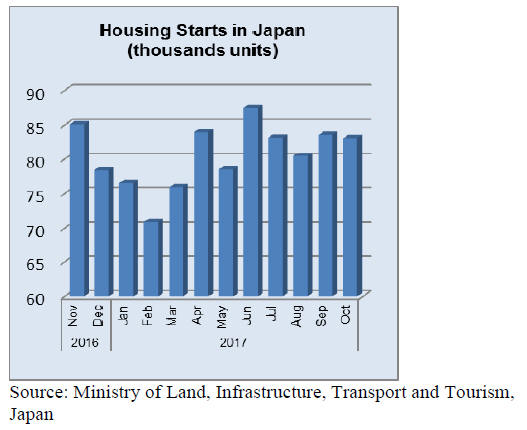 Import round up

Doors
Year on year, Japan¡¯s October 2017 imports of wooden
doors (HS441820) were at around the the same level as in
October 2016 and month on month the value of imports
was also flat. From May this year the value of monthly
imports of wooden doors has hovered around yen 1.5
billion.

In October, China was the largest supplier of wooden
doors accounting for 55% on imports followed by the
Philippines (21%) and both Indonesia and Malaysia at 8%
each. These four shippers accounted for over 90% of
Japan¡¯s October wooden door imports.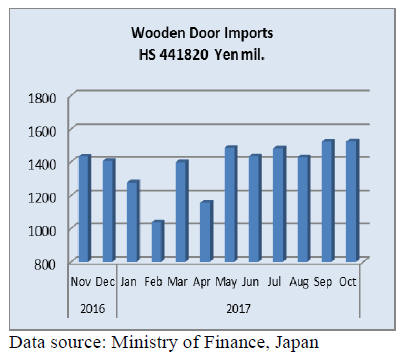 Windows
The rise in the value of wooden window imports in
September 2017 now seems to have been a one-time event
as October figures show imports dropping sharply and
even falling below the level in August, the builders
holiday month in Japan.

Year on year, October 2017 wooden window imports were
down over 40% compared to 2016 and compared to levels
in September a 15% drop was observed. Around 90% of
Japan¡¯s wooden window imports originate from just three
sources, China (32%), the Philippines (29%) and the US
(27%).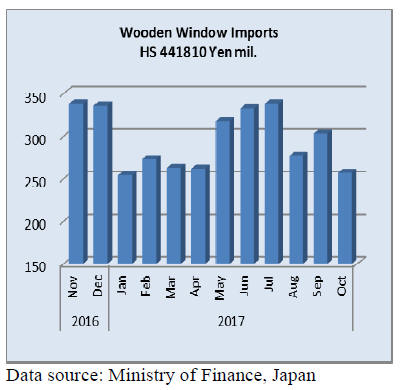 Assembled flooring
The value of Japan¡¯s October 2017 imports of assembled
wooden flooring (HS441871-79) was almost 25% higher
than a month earlier and since July there has been a steady
rise in the value of imports despite the periodic ups and
downs.

Year on year, October 2017 assembled flooring imports
were flat. Of the various categories being tracked HS
441875 accounted for the bulk of October imports (82%)
with China being the main supplier followed Indonesia,
Vietnam and Malaysia. For HS441879 which accounted
for 12% of October imports the main suppliers were
Indonesia and China.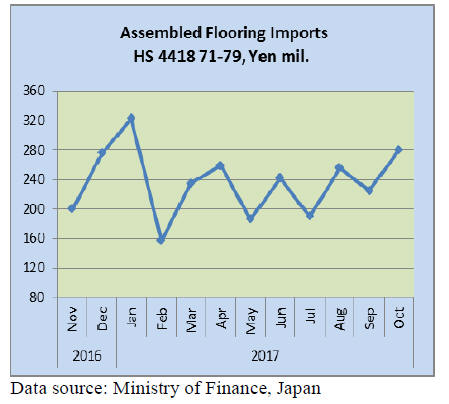 Plywood
Japan¡¯s October 2017 imports of plywood (HS441210-31)
were flat year on year but compared to a month earlier
October import volumes were up slightly.

Since June this year Japan¡¯s plywood imports have
remained at around 170,000 cubic metres per month and
shipments from the main suppliers, Malaysia, Indonesia
and China have moved within a very narrow band.

Shipments from Malaysia are mostly of HS 441231 with
smaller volumes of HS 4412 33 and 34. Shipments from
Indonesia follow a similar pattern with most being HS
441231 but more HS 441234 is shipped from Indonesia
than Malaysia.

In contrast plywood shipments from China are of more
varied specifications with HS 441231 accounting for most.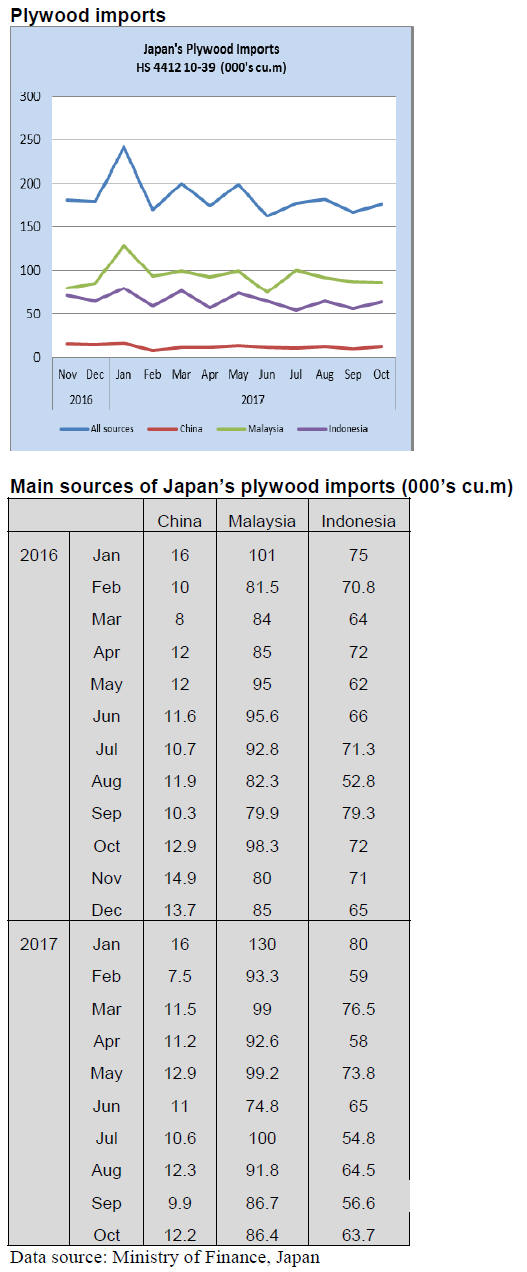 Trade news from the Japan Lumber Reports (JLR)
For the JLR report please see:
http://www.nmokuzai.
com/modules/general/index.php?id=7
Soaring Malaysian and Indonesian plywood export
prices
Export prices of Malaysian plywood are climbing again.
Before log production recovered, rainy season started
since late October and log production will stay low until
rainy season is over in March next year.

Log prices continue firm and the government of Sarawak
will raise timber harvest tax since January next year,
which is another factor to push log prices up.

In this situation, plywood mills in Sarawak propose about
$600 per cbm C&F on 3x6 JAS coated concrete forming
panel for shipment in January and $520-530 on uncoated
concrete forming panel. They are $30 higher than present
prices.

Major plywood manufacturers in Sarawak carry almost six
months order files due to delayed production and
shipments. Structural and uncoated concrete forming panel
are rather easy to produce compared to coated panels
while coated concrete forming panels need quality logs,
which are hard to come by so the manufacturing is limited.

Actually many plywood mills are forced to reduce the
production by log supply shortage and they decide what to
produce depending on quality of logs as they come in.

Indonesian plywood manufacturers are in the same
situation with log supply shortage and climbing labor cost
so they are raising the export prices to follow Malaysian
move.

Present market prices of 3x6 JAS coated concrete forming
panel in Japan are about 1,350 yen per sheet delivered but
the inventories in distribution channels are very limited so
distributors have to accept $600 prices as even shipment
ofcontracted volume is largely delayed.

Plywood meeting by three countries
Japan, Taiwan and Korean plywood manufacturers had a
meeting at Nagoya in late October. Many subjects were
discussed.


Close information exchange on utilization of
wood biomass energy based on cascade use of
wood.


Establishment of law to use only logs harvested
from legally approved forests with sustained
yield system.


Request to the government to maintain import
duty including use of safeguard on plywood and
board products.


Promotion to develop technical measures to
improve performance and quality of plywood and
board.


Efforts to prevent global warming with carbon
fixation through expansion of plantation and
demand of wood products.


Log supply/ demand of PKS, wood chip and fuel
logs needs to be watched as demand for
recyclable energy is rising worldwide.


China is becoming major manufacturing country
of plywood and board by increased import of logs
from all over the world.


Demand for plantation wood and softwood logs
has been increasing for India and Middle Eastern
countries so it is necessary to exchange
information on demand of logs by other countries
without delay.

Shin-ei Plywood to build new mill in Ohita
Shin-ei Plywood Co., Ltd. (Tokyo), one of Seihoku group
companies, will build a new plywood mill in Ohita
prefecture as the second base mill in Kyushu. Shin-ei has
plywood mill in Minamata, Kumamoto prefecture, only
one plywood mill in Kyushu, which produces softwood
structural panels and concrete forming panels for coating.

In 2015, it increased the production by 30% to deal with
busy demand of thick panel for floor, wall and roof
sheathing in Kyushu.It has been running full since it
increased the production but is not able to catch up busy
demand so it decided to build another mill in Ohita.

Minamata mill consumes 300,000 cbms of logs, out of
which 240-250 M cbms are local domestic logs from
Southern Kyushu (Kumamoto, Miyazaki and Kagoshima
prefecture).

New Ohita mill will consume about 108,000 cbms of local
logs (70% cedar and 30% cypress) to produce 68,000
cbms of softwood structural plywood, which will be
marketed in Kyushu.

Plywood
Movement of plywood on both imported and domestic
continues steady. On domestic softwood plywood, both
production and shipment continue record high level.
October plywood production was 280,300 cbms, 6.2%
more than October last year and 1.8% more than
September.

The shipment was 286,200 cbms, 4.8% more and 2.2%
more. Softwood plywood production was 267,800 cbms,
6.5% more and 1.9% more. The shipment was 273,100
cbms, 5.8% more and 2.1% more. Both are monthly
highest record.

Production of non-structural panel was 14,000 cbms,
59.2% more and 53.3% more with shipment of 14,400
cbms, 68.0% more and 39.5% more. This is replacing
demand of South Sea hardwood floor base, which arrivals
are largely delayed.

The inventories of softwood plywood were 100,500 cbms,
4,700 cbms less than September. The manufacturers¡¯
inventories are dropping with the shipments exceeding the
production so supply side fears supply shortage but
precutting plants and wholesalers have secured enough
inventories so they are not worried about supply shortage.
Market prices of imported plywood have been gradually
climbing. Supply of thin panel and floor base from
Indonesia continues short.

The shipments of imported plywood have been largely
delayed by log supply shortage at producing regions,
where rainy season has started so log supply will not
recover until spring of next year. Since shipment time is
uncertain, the buyers in Japan commit whenever offers are
made regardless of the prices.