2. GHANA
Air Dried sawnwood tops exports
Ghana's timber exports for the nine months to September
2017 totalled 228,642 cubic metres and earned euro 124
million. This compares with the 302,085 cubic metres in
2016 which brought in some euro 172 million.

Air dried sawnwood was the leading export product in the
first nine months of this year, consistently accounting for
over 60% of monthly export volumes.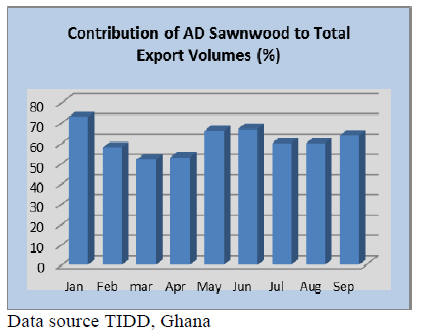 For the first nine months of 2017 air-dried sawnwood
accounted an average for 62% of the accumulated monthly
exports and together with five other products some 95% of
total exports can be accounted for.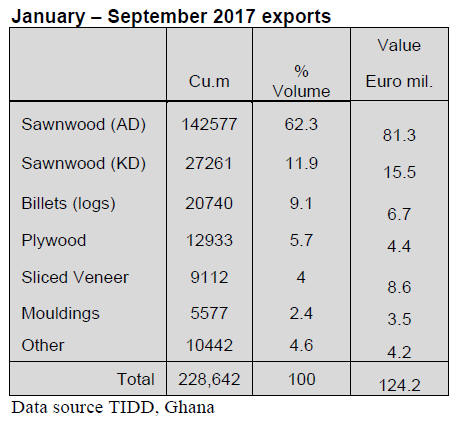 The main markets for Ghana's wood product exports were
China and India which imported around 70% of total wood
product export volumes in the first nine months of this
year. Markets in Asia have now become the foundation of
the Ghanaian wood processing industries. The species sold
were mainly teak, rosewood and papao/apa.

Most of the plywood exported was destined for African
countries including Nigeria, Niger, Burkina Faso and
Benin.
Trained IMTs to help halt illegal logging
Ghana is benefitting from a European Union (EU) grant
for the training and equipping of Independent Monitoring
Teams (IMTs), to help fight against the rising illegal
timber logging operations in the country.

A pilot programme funded by the EU will be implemented
in three districts of the country, Western Region
(Asankragwa), Brong Ahafo Region (Goaso) and Eastern
Region (Mpraeso), for a period of fourteen months up to
the end of 2018. Monitoring teams will provide oversight
forr timber operations in the various localities.

The programme seeks to reduce and gradually eliminate
illegal forest logging to ensure that all timber and timber
related products exported are in compliance with Ghana's
laws and Sustainable Development Goals (SDGs).
Through this effort it will be possible to verify the legality
of wood products from Ghana and so satisfy the EU
FLEGT licensing system.

The supervision of this pilot operation is under the
Resource Management Support Centre of the Forestry
Commission in collaboration with the Timber Validation
Department among others.

Office to promote inward investment opens in China
The Association of Ghana Industries (AGI) has opened its
first liaison office in China. This was possible through
support from the 'Belt and Road Collaborative Innovative
Centre' (BRCIC) in China. The aim of the centre is to
boost Chinese investment in Ghana.

At the official opening of the new office the Chairperson
of BRCIC commended Ghana for being the first country to
open a liaison office under the initiative and pledged to
support the office so it becomes a model for other
countries.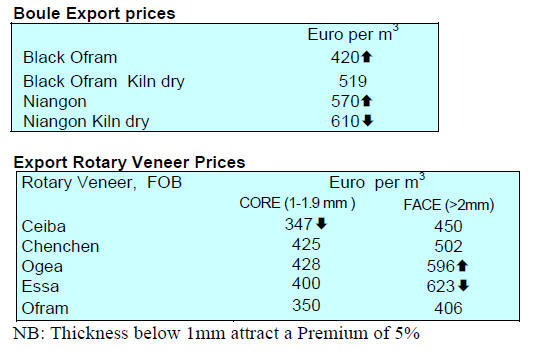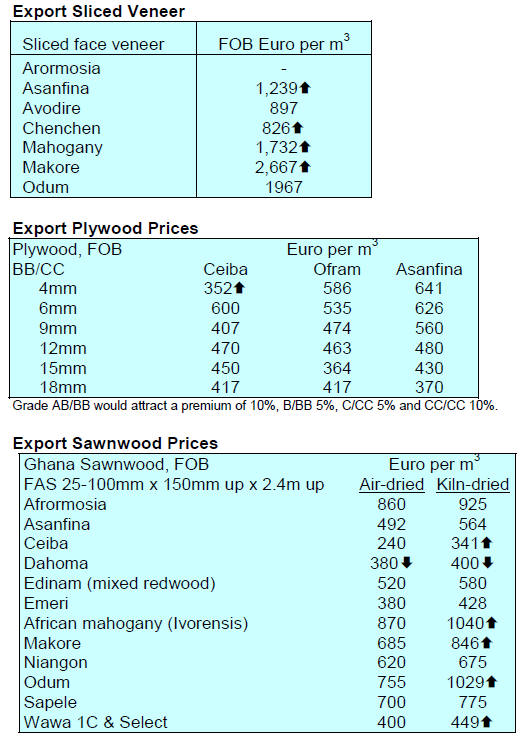 3. MALAYSIA
2017 exports on track for another good year
The value of wood product exports shipped from Malaysia
jumped from RM20.79 billion in 2014 to RM22.15 billion
in 2015 before taking a slight dip last year to RM22.11
billion. The domestic market in 2016 was worth another
RM18 billion bringing the total value of output to around
RM40 billion.

For 2017, the value of wood product exports up to June
was RM11.5 billion with Japan and the US being the main
markets followed by India, Australia, Singapore, South
Korea, United Kingdom, China, Taiwan P.o.C and
Thailand. Furniture and other added value products
accounted for the highest proportion of 2017 followed by
semi-finished products such as plywood, sawn timber and
wood chips.

MTCC welcomes mandatory certification in Sarawak
The Malaysian Timber Certification Council (MTCC) has
welcomed the move by the Sarawak State government for
mandatory forest certification in the state.

In applauding the commitment by Sarawak, MTCC Chief
Executive, Yong Teng Koon, said forest certification is an
important instrument to promote and verify the
implementation of sustainable forest management towards
safeguarding environmental, social and economic benefits.

Timber concessionaires in Sarawak will be required to
obtain forest management certification under the
Malaysian Timber Certification Scheme (MTCS) to
demonstrate that the forest is responsibly managed.

Coordinating forest landscape restoration projects
A memorandum of understanding has been signed
between University Putra Malaysia (UPM), Biodiversity
International and the French Centre for International
Cooperation and Development (CIRAD) to support
replanting projects.

Professor Aini Ideris, UPM Vice-Chancellor, said this
collaboration would provide the starting point for
coordinated forest landscape restoration projects in
Malaysia.

The challenge for Sarawak – added value products
from plantation stock
The Sarawak state government is actively encouraging
timber enterprises in the state to venture into plantation
investments as the supply of timber from natural forests is
being reduced.

Deputy Chief Minister, Awang Tengah Ali Hasan, has
said Sarawak is embarking on a new phase in added value
timber manufacturing and the challenge is how best to
utilise plantation species as their characteristics are very
different from natural forest timbers.

He called for more research to be undertaken as
engineered wood products can be produced from relatively
small diameter logs such as those from plantations.

Inter-state timber tracking to secure CoC
Close collaboration between the Sabah and Sarawak
authorities will ensure that wood products being moved
between both states are legal. To achieve this the Sabah
Forestry Department and the Sarawak Timber Industry
Development Corporation (STIDC) will develop a plan of
operation.

The focus will be on the handling of logs and wood
product shipments at the Immigration, Customs, Quarantine
and Security Checkpoint (ICQS) at the border towns
of Marapok and Sindumin in southern Sabah where there
will be standardisation in the way logs and wood products
are checked.

This initiative will strengthen the documentation vetting
process for the shipment of timber between the two states,
a crucial part of the tracking process to secure the chain of
custody requirement to ascertain legality.

November plywood prices
Plywood traders based in Sarawak reported the following
export prices:

4. INDONESIA
Plantation log prices set to rise
The Chairman of the Indonesian Furniture and Handicraft
Association, Soenoto, has spoken again on the log export
issue questioning why the country should export logs
rather than process and export finished goods.

While he acknowledges the domestic industry is not able
to absorb all the available timber he says a shift in policy
to allow plantation log exports will create anxiety for local
entrepreneurs as raw materials such as logs and raw rattan
are getting harder to secure.

He says that this move will affect the competitiveness of
local manufacturers because they will see raw material
costs climb.

In related news, Soenoto has said the Association is
calling on the government to support manufacturers so that
furniture sales can reach the target of US$5 billion by the
end of 2019.

He said the Association has prepared a business strategy to
boost sales of furniture and handicraft products and that
greater domestic sales features prominently in this plan.

Commenting on developments, Abdul Sobur, Secretary
General of the Association, said that industry restructuring
and retooling as well as training will be addressed in the
business plan.

Wait and see say rattan producers
In the absence of a decision on exports rattan producers of
raw rattan and those undertaking the first stage of
processing have ceased harvesting and production.

When questioned producers of rattan said they are waiting
to see what the new rattan export regulations involve.
Most are anticipating that the prices they receive in the
domestic market will increase as prices are high in export
markets as demand is strong.

Since 2011, the government has banned rattan exports to
help spur the domestic processing industry, particularly
production of rattan furniture but this ban resulted in lower
prices being offered to rattan producers by local furniture
manufacturers.

Australia the next target market
The Minister of Environment and Forestry, Siti Nurbaya,
has pointed out that as Indonesian wood products come
with proof of legality through the domestic legality
verification scheme (SVLK) the competitiveness of
Indonesian wood products has been enhanced.

She said that, compared to last year, production of wood
products in Indonesia has risen and there has been an
increase in export sales notably to the EU. The next target
market is Australia and the government is working to
reach an agreement with Australia for recognition of the
SVLK as proof of legality.

In related news, the Chairman of the Indonesian Sawn
Timber and Timber Manufacturers Association (ISWA),
Soewarni has said the SVLK has not resulted in any
significant rise in demand for Indonesian wood products
saying the value of exports in the first 10 months of this
year was US$1.72 billion whereas the total for the same
period in 2016 was US$2 billion.

Wood products from Indonesia are exported mainly to
China, Japan and Australia but while the SVLK was
supposed to boost exports and export prices this has not
been achieved. However, Soewarni believes in the future
the SVLK could enhance the image and competitiveness
of Indonesian wood products.

As if to support the views of Soewarni, the Vice Chairman
of Marketing in the Association of Indonesian Furniture
and Handicraft Industries (Bali), Krisna Pratama Astawa,
has reported that exports by members of his Association
are less than a year ago because of slow demand in the EU
which accounts for around 70% of exports from
manufacturers in Bali. He said there has been a 50%
decline in sales to the EU.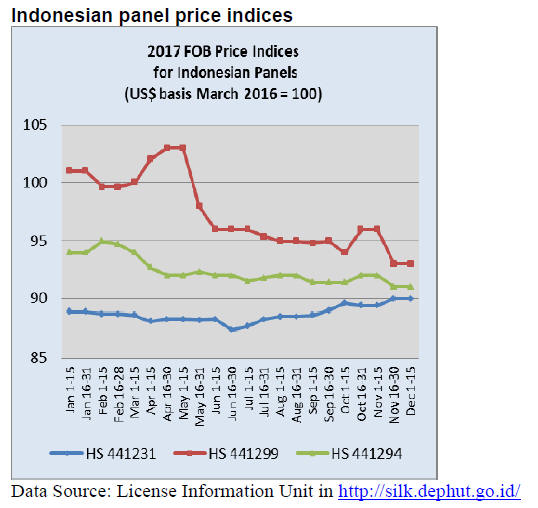 5. MYANMAR
Progressing negotiations for the VPA
A two-day workshop was recently held in Yangon on the
subject of the definition of legality marking an essential
step as Myanmar moves closer to agreeing a VPA with the
EU. To advance the VPA process a multi-stakeholder
group is being formed involving government, the private
sector and civil society.

Civil society organizations (CSO) want the rights of
indigenous people to be recognised in Myanmar's
Nationally Determined Commitment (NDC) the
government's action plan to implement the Paris
Agreement for tackling carbon emissions.
The CSOs want this in order to protect the rights of tribal
people who could be displaced from forest areas when
climate-change mitigation projects are implemented.

The United Nations Framework Convention on Climate
Change (UNFCCC) includes a legally binding text on the
rights of indigenous people.

M-TLAS training in Sagaing
The Myanmar Forest Certification Committee (MFCC)
undertook a visit to the Sagaing Region in order to provide
training for certification body auditors on the M-TLAS
standards. This training was supported by the
MFCC/PEFC Participatory Assessment project for supply
chain verification.

According to Barber Cho, Secretary of MFCC,
independent third party certification is expected to be in
place very soon. He said the experience gained during the
recent training in Sagaing has contributed to a better
understanding of the challenges in concluding the VPA.

Business council visit seeking investment
opportunities
A US-ASEAN Business Council delegation recently
visited Myanmar to examine opportunities for investment,
economic cooperation and regional development. This
visit comes as the Myanmar amended the Companies Act
allowing foreign companies to buy up to 35% of local
companies.

According to the Myanmar Investment Commission up
October this year US private sector investments were in
the region of US$375 million. The total value of foreign
investment was almost US$5 billion as of November this
year.

In addition, Myanmar has seen over US$330 million in
grant assistance from around the world with around half
coming from the US. The Myanmar Ministry of Health
and Sports and the Ministry of Education have benefitted
most from this international aid.

Private sector calls for action to spur growth
The economic Advisor to the Union of Myanmar
Federation of Chambers of Commerce and Industry
(UMFCCI) has suggested to State Counsellor Daw Aung
San Suu Kyi that economic development be given the
same priority as the peace process. This advice was
offered as recent data shows that economic growth has
slowed for the past two years.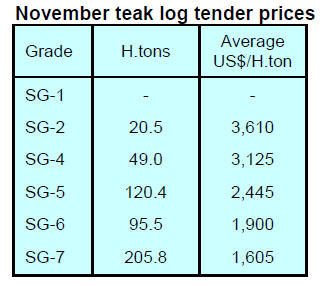 6. INDIA
The drivers of affordable housing
The Confederation of Real Estate Developers Association
of India (CREDAI) and JLL India (India's largest
professional services firm specializing in real estate) have
released a report 'The dawn of India's Future Cities'.

This highlights the need for new urban centres in India and
shortlists 45 potential mega cities such
as Nagpur, Lucknow, Jaipur, Kochi and Bhopal which
could drive the supply of affordable housing in India.

The report identifies opportunities for developers while
reiterating the impact of regulatory changes on the sector
and emphasises that India needs new cities to spur growth.

India's urban population currently accounts for around a
third of the total population and contributes over 60% of
India's GDP which is projected to increase to 75% by
2030. This rapid pace of urbanisation underscores the need
for identifying was to increase worker productivity to lift
wages and raise living standards.

'The dawn of India's Future Cities' report makes a strong
case for cities like Nagpur, Lucknow, Jaipur, Kochi,
Ahmedabad, Varanasi, Bhopal and others. Driven by
investments in infrastructure, affordable housing and
skilled workforces, these cities can potentially see
accelerated growth in the manufacturing/industrial,
tourism and warehousing sectors and emerge as India's
new mega cities.

For the CREDAI press release see: https://credai.org/pressreleases/
45-potential-mega-cities-to-drive-affordable-housingdemand-
in-india-credai--jll-report

and
http://www.jll.co.in/india/en-gb/research/350/jll-credai-nagpurreport

Post event review of Mumbai Wood 2017
In a post event review of MumbaiWood, a leading trade
show for the furniture sector, it has been reported that the
event attracted more than 6,000 trade visitors, a significant
increase on the 2015 show.
This biennial event attracted participation from
woodworking machinery and tool suppliers, fittings and
accessory companies as well as raw materials and
consumable suppliers to the furniture sector.

Most of the visitors, according to show registration data,
were furniture and kitchen manufacturers but this year
there was a jump in the number of visitors from the
architectural and interior design professions.

Visitors from as many as 29 countries showed keen
interest in Indian furniture designs and export capacity.
Trade visitors came from Bahrain, Bangladesh, Bhutan,
China, Indonesia, Iran, Japan, Kazakhstan, Kuwait,
Lebanon, Malaysia, Maldives, Mauritius, Myanmar,
Muscat, Nepal, Pakistan, Qatar, Saudi Arabia, Singapore,
Sri Lanka, South Korea, Sultanate of Oman, Taiwan,
Thailand, Turkey, the UAE, and Vietnam.

Visitors from Europe included those from Austria,
Belgium, Denmark, Finland, France, Germany, Italy,
Norway, Poland, Romania, Russia, Spain, Slovakia,
Switzerland, Sweden, The Netherlands and the UK.

According to the Vice-President, PDA Trade Fairs, the
organisers of Mumbai Wood "The market response speaks
for itself. Our priority was to provide stimulating
meetings, an environment for sharing information,
generating ideas and initiating collaborations. I think we
have succeeded in that aim."

For more see: http://www.mumbai-wood.com/index.php

India seeks exemption from the CITES Dalbergia
requirements
India is a regular exporter of musical instruments and parts
much of which is made from Indian rosewood and sissoo
or northern Indian rosewood (Dalbergia latifolia and
Dalbergia sissoo). Over the past months exporters have
been experiencing a slowdown in exports due to the time it
takes for CITES formalities to be completed.

Both of these timbers are readily available in India and
harvests are strictly controlled so the Indian trade feels that
these two domestic timbers should be removed from
CITES Appendix II.

These species are found in Indian forests and have also
been planted alongside coffee and other agri-crops to
provide shade. They are also planted along canals and
rivers.

The Government of India is of the view that products
made for exports from both plantation logs or agroforestry
plantings should be exempted from the CITES.
This message was conveyed to CITES at a meeting last
month by Mr. Das Gupta who represented India. The
Indian trade is now waiting for a decision from CITES.

Ecuador the main supplier of plantation teak
At the time of this report prices for imported plantation
teak continue within the range a previously indicated.
Analysts report that there is a tendency for average prices
to be on the low side of the range shown below as in
recent months both the quality and girth of logs has fallen.

In 2017 Ecuador was the main supplier of plantation teak
to India. Shipments from all sources were generally of the
same quality as in 2016 and over the years log girths have
become smaller and the overall quality has deteriorated.

Knowledgeable experts blame the problem on the mono
culture of teak and short rotations. The most common
defects are thick bark, wide sapwood and variable wood
texture as a result of slower growth after around 6~7 years.
Analysts also report that it would appear from the
shipments that pruning has not been carried out as the logs
have many knots.

Most of the imported plantation teak is used for household
joinery, doors and window frames as well as for
furniture. Prospects for demand for these products should
get better in 2018. Sawnwood recovery from plantation
teak is always a challenge and depends on quality and
size. Average recovery rates in India for small plantation
teak are said to be as high as 70% because for many uses
sapwood is permitted.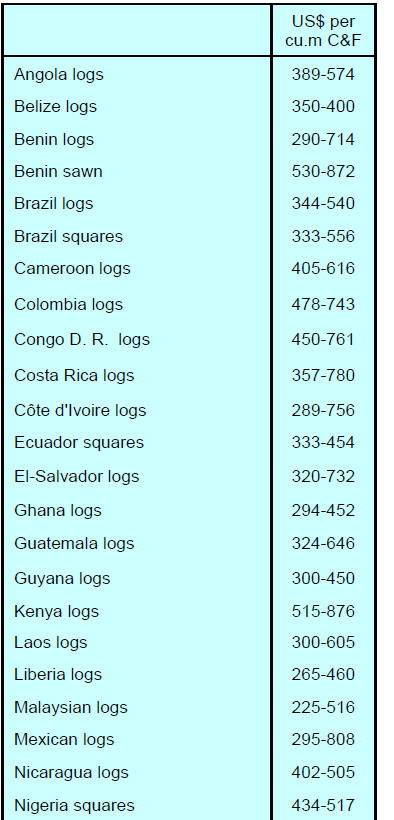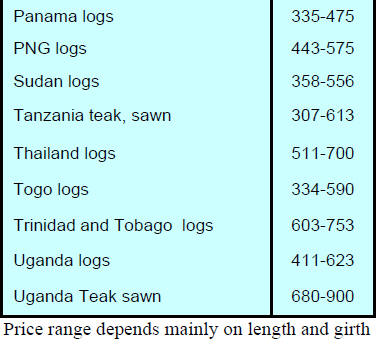 Locally sawn hardwood prices
Prices for imported hardwoods remain unchanged.
Domestic demand for imported sawnwood continues to
firm and there is growing substitution of hardwoods for
imported plantation teak.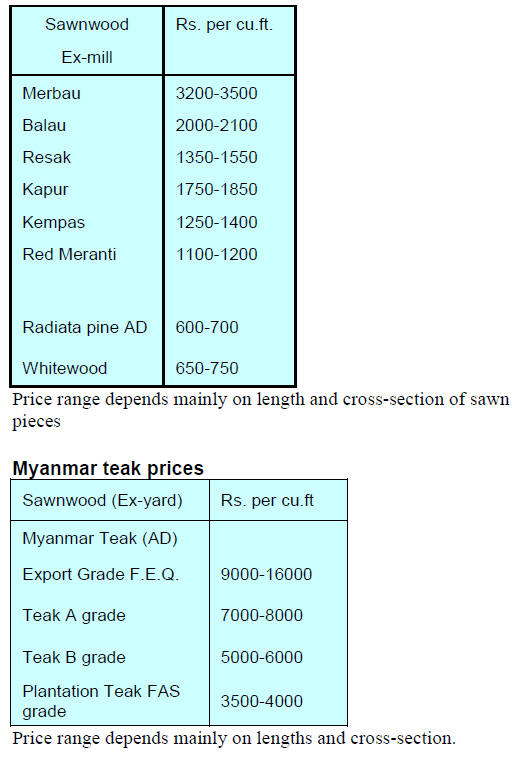 7. BRAZIL
Furniture production increases
In October 2017 national industrial production increased
0.2% compared to September. This was the second
consecutive rise. Over the same period the output of the
furniture sector expanded 5.3% compared to October
2016, the sixth consecutive rise and the highest since April
2013.

Output from the furniture sector has been increasing in
recent months. In September output rose almost 12% and
in October output rose 17.8%, the highest rate of increase
since 2006.

Change in law – tax on log production eliminated
The Mato Grosso State Government, in Law 10.632, of
December 1, 2017, has exempted companies from
payment of the Circulation of Goods and Services tax
(ICMS) which specifically relates to logging activities in
natural forests and forest plantations. There will no longer
be a tax on the purchase of logs originating from the
forest.

Since May 2016, logging companies in the State were
required by the State Treasury Secretariat (Secretaria da
Fazenda MT- SEFAZ) to pay 17% tax per cubic metre on
the purchase of logs.

The industry argued that since it was also paying a tax on
the sale of milled products the log tax was in effect a
double tax as it had to pay 17% on log purchases and
another 12-17% on product sales.

It was argued by the Center for Timber Producers and
Exporters of Mato Grosso State (CIPEM) that this double
taxation was undermining the competiveness of mills and
manufacturers in the state.

The State Government's initiative to exempt companies
from the ICMS tax on logs has been welcomed by the
timber industry since it demonstrates that the state
government is actively promoting the timber sector.

Global Timber Forum discusses market access
The Vice President of ABIMCI presented an overview of
the Latin American forestry sector at the recent Global
Timber Forum meeting held in Peru. He said in Latin
America the annual sustainable harvest is around 22
million cubic metres from natural forest and 538 million
cubic metres from planted forest and that domestic
consumption is around 75% of the total.

Of the 7 countries with largest natural forest cover, Brazil
ranks first with approximately 500 million ha, followed by
Peru, 73 million ha.

In terms of planted forest area, Brazil is also in the first
place with 7.7 million ha (with 60% Eucalyptus), followed
by Chile, with 3 million ha.

During the two-day event 60 delegates representing the
timber industry in Latin America discussed issues such as
competitiveness, market access, new regulations, ways of
improving transparency and data flow in regional trade,
incentives for the conservation and monitoring of forests.

Forestry sector exports recovering
Between January and October this year Brazil's pulp
exports grew by almost 3% year on year reaching about 16
million tonnes. Exports of woodbased panels increased
around 30% to 1.1 million cubic metres while paper
exports increased modestly to 1.7 million tonnes.

Due to this positive performance export revenue exceeded
US$7 billion in the first 10 months of this year, a 10.9%
growth over the same period of 2016.

China remains the main market for Brazilian pulp (a 40%
share) generating earnings of some US$2 billion followed
by European countries (a 31% share) at a little over
US$1.6 billion.

Latin American countries were the main markets for the
paper and woodbased panel segments in the first ten
months of the year with export revenues above US$1.0
billion and US$126 million (+16.7%), respectively.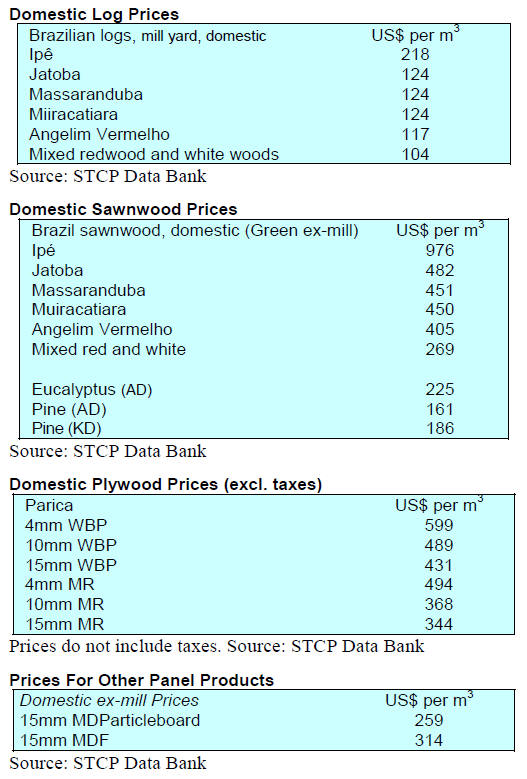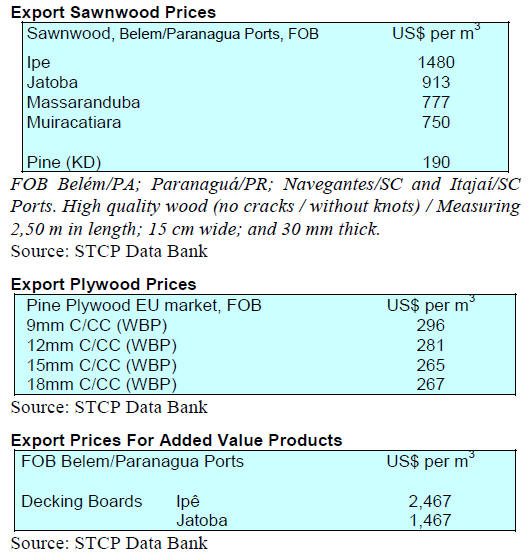 8. PERU
GTF/GIZ study points the way forward for private
sector associations
The Peruvian forestry sector has suffered several setbacks
stemming from the seizure of significant volumes of
illegal timber in 2015 and 2016 which resulted in the main
export markets closing their doors to Peruvian wood
products.

Against this backdrop the Global Timber Forum, the FAOEU
FLEGT Programme and the German development
agency GIZ, through its ProAmbiente II programme,
undertook a study to analyze the current organisational
capacities and needs of forest and timber organizations of
Peru.

The finding from this analysis are presented in a report
"Assessment of the forest and timber associations of Peru:
currento rganizational capacities and needs"

One of the main findings was in the words of the study
authors that "the organizations interviewed showed little
knowledge about organizational management of private
associations. Most leaders do not have the leadership skills
or experience for a member-driven and production as
wells as market-oriented management.

Organizations tend to concentrate on solving legal
problems, but from a very political viewpoint and not
based on technical discussions.

Their discourse is only pointed towards the national
government and its executive power, leaving aside both
the legislative power and the regional forestry authorities –
even though the regional forest authorities have been
responsible in most forestry matters since the
decentralization of government functions started in 2009."

In pointing the way forward the study says
"Empowerment and self-sustainability of associations will
only be achieved if they: (i) operate and manage for
commercial purposes of group interest, (ii) have a
permanent and active number of members, (iii) seek the
recruitment of new members in the short term, (iv) ensure
a minimum fixed subsistence allowance, (v) convene a
particular formal industry (e.g. milling companies), (vi)
offer attractive, competitive and immediate services, (vii)
and are oriented to a differentiated commercial niche. It
was interesting to see that none of the

For the full report see:
http://www.gtf-info.com/wpcontent/
uploads/2017/11/GIZGTF2017PeruvianForestAssociatio
nsAssesment.pdf

CIFOR - Long-range plantation road map needed in
Peru
A new study by the Center for International Forestry
Research (CIFOR) says there is a need for more research,
training, financial and fiscal incentives along with secure
land tenure if Peru is to achieve its goal of restoring 3
million hectares of degraded forest land.

A press release from CIFOR quotes Manuel Guariguata,
CIFOR principal scientist and leader on forest
management and restoration and the lead author of the
study as saying "At present, it is estimated that about onethird
of the global demand for sawn timber is satisfied by
commercial tree plantations, and this proportion is
expected to increase over time."

Many countries have begun promoting plantation forestry
rather than timber from natural forests and Peru is taking
initial steps in the same direction. What is needed
according to CIFOR is for Peru to develop a long-range
roadmap so that the potential of forest plantations can be
realised.

For more see:
https://forestsnews.cifor.org/53125/tree-plantations-could-helpperu-
meet-forest-restoration-goal?fnl=en