Japan Wood Products Prices
Dollar Exchange Rates of 25th November 2017
Japan Yen 112.25
Reports From Japan
Wage hike the key to boosting consumer confidence
and spending
While the Japanese economy is seeing the longest period
of sustained expansion in the past 15 years buoyed mainly
by exports, private consumption, the most important pillar
of growth, has not expanded.

The recent consumer confidence survey conducted by the
Cabinet Office shows that overall confidence improved in
November and the sentiment index for general households,
which includes views on incomes and jobs, rose from the
previous month, a third straight monthly uptick.

However analysts caution that the pace of recovery in
consumer sentiment is muted and potentially unstable.
Boosting consumer spending will require companies to
begin diverting some of huge their cash reserves to wage
increase, only then will sentiment get a substantial boost.
The recently announced changes to the tax structures
could have a negative impact on consumer sentiment.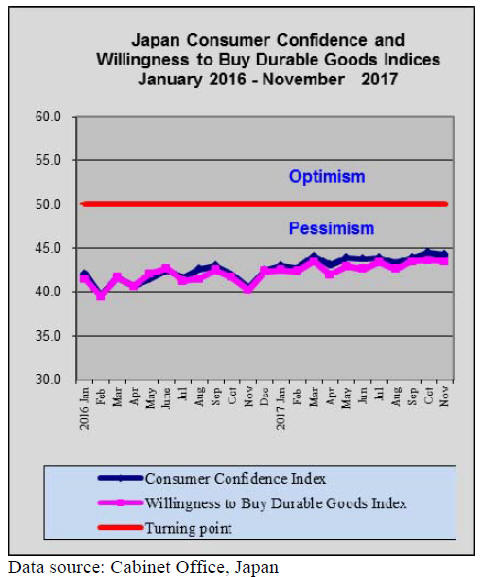 Prospects for inflation improve
Over the past weeks the yen has strengthened against the
US dollar reaching the 112 yen per dollar level in late
November.

As the Japanese economy continues to improve many are
forecasting that the Bank of Japan (BoJ) may soon begin
easing out of its easy money policy which would cause a
further strengthening of the yen. But, a strong yen would
undermine exports, the main source of growth at present.
The BoJ has maintained its position that it will continue
with its current policies until the 2% inflation target has
been achieved which, according to analysts at Morgan
Stanley, could be sooner rather than later given projections
of global inflation trends.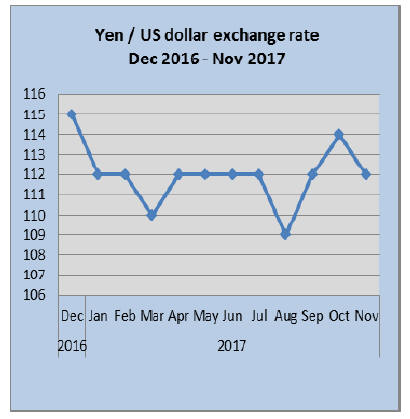 Despite weak October data builders have seen orders
for housing surge
Year on year, Japan's housing starts have fallen for four
consecutive months and the October data from the
Ministry of Land, Infrastructure, Transport and Tourism
shows that in October the pace of year on year decline has
picked up speed.

October housing starts were down around 5% from a year
earlier and at about the same level as in September. For
the year as a whole annualised starts are likely to come in
at around 930,000, a disappointing figure for the timber
sector.

The good news in the October data is that orders received
by the main house builders has improved which, if
translated into starts during the remainder of this year,
then total starts for 2017 may not be as bad as forecast.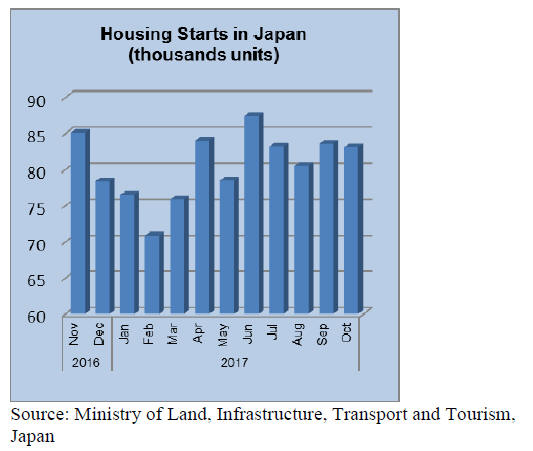 Japan¡¯s wooden furniture imports
Furniture import data from the Ministry of Finance
illustrates how remarkably unremarkable are the trends in
Japan¡¯s furniture imports. Looking back over the past five
years the value of imports of the three categories of
furniture tracked has swung but in a very narrow range.

In addition, there has been virtually no change in the main
sources of supply. Foreign manufacturers, if they can meet
the quality requirements in the Japanese market, can be
assured of regular business.

A comparison of the value of imports in the first three
months of 2016 and 2017 reinforces the notion of how
stable demand is in Japan. In the first nine months of the
year imports of wooden office furniture (HS 940330) rose
7%, imports of wooden kitchen furniture were flat while
the value of imports of wooden bedroom furniture were
down 3%.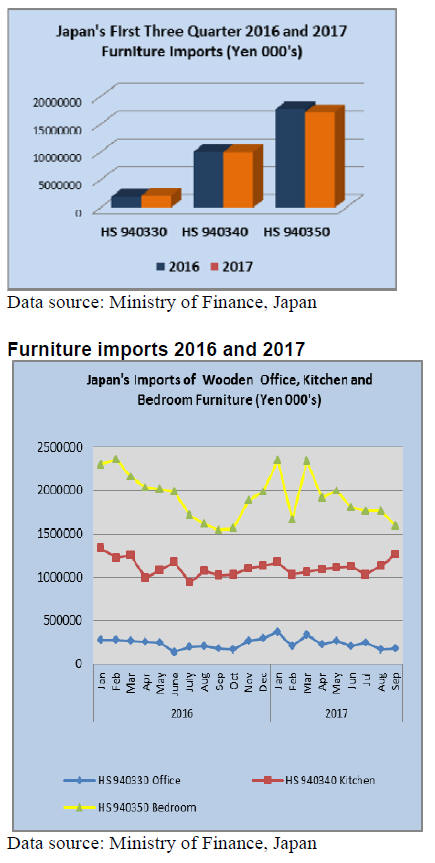 Office furniture imports (HS 940330)
Japan¡¯s imports of wooden office furniture are small
compared to the value of wooden bedroom and kitchen
furniture imports.

Year on year, the value of September imports of wooden
office furniture was little changed fro levels in August and
imports have been sustained at a very consistent level over
the past six months.

Compered to August, September wooden office furniture
imports moved up around 5% with China being the main
supplier at just over 60% of all shipments. The other main
suppliers in September were Italy (9%) and Taiwan P.o.C
(4%)

Kitchen furniture imports (HS 940340)
The value of Japan¡¯s imports of wooden kitchen furniture
has been steadily rising since July. Year on year,
September imports were up 24% but compared to levels in
August they were down 12%. Despite the seemingly sharp
increase in September imports of wooden kitchen
furniture, shipments throughout the year to-date have been
within a fairly narrow range.

For the first time shipments from the Philippines topped
those from Vietnam. In September shipments from the
Philippines were double that in August while shipments
from Vietnam were down 20%.

The combined shipments from the Philippines, Vietnam
and China account for over 90% of all September
shipments of wooden kitchen furniture.

Bedroom furniture imports (HS 940350)
The import data seems to suggest there is an issue with
import values of wooden bedroom furniture. Import
trends for wooden office and kitchen furniture have not
changed significantly during the year but for wooden
bedroom furniture there has been a steady downturn in the
value of imports beginning in the first quarter of this year.
However, looking back a few years it appears that imports
of bedroom furniture are more cyclical than for either
office or kitchen furniture with a decline seen mid-year to
be followed by a surge at year end. This year however the
reversal of the downward trend has yet to be seen.

On past trends an uptick in the value of bedroom furniture
should emerge in the final quarter of the year.

Trade news from the Japan Lumber Reports (JLR)
For the JLR report please see:
http://www.nmokuzai.
com/modules/general/index.php?id=7

Plywood market overview
In 2016, one of major plywood plants had fire damage and
the supply disrupted. Kyushu had earthquake and plywood
demand for restoration was busy. Housing starts were
active particularly on rental units and units built for sale so
that plywood consumption increased and supply shortage
occurred in late 2016. This stretched into the first quarter
this year then the demand started simmering down so
panic situation was over.

Looking at trend of softwood plywood inventories, they
were 128,400 cbms in March last year, which was the
peak then they have continuously declined month after
month. They dropped below 100,000 cbms in August last
year and recorded less than 80,000 cbms in January this
year.

Despite effort to bring the inventory level up by the
manufacturers, there is additional demand for nonstructural
panel of floor base due to short supply of
imported plywood so March production was 264,500 cbms
and the shipment was 254,900 cbms then in April, the
production was 252,000 cbms and the shipment was also
252,000 cbms.

There is no surplus to build inventories as produced
volume is shipped out immediately. In June, the monthly
shipment recoded the highest in last five years.

Imported plywood market last year was dull. With strong
yen, bearish mood prevailed on imported plywood and the
movement stagnated with the prices dropping in Japan.

Meantime, suppliers faced log supply shortage by foul
weather and stricter harvest restriction so that the log
prices soared. At the same time, the Malaysian
government imposed higher timber premium, which is
another reason of higher log prices. Frustrated with
sluggish Japan market, Malaysian plywood manufacturers
decided to reduce the production uniformly in August last
year then raised the export prices to cover high cost.

As the yen weakened in late last year, price skidding in
Japan stopped then since last July, both suppliers¡¯ export
prices and market prices in Japan started moving up. Total
supply volume for the first eight months of this year was
1,944,500 cbms, 5.4% more than the same period of 2016
but the volume in last three years was the lowest in last ten
years.
Reason of dull demand for concrete forming panel is use
of precast concrete (PC). Actually PC, which does not
need concrete forming panels, was active last year but
with urban redevelopment spreading in major populated
regions, PC supply is short so that more buildings are
being built with concrete, which needs concrete forming
panels so the demand should return. Domestic plywood
manufacturers are busy to supply structural panels and
have very little room to make concrete forming panels.

Looking at future of tropical hardwood supply, producing
regions have much more concern to environmental
protection and resource conservation. Tighter control of
illegal harvest, tighter control of harvest volume by the
government and diameter harvest restriction indicate
declining supply of natural wood. Also there are new log
buyers from emerging countries like China, India and
Middle East countries, which look for supply of wood
everywhere.

There are two plywood mills left to consume tropical
hardwood logs in Japan. Both are in Niigata. One
produced about 41,000 cbms for the first nine months of
this year.Due to delayed shipments of Malaysian and
Indonesian plywood, orders to supplement imported
plywood rushed in but log supply from the South East
Asian sources has been tight and imported veneer is also
hard to get so the production is limited. It is considering to
use other species like cedar, cypress and domestic
hardwood.

Another mill mainly produces hybrid plywood with
tropical hardwood, Russian red pine and domestic cedar.
The production for the first nine months was 38,800 cbms.
They realize that South Sea hardwood log supply
continues declining so they need to look for other
materials.

South Sea logs and lumber
South Sea log prices were calming down after India¡¯s
purchase slowed down then there is mood of picking up
prices again. Reasons are that Sarawak government will
raise royalty after January next year and slow log
production due to very short dry season this year.

Log supply will decrease for certain by shrinking harvest
quota and additional levy of various taxes.

Production of plantation wood is also affected by foul
weather so plywood mills and laminated lumber mills
experience difficulty to secure material logs and logs for
export are in the same condition.

Meranti regular log prices in Japan have been levelling off
at about 12,500 yen per cbm FOB truck then after January
2018, the prices would be up by 500 yen. Domestic
plywood mills seek quality logs even with high prices and
to find niche market rather than low prices.

Movement of laminated free board is finally recovering.
Demand for large shopping facilities is active so that the
inventories of distributors are down.

Export prices by the suppliers in Indonesia stay up high
because of log shortage but the prices in Japan are holding
at about upper half of 110,000 yen per cbm FOB truck.

Seminar on Korean wood products market
The Japan Wood Products Export Promotion Council held
wood products export seminar in Fukuoka in October.
This is particularly aiming export to Korea so it invited
wood products buyers and scholars. Some Korean college
professor gave lecture on wood demand in Korea and
import of wood products.

According to this lecture, wood demand in Korea in 2016
was 9,003,000 cbms of logs, out of which 5,151,000 cbms
of domestic logs and 3,852,000 cbms of imported logs.
Self-sufficiency rate is 16.2%.

Main source of log import is radiate pine logs from New
Zealand.

In 2016, 2,842,000 cbms from New Zealand, 254,000
cbms from the U.S.A., 279,000 cbms from Canada,
100,000 cbms from Japan, 23,000 cbms from Russia and
18,000 cbms from Europe. 50% of logs from Japan is
cypress and 90% of lumber is also cypress.

64% of land is covered with forest in Korea but majority
of wood demand relies on imported materials. Large scale
plantation started in 1970s and forest resources are
maturing and 50% is over 40 years so self-sufficiency rate
is steadily improving.

In wood import business, log import is not increasing
while import of finished wood products is increasing.

Import of lumber from Russia and Chile, plywood and
MDF from China and South East Asia, particleboard from
Thailand and Rumania is increasing.

Various Korean wood products buyers explained present
demand for Japanese wood products. Japanese cypress is
very popular in Korea. Main use of Japanese wood is wall,
molding and furniture.

Cypress is used for flooring, bath tub and wall. Problem is
different specification of Japanese standard and Korean
standard, which is main reason of higher cost. For instance
Korean standard log lengths are 2.5 and 3.7 meters while
Japanese standard is 2.3 and 4 meters.

Because of high cost of Japanese cypress, in Korea,
domestic cypress and Chinese cypress are used but the
supply is very limited. It is medically proved that volatile
organic compounds of phytoncide cypress has sterilising
power and effective to atopic aczema so plantation of
cypress has been expanding.

In the largest plantation area, 2.5 million cypress trees of
over 50 years are available. Cedar is not as demanded as
cypress in Korea.

Specification of cypress laminated lumber is thickness of
12,15,18,24,30 mm x 1,220 mm x 2,440 mm. Moulding
board is 12 x 60 x 2,400 mm and 12 x 80 x 2,400 mm.

Wood based housing has been steadily increasing in
Korea. 11,826 units in 2012. 17,043 inn 2016 and 8,767
for the first six months of 2017. 2x4 construction is
majority for apartment. Plywood, laminated lumber,
particleboard and MDF are used for interior finishing.

Notice of JAS revision
Revision of JAS on laminated lumber is notified on
October 20. Preservative treatment of lumber is officially
approved.

Thickness of decorative veneer and number of ply of
lamina on decorative laminated lumber and standard of
length of finger joint is revised to actual condition.

Thickness of veneer overlaid on decorative laminated
lumber used for head jamb and sill is changed to 0.5 mm
or more from present 1.5 mm or more. Revision is made
based on the fact that there has not been claim of
delamination and cracking even with thin veneer.

Cedar¡¯s four plied structural laminated post has been
widely used now without any problem so now four ply is
officially approved from present five ply.

Length of finger joint is changed from more than10.5 mm
to 6.0 mm or more after popular use of micro finger
jointer.

The Ministry of Agriculture, Forestry and Fisheries
revised JAS on plywood and added clause of preservative
treatment. It is divided into two categories of treated
plywood and treated veneer. Preservative treated plywood
is used for not only house building but also exterior for
which untreated plywood was hard to use. This will
expand market of domestic softwood plywood.