Japan Wood Products Prices
Dollar Exchange Rates of 10th November 2017
Japan Yen 113.54
Reports From Japan
Consumer confidence mirrors Bank of Japan
assessment of prospects
The Bank of Japan (BoJ) monetary policy board meeting
in early November concluded that the economy continues
to proceed at an acceptable pace, but warned of downside
risks to growth from unpredictability in US economic
policies as well as uncertainty caused by the UK's
withdrawal from the EU.

The BoJ said inflation is expected to continue to rise
moderately adding that the Bank will continue its stimulus
as long as necessary. The BoJ board also decided to retain
the -0.1% interest rate on current accounts that financial
institutions maintain at the Bank.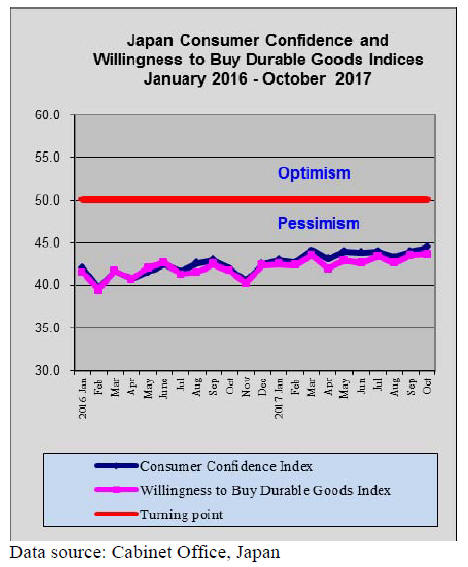 As if mirroring sentiment of the BoJ, Cabinet Office data
shows that consumer confidence improved in October
rising to the highest level in four years. The index for
overall livelihood rose to 43.5 in October from 42.5 in
September while consumer views on likely income growth
also improved lifting the income growth index higher.
The assessment of willingness to buy durable goods such
as wooden furniture and other household items rose
slightly.

BoJ and US Fed on a vastly different track
The Japanese Yen began November a little higher than
reported for October but weakened again against the US
dollar on news that the BoJ decided to maintain its current
monetary policy.

The US dollar was trading at 114.7 yen early in
November, its highest since January but soon eased back
to 114.0 to the US dollar. The US Federal Reserve and the
BoJ are on a very different track in terms of monetary
policy with the US likely to raise interest rates again in the
short term while the BoJ is sticking to its easy monetary
policy.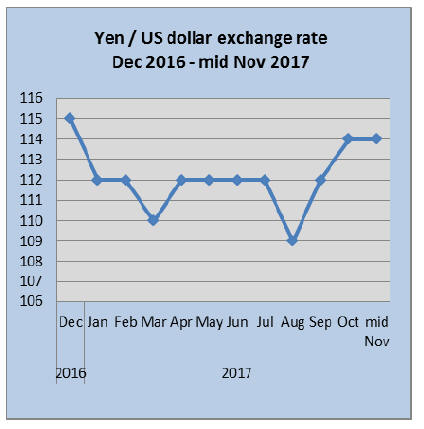 Banks pulling out of housing loan business
Year on year, September housing starts in Japan dropped
3% the third consecutive year on year fall. Data from the
Ministry of Land, Infrastructure, Transport and Tourism
shows that the decline was largely due to a drop in starts
of houses for rent, including apartments.

Early in the year cash flowed into the housing market in
response to changes in Japan¡¯s inheritance laws but that
now seems to have run its course. In September
construction orders received by the largest 50 builders fell
sharply.

The uncertain housing market and the BoJ stance on
interest rates has un-nerved two of Japan¡¯s biggest housing
loan providers.

Media report say Mitsubishi UFJ Trust and Banking will
stop offering housing loans next year as the declining
profitability of its housing loan business because of
Japan¡¯s negative interest rate policy.

Mizuho Financial Group is also reportedly ready to follow
suit and end its housing loan business in some regions next
year.
In an effort to sustain business some of the larger builders
are looking beyond Japan. It has been reported that
Sumitomo is exploring opportunities to market family
homes in Indonesia where there is a rapidly growing
affluent middleclass.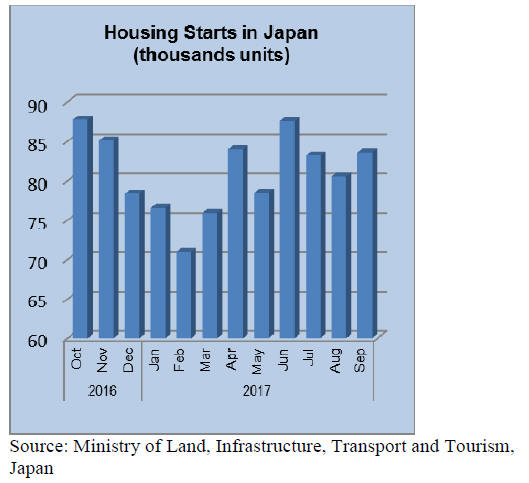 Import round-up

Doors
Japan¡¯s 2017 first three quarter imports of wooden doors
(HS441820) were down 9.5% year on year. First quarter
2017 imports crashed after the 2016 year end surge but
recovered steadily throughout 2017 apart from the dip in
the value of imports in April.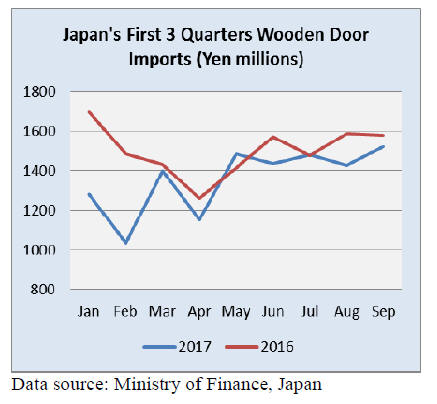 Year on year, September imports of wooden doors were
flat but compared to a month earlier there was a 6.5% rise
recorded in September.

Almost 90% of Japan¡¯s wooden door imports in
September 2017 were derived from three sources, China
(61%), the Philippines (18%) and Indonesia (9%).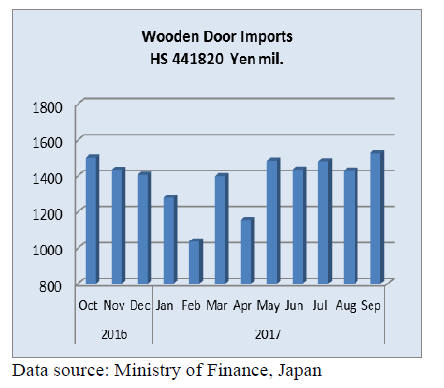 Windows
The trend in Japan¡¯s imports of wooden windows (HS
441810) in the first three quarters of 2016 and 2017 was
quite different and overall, the value of imports for the
first nine months of 2017 was down 11% from a year
earlier.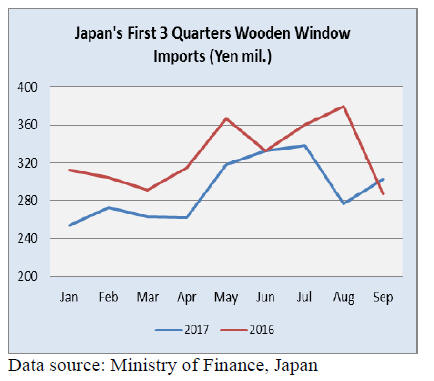 A rise in the value of wooden window imports in
September 2017 reversed the decline recorded in August.
Compared to a month earlier, September the value of
imports climbed 9% and year on year there was a slight
rise in the value of September imports.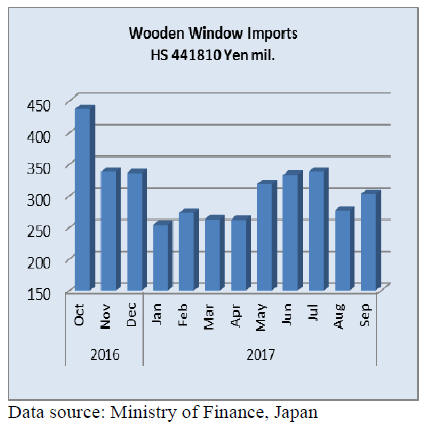 Over 90% of Japan¡¯s September imports of wooden
windows were derived from three sources, China (31%),
The US (31%) and the Philippines (23%).

Assembled flooring
While February 2017 wooden flooring (HS 441871-79)
imports marked a low point in the first three quarters of
2017 there was a recovery such that for the three quarters
as a whole the value of imports increased almost 25%
compared to the same period in 2016.

In contrast to the monthly trend in imports in 2016 those
for the first three quarters of 2017 became much more
erratic with regular, periodic dips and peaks.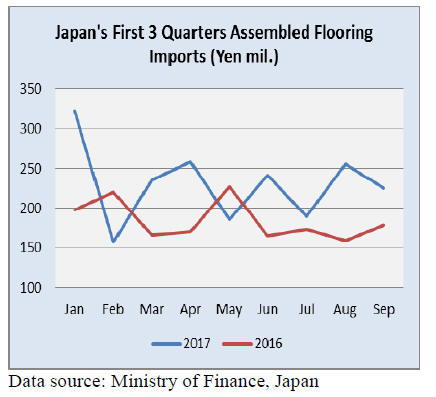 The value of September 2017 imports of wooden flooring
wase up 26% from levels in September 2016 but dipped
when compared to a August imports(-12%).

For September 2107 HS 441875 accounted for 70% of
Japan¡¯s assembled flooring imports followed by HS
441879 at 25%. Shippers in China dominated September
imports of HS 441875 accounting for 63% of all imports
of this category followed by Indonesia (16%) and
Malaysia (4%).

For HS 441879, the top suppliers were China (34%),
Indonesia (32%) and Thailand (14%).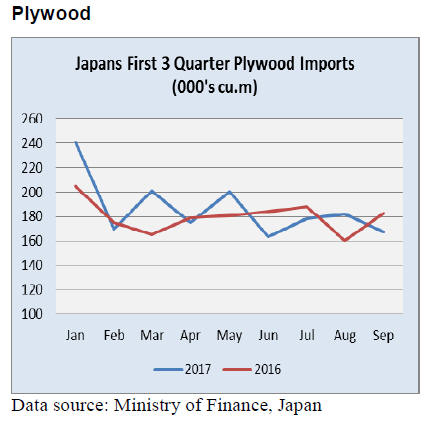 For both 2016 and 2017 the volume of plywood imports
dipped sharply early in the year but recovered slightly
from the end of the first quarter. Year on year, the volume
of plywood imports during the first nine months of 2017
were almost unchanged in comparison with 2016 despite
the rather steep peaks and dips in monthly trade.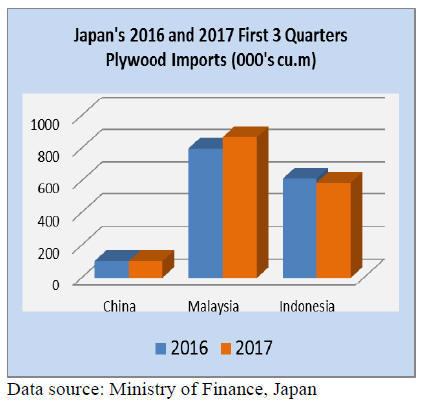 In the first three quarters of 2017 imports from China were
much the same as in 2016 however, imports from
Malaysia grew 9% year on year while imports from
Indonesia fell 4% year on year.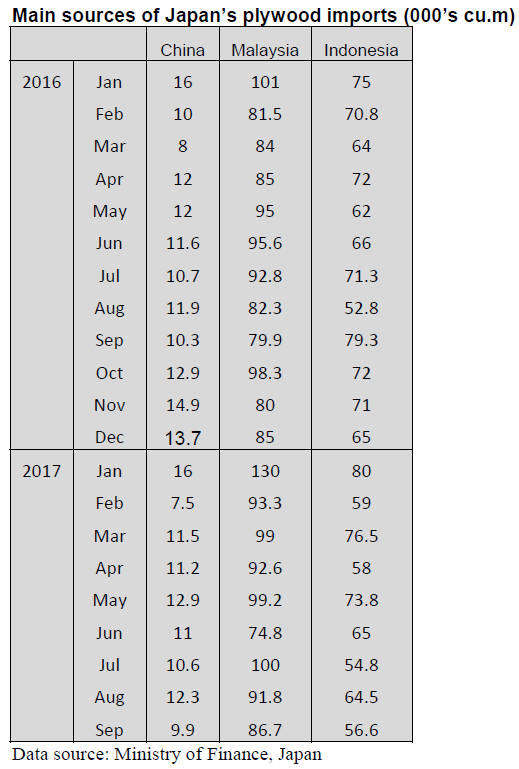 Trade news from the Japan Lumber Reports (JLR)
For the JLR report please see:
http://www.nmokuzai.
com/modules/general/index.php?id=7

Wood products trade with EU
In last July, rough agreement was made by EPA trade
negotiation. On wood products, import duty will be
reduced step by step for next seven years and will be duty
free after eighth year on 10 items like SPF lumber,
structural laminated lumber and fiber board. Import duty
rate and imported value by items are shown in the chart. Import duty used to be
high of 20% but now it is about 6%.

TPP (Trans Pacific Partnership) involves 12 countries
around the Pacific and it is basic rule to abolish all the
duties immediately but after the president Trump was
elected, U.S.A. decided to get out of TPP so this is deadrocked
now.

Meantime, it is significant that Japan and EU came up
with agreement since European wood products are now
major items for Japanese housing.

Demand on European lumber and laminated lumber has
been expanding largely in Japan as strength, quality and
supply capacity of European products cannot be replaced
by other sources so they surpassed share of North
American products.

It is certainly a good news that the duty will be abolished,
which reduces the cost of the products. However, it is hard
to predict how duty free will influence the market after
seven years, which is too far away to see.

European lamina is basic raw material for domestic
laminated lumber manufacturers but European suppliers
have other markets to play with while finished laminated
lumber like whitewood post and redwood beam are made
for Japan market so the suppliers have very little choice
and the prices are subject to Japanese market while lamina
has wider markets so actually the prices have kept
climbing despite considerable strong Euro.

Whitewood laminated post has competition of domestic
cedar laminated post and the same is on KD stud. Since
last summer, whitewood laminated post has not expanded
the share despite lower prices.

Redwood laminated beam has tight supply so despite
higher prices, it has been accepted in the market but the
demand for all the wood products will decrease in a long
run by decline of population in Japan so the demand for
European lumber will shrink.

Meantime, European market is active and other markets
like China continues growing so elimination of import
duty is easily wiped out by export price increase by the
suppliers and it does not help reduce the cost of import
products.

In board and plywood, OSB and particleboard are the most
influenced by the EPA.European OSB is the second
largest source of import. In 2016, total OSB import was
277,601 cbms, out of which European OSB was 90,442
cbms and Canadian OSB was 184,651 cbms, 66.5% share
in total import. Due to higher transportation cost from
Europe and strong Euro, European OSB is relatively
higher in prices compared to the Canadians.

In total import of particleboard in 2016, European PB was
168,792 cbms, 68.4% share. Majority is low melamine
decorative board.

Sawnwood exports up 60%
Export of lumber has been increasing rapidly in last two
years. For the first eight months of this year, the exported
volume is 84,370 cbms, 62.4% more than the same period
of last year. Total volume of the year will be 100,000
cbms.

This is quite progress since total lumber export volume is
about 40,000cbms in 2008 and 2009 and about
60,000cbms in 2010 and 2015. In 2016, Chinese economy
slowed down and log export slowed down but lumber
export has steadily growing.

China is the leading buyer of lumber, which is used as
lamina for laminated lumber and interior finishing then
sheathing of housing. Average unit prices are 34,000 yen
per cbm, which is not high but makes steady business.

Noticeable move is export of lumber to the U.S.A. This
year¡¯s export volume is 7,338 cbms, four times more than
the same period of last year. Average unit price is nearly
50,000 yen, much higher than the prices for China.

Lumber export for Taiwan P.o.C and Vietnam is also 30-
40% more than 2016. Lumber export to the Philippines
has been large but this is for some major Japanese house
builder¡¯s precutting business in the Philippines so that
processed lumber returns to Japan. Log export volume for
the first eight months is 677,582 cbms.

Plywood
The plywood market is generally firm. There is no tight
supply feeling but there are some delivery delays for small
precutting companies. Wholesalers, trading firms and
precutting plants are anxious to build up the inventories
toward the year end so that orders the manufacturers are
very active.

September softwood plywood production was 262,800
cbms, 4.1% more than September last year and 3.2% more
than August.
The shipment was 267,400 cbms, 4.9% more and 7.0%
more. This is the highest record of monthly shipment in
last five years.

The inventories were 105,300 cbms, 4,700 cbms less than
August. The market prices are firm and price hike by the
manufacturers are fully accepted now. The supply in the
Western Japan is much tighter in Kyushu and Osaka
region and there are delivery delays of about a month even
for direct delivery to precutting plants.

The market of imported plywood is getting firm on all the
products. Coated concrete forming panel prices have been
inching up but others like uncoated concrete forming panel
and structural panels had been without much price
increase but now that the suppliers are proposing higher
export prices on these items with softening yen, general
mood is price escalation.

As the importers have purchased high priced plywood,
they need to keep pushing the market prices further up.

With shipment delay, trading companies¡¯ inventories are
very little so they have no plywood to sell. The movement
of imported plywood continues inactive but the importers
try to buy back plywood from lower end of distribution
channels

Itochu Kenzai¡¯s business plan
Itochu Kenzai Corporation (Tokyo) held lecture meeting
in Osaka to review market trend and business plan of the
company.

It plans to increase supply of hybrid plywood made from
all planted trees to 1,200 cbms in 2017. It also plans to
expand supply of certified concrete forming panel and
structural panel. In this, sales expansion of structural panel
with selected cypress veneer is another target. Basic policy
is to increase handling of environmentally friendly wood
products.

Sales for the first half of 2017 would be 147.3 billion yen,
7% more than the same period of last year. In this, wooden
board sales of domestic and imported plywood and
fiberboard are 31.5 billion yen, 13% more.

Hybrid plywood of all planted trees means that it is not
traditional falcate plywood or meranti for face and back
but on top of falcate from agriculture forest, other planted
species grown in this forest is used.

To expand handling of forest certified plywood, it is
necessary to tie up plywood suppliers, which have limited
source of quality natural wood or have steady supply of
certified logs.

On domestic cypress plywood, it will tie up with domestic
manufacturers like Nisshin group and Noda. On wood
products, it is reviewing all the supply sources to make
sure supply of certified products.