Report from North America

Plywood imports from China bottom out
Hardwood plywood imports fell 19% in August to 168,059
cu.m., but year-to-date imports were unchanged from
August 2016. The value of plywood imported in August
was down by approximately the same rate.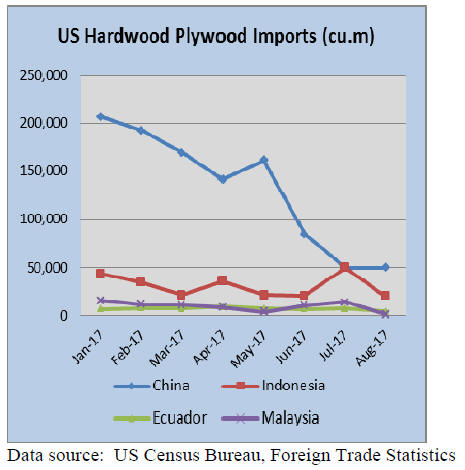 Plywood imports from China held steady in August at
49,660 cu.m., following two consecutive months of
decline when the US introduced preliminary antidumping
duties on Chinese hardwood plywood.
Hardwood plywood imports from Indonesia fell 60% in
August to 19,890 cu.m., but the decline was from an
exceptionally high import volume in July. Imports from
Malaysia declined even more in August to just 1,523 cu.m.

Russia and Cambodia were the only countries that
increased hardwood plywood exports to the US in August.
Cambodia shipped 10,623 cu.m. of plywood to the US
market in August, worth US$8.7 million. The value per
cubic metre of plywood imported from Cambodia was
below Vietnamese and Chinese plywood, but higher than
the unit value of Indonesian plywood.

Higher veneer imports from Cote d¡¯Ivoire
Tropical hardwood veneer imports were worth US$2.9
million in August, down slightly from the previous month.
Year-to-date imports from all countries declined in 2017
compared to the same time last year, but imports from
Italy decreased the least.

Veneer imports from Cote d¡¯Ivoire doubled in August to
US$484,237, making it the second-largest source of
tropical veneer imports after Italy. Imports from India also
increased month-over-month to US$124,518.

Moulding imports from Indonesia up
Imports of hardwood moulding were worth US$17.3
million in August, up 11% from the previous month. Yearto-
date imports are almost unchanged from August 2016.
Year-to-date China and Canada gained, while Brazil and
Malaysia shipped less compared to the same time last
year.

China was the largest source of hardwood moulding
imports in August at US$4.6 million, almost unchanged
from the previous month. Imports from Brazil increased to
US$2.8 million.

Indonesia has again become a major supplier hardwood
moulding to the US market. August shipments to the US
were worth US$1.1 million.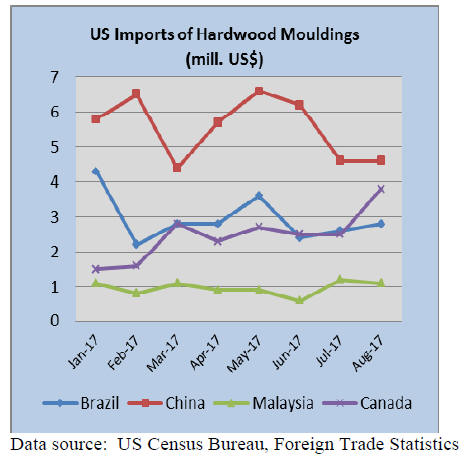 Flooring imports steady
Hardwoods flooring imports declined in August to US$4.0
million, but year-to-date imports are up 19% from August
last year.

Hardwood flooring imports from Malaysia more than
doubled in August to US$315,630, while Indonesian
shipments were down at US$548,484. Imports from China
fell by half from July, but China remained the secondlargest
source of hardwood flooring imports after Canada.

Assembled flooring panels imports were almost
unchanged month-over month at US$14.0 million. Imports
from China and Indonesia increased in August, while
imports from most other countries declined.

Imports from Indonesia were worth US$1.3 million in
August. Year-to-date assembled flooring imports from
Indonesia grew 60% from the same time last year.

Wooden furniture imports down except office furniture
Wooden furniture imports were worth US$1.57 billion in
August, down 3% from July. Year-to-date imports
increased 10% compared to August 2016.

Furniture imports from most countries declined monthover-
month in August, but the strongest dip was in imports
from Canada and Indonesia. Imports from Indonesia fell
by almost a quarter to US$37.1 million.

Of the major furniture supplying countries only Mexico
increased exports to the US in August. However, year-todate
wooden furniture imports were up for all suppliers
compared to August last year.

Wooden office furniture imports grew 11% in August,
while imports of all other wooden furniture types declined.

Strong economy but furniture manufacturing down
The latest economic indicators were very positive. GDP
grew at an annual rate of 3.1% in the second quarter of
2017, according to the third estimate by the Bureau of
Economic Analysis. In the first quarter, real GDP
increased 1.2%. The unemployment rate declined to 4.2%
in September.

Consumer confidence in the economy surged in early
October despite the large-scale destruction by hurricanes
in the US south, according to the University of Michigan¡¯s
survey of consumers. The university¡¯s confidence index
reached its highest level since the start of 2004.
Consumers are expected to increase spending to at least
mid-2018.

Almost all manufacturing industries including wood
products reported growth in September, according to the
Institute for Supply Management. Only the furniture
industry reported contraction in September from the
previous month.
Lower housing starts because of hurricanes
Housing starts in September were at a seasonally adjusted
annual rate of 1,127,000, according to the US Department
of Housing and Urban Development and the Commerce
Department. This is a decline of 5% from August, but is
6% above the September 2016 rate.

The overall decline was due to a drop in single-family
construction in the US South where many communities are
affected by damage from hurricanes. In all other regions of
the country single-family housing starts were up in
September. Building permits increased nation-wide by
more than 2% in September.

Builders¡¯ confidence in the market for new single-family
homes grew in October to the highest level since May,
according to the National Association of Home Builders.
While this summer¡¯s hurricanes have a negative effect on
the cost of building materials and labour, builders expect
the housing market to strengthen in the coming months.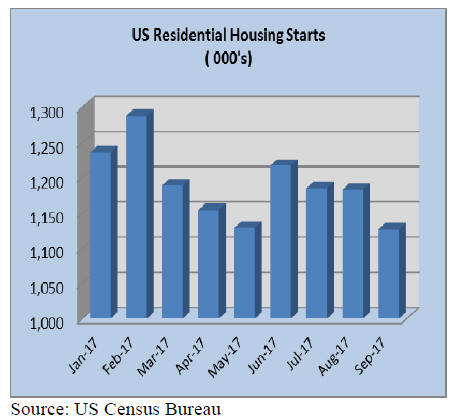 Lumber Liquidators settles flooring formaldehyde
class actions
US retailer Lumber Liquidators Holdings will settle all
pending litigations related to the laminate flooring
products from China sold between 2009 and 2015,
according to Reuters and other media. The settlement is
worth US$36 million. The company¡¯s shares were up
almost 3% after the settlement announcement.

A US TV show had alleged that Chinese-made laminate
flooring sold by Lumber Liquidators was labelled as
compliant with California formaldehyde emission
standards, despite elevated formaldehyde content. Lumber
Liquidator discontinued the sale of the product in May
2015. The payment will settle all claims regarding the
product.