Japan Wood Products Prices
Dollar Exchange Rates of 25th October 2017
Japan Yen 113.74
Reports From Japan
Growth in domestic consumption remains illusive
In its October economic report the Cabinet Office
maintained optimism that exports and industrial output
will continue to drive growth. The report continues to say
that consumption is picking up and that capital
expenditure is also on the rise.

The Bank of Japan (BoJ) has pushed forward its target for
2% inflation to 2020 but this is looking increasingly
optimistic say analysts.

This year the Japanese economy has performed well
largely due to rising international demand but this has not
spurred inflation as companies have not passed on bigger
earnings as wage improvements. Only a rise in domestic
spending can underpin inflation.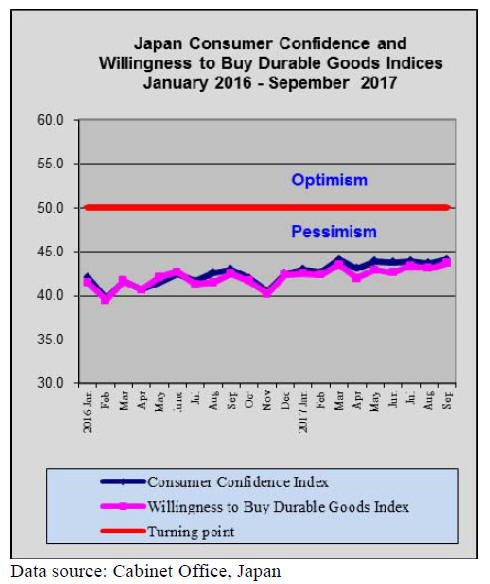 Continuing with the weak yen policy
With the election success of the Liberal Democratic Party
(LDP) the country is expecting the government to continue
with the economic policies established over the past 3-4
years dubbed ¡®Abenomics¡¯ which has three pillars for
reviving the Japanese economy; loose monetary policy,
fiscal flexibility and structural reforms.

Analysts have been quick to point out that the prospects
for structural reform remain limited.

However, the LDP election win means the consumption
tax is most likely to be raised to 10% from the current 8%
in 2019. Financial markets welcomed the election result as
signaling continuity and strong export growth built around
the weak yen.

In late October the yen fell to its weakest level against the
US dollar since July because of expectations that the loose
monetary policy of the BoJ will be sustained.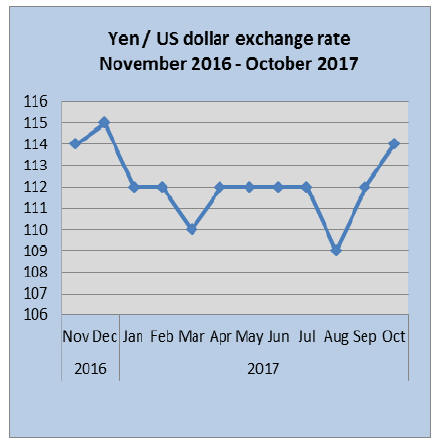 Holiday season a quiet month for housing starts
Data from Japan¡¯s Ministry of Land, Infrastructure,
Transport and Tourism show that August housing starts
dropped 2% year on year, an increase had been forecast.

The decline in August marks the second straight drop
since the high in June this year. Because of the August
drop prospects for annual housing starts fell to 942,000
down from the 974,000 in July.

Other statistics show that orders received by the major
builders fell by almost 11% in August, traditionally a quiet
month because of the holidays.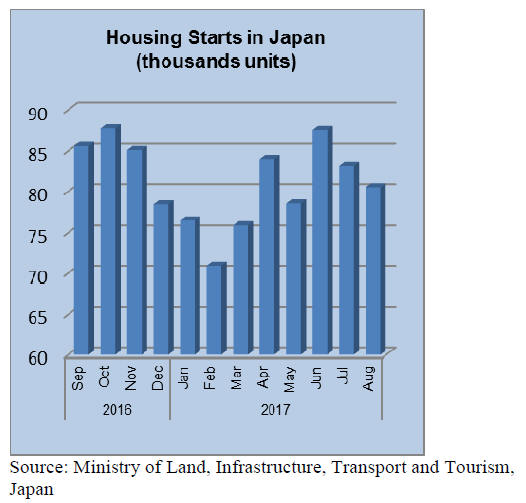 Japan¡¯s wooden furniture imports
There was little in the August furniture import data to
suggest the downward trend has come to an end. Month on
month import values were flat for wooden bedroom
furniture, down for wooden office furniture and up
moderately for wooden kitchen furniture.

It should be remembered that August is holiday season in
Japan so a more accurate picture of the underlying trend
should become apparent when full third quarter data is
available.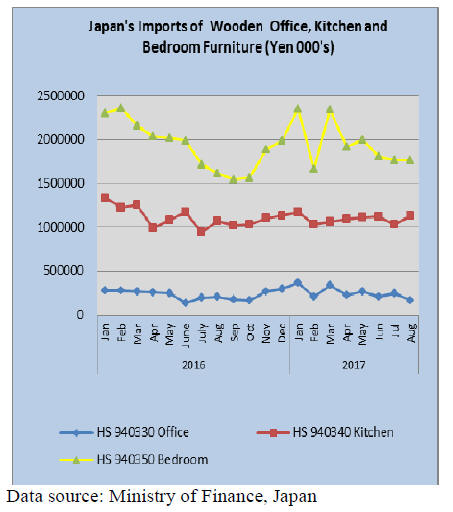 Office furniture imports (HS 940330)
Japan¡¯s imports of wooden office furniture are small
compared to the value of wooden bedroom and kitchen
furniture imports.

August data shows that year on year imports fell 21%
while month on month imports were down over 30%.
Three suppliers, China Poland and Portugal account for
just over 75% of all wooden office furniture imports.
China tops the list at 66% and the combined supply from
EU member states makes up most of the balance. Shippers
in SE Asia account for only a small part of Japan¡¯s
wooden office furniture imports.

Kitchen furniture imports (HS 940340)
The slight correction in the value of wooden kitchen
furniture imports in July following 4 months of a steady
upward trend was reversed in August as import values
rose. Year on year imports of wooden kitchen furniture
are up 5% with Vietnam (48%) the Philippines (34%) and
China (10%) accounting for over 90% of all wooden
kitchen furniture imports.

Amongst the other suppliers to Japan only Germany stands
out accounting for 3.5% of Japan¡¯s August imports of this
category of wooden furniture.

Bedroom furniture imports (HS 940350)
A staggering 90% of Japan¡¯s imports of wooden bedroom
furniture come from shippers in just three countries,
China, Vietnam and Thailand. Between China and
Vietnam over 85% of Japan¡¯s bedroom furniture imports
are accounted for.

Year on year, imports of wooden bedroom furniture were
up 9% in August and data for past 3-4 months seems to
indicate that the downward trend in wooden bedroom
furniture imports is bottoming out.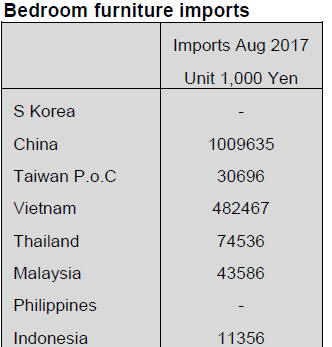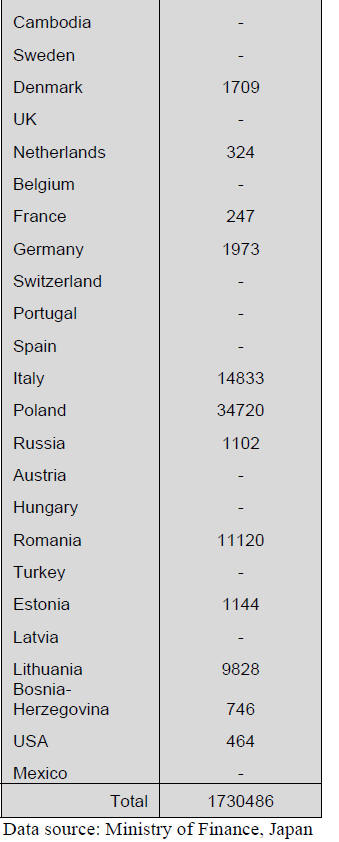 The Japan Lumber Reports (JLR), a subscription trade
For the JLR report please see:
http://www.nmokuzai.
com/modules/general/index.php?id=7

Wood demand and supply projection for 2017
The Forestry Agency held the second meeting for wood
demand and supply in 2017. Supply forecast of domestic
logs for lumber manufacturing is difficult because of
damages by several heavy rain. Demand projection for the
second half of the year would slightly decline.

Demand for domestic lumber in the third and fourth
quarter last year was very active so the supply was on
short side so if the demand this year would be the same as
last year, lumber supply would get tight again.

For housing starts forecast by the Japan Federation of
Housing Organization, detached units during the second
quarter this year declined by 13 points. By forecast by
eleven private think tanks, average housing starts in 2017
are 969,000 units compared to 974,000 units in 2016.
Therefore, if this forecast is correct, domestic lumber
demand would be less than last year so tightness may not
be so bad.
As compared to log demand for lumber, log demand for
plywood would exceed that of last year as new plant will
start up next year and log purchase would start this year.
So the demand would increase and the supply would
follow, which does not include any negative factor of
damages by heavy rain.

North American Douglas fir log supply for the fourth
quarter would stay about the same as last year based on
assumption that the demand for lumber would stay firm so
that log inventories would decrease. For the first quarter
next year, log supply in the North America would recover
but the arrivals would decline by about 2.1%.

North American lumber supply would increase toward the
year end so the supply would be about the same as the
fourth quarter last year.

Third quarter supply of laminated lumber would increase
by 5.8%. Import would decrease by 3.4% but domestic
supply would increase by 11.0%. The domestic supply for
the second half of the year would be more than last year.

Forecast of the import for the fourth quarter would be the
same as last year but that for the first quarter next year
would be down by 10.7%. The demand would also be
down so supply tightness is unlikely.

European lumber import for the fourth quarter would
increase by 6.8% by aggressive purchase of lamina then
for the first quarter, the supply would decline by 6.3% by
purchase curtailment of small size common lumber.

Radiata pine logs and lumber from Chile and New Zealand
for the third and fourth quarter this year are more than last
year but the fourth quarter supply would decline as the
demand would be less than last year. The supply of logs in
2017 would be 15.3% less than last year while that of
lumber would be 2.7% more.

South Sea (Tropical) logs and lumber
There is some change in South Sea hardwood log supply.
India, which is leading buyer, eases log purchase after
rush-in purchase was over before GST tax hike. Malaysian
meranti log prices are unchanged because of tight harvest
control but the log prices in PNG and Solomon Islands are
weakening after India stopped pushing log prices.

Malaysian meranti regular prices are about US$300 per
cbm FOB. In Sarawak, Malaysia, royalty will be raised
since late this year so log prices would go higher again.
Some comment that royalty increase is minor issue
compared to aggressive purchase by India and total log
harvest volume.

Movement of laminated free board in Japan in September
slowed down.

Domestic users purchased more volume ahead of time to
have more inventories since supply reduction was
expected in last spring with Islamic New Year holidays
and log supply dropping with higher prices but the
inventories did not move as expected so the Japanese
buyers place very little future orders.

Indonesian merkusii pine laminated free board prices in
Japan were close to 120,000 yen up until last summer but
now it is down to less than 120,000 yen.

Plywood market
In Tokyo market, demand for softwood plywood continues
firm mainly by precutting plants. Since they experienced
supply shortage last year, they place orders way ahead of
time to make sure the supply would last through the fourth
quarter.

The market prices of 12 mm 3x6 are 1,030 yen per sheet
delivered among wholesalers but the prices for direct
delivery to precutting plants are 1,020-1,010 yen. Price
hike plywood mills proposed in September is generally
accepted by the market.

In Osaka market, with tight inventories by precutting
plants, the prices are firming. Plywood manufacturers in
the Western Japan raised the sales prices together with
price hike by the manufacturers in the Eastern Japan and
the prices are up after seven months.

Supply of softwood structural plywood in Osaka region
continues tight due to busy operations of precutting plants
supported, by active housing starts. By tight supply, the
prices of 12 mm 3x6 structural panel prices are up by 30
yen per sheet among wholesalers but the prices for direst
delivery to precutting plants are only by 10-20 yen up ike
Tokyo market.

Domestic plywood price hike is demand pull type but
imported plywood price increase is cost push type hike.

Imported plywood supply is tight by log supply shortage
in manufacturing regions in Malaysia and Indonesia.
Supply of thin panel is getting short and the inventories in
Japan is scarce so that the importers have to keep buying
even with higher proposed prices by the suppliers. The
prices of thin panel of 2.5 mm 3x6 are unchanged at 450
yen per sheet but the prices seem to go higher because of
weak yen.

Prices of coated concrete forming panel are also climbing
so that price gap between imports and domestic product is
getting narrower. Domestic softwood plywood
manufacturers are anxious to grab market share of this
product.

Wood use by local governments
The Japan Forest Products Journal made survey through
all the local governments in Japan to find out how much
wood they have used in 2016. The central government has
been encouraging local governments for use of wood for
public businesses.

Total is 49,919 cbms for public buildings except for
Hokkaido, Okinawa and Fukuoka and 191,401 cbms for
public engineering works.

Problems of use of wood for public buildings are shortage
of engineers, instability of log supply, difficulty to obtain
JAS certified products, increasing cost for maintenance
and insufficient understanding of fire proof standard.

By prefecture, wood use for public buildings by
Fukushima and Kumamoto is by far the largest as
Fukushima built public housing for the earthquake
restoration and Kumamoto built many emergency
temporary housing after the earthquake. These demands
are temporary.

As large wooden buildings, Kyoto has the most for
lodging and athletic facilities. The most large one used
760 cbms of wood. Police boxes are the most easy one for
small low level wooden buildings.

In three prefectures, wood is used for interior of concrete
school buildings with 200-300 cbcms, which is equivalent
to medium size wooden buildings. For public engineering
works, Hokkaido takes about 50% of total Japan.

Main uses are maintenance of coast lines, wind barriers
and sand barriers. In the cities, main wood use is wooden
board walks in the parks, supporting post for trees lining
street and benches.

The central government has set basic policy and local
governments follow with the promotion policy.