Report from North America

Tropical sawnwood 30% of total sawn hardwood
imports
US imports of temperate and tropical sawn hardwood
grew slightly in August to 72,278 cu.m., but the value of
imports declined. Tropical sawnwood imports accounted
for 21,381 cu.m. or 30% of total sawn hardwood imports
in August.

Tropical imports increased 14% from July, while the value
of tropical sawnwood imported was almost unchanged at
US$21.7 million. Year-to-date tropical imports were up
5% compared to August 2016.

The month-over-month increase was mainly in imports of
balsa, keruing, jatoba and acajou d¡¯Afrique. Balsa imports
grew 24% to 6,252 cu.m. in August. Keruing imports were
2,234 cu.m., up 19% from July.

Imports of ipe sawnwood were slightly down in August
(2,412 cu.m.), but at US$5.1 million ipe was still the
leading species imported by value.

Malaysian exports to the US increased by one third in
August. The US imported from Malaysia in August 2,073
cu.m. of keruing worth US$1.7 million. Meranti and teak
imports from Malaysia were also up in August.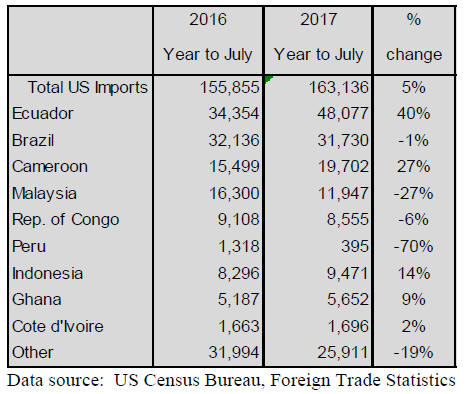 Canadian meranti imports up in August
The value of Canadian imports of tropical sawnwood
increased in August, but year-to-date imports remain
lower than in August last year. The value of tropical
imports was USUS$1.5 million, up 9% from July.

Imports of most species declined in August with the
exception of red meranti. Red meranti imports doubled
from July to USUS$58,266, but year-to-date meranti
imports are lower than in August 2016.
Virola, imbuia and balsa imports (combined) accounted
for the majority of imports in August at USUS$461,189,
up 61% year-to-date from the same time last year. Almost
all virola, imbuia and balsa sawnwood was imported via
the US.

Sapelli sawnwood imports were worth USUS$337,755 in
August, down 2% from July, but sapelli imports from
Cameroon grew in August to USUS$191,888.

Plans to replace plywood in recreational vehicles and
boats
A new company hopes to replace plywood in recreational
vehicles (RVs), boats, buses and trucks with reinforced
fibreglass and thermoplastic panels.

TekModo manufactures composite panels designed to
replace plywood in roofs, floors and external walls. A
different type of panel takes the place of lauan plywood in
sidewalls of RVs and commercial buses.

The company is also developing non-wood concrete
forming panels intended to replace plywood in concrete
forming. TekModo¡¯s production plant is in Indiana where
most North American RVs are manufactured.

New CLT plant for Washington State
A new factory for mass timber products is set to open in
2018 in Spokane Valley, Washington, according to a press
release by construction technology company Katerra.
Cross-laminated timber (CLT) and glulam will be
produced at the new plant, which Katerra uses in its
modular prefabrication of commercial and residential
buildings.

The company already manufactures building components
at an existing factory in Arizona, including walls, rooms,
doors and cabinetry. The new plant in Washington will
increase the production of CLT in the US and allow for
higher use of timber in construction.

CLT is used in tall residential buildings and nonresidential
construction as an alternative to concrete,
masonry and steel. Developed in Europe CLT is gaining
traction in the US and Canada to reduce construction cost
and time, and improve the environmental footprint of
buildings.

A US CLT Handbook was developed in 2013 to facilitate
the adoption of CLT.

A free electronic copy of the handbook is available at:
https://www.rethinkwood.com/mass-timber-webform/crosslaminated-
timber-clt-handbook

The American Hardwood Export Council has been
promoting CLT made from hardwoods. Temporary
structures were created from American tulipwood CLT for
the London Design Festival in recent years. This year
tulipwood CLT was used for the first time in a permanent
building, a health care facility in England.

US cabinet market outlook: more custom and
frameless cabinets
US demand for cabinets is forecast to grow 5.7% annually
to 2021, according to a Freedonia market study released in
September (Cabinets Markets in the US, 10th Edition).
Remodeling of existing kitchens is the most significant
driver of demand. In 2016 the US cabinet sales were worth
over US$16 billion.

Semi-custom and custom kitchen cabinets are expected to
grow at a higher rate than stock kitchen cabinets.
Traditional face-frame cabinets are most common in the
US, but the more modern look of frameless cabinets has
become popular in the last decade.

Frameless cabinets are also used more frequently in multifamily
housing because of their lower cost.

Features such as charging stations for electronic devices
and LED lighting are predicted to become common in
stock cabinets in the next five years.