US Dollar Exchange Rates of 10th October 2017
China Yuan 6.5715
Report from China
14th consecutive rise in Manufacturing PMI
A press release from China¡¯s National Bureau of Statistics
(NBS) shows that the manufacturing purchasing managers
index (PMI) for September marked the 14th consecutive
month of expansion and the highest reading since April
2012.

The NBS says the manufacturing sector maintained a
stable performance and good growth momentum. Factories
increased output to take advantage of firm domestic
demand and high prices driven by a building boom.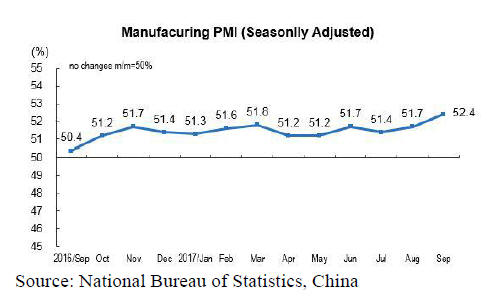 The impressive performance of China's manufacturers
comes despite moves by the government to close low tech
and high polluting industries. Some analysts comment that
news of major cuts in capacity can be misleading since
overall output is still rising.

See:
http://www.stats.gov.cn/english/PressRelease/201710/t20171009
_1540457.html

Transformation of wood based panel sector continues
China has been accelerating transformation of wood-based
panel industry and elimination of outdated production
capacity. According to the China National Forest Products
Industry Association (CNFPIA) thousands of plywood
mills have been required to cease production of which
around half are under-going modernisation.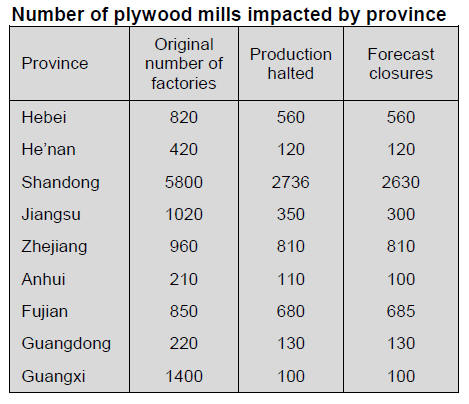 It has been reported that enterprises in the main woodbased
panel production bases such as Shandong Linyi and
Heze cities, Jiangsu Pizhou cities which can satisfy
environmental regulations and have an important role in
maintaining jobs will be allowed to resume production.

Linyi city is home to the largest wood-based panel
production plants and annual output exceeded 45 million
cubic metres in 2016 accounting for over 50% of the
national wood-based panel output. Some 40% of the
production from this area is exported.

Analysts report there are issue to be addressed such as upgrading
technologies, improving management and
development of corporate social responsibility. Recently,
significant success has been seen in volatile organic
compound control in the enterprises in Linyi city.

Guangdong province the first largest furniture output
According to a 2017 report ¡®China¡¯s Wood Furniture
Output¡¯ published by the China Business and Industry
Academy, in the first half of 2017 China¡¯s wooden
furniture production exceeded 13 million pieces. The top
10 producer regions are Guangdong, Zhejiang, Shandong,
Fujian, Jiangxi, Sichuan, Jiangsu, Liaoning, He¡¯nan
provinces and Beijing capital.

Of the national total, 21% of the furniture output
originated from manufacturers located in Guangdong
Province, the top ranked Province in terms of production.

Furniture manufacturing has a long history in the Shunde
District, Foshan City in Guangdong Province. There are
more than 5,000 furniture manufacturers and around
10,000 outlets providing furniture accessories.

The total value of furniture output in Shunde District last
year was RMB10.13 billion of which RMB8.06 billion
was exported. Exports from Shunde District accounted for
about 6.5% of all furniture exports from Guangdong
Province.

New Zealand and China to expand timber trade
Recently a Memorandum of understanding was signed
between the New Zealand Wood Products Manufacturing
Association (WPMA) and the China Timber and Wood
Products Distribution Association (CTWPDA) aimed at
promoting timber trade and technology cooperation.

In the first half of 2017, China imported 6.2 million cubic
metres of logs from New Zealand valued at US$802
million, a year on year increase of 10% in volume and
21% in value. Over the same period China imported
192,100 cubic meters of sawnwood from New Zealand
valued at US$49.35 million, year on year increase of 14%
in volume and 16% in value.

DNA timber identification by Chinese Academy of
Forestry
The Timber Industry Institute, Chinese Academy of
Forestry (CAF) has been commissioned by a domestic
inspection and certification institution to identify a
consignment of imported timber intercepted by China¡¯s
Customs officials.

The wood identification team at the CAF used DNA
sampling to identify the species and found it was
Pterocarpus erinaceus a timber native to the
Sahelian region in West Africa. This was the first time the
CAF had used DNA appraisal and marks an advance in
wood identification for the CAF.

DNA identification technology provides for a more
accurate basis for China's CITES management and
enforcement.