Report from North America

Drop in plywood imports from China
Hardwood plywood imports were almost unchanged in
July at 207,604 cu.m. Year-to-date imports were 6%
higher than in July 2016. The value of plywood imported
in July increased 5% from the previous month to US$146
million.
Plywood imports from China have tumbled since the US
introduced preliminary antidumping duties on Chinese
hardwood plywood. In July only 49,820 cu.m. of
hardwood plywood were imported from China, down 41%
from June. Year-to-date imports from China declined 5%
compared to July 2016.
Plywood imports from Indonesia soared in July. Imports
more than doubled from June to 49,904 cu.m. Malaysian
plywood shipments to the US increased to 14,001 cu.m. in
July. Hardwood plywood imports from smaller suppliers
such as Cambodia and Brazil also grew in July to help
make up for drastically lower imports from China.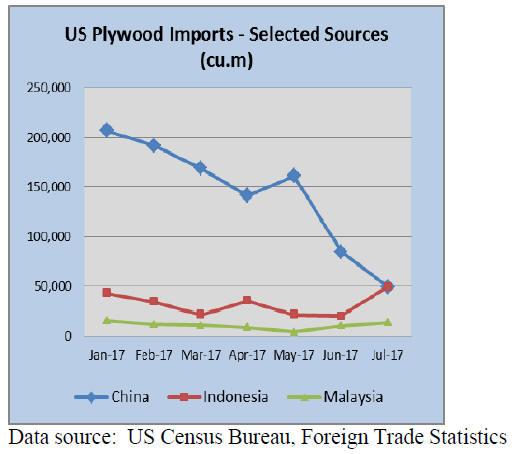 Veneer imports recovered in July
Tropical hardwood veneer imports increased 10% in July
to US$2.9 million, but year-to-date imports were only half
of the veneer imports at the same time last year.
Veneer imports from Italy increased month-over-month to
US$1.6 million. Imports from Ghana were also up in July,
while veneer imports from Cote d¡¯Ivoire fell to
US$236,583.
Higher moulding imports from Brazil, Malaysia and
Indonesia
Imports of hardwood moulding were worth US$15.6
million in July, up 4% from June. Year-to-date imports
were approximately the same as in July last year.
Imports from Malaysia, Brazil and Indonesia increased in
July, while China exported less moulding to the US. July
imports from Brazil were US$2.6 million, compared to
US$4.6 million from China.
Moulding imports from Malaysia and Indonesia were
worth US$1.2 million and just over US$900,000,
respectively.
Growth in assembled flooring panel imports from
Vietnam and Thailand
Hardwood flooring imports were slightly down in July at
US$5.2 million, following high imports in June. Year-todate
hardwood flooring imports were up 24% compared to
July 2016.
Canada expanded hardwood flooring shipments to the US,
but imports from most other countries declined in July.
Flooring imports from China were US$1.7 million, down
12% from June. Imports from Indonesia were down 13%
at US$665,126.
Assembled flooring panel imports grew 5% to US$14.1
million in July. However, year-to-date imports of
assembled flooring panels were slightly below July 2016
levels.
China¡¯s share in total assembled flooring imports grew in
July, while imports from Indonesia were down.
Thailand shipped close US$900,000 worth of flooring
panels to the US in July, up one third from June.
Vietnam has become a significant supplier of assembled
flooring panel to the US market. July imports from
Vietnam were worth over US$1 million.
Growth in wooden furniture imports
Wooden furniture imports were up 1% in July from the
previous month. Year-to-date imports increased 11% from
July 2016. Furniture imports from China, Mexico and
India declined in July, while imports from most other
countries increased.
Vietnam¡¯s shipments to the US increased 4% in July to
US$318.9 million. Wooden furniture imports from
Malaysia were worth US$59.5 million in July, up 5% from
June. Imports from Indonesia increased 6% to US$48.0
million.
Imports of all types of wooden furniture imports grew in
July with the exception of upholstered seating.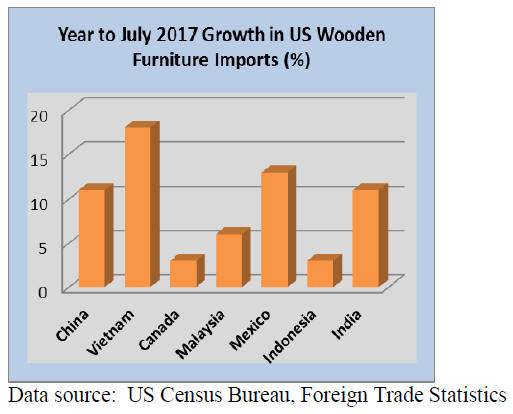 GDP growth 3% in second quarter
GDP grew at an annual rate of 3% in the second quarter of
2017, according to the second estimate by the Bureau of
Economic Analysis. In the first quarter, real GDP
increased 1.2%. Personal consumption and non-residential
construction investment were higher in the second quarter
than previously estimated.
The unemployment rate was 4.4% in August. After
declining earlier in the year, unemployment has been 4.3
to 4.4% since April.
Consumer confidence declined in September according to
the University of Michigan¡¯s survey of consumers.
Consumers were concerned about the economic effect of
the two hurricanes that devastated large areas of Texas and
Florida. However, gains in income, home and equity
values contributed to an overall positive assessment of
current economic conditions.

Home builders worried about effect of hurricanes on
cost of building materials
Residential construction was almost unchanged in August
at a seasonally adjusted annual rate of 1,180,000,
according to the US Department of Housing and Urban
Development and the Commerce Department. Housing
starts were 1.4% higher than in August 2016.
Single-family home construction was slightly up in
August, while multi-family starts declined from July. In
the next months the building market will be affected by
rebuilding and repairing homes that were damaged by
hurricanes.
Regionally home construction rose in the US Midwest and
West in August. Housing starts fell in the South and
Northeast.
Builders¡¯ confidence in the market for new single-family
homes fell in September, while the August reading was
revised downward. According to the National Association
of Home Builders, the hurricanes have deepened builders¡¯
concerns about the cost of building materials and labour
availability. Once the rebuilding of homes begins
confidence in the housing market is expected to go back
up to the high levels seen earlier this year.
Canadian housing market still booming, CETA now in
force
Home construction in Canada continued at a fast pace
driven by high consumer confidence and strong demand
for housing. In August housing starts increased to 223,232
at a seasonally adjusted annual rate. Earlier this year the
Canadian Housing and Mortgage Corporation (CMHC)
had predicted a more downward trend in new construction
for 2017.
The share of single-family homes in new construction
declined to just 28% in August. The vast majority of
homes built in cities are apartments and attached homes.
Canadian consumer confidence reached its highest level in
ten years, according to the CMHC. At the same time
household debt is at record levels. In the second quarter of
2017 the ratio of debt to disposable income rose to 168%.
Home mortgages account for more than half of the debt.
Canada¡¯s central bank increased the overnight target
interest rate to 1% in early September. Business
investment and exports have improved, according to the
Bank of Canada, but international trade issues may affect
the economy.
Canada is negotiating with the US on sawn softwood
exports to the US and with both Mexico and US to revise
the North American Free Trade Agreement.
The Canada-EU agreement CETA (Comprehensive
Economic and Trade Agreement) came into effect
September 21. CETA could increase bilateral trade
between the EU and Canada by 20% annually, according
to a joint study.
Chinese company to build office furniture component
plant in Michigan
A Chinese office furniture manufacturer has announced an
investment of US$4.9 million in Michigan to build a new
plant. J-Star Motion Corp. will produce linear motion and
lifting systems for the office furniture industry.
The company already opened office and warehouse
facilities in Michigan earlier this year. Its parent company
is Jiecang Linear Motion Technology Co. in Xinchang,
China.
Another notable recent investment was a plant in Oregon
for custom cabinet boxes. Cabinotch Innovative Solutions,
owned by Columbia Forest Products, opened a new
factory in August that produces custom frameless cabinet
boxes for custom cabinet shops. US-made hardwood
plywood is utilized for the cabinets.
Cabinotch plans to eventually have ten regional factories
across the US. According to the company, their fast
custom production process help small cabinet shops
compete with mass produced and low-cost cabinet
imports.
Amazon enters retail market for large furniture
Amazon is building warehouses to be able to sell more
large furniture items such as upholstered and bedroom
furniture according to the Woodworking Network portal.
Furniture is one of the fastest-growing product categories
on Amazon based on One Click Retail data. Amazon sold
US$2.3 billion of furniture in 2016, compared to total US
sales of approximately US$70 billion.
Furniture giant La-Z-Boy Inc. reported that it considers
selling through Amazon to reach younger customers. The
company reported a significant decrease in sales in the
first quarter of 2018 compared to last year¡¯s first quarter.
The majority of La-Z-Boy sales is upholstered furniture.