Japan Wood Products Prices
Dollar Exchange Rates of 25th September 2017
Japan Yen 111.73
Reports From Japan
Good second quarter results
In the second quarter of this year Japan¡¯s economy
expanded at the fastest pace in more than two years driven
by higher consumer spending and corporate investments.
But it will require a steady increase in prices and in wages
if this is to be sustained. Overall, growth remains weak
because companies are not passing on part of their profits
as higher earnings for employees.
It appears that manufacturer¡¯s assessment of the prospects
for the economy is such that they do not want to risk
raising sales prices for fear of undermining what little
growth has been recorded.
All eyes are now on the Tankan survey results due to be
released 2 October. The consensus is that confidence
levels in the largest Japanese manufacturers should move
higher on the back of improved global demand however,
further growth will depend on defusing tensions between
the US and North Korea.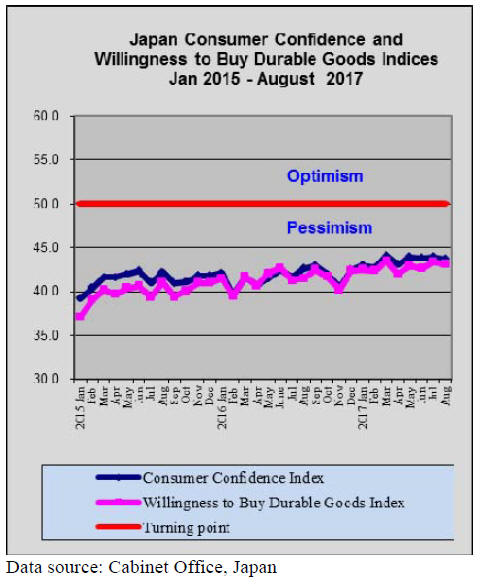 Yen weakens on plans for new stimulus package
Two issues affected the yen/dollar exchange rate in the
second half of September, the growing tension between
the US and North Korea and the package of stimulus
measures proposed by the ruling party in Japan as it heads
into a surprise general election.
As is usual when regional tensions increase there is Yen
buying however, the decision for a massive Yen 2 trillion
stimulus weakened the yen. Immediately the stimulus
package was unveiled the yen fell to around 112 to the US
dollar.

The Prime Minister of Japan said he intends to use the
income raised from the planned consumption tax increase
in 2019 to subsidise education, child-care costs and on
boosting corporate investments to improve productivity.
The earlier plan was to use the extra income to pay down
some of the national debt and expand social services.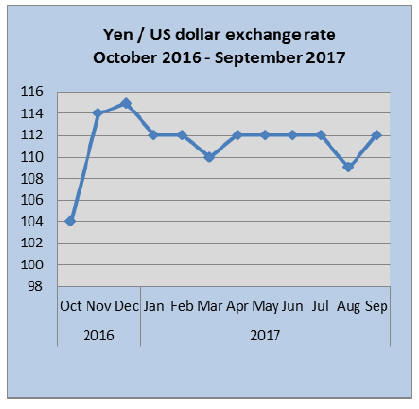 Residential land prices at 26 year low
The latest data from the Ministry of Land, Infrastructure,
Transport and Tourism show the average price of
commercial land across Japan, as of 1 July 2017, rose
0.5% from a year earlier. This extends the gains noted in
the 2016 survey when data showed commercial land prices
bottomed out for the first time in nine years.
Commercial land prices, as of July this year in the three
major cities, rose 3.5% year on year, the fourth
consecutive annual. Prices in four regional cities surged
almost 8% with Sendai, a city in central Japan leading the
charge.
However, residential land prices moved in the opposite
direction falling almost 1% across the country, the 26th
year of decline.
August housing starts
Japan's August housing starts were expected to be higher
than in July but instead they dropped unexpectedly
marking two straight months of decline. Year on year
starts were down around 2% in August, a month that saw
extended holidays in the construction sector.
Other data from the Ministry shows orders received by
construction companies fell around 10% in August in
contrast to the rise in July.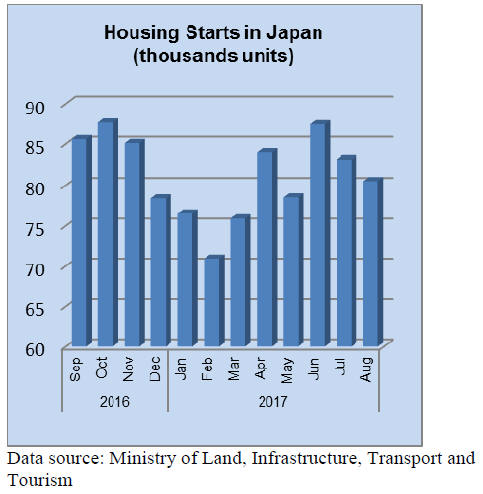 Japan¡¯s wooden furniture imports
The overall trend in Japan¡¯s July imports of wooden
furniture reinforces the steady decline observed since the
beginning of this year. Bedroom furniture imports, the
largest by value of the three categories tracked, have been
falling as have imports of wooden kitchen furniture.
Wooden office furniture imports are a fraction of the value
of bedroom and kitchen furniture and have remained fairly
steady since the end of the first quarter 2017 but picked up
in July.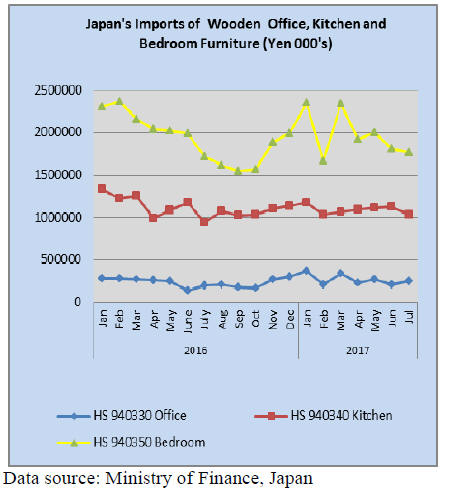 Office furniture imports (HS 940330)
Year on year, Japan¡¯s imports of wooden office furniture
rose 26% and compared to a month earlier July imports
rose 18%.
Exporters in China and Italy are successful in the Japanese
wooden office furniture market and always feature in the
top 3-4 shippers.

Third placed shippers tend to be either Portugal or Poland
and in July the third raked supplier was Portugal. The top
three shippers accounted for around 80% of July
shipments of wooden office furniture to Japan with China
dominating imports at 69%.

Kitchen furniture imports (HS 940340)
Japan¡¯s imports of wooden kitchen furniture increased every
month for the past 4 months but July saw a correction with
month on month imports falling 8.5%. However, year on year
imports are up 9%.
Imports of wooden kitchen furniture from Vietnam and the
Philippines dominate the market for imported kitchen furniture as
together shippers in the two countries account for over 70% of all
wooden kitchen furniture imports. The third place supplier over
the past months has been China.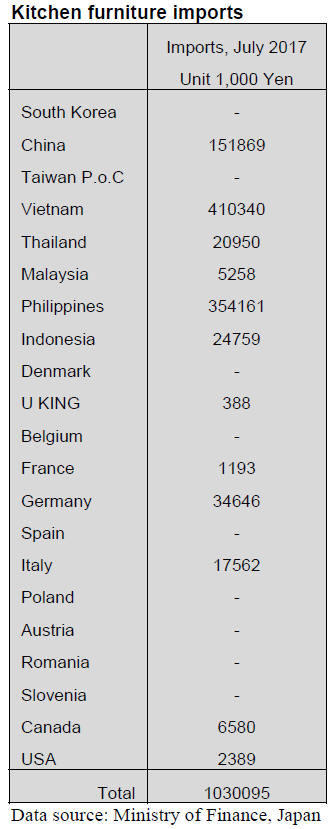 Bedroom furniture imports (HS 940350)
Japan¡¯s imports of wooden bedroom furniture increased
steadily in the second half of 2016 only to fall back in
2017.
First quarter 2017 import values were very volatile but a
steady downward trend in the value of imports emerged in
the second quarter of this year and has been reinforced by
the flat to slight decline reported for July.
Manufacturers in China account for around 60% of
Japan¡¯s imports of wooden bedroom furniture with another
30% originating in Vietnam. In July, only the only
significant shipments from EU member states came from
Poland and Italy.

Trade news from the Japan Lumber Reports (JLR)
For the JLR report please see:
http://www.nmokuzai.
com/modules/general/index.php?id=7
Wood product exports from Japan
Wood products export this year is increasing. During
January and June this year, log export volume was
479,141 cbms, 51.2% more than the same period of last
year and lumber export was 62,557 cbms, 58.6% more.
China is the largest buyer of Japanese logs and Philippines
becomes one of major lumber buyers.
The Ministry of Agriculture, Forestry and Fisheries has set
a target of one trillion yen of export of farm, marine and
forest products by 2020. For forest products export, a
target is 25 billion yen but 2016¡¯s export was 27.4 billion
yen, which is more than the target. Next target is to
increase export of value added products like plywood and
lumber from logs but for this, development of new
markets is necessary.
The Ministry allocated some budget to develop new
markets and main targets are China, Korea, Taiwan and
Vietnam. In particular, it has been working to add
Japanese wood species for Chinese wooden building
standards to increase Japanese style wooden buildings.
The Japan Wood Products Export Promotion Council is
promoting activities of construction of model houses,
displaying wooden interior materials of condominiums
and participation to exhibitions and holding seminars.
Export has started of kiln dries wood products, which have
durability and dimensional stability and precut laminated
lumber for temple construction.
On September 16, it opened model room of 65 square
meters, which displays Japanese tea room with wellknown
high grade lumber of cedar from Yoshino and
Akita. There is demand for Japanese style relaxing room
but in China, price is always priority matter so it is
questionable if high priced Japanese products are selected
easily.
Japanese cypress is very popular in Korea as it is believed
to have sterilizing power so cypress furniture and interior
materials are in high demand. Antenna shop was opened in
last August in Seoul, where cypress bed and interior
materials are displayed and sold. Export of Japanese style
house to Korea is more than China and export of precut
materials by Japanese builders is increasing.
Taiwan shows interest to Japanese wood products like
plywood, LVL and CLT. Vietnam market is unknown yet
but there are many furniture manufacturers exporting
finished products to Europe so demand of furniture
materials may be one of major business. For the U.S.A.,
Japanese cedar lumber is exported to substitute short
supplied Western red cedar for fencing.
Price hike proposed on softwood plywood
Supply of domestic softwood plywood is getting tighter
again with increasing orders for the fourth quarter
deliveries. Delay of deliveries about two weeks started
again for wholesale business.
With prospect of tight supply for coming months, some
plywood manufacturers have started proposing price
increase due to climbing production cost.
Large precutting companies have kept ample orders
through the summer then small and medium precutting
companies are now having future orders and they have
started procuring plywood for busy fall demand. Supply of
thick panels was short last year so users are placing orders
before things change.
Normally small precutting companies carry minimum
volume but now they are building inventories to deal with
possible tight supply in fall. Building materials trading
firms are having more orders but allocated volume by
plywood manufacturers is firmly set so they are not able to
deal with spotty orders. They give priority to regular
customers like large precutting plants so there is no delay
of deliveries now.
Stabilising plywood industry
Plywood used to be typical un-stabilizing and market
sensitive commodity with frequent price fluctuations by
unbalance of supply and demand. Imported plywood used
to take more than 50% share of the market. Then supply of
raw materials relied on imported logs like South Sea
hardwood and Russian larch logs for many years.
Up until 2015, it was considered depressed industry by
over supply then plywood manufacturers tried desperately
to restore the market by production curtailment. Then the
market stabilized and at the same time, the demand
recovered so for last two years, it has been sellers¡¯ market
and the manufacturers enjoyed profitable business.
Plywood production of South East Asian countries has
been declining mainly by difficulty of acquiring raw
material logs due to declining resources and environmental
protection.
Large production of South Sea hardwood plywood is now
becoming history. The prices of imported plywood have
been steadily climbing. Now share of imported plywood is
less than half. Indonesian plywood has been used for floor
base and Malaysian plywood is used for concrete forming
panel. Since steady supply in future is diminishing,
Japanese industries, which relied on import plywood, are
now trying to switch to domestic softwood plywood.
Now main raw material of domestic plywood is domestic
species of cedar, cypress and larch, which is available
consistently and the prices are stable without being
influenced by fluctuation of exchange rate.
Shipments of domestic softwood plywood for the first half
of this year were 1,447,000 cbms, 2.2% more than the
same period of last year. Use of plywood for a unit of
newly build houses is 3.12 cubic meters, which was 2.83
cbms in 2014, 10.2% more. Not only plywood but other
panel products such as structural particleboard, MDF and
gypsum board for bearing wall expand market by easy
workability and high wall strength factor. This is the first
time that plywood market has stabilised for long time.
South Sea (tropical) lumber and logs
Demand for South Sea lumber such as laminated free
board is firm but the supply is tight by log shortage in
South East Asian countries. With log harvest restrictions
and related tax increase, future cost will be climbing.
An immediate concerned matter is severe environmental
restrictions by the Chinese government on red pine
laminated freeboard lumber manufacturing plants. Many
small plant are quitting without any money for capital
investment and orders are concentrating to large
manufacturers so the prices are climbing.