2. GHANA
Industrial fund to aid manufacturers
The Minister of Trade and Industry, Alan Kojo
Kyerematen, has announced the creation of a US$2 billion
Industrial fund which will provide medium and long term
financial support to entrepreneurs who want to engage in
manufacturing.
The Association of Ghana Industries (AGI) has for many
years identified the high cost of borrowing as a major
cause of slow investment and of business failures across
the country. The AGI has frequently offered suggestions
on how the financing needs of companies could be
addressed so it welcomes the government initiative on
financing for the private sector.
Many wood product manufacturing companies in Ghana
have collapsed largely due to the high cost of borrowing
which led to falling productivity and competitiveness.
In related news, the Bank of Ghana also recently
announced a new lower minimum capital requirement of
GHS400m for all commercial banks which should
encourage banks to lend more.
Training in weapon handling for Forest Guards
The Forestry Commission has conducted a series of
training programmes on capacity building and teamwork
for staff at various levels. The most recent workshop was
for 200 Forest Guards and 10 Range Supervisors.
Participants were taken through a two-week intensive
training programme which included weapons handling and
jungle training, effective patrolling, offence detection,
mapping and intelligence gathering.
The Chief Executive Officer of the Commission, Kwadwo
Owusu Afriyie, indicated that further training will be
provided for about 1,000 field officers to help fight the
increasing wave of illegal activities in protected forest
reserves in the country.
He emphasised that field staff were the pivot around which
effective forest protection revolves adding that it would be
very difficult for them to work with outmoded weapons
which cannot match those of the illegal operators.
He pledged the Commission's commitment to provide all
frontline staff with the necessary training and equipment
to enable them to carry out their duties effectively
cautioning them against acts that could bring the name of
the Commission into disrepute.
Domestic market starved of wood
Abubakari Halifa, Secretary of the Ashanti Region
Domestic Lumber Traders Association, has called for a
ban on timber exports because the domestic market is
starved of timber and local timber traders are going out of
business.
He said firm demand in export markets results in scarce
timber resources being diverted away from the local
market and because of this much of the domestic demand
is met by illegally harvested timber.
Stressing the need for the ban, Halifa said demand for
timber in the domestic market far outweighs supply. The
Association is also of the view that restricting exports will
help curb illegal logging.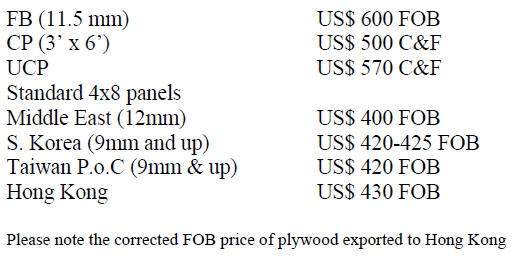 3. SOUTH AFRICA
Central Bank (SARB) keeps rates on hold
The South African Reserve Bank decided to keep interest
rates unchanged at its latest meeting. The prime rate
remains at 10.25%. The main reason for the hold was
expectations that rates will soon be raised in the US and
UK. On news of the rate hold the Rand was trading at
R13.26 to the US Dollar, up from the recent R13.40.
All eyes on December ANC leadership election
With government infrastructure projects still stalled
millers continue building up stocks as truss manufacturers,
which consume sawn pine, have little business. Analysts
write "A lot of contracts are still on hold but there is no
sign of government spending coming to the rescue".
The property market is stagnant and retailers are also quiet
as the customers are not in any mood to spend.
Overall, the construction sector is likely to be looking
forward to December, when it is anticipated that the
appointment of a new leader for the ANC could bring
some economic stability.
Even prospects in refurbishment market have waned. The
refurbishment market for shops and hotels was one bright
spot in the market but prospects have been dented with the
closure rather than refurbishment of a major hotel.
Imports of American hardwoods remain steady and
demand is said to be firm but the South African
consumption of panels is very subdued. The persistent
problem of erratic delivery of African hardwoods is still a
major problem which undermines the confidence of
companies wishing to use imported African hardwoods.
The delivery of meranti is more reliable but demand
remains under pressure as the window market for the high
end houses is very weak as is the door market. In addition,
many home builders are choosing aluminium windows,
traditionally a market for meranti.
Demise of furniture making in South Africa
In early 2000 the South African Forestry Company (the
major domestic source of logs) adopted a policy of import
parity pricing which, along with the strengthening of the
Rand, started the demise of the domestic furniture
industry.
The increase in log price meant that the local sawmillers
were, in effect, paying a premium of approximately 30%
for raw materials. This forced the closure of a lot of
sawmills as the sawwood export business dried up and it
also initiated a lot of closures in the furniture industry as
they could not cope with the rising raw material costs.
Because of the parity pricing policy sawmillers
concentrated on the more profitable structural market and
abandoned grading out sawnwood suitable for the
furniture industry. The impact of this was that furniture
manufacturers had to utilise mixed grade sawnwood from
which recovery of material for furniture making dropped.
This added to costs and undermined competitiveness.
At the same time, the stronger Rand enabled retailers to
epand imports of furniture. This situation continues to the
present and the largest case goods plant in South Africa
was forced to close last year.
During this period, South African company Steinhoff , the
world's second-biggest furniture retailer after IKEA,
moved most of their manufacturing out of South Africa
but the local industry did not expand to fill the gap as
imports boomed.
Analysts write "The sad result of this is that we (South
Africa) have lost over 60% of the furniture manufacturing
sector. The remaining factories are high end bespoke
manufacturers using mainly American hardwoods."

4. MALAYSIA
Eliminating corruption the first step in halting illegal
logging
Illegal logging, which has cost the country millions of
ringgit in losses in taxes and revenue, is the latest target of
the Malaysian Anti-Corruption Commission (MACC).
Investigators will be focusing on this issue after tackling
illegal land clearing, bauxite mining and unlicensed
factories.
MACC Deputy Chief Commissioner, Azam Baki, said
illegal logging activities must be stopped as this causes
severe damage to the forest eco-system. Azam said the
main focus of investigations will be on elements of
corruption and abuse of power involving enforcement
agencies, their officers and logging companies.
In November 2014, the then Sarawak Chief Minister,
Adenan Satem, declared war on illegal logging, saying
Sarawakians must not tolerate corruption adding that
Sarawk had earned a bad reputation internationally
because of illegal forest activities.
GeoDrone initiative in Sarawak
The Sarawak Forestry Corporation's (SFC) new
GeoDrone initiative will enhance its forest management
activities, including monitoring and enforcement. Chief
Minister Abang Johari Tun Openg said drone technology
can play a role in ensuring that the state's forestry
resources were well managed.
Abang Johari called on SFC to equip the drones with the
latest technology available, such as sensors to transmit
data directly to a control centre. The SFC has been using
drones for its forest management activities since 2015.
The new GeoDrone initiative incorporates ICT and
geographic information system technology in the drones to
enhance the performance of activities such as
enforcement, licensing, monitoring of forest health, forest
resource inventory, wildlife monitoring and protection of
totally protected areas (TPAs).
SFC Chief Executive, Wong Ting Chung, said the
corporation currently has 58 drones and is aiming to
secure more.
Furniture exporters ready to supply hurricane affected
areas
Manufacturers with export ties with the United States are
likely to see a spike in demand as recovery work begins in
the hurricane damaged areas in the Caribbean and US.
Malaysia's wooden furniture exports surged by 25% a few
months after Hurricane Katrina in 2005 and analysts
expect another surge in exports.
Rachael Hong Hui Chee, a Hong Leong Investment Bank
Research's analyst, said it is difficult to anticipate when
the expected rise in demand in the US will occur.
Reducing dependence on foreign workers in the
plantation sector
There is a need to increase and equip the local workforce
with the proper knowledge and skills required in the
plantation sector. This will improve productivity and
reduce the dependency on foreign workers said Deputy
Minister of Plantation Industries and Commodities, Datuk
Nasrun Datu Mansur.
To address the shortage of local workers in the plantation
sector the Ministry, along with the Ministry of Human
Resources, is emphasising the development of skilled and
semi-skilled workers to meet the demands of the
plantation sector. It is estimated that there are over
400,000 workers in the Malaysian palm oil plantation
sector alone, many of which from overseas.
August plywood prices
Plywood traders based in Sarawak reported the following
export prices: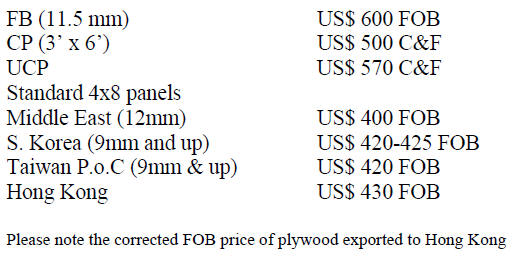 5. INDONESIA
A welcome August trade surplus
Data from the Central Statistics Agency (BPS) shows
Indonesia's August trade balance recorded the highest
surplus in nearly six years on the back of rising
commodity prices. The surplus stood at US$1.72 billion in
August with exports worth US$15.21 billion up almost
20% year on year.
The head of BPS, Suhariyanto, said better prices for coal,
palm oil, palm kernel oil, rubber, copper and nickel drove
up export earnings. Manufactured products accounted for
just over three quarters of exports with the balance coming
from the mining, gas and oil sectors.
Belgium a gateway to the EU
Rosan P Roeslani, Chairman of Indonesian Chamber of
Commerce and Industry (Kadin), has said Belgium is a
vital gateway for Indonesian products into the EU market.
His statement came in response to negotiations for a
comprehensive economic partnership between Indonesia
and the EU.
Indonesia expects total bilateral trade with the EU to
increase annually, reversing the stalled level of trade over
the past few years. Data from Kadin shows Indonesia's
exports to Belgium consist of footwear, clothing, furniture,
plywood and a wide range of other products.
Peatland regulations discourage investments
A report from the Economic and Community Research
Institute (LPEM) says government regulations (PP) aimed
at the protection and management of peat ecosystems (PP
71/2014 jo. PP 57/2016) could stifle investments in the
forestry and plantation sectors and that investments in the
region of Rp. 270 trillion could be at risk.
The chief researcher, Riyanto, argues that infrastructure
developments will come to nothing if investors are
frightened away.
Furniture industry struggles to secure raw rattan
Chairman of Indonesian Furniture and Handicraft
Association (HIMKI), Soenoto, has said Indonesian
furniture and craft industries are finding it increasingly
difficult to secure raw rattan raw material.
He went on to suggest that the smuggling of raw rattan to
neighbouring countries which are paying good prices for
rattan is part of the explanation for the domestic shortage.
Indonesia is a major producer of rattan accounting for
around 80% of the rattan traded globally but domestic
industries are becoming staved of raw rattan while in other
countries rattan product exports are growing.
The concerns raised by Soenoto come as the government
relaxed restrictions on the export of partially processed
rattan to benefit both furniture makers and rattan
producers.
In related news, Chairman of the Jabodetabek Regional
Board of the Association of the Indonesian Furniture and
Handicraft Industry (HIMKI), Ade Firman, has pointed to
the disadvantaged position of local furniture makers
compared to foreign own companies operating in
Indonesia.
He says foreign companies have much better access to
financing and can invest in the latest technologies but local
companies are disadvantaged as they do not have easy
access to capital.
According to Firman, the government needs to establish a
mechanism to provide capital assistance for domestic
companies so that they can employ the latest technologies
to be competitive.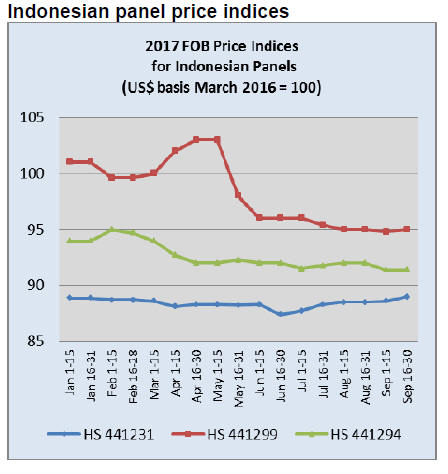 6. MYANMAR
Workshop discusses looming log deficit
A recent workshop on how to promote the wood-based
industry in Myanmar used as the basis for discussion a
paper " Developing Wood Based Industry in Myanmar" ,
written by Dr Kyaw Tint, the retired Director General of
the Forestry Department.
According to the paper, the estimated annual requirement
of teak for export oriented factories is 220,950 Hoppus
tons while the RWE for the 129,498 tons of sawn timber
exported in 2015-16 is over 250,000 H. tons. This points
to a looming deficit between the raw material
requirements of existing mills if they want to maintain
export levels.
MTE earning plan revealed
The Myanmar Timber Enterprise (MTE) is targeting
export earnings of US$70 million and Kyat 81,400 million
(around US$ 60 million) from sales to the domestic
market. According to the plan, MTE will take the 10,000
H. tons of teak from 15,000 H. tons to be harvested as well
as 90,000 H. tons of hardwoods from the planned harvest
of 350,000 H. tons.
According a book written by a retired General Manager of
the MTE 30 million H. tons of logs were harvested in the
26 years from 1990 of which some 24 million H. tons
were non-teak hardwoods. This is the most updated figure
publicly available on past MTE harvest levels.
For the financial year 2016-17 harvesting was suspended
but resumed this year targeting 15,000 H. tons of teak and
350,000 H. tons of other hardwoods.
Import duty on raw material cancelled
The Custom Department has announced a decision by
government to eliminate import duties on imported logs
and raw material to reduce the dependence on the
country's timber resources. However, The duty on
imported wooden furniture has been increased from 15 to
20%.

Analysts point out that this move is aimed at addressing
the diminished resource base due to illegal logging and to
ensure local demand for wood products can be maintained.
But it is not yet clear how exports of products
manufactured from imported raw materials will be
managed as the forest regulation is not clear on this issue.
King of the forest
A teak tree, said to be the largest ever recorded, has been
found in Sagaing Region in the north west of the
country. The girth at breast height has been reported as
27ft and 5", about 835 cm. In addition, another tree with a
girth of 27 ft ( 822cm) has been located.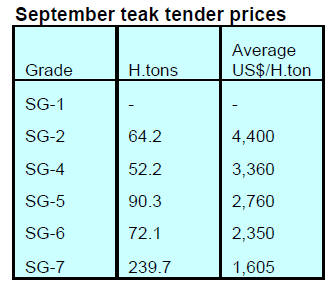 7. INDIA
Rise in food prices and cost of services drives inflation
higher
India's official wholesale price index for all commodities
(Base: 2011-12=100) for August 2017 released by the
Office of the Economic Adviser to the government (OEA)
rose by 0.8% to 114.8 from 113.9 in July.
The annual rate of inflation, based on monthly WPI, stood
at 3.24% (provisional) for August 2017 compared to
1.88% for the previous month. Inflation for this financial
year so far was 1.41% compared to a rate of 3.25% in the
corresponding period last year.
The sharp rise in prices for food and higher service
charges stemming from the introduction of the national
goods and services tax (GST) is thought to be the main
driver of the rise in inflation.
The August wholesale price index for wood products and
plywood rose by 0.3% to 132.1 (provisional) from 131.7
for the previous month due to higher price of plywood and
sawnwood.
The press release can be found at:
http://eaindustry.nic.in/cmonthly.pdf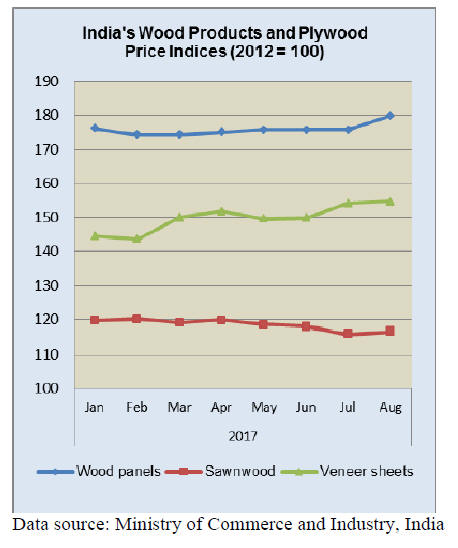 Sales tax hangover fading
Output from the manufacturing sector expanded in August
reversing the contraction seen in July which was put down
to confusion over the new national sales tax. The rebound,
if sustained, could mean that India's economic growth
rate, which fell to three-year low in the April-June quarter
from a year earlier, may improve.
Analysts say the recovery in global demand helped India's
exporters and data shows that exports grew 10.3% in
August. However, imports surged in August growing 21%
which widened the trade deficit.
See:
http://economictimes.indiatimes.com/articleshow/60531829.cms
?utm_source=contentofinterest&utm_medium=text&utm_campa
ign=cppst
Log auctions for Western Indian forest depots
The Forest Department in Western India has announced
the dates for the next log auctions. Sales in the Dangs
Southern and Northern circle will run until 5 October to be
followed by sales in the Valsad North division on 6
October. The final sale in October will be in Valsad South
on 7 October.
Approximately 12,000 cubic metres will be offered for
sale comprising approximately 8,500 cubic metres of teak
with the balance being other tropical hardwoods such as
Adina cordifolia, Gmelina arborea, Pterocarpus
marsupium, Acacia catechu and Mitragyna parviflora.
Since imported plantation teak logs are mostly of small
girth buyers will be looking for larger sized logs so prices
are expected to be firm.

Prices for imported plantation teak
Traders report that demand for imported plantation teak
logs continues to be firm and that the prices for imported
teak remain unchanged.
Pressure for revision of GST on wood and wood products
continues. As the GST for wood products was not
discussed at the last GST Council it is likely to be taken up
at the 24 October GST Council meeting.


Locally sawn hardwood prices
Exmill prices for hardwoods are unchanged but are subject
to an 18% GST.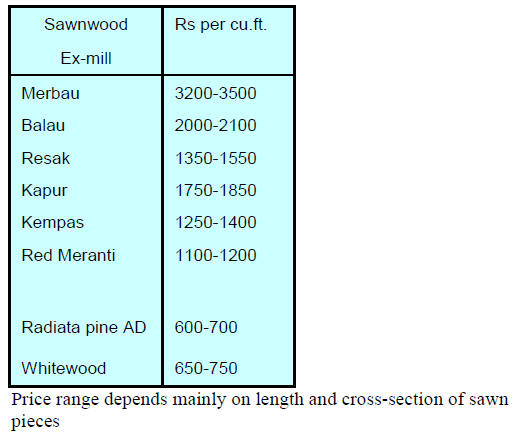 Myanmar teak prices
There were no changes in prices over the past two weeks
and the availability of sawn Myanmar teak is reported as
satisfactory.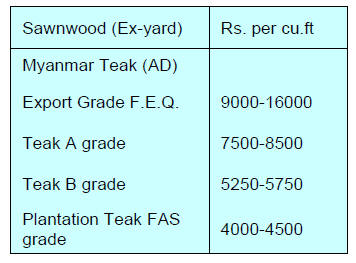 Prices for imported sawnwood
Prices for imported sawnwood (KD 12%) remain
unchanged.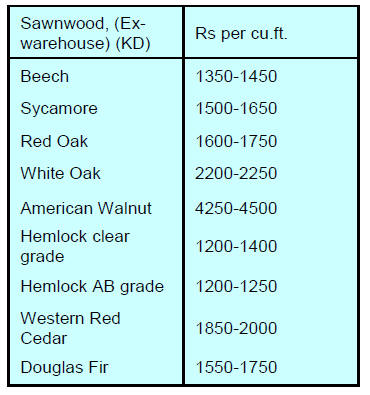 Plywood prices
Plywood manufacturers are facing rising production costs
as prices for logs, veneers and resins are all increasing and
they are looking for an opportunity to raise prices.
However, until there is a decision on the GST for wood
products they have to maintain current price levels.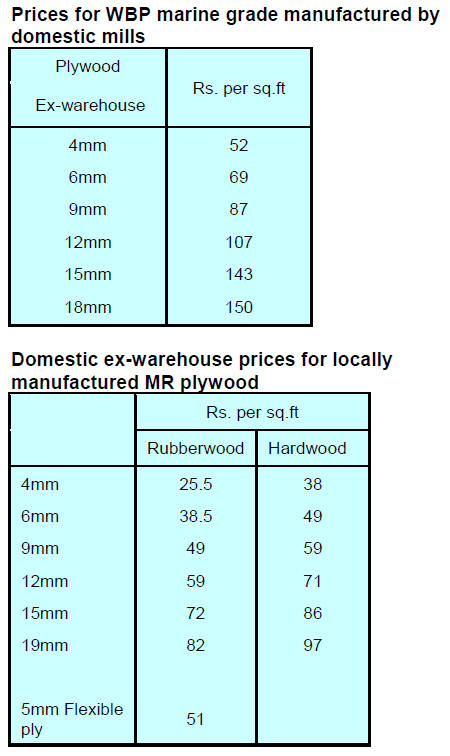 8. BRAZIL
Forest Inventory continues
An additional phase of the National Forest Inventory
(IFN), an initiative coordinated by the Brazilian Forest
Service (SFB) began in September.
In some locations this will be the first time that
assessments of biophysical data will be made. It is highly
likely that new plant species will be discovered.
In order to conduct the inventory a multidisciplinary team
surveyed a total of 201 points, 20 kilometers apart. The
team will measure volumes, collect soil samples and
botanical material among other things.
All field work is being carried out by a company hired by
the SFB. The initial work is expected to be completed by
April 2018.
To-date around 170 million hectares (20% of the country)
have been inventoried and data collection has been
completed in 11 states; Alagoas, Ceará, Espírito Santo,
Paraná, Pernambuco, Rio Grande do Norte, Rondônia,
Santa Catarina, Sergipe, Rio Grande do Sul and Rio de
Janeiro and in the Federal District.
More than 45,000 plant samples have already been
collected at about 5,000 points across the country.
Zero deforestation and income generation achieved in
high risk reserve
The Juma Sustainable Development Reserve (Reserva de
Desenvolvimento Sustentável-RDS), one of the
Conservation Units (UC) located along the BR-319
highway in Amazonas State is considered a model
protected area in the country.
In addition to achieving zero deforestation the project has
succeeded in promoting generation of income for the local
communities.
The zero deforestation is attributed to the establishment of
the first Brazilian REDD project in 2008. In the same year
an initiative of the Amazonas Sustainable Foundation
(FAS) was the first in the country and in the Americas to
receive an international certificate for zero deforestation.
Through REDD, national and international companies
support deforestation and emission reduction activities in
the Juma RDS through a financial mechanism for
generating carbon credits. According to the FAS
Innovative Solutions Programme, stakeholders in the
project receive support for the production of mainly nontimber
forest products and a payment for environmental
services, through the "Bolsa Floresta" Programme.
The Juma RDS was created in 2006 by the Amazonas
State government and is managed by the State Department
of Environment. It is located in a high-risk area for
deforestation in the Novo Aripuană municipality some 230
kilometers from Manaus.
Export update
In August 2017, Brazilian exports of wood-based products
(except pulp and paper) increased 6.1% in value compared
to August 2016, from US$224.8 million to US$238.6
million.
The value of pine sawnwood exports increased 19%
between August 2016 (US$35.5 million) and August 2017
(US$42.3 million). In terms of volume, exports increased
15% over the same period, from 178,500 cu.m to 205,100
cu.m.
The volume of tropical sawnwood exports increased 14%,
from 30,900 cu.m in August 2016 to 35,200 cu.m in
August 2017 at the same time the value of exports
increased 10% from US$15.0 million to US$16.5 million.
Pine plywood exports increased 30% in value in August
2017 in comparison with August 2016; from US$38.9
million to US$50.6 million but there was only a 20%
increase in the value of exports over the same period (from
148,000 cu.m to 177,600 cu.m).
Tropical plywood export volumes increased 17.5% and the
value of exports rose by 16% from 14,300 cu.m (US$5.6
million) in August 2016 to 16,800 cu.m (US$6.5 million)
in August 2017.
The positive news continued with wooden furniture
exports which increased from US$37.2 million in August
2016 to US$44.9 million in August 2017, around a 21%
increase.
IBA reports a solid export performance in 2016
According to the Brazilian Tree Industry's (IBA) 2016
report launched recently, for the second consecutive year
the slowdown in domestic construction led to a decline in
domestic consumption of sawnwood. The report says
consumption fell from 7.2 million cu.m in 2015 to 6.4
million cu.m in 2016.
Nevertheless, as a result of the depreciation of the
Brazilian currency against the dollar the sector increased
sawnwood exports by 39% compared to 2015. 2016
exports totalled 2.2 million cubic metres.
However, total production of plywood panels from planted
forests increased by only 3.8% in 2016, reaching 2.7
million cubic metres of which 1.8 million was destined for
export. Meanwhile, sales of this product in the domestic
market fell almost 12% compared to 2015, totaling
900,000 cu.m in 2016.
Timber industry benefits from Itapoá Port efficiency
Santa Catarina State is the largest exporter of wooden
furniture among the various states in Brazil. In 2015
wooden furniture exports were worth US$190 million.
Pine plywood is another major output from industries in
the state and in 2015 exports totalled US$120 million.
In the same year, 75% of Brazilian exports of wooden
doors and 44% of the exported volume of sawnwood were
from Santa Catarina. In terms of reconstituted wood
panels, US$24 million were exported in 2015.
In terms of logistics for wood products Itapoá Port is
considered one of fastest and most efficient terminals in
Latin America and is one of the largest and most important
ports in the country for handling of containerised cargo.
This port is the main export terminal for wood products in
Brazil. The port can handle 500,000 TEUs per year and
has already begun an expansion project that will allow the
handling of 2 million TEUs annually.
The Itapoá Port, located on the northern coast of Santa
Catarina state, is positioned among the most productive
regions of Brazil.

9. PERU
ADEX reports decline in timber exports
The Association of Exporters (ADEX) has reported that
May exports of wood products, the latest available
monthly data, totaled US$58.1 million (FOB), down
sharply on the US$62.5 million exported in May last year.
Of the US$58.1 million, China was the main export
market and exports to China were up 10% year on year.
Mexico was the second most important market accounting
for 11% of exports but in this case May 2017 were down
10% compared to last year.
The United States market accounted for around 10% of
Peru's May 2017 wood product exports but a massive 46%
decline in exports was recorded. Sawnwood accounts for a
major proportion of timber exports and the Dominican
Republic is the main market followed by China.
Amazon community projects to improve quality of life
Fourteen indigenous Amazon organisations are set to
benefit from financing and technical support to implement
projects within the Specific Dedicated Mechanism (MDE)
Saweto Peru. This is an initiative led by the Inter-ethnic
Development Association of Peru (Aidesep) and the
Confederation of Amazonian Nationalities of Peru
(Conap).
Support will be provided by WWF Peru as the National
Executing Agency and financing will be from the World
Bank.
MDE Saweto Peru received 63 proposals which were of
benefit to native communities and represented their
assessment of what will be most beneficial to meet the aim
of legal security of the communal territories and
improvement in their quality of life.
The selected projects for organizations in Loreto, Junín,
San Martín, Ucayali, Huánuco, Madre de Dios and
Amazonas include tourism development, fish farming,
agroforestry, non-timber harvesting and forest
management.