Japan Wood Products Prices
Dollar Exchange Rates of 25th August 2017
Japan Yen 109.30
Reports From Japan
Inflation to gain solid foundation if wages rise
Rising energy costs lifted in inflation in July and an
upward trend would be driven by further gains in energy
costs and could be sustainable if wage growth and
consumption pick up.

The Ministry of Internal Affairs reported that the core
consumer price index for July, which excludes fresh food
prices, rose 0.5% marking the seventh consecutive
monthly rise. As unemployment in Japan is currently very
low wages should rise which would lift household
incomes and encourage consumer spending.

However, the Bank of Japan (BoJ) Governor, Haruhiko
Kuroda, warned that the 2% inflation target remains
distant and that the current pace of growth in the Japanese
economy looks unsustainable. He said ¡°I think (the recent
quarterly) 4% growth is excellent but we don¡¯t think 4%
growth can be sustained. Around 2% growth is likely.¡±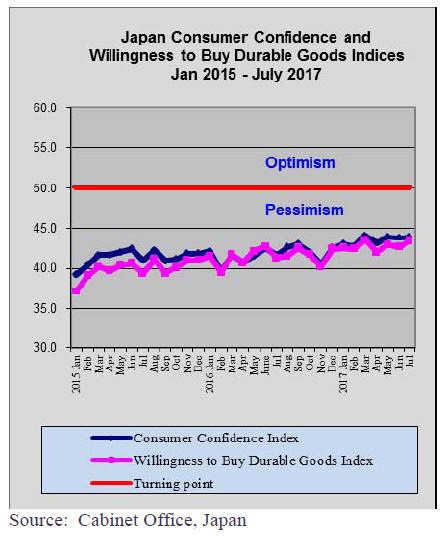 Yen testing new strength
The yen continued to strengthen against the US dollar in
the second half of August helped by the weaker US dollar
and reports that suggest US inflation is not matching the
Federal Reserve¡¯s targets.

The Yen was hovering at around 109/110 to the US dollar
in late August. As annual inflation is still now where near
the BoJ target of 2% it is very unlikely that the BoJ will
change course on interest rates any time soon.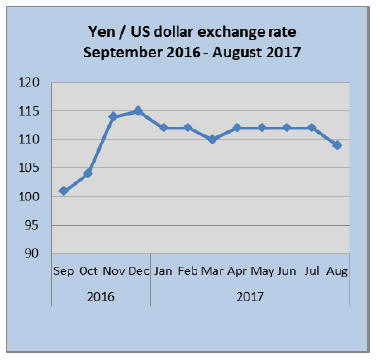 Housing starts affected by holidays
The August ¡®Bon¡¯ holiday in Japan is on a par with the
New Year¡¯s holiday in terms of importance and family
preparations. While not an official holiday, almost all
companies close for 4-5 days and families head out of the
cities back to their hometowns.

With construction companies losing 4-5 days of work time
it is not surprising that housing starts in August dipped.
However, August 2017 starts were some 2% below levels
in August 2016 and compared to July starts were down
5%.
Japan¡¯s wooden furniture imports
Bedroom furniture dominates Japan¡¯s wooden furniture
imports followed by kitchen furniture and office furniture.
While wooden office furniture imports in the first half of
2017 were higher than in the two previous years office this
was not the case for either kitchen or bedroom furniture
where the value of imports in 2017 was down on the two
preceding years.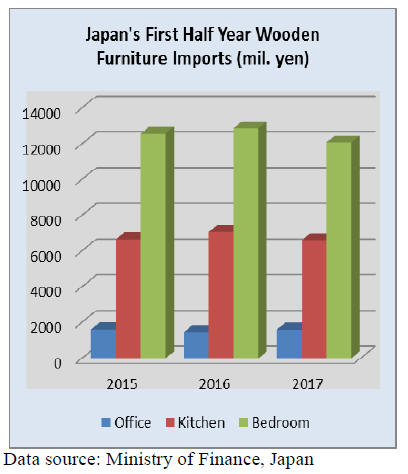 Office furniture imports (HS 940330)
In June three shippers, China, Taiwan P.o.C and Portugal
accounted for almost 79% of Japan¡¯s wooden office
furniture imports.

China is the largest supplier at 69% of all June 2017
imports of the product followed by Taiwan P.o.C (5%) and
Portugal (4.5%). Shippers in Thailand accounted for
around 4.5% of June 2017 wooden office furniture imports
by Japan.

Year on year, June 2017 imports of wooden office
furniture were 50% higher than in June 2016 when office
furniture imports fell dramatically. Month on month June
2017 wooden office furniture were down 20%.

Kitchen furniture imports (HS 940340)
Year on year, Japan¡¯s imports of wooden kitchen furniture
fell slightly (-4%) but compared to the value of May
imports there was a modest rise in June.

The top three shippers of kitchen furniture to Japan,
Vietnam, the Philippines and China continue to account
for almost all (86% in June 2017) of Japan¡¯s wooden
kitchen furniture imports. In June, imports from Vietnam
rose 9%, imports from the Philippines jumped 16% while
imports from China fell over 30%.

The main EU shippers of wooden kitchen furniture to
Japan are Germany and Italy but shipments are small
compared to those from Asian suppliers.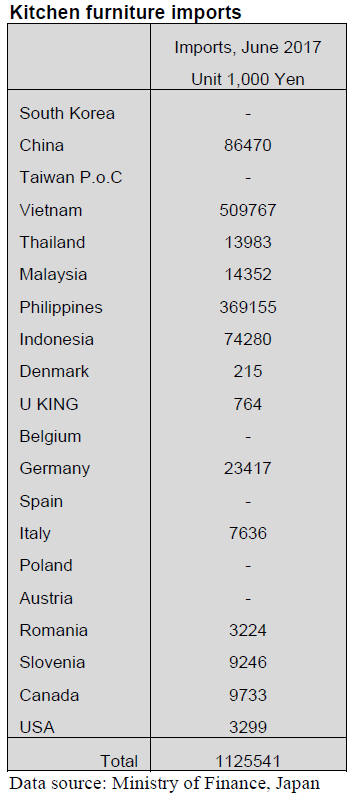 Bedroom furniture imports (HS 940350)
The volatility in the value of Japan¡¯s imports of wooden
bedroom furniture reported in previous reports continued
into June 2017. After appearing to recover in May the
value of June 2017 imports dipped again dropping 9%.

Year on year, June 2017 imports of wooden bedroom
furniture dropped 9%. China was the main supplier in
June, continuing its dominance of bedroom furniture
imports into Japan but June shipments from China were
flat.

On the other hand, shipments from the other main
suppliers, Vietnam and Malaysia, were moving in opposite
directions. June shipments from Vietnam dropped 20%
while shipments from Malaysia rose 11%.

The top three suppliers of wooden bedroom furniture to
Japan in June were China (62% of all arrivals), Vietnam
25% of arrivals and Malaysia a modest 3% of arrivals.

For the first time this year the value of shipments from
Mexico were high enough to enter the top shippers.
Trade news from the Japan Lumber Reports (JLR)
For the JLR report please see:
http://www.nmokuzai.
com/modules/general/index.php?id=7

South Sea (Tropical) logs
Demand for South Sea hardwood logs for plywood
manufacturing has been declining year after year. Import
of logs for the first half of this year was only 61,527 cbms,
33.6% less than the same period of last year. There are
only several mills using South Sea logs in Japan and log
importers have difficulty to make one full shipload.

In Sarawak, Malaysia, timber premium was raised about
US10 per cbm since last July so meranti regular log FOB
prices for Japan are about US300 per cbm, US15 up from
June. In Japan, log prices are up by 500 yen to 12,000 yen
per koku. This price is more than twice as high as North
American Douglas fir logs and Russian logs for plywood.

Hardwood lumber demand is mainly free board of South
East Asian products, which is used for window frame and
interior finishing of stores. Imported volume in the first six
months was 235,990 cbms, 5.7% less.

Lumber manufacturers in producing regions have hard
time to secure materials logs due to harvest restrictions
and increase of imposing tax. Indonesian mercusii pine
laminated free board prices are about US960, US50
increase in last several months. The prices in Japan are
110,000 yen per cbm. The importers need to have 120,000
yen.

Keruing and merapi solid wood lumber has particular use
for truck body and ships¡¯ interior. The volume is limited
but the prices have been increasing so users look for
substituting materials.

June plywood supply
Total plywood supply in June was 495,500 cbms, 0.1%
less than June last year and 3.3% less than May. Domestic
plywood supply continued high by full production of
plywood mills so the supply exceeded 270 M cbms after
three months since last March.

Meantime, imported plywood volume declined to 217,000
cbms because of decrease of Malaysian supply, which was
about 22% less than June last year.

Domestic softwood plywood supply was 286,600 cbms,
6.7% more and 9.4% more. Supply tightness is now
disappeared and the mills can make immediate deliveries.

The demand by large house builders and precutting plants
have ample orders since April so that orders for plywood
continue firm and steady.

The shipment was also firm with 263,000 cbms, 3.0%
more and 9.4% more. This is the highest monthly
shipment in last three years.

The inventories of softwood plywood were 93,900 cbms,
2,600 cbms more than May but the level of inventories
continue low.

Decrease of Malaysian plywood in June was large with
22.0% less than June last year and 24.6% less than May.
Plywood mills in Malaysia and Indonesia suffer log supply
shortage by foul weather so the shipments delay by about
a month and a month and half.

Log supply shortage continues in July and August so
major supplier in Sarawak, Malaysia announced 30%
production curtailment after September. Volume of
imported plywood seems to continue declining in coming
months.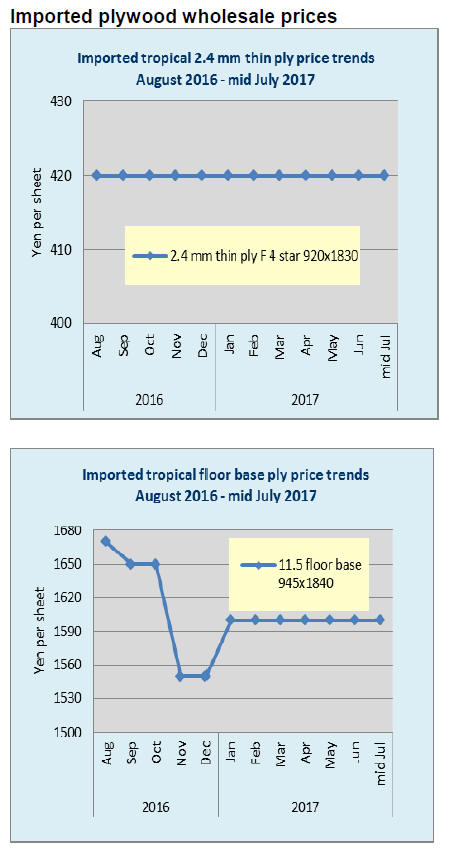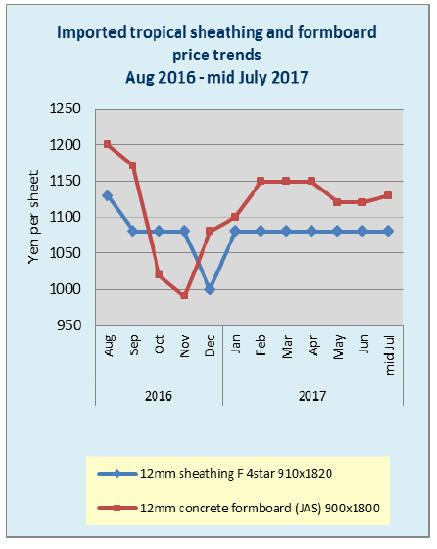 North American logs and lumber import for the first six
months
Imported volume of North American logs for the first half
of the year was 1,369,400 cbms, 8.5% less than the same
period of last year. North American lumber was 1,096,004
cbms, 2.4% more.

Decrease of log import is result of high import volume of
last year and increase of lumber is also reflected by
smaller volume of last year. Compared to 2015, log import
is 6.8% more and lumber is 4.8% less.

Supply of Douglas fir and hemlock logs and lumber on
coastal regions was tight due to log supply shortage by
severe winter weather. SPF lumber supply from interior
was steady but now future supply may be affected
expanding forest fires in interior of British Columbia.

By supply source, logs from the U.S.A. were 881,142
cbms, 11.6% less than the same period of last year and
from Canada were 487,988 cbms, 2.4% less.

Log prices in the U.S.A. have stayed at high level,
supported by active domestic market and expansion of log
export to China. Demand for Canadian logs is supported
by active production of plywood mills in Japan but winter
weather was also severe in coastal B.C. so the log prices
also stayed up high.

By species, all the species except for hemlock declined.
Particularly red cedar and yellow cedar (cypress)
decreased considerably because of delay of harvest by foul
weather and active demand in the U.S. market, which
pushed log prices largely.

Like log supply, lumber supply is also affected by heavy
snow in winter, which hampered log harvest on high
elevation so hemlock and cypress supply dropped by slow
start of log harvest.

Supply of SPF lumber from interior was not affected by
snow but the prices climbed by low inventories in Japan
and active domestic market of North America. Forest fires
in interior B.C. would influence SPF supply in the second
half.