2. GHANA
Ghana joins satellite based forest monitoring project
The Forestry Commission will participate in a project to
monitor activities in the country's forest so action can be
taken immediately to protect against illegal activities.

The project will develop new methods to detect changes in
the forest cover to provide for fast and accurate
identification of deforestation and degradation. This five
year project being funded by the UK Space Agency's
(UKSA) International Partnership Programme and will be
conducted in Ghana as well as Brazil, Colombia,
Indonesia, Mexico and Kenya.

Trials will be undertaken in three forest types; forest
reserves, reforestation areas and coastal ecosystems.
Project Coordinator, Professor Ernest Foli, said the system
can distinguish between tree crops and the natural forest
cover.

Business sentiment improving says industry
association
The Association of Ghana Industries (AGI) has released
its second quarter Business Barometer Index (BBI) report.
The BBI for the second quarter 2017 stood at 109.2, up
from the 103.8 in the first quarter. The BBI measures
business sentiment.

When meeting the press, the president of the AGI, James
Asare-Adjei, indicated that, at the beginning of the year
business confidence rose and had continued rising into the
second quarter with most businesses having high
expectations for the business environment this year.

However there are major challenges facing the private
sector such as the high cost of electricity, high interest
rates, access to credit, exchange rate movements as well as
tough competition from imports. Asare-Adjei urged the
government to address the cost of energy, the high interest
rates and the bureaucratic hurdles at the ports.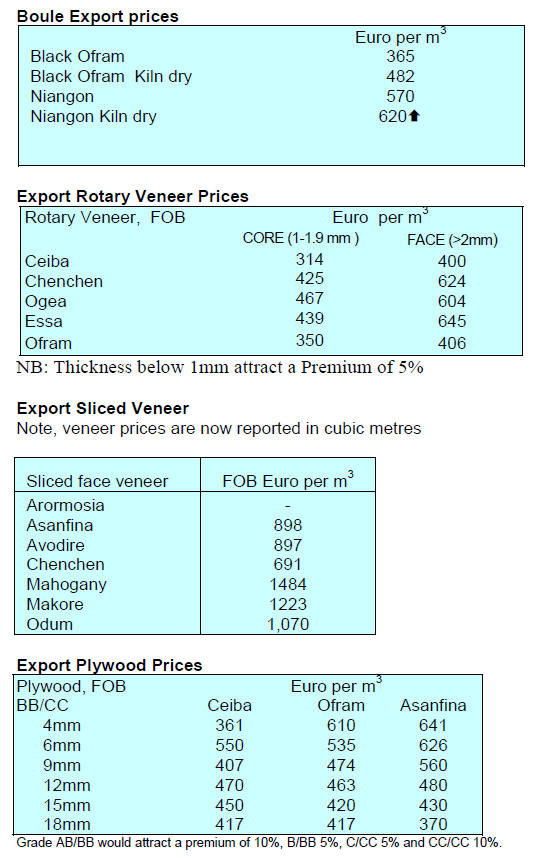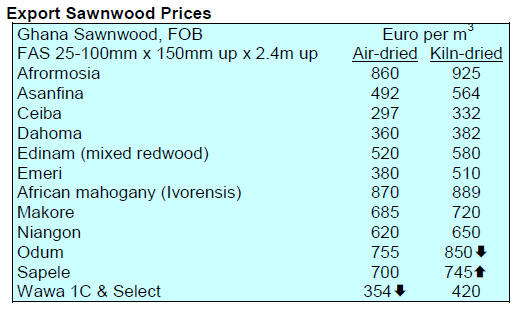 3. SOUTH AFRICA
Rand forecast to weaken further
Analysts report little movement in demand for wood
products as confidence has slipped due to the political
turmoil. To the surprise of analyst, President Zuma
survived another vote of no confidence, his 8th, but this
time over 30 of his own party voted against him.

The South African rand weakened prior to the noconfidence
motion and continued to fall even though the
motion form the opposition was voted down. Analysts
warn that further falls in the rand are likely in the coming
months.

All eyes have now turned to the expected clash at the ANC
convention in November so prospects for a quick recovery
in the rand exchange rate look slim.

Sentiment in construction industry at 2008/9 crisis
level
There is still no sign of funds flowing into the government
infrastructure programme so millers and traders have to try
and survive while waiting. A report from Stellenbosch
University's Bureau for Economic Research (BER) says
optimism in the construction sector has fallen to levels last
seen during the 2008/9 economic downturn.

Construction prices have risen this year which is good
news for companies but the BER says demand in the
second half of the year is expected to weaken. There are
already sign that this is likely as applications for building
plan approvals have started to fall.

The political and economic turmoil in the country has had
a profound impact on non-residential construction with
building plans falling over 60%.

For more see: https://www.ber.ac.za/home/

The residential housing market is very quiet with little or
no activity in detached units. There are some apartment
blocks and town houses being built but the timber input
per square metre is lower in apartment blocks than in
detached units.
Market round-up
Demand for American hardwoods has seen some growth
but this is mainly due to the exchange rate with ash,
walnut, white oak and red oak being the main movers.

The panel market has been stable with some expansion in
demand for MDF. Plywood producers say stocks are
moving well enough. The decking market has been very
quiet this year as homeowners hold onto their savings.

Sales of meranti have improved slightly and the price
increases reflect the higher cost of import rather than
firmer demand.

The consumption of wood products from African shippers
is hampered by slow arrivals. There were some deliveries
of iroko recently and sales were brisk when they arrived.
Analysts report a shortage of kiaat in the domestic market
which has driven endusers to use alternatives.
4. MALAYSIA
A focus on Africa to boost trade
Malaysia built up a RM9.88 billion trade surplus in June,
the 236th consecutive monthly surplus since November
1997 and the highest surplus since April 2016.

Bilateral trade between Malaysia and new markets in
Africa is expected to grow 3-4% this year as the
government is actively promoting Malaysian products in
the region. This comes after Malaysia-Africa bilateral
trade dropped 14% in 2016.

The main exports to Africa were of electrical products and
machinery, palm oil and refined petroleum products while
Africa's top exports to Malaysia were agriculture
products, comprising cocoa bean, minerals, fruits and
natural rubber.

Export round-up – First 5 months
Malaysia's wood product exports rose 6.8% to RM9.75
billion in the first five months of this year compared to the
same period a year ago.

The timber industry was one of the major contributors to
national export earnings recording between RM20 billion
and RM22 billion in revenue annually over the past 10
years. It is expected that growth in wood product exports
this year will be around 5%.

Furniture dominated export earnings in the first five
months of this year at RM3.28 billion followed by
plywood (RM1.96 billion) and sawnwood (RM1.6 billion).

In related news, the government intends to review the
National Timber Industry Policy (NATIP) to redirect the
course and strategic policies of the industry to fit into the
current situation. The review, to be conducted for the first
time since NATIP's implementation in 2009, will involve
stakeholders, skilled manpower, innovation and
technology as well as sustainability.

Increase in protected forests in Sabah
The area of Class 1 Forest Reserves (i.e. Protection Forest)
in Sabah has been increased from 1,353,677 hectares to
1,386,614 hectares following amendment to the Forests
(Constitution of Forest Reserves and Amendment 2017)
by the State Legislative Assembly.

The total State Forest Reserves, after the reclassification,
is 3,540,748 hectares an increase of about 474 hectares
compared to 2016. Sabah is expanding a protected forest
near Mount Kinabalu to ensure the survival of a butterfly
species that can only be found in the area.

Following the re-classification and establishment of the
new forest reserves, the Totally Protected Area (TPA) in
Sabah increased 26% to 1,906,896 hectares compared to
only 1,874,061 hectares in 2016. There is confidence the
State government will be able to achieve its 30% TPAs
target by the year 2025 as planned.

As a result of the change, Class II Forest Reserves
(Commercial) have declined from 1,668,272.95 hectares to
1,659,899.95 hectares. Also reduced was Class III Forest
Reserves (Domestic) which went from 4,673 hectares to
4,656 hectares following the amendment.

The area of Class V Forest Reserves (Mangroves) went
from 256,0097 hectares to 232,039.29 hectares and the
Class VI Forest Reserves (Virgin Jungle Reserve or VJR)
declined from 107,013 hectares to 106,911 hectares.

Apply latest technologies for plantation development
A 'Pest and Disease' workshop was held in Kuching as the
State gears up to increase the rate of plantation
establishment. The main theme of the workshop was that
efforts need to be made to ensure pests and diseases,
which have caused many forest plantations to fail, are
avoided in Sarawak.

There were calls for greater investment in new
technologies, capacity-building and research and
development for early detection and control of threats.

This point was driven home by Professor Michael J.
Wingfield, a tree health expert and president of the
International Union of Forest Research Organisations
(IUFRO). He elaborated on the need to research tolerant
planting stock to ensure the success of investment in
plantations.

Plywood prices
Plywood traders based in Sarawak reported the following
export prices:

5. INDONESIA
Furniture makers moving out to Vietnam
From the beginning of this year several foreign owned
furniture companies have relocated from Indonesia to
Vietnam to take advantage of the more attractive business
environment.

Abdul Sobur, Deputy Chairman of the Indonesian
Furniture and Handicraft Industry Association said
Indonesia's competitiveness is falling as production costs
rise and it is only natural that companies would seek the
most favourable locations. He estimated that around
20,000 jobs are at risk if all foreign furniture
manufacturers decide to leave Indonesia.

Vietnam's furniture exports were just over US$7 billion
last year, more than four times that of Indonesia's.

Developments in forest management should not put
jobs at risk
Calls have been made for the Ministry of Environment and
Forestry to be more creative in encouraging and fostering
businesses in the forestry sector that harvest timber
without harming the environmental integrity of the forest.

Viva Yoga Mauladi, Vice Chairman of Commission IV of
the Representative Council, House of Representatives
called for a balanced approach to conservation and
economic utilisation.

According to Viva, the Minister of Environment and
Forestry, Dr. Siti Nurbaya, should try to apply government
policies without undermining the business sector.

Issuance of permits for forest industry to be tightened
It is understood that the government plans to tighten
requirements for those applying for permits to establish
forest industries as a way to better protect natural
resources and preserve the environment.

The President has called on the Minister of Environment
and Forestry to follow procedures and carefully evaluate
the impact the proposed enterprise will have on the forest.

The President further pointed out that several protected
forests and national parks were facing the threat of
exploitation.

Developing environment-based economy, cooperation
with Finland
Dr. Siti Nurbaya, Minister of Environment and Forestry
recently met with the Ambassador of Finland, H.E. Paivi
Hiltunen-Toivio and Marjukka Mahonen, an adviser to the
Finnish Minister of Agriculture and Forestry of Finland.

The discussion focused on cooperation in the fields of bioeconomic
development at the forest management unit
level, efficiency and sustainability of utilisation,
bioenergy, sustainable forest management, sustainable
wood-based industries, ecotourism, pest and disease
control, forest fire protection and capacity building.

'Light wood' market developments
China has become the main market for Indonesia's 'light
wood' products which include plywood, solid cores and
blockboard, taking around 3,500 containers per month.

Vice Chairman of the Indonesia Light Wood Association
(ILWA), Sumardji Sarsono, said the Chinese market is
currently absorbing about 95% of Indonesian exports of
these products with the balance going to mainly Japan and
South Korea.

Exports of 'light wood' products to the European and US
markets are small but could be increased if manufacturers
were more innovative in their production of light wood
products such as doors and furniture.

Re-denominate the Rupiah - dropping three zeros
The Indonesian media is reporting that Bank Indonesia has
been given the go-ahead to plan to redenominate the
rupiah which, says the Bank, will improve fiscal efficiency
and make commercial transactions simpler.

It has been reported that, while the value of the rupiah
would remain unchanged, the last three zeros on all rupiah
bills and coins would be eliminated. A draft Bill has to be
approved by the cabinet and then discussed in Indonesia's
House of Representatives. This may take place in late this
year.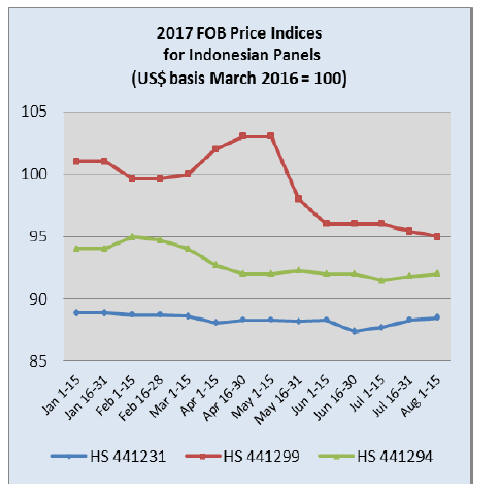 6. MYANMAR
Correction
In our previous report we wrote: "Analysts report that the
Myanma Timber enterprise (MTE) may rent out its
workable heavy machinery and elephants to contractors."
This was incorrect and we sincerely apologies to MTE.

The discussion on the arrangement between the private
sector and MTE continues below.
MTE clarifies private sector involvement in logging
There has been heated debate on the news that the private
sector, through so-called service providers, may be
engaged where the capacity of the MTE is insufficient to
meet harvest targets.

The Myanmar Times newspaper has carried a reaction to
this from the Environmental Investigation Agency (EIA).

See:
http://www.mmtimes.com/index.php/business/27226-eiaaccuses-
mte-of-stepping-back-from-reform-commitments.html

In a Facebook response, MTE Deputy General
Manager, U Khin Maung Kyi, writes "MTE will use their
own facility, but in the event of the inadequate facility in
the five area of work; felling, skidding, (temporary) road
construction, truck logging and loading/unloading logs
MTE can use the services of regional people, who have the
related experiences, by paying for their service.

There will no involvement at all of the previous private
logging companies under the product-sharing sale system.
MTE is just capable to harvest 230,000 tons of logs mainly
because their heavy vehicles are about 30 years old and
(only) 1,300 of 3,000 elephants are fit enough for logging.

MTE is bearing the amount of 50 billion Kyats for the
current and retired 30,000 staffs. In order to keep the
operation ratio MTE is required to harvest 15,000 tons of
teak and 350,000 tons of hardwoods."

According to a retired MTE General Manager, in the past
MTE used to hire elephants when the capacity the MTEowned
elephants was insufficient and the MTE would also
use local transport companies to save costs.

Tax on sawnwood clarified
The Ministry of Finance and Revenue has intervened in
the conflict between exporters and regional Internal
Taxation Departments over the tax on sawnwood. The
Yangon Division Internal Revenue Department previously
stated that a 10% Special Commodity Tax will be levied
on all wood products.

It now appears that the 10% tax will apply to sawnwood
with a cross sectional area of 12 square inches or more but
sawnwood of a smaller cross section and all other semifinished
products will be exempted.

Timber export values on the rise
According to statistics from the Ministry of Commerce,
wood product exports have started to rise after the decline
following the export ban introduced in 2014. Wood
product export values reached US$948 million in the 12
months to 31 March 2014 as producers cleared log stocks
in advance of the ban.

Exports of wood products were valued at US$212 million
in fiscal 2015-16 and US$247 million in fiscal 2016-17
and this was despite the tough trading environment in the
EU.

Last minute suggestions on Forest Law
Just prior to the government debate on the new forestry
law civil society groups proposed 4 amendments, 33
addenda and 21 suggestion to the Resources and the
Natural Conservation Committees of two houses of the
parliament.

The proposals from the civil society groups are related to
peoples' rights, the role of communities, forest
governance, law enforcement and management, amongst
others.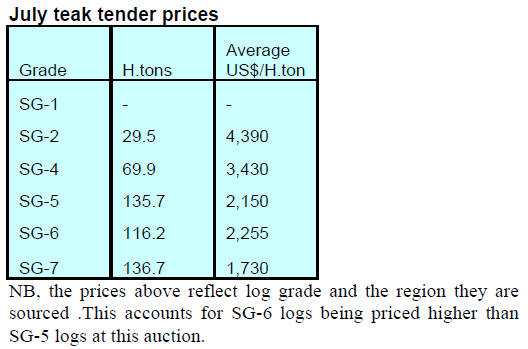 7. INDIA
Strong rupee a boon for importers but all struggle with
GST compliance
While importers cheer the stronger rupee other business
sectors are reeling from the effects of demonetisation and
from the introduction of the standardized Goods and
Services Tax (GST).

The rupee hit a two-year high in the first week of August
and it is expected to strengthen further as foreign financial
inflows accelerate in response to the weakening dollar. So
far this year, the Indian currency has gained almost 7%
against the dollar making it the best-performing currency
this year.

The stronger rupee is not yet a concern of the Reserve
Bank of India (RBI) which has said it does not expect to
intervene except to curb excessive volatility.

Interest rate cut in face of lower consumer prices
The Reserve Bank of India (RBI) lowered its benchmark
interest rate to a six-and-a-half-year low of 6% in early
August, down from 6.25% after consumer prices fell more
than expected and there was an overall slowdown in
economic growth. India's gross domestic product grew
just 6.1 per cent in the January to March quarter, the
slowest since late 2014 and analysts blame the currency
swap issue and the GST which is proving tough for
companies to adapt to.

In its latest report on the economy the RBI said
"weakening industrial performance points to continuing
retrenchment of capital formation in the economy".
Regulating the real estate sector
The reputation of India's real estate sector has been
undermined by frequent delays in projects and persistent
reports of poor quality.

Now a Real Estate (Regulation and Development) Act,
2016 (RERA) will provide the means to regulate India's
real estate sector. The act was approved last year and the
Union Ministry of Housing and Urban Poverty Alleviation
had until May this year to formulate rules for the
functioning of the regulator. According to local analysts
RERA will greatly improve in transparency in the sector
and help protect the interest of the homebuyers.

Each State and Union territory will have its own regulator
whose means of operation has been defined by the central
government. Analysts report that while some states are
behind schedule many will soon have a functioning
regulatory system.

For more see: http://indianexpress.com/article/what-is/what-isrera-
and-how-will-it-help-homebuyers-4635705/

CREDAI invites investors
The Confederation of Real Estate Developers'
Associations of India (CREDAI) has appointed CBRE
South Asia Pvt. Ltd. its strategic partner for the 17th
annual international convention NATCON for 10th to 12th
August 2017 at the Park Plaza, Westminster Bridge,
London.

A press release from CREDAI says the convention is
expected to attract top developers and investors from
around the world. Key sessions of the three-day
convention include – "significance of private equity and
banks vis-à-vis the interest of projects", "strategies to
garner institutional funding for real estate", "emerging
trends in real estate", "social media: a boon or a bane" and
"the best practices for navigating through the legal real
estate minefield."

Additionally, there will be discussions on various other
issues such as the onslaught of digital media, business
success stories in customer services and the archetypal
model of technology as a disruptor in the industry.

See:
https://credai.org/press-releases/credai-appointscbreas-itsknowledge-
partner-for-the-prestigiousnatcon-2017

Central India teak auction results
In Madhya Pradesh teak logs are mainly 2 to 5 metre in
length and mostly in girth class 120 cms and below but
logs from this area are of good form being cylindrical and
the wood has a desirable golden colour with black stripes.

Buyers at the recent auctions were mainly from local mills
and merchants from Gujarat, Maharashtra, Rajasthan and
South India.

Auctions at almost all the forestry depots in Harda,
Jabalpur, Hoshangabad and Betul divisions are now over
and more than 8,000 cu.m of teak logs and around 5,000
cu.m of non-teak hardwoods were sold. Further auctions
will be held when the monsoon season is over.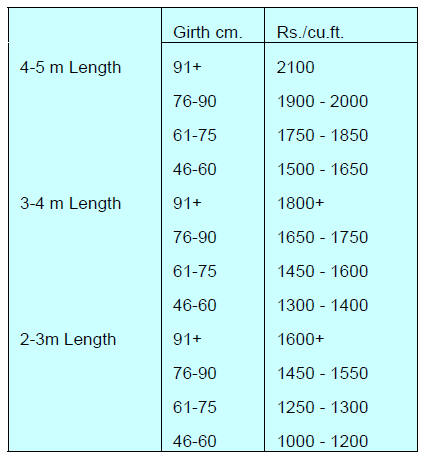 Good quality non-teak hardwood logs attracted higher
prices than at the previous auction. Logs of 3 to 4 m. with
girths of 91 cms & up of haldu (Adina cordifolia), laurel
(Terminalia tomentosa), kalam (Mitragyna parviflora),
bhirra (Chloroxylon swietenia) and Pterocarpus
marsupium, were sold at between Rs.700 to 750 per. C.ft.
Second quality logs were sold at between Rs.350 to 500
per. c.ft and the lowest quality logs went for between
Rs.200 to 300 per c.ft.

Plantation teak log prices C&F Indian ports
Traders report demand for imported plantation teak logs as
steady and prices remain unchanged for the moment.
Because of the introduction of the GST importers are
saddled with higher transaction costs.

Having to pay almost 24% by way of basic duty, plus GST
(18%) and surcharges and this is stretching the finances of
importers. As the rupee strengthens and because of high
transaction costs importers may open price negotiations
with shippers.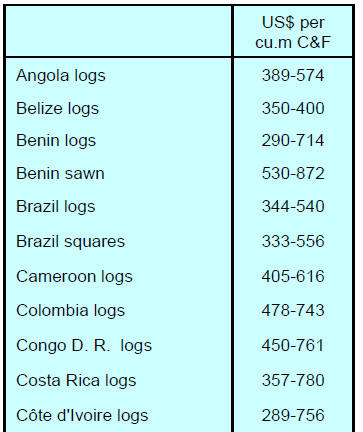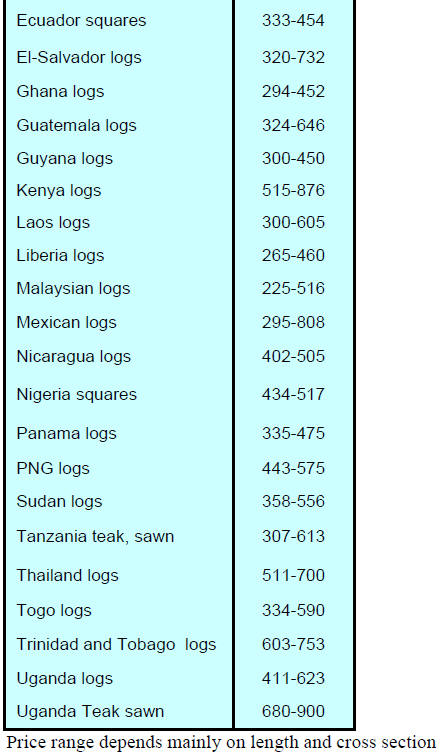 Locally sawn hardwood prices
Prices for hardwoods milled from imported logs are
unchanged.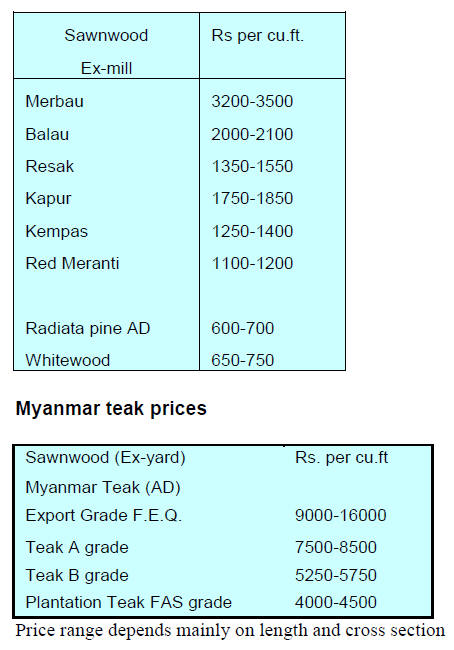 There were no reports of price movements over the past
two weeks. Availability of sawnwood in Myanmar is
reported as good but sales in the Indian market have
slowed as sellers are attempting to pass on to endusers the
full GST.

Prices for imported sawnwood
Prices for imported sawnwood (KD 12%) remain
unchanged.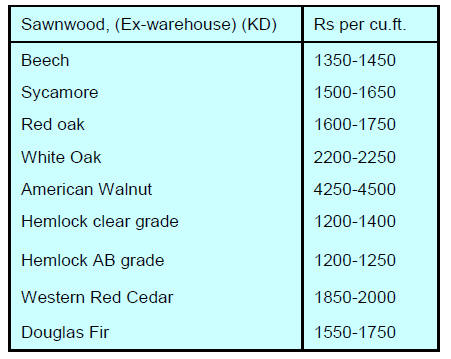 Plywood prices
After adjusting prices for the GST, excise duty etc. some
manufacturers have issued new price guides. The panel
sector continues with its strong representations to
government for a review of the 28% GST on panel
products. The aim is to have this lowered to at least 18%.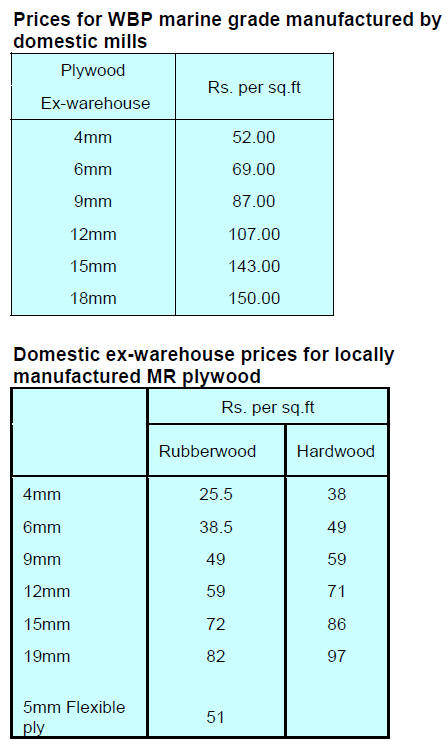 8. BRAZIL
Seeking improvements in tropical wood processing
Utilising funds from the Amazon Fund a partnership
between the Federal University of Paraná (UFPR), the
Federal University of Amazonas (UFAM) and the
Brazilian Development Bank (BNDES) have mounted an
effort to raise efficiency in the tropical wood processing
sector.

This 'Proindus Project' aims to identify technological
solutions to lift efficiency in the production of high value
wood products. The project will establish a network for
rural communities in Manaus, Amazonas State.

The project will promote new technologies for added
value products and transfer these technologies to rural
communities in the Project area. The project will offer
training and capacity building from production to
marketing. The project aims to contribute to the economic
development and social inclusion of rural communities in
the region.

Productivity of sawnwood industry rises
The sawmilling industry in Brazil accounts for the highest
number of companies in the wood based industry sector
and production capacity per enterprise ranges from the
large sawmills with an installed capacity of around
250,000 cubic metres output per year to small mills which
produce less than 5,000 cu.m of sawnwood per year.

There was a sharp slowdown in national sawnwood
production in 2006, well-above the declines seen in other
sectors. Most of the decline in output was due to falls in
production from Amazon based mills.

In the period 2004-2005 there was a peak in sawnwood
exports due to firm demand in international markets and
the favourable exchange rate.

The latest data is indicating that productivity in the
sawmilling sector (as measured by production vs. worker
nubers) has increased gradually since 2015 which
indicates those companies still operating are more
competitive through optimising their production capacity.

It has been estimated that by the end of 2017 Brazil's
production of sawnwood could be 3% higher than in 2015.
Although modest, this represents marked change for a
sector that has lagged behind in terms of raising
productivity and competitiveness.

Logs and primary products top Brazilian timber
exports
In the first six months of 2017, logs and primary products
accounted for most of Brazil's timber exports and the
tonnage exported was some 38% higher than in the same
period last year, according to the Ministry of
Development, Industry and Foreign Trade (MDIC).

The United States is the largest single buyer of pine
plywood produced in Brazil accounting for 34% of exports
of this product followed by Europe (30%).

The US is also the main market for wooden doors
manufactured in Brazil, accounting for over 70% of all
wooden door exports.

The largest buyer of tropical plywood produced in Brazil
is Argentina (45%) followed by the US (10%), Mexico
(8%) and France (7%). As for pine veneer, South Korea, at
42% of all veneer exports, is the major buyer followed by
Malaysia at 30%.

The Brazilian timber industry is benefitting from steady
growth in US economy. However, recent export data
published by the Brazilian Association of Mechanically-
Processed Timber Industry (ABIMCI) shows that, while
export volumes are rising on the back of firmer demand,
prices are not.

Changes in export destinations appear to be having an
influence on the phenomenon of higher volumes but flat
prices.

Pine plywood exports totalled 934,682 cu.m in the first
half of this year against 835,841 cu.m in the same period
last year but companies have been unable to secure better
prices.

Last year pine sawnwood was exported mainly to the US,
China and Saudi Arabia but this year Mexico became the
second ranked market destination taking 22% of all
sawnwood exports.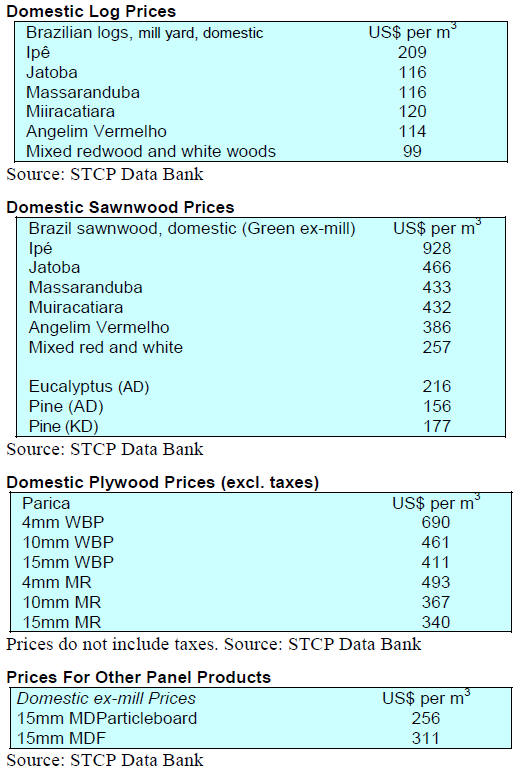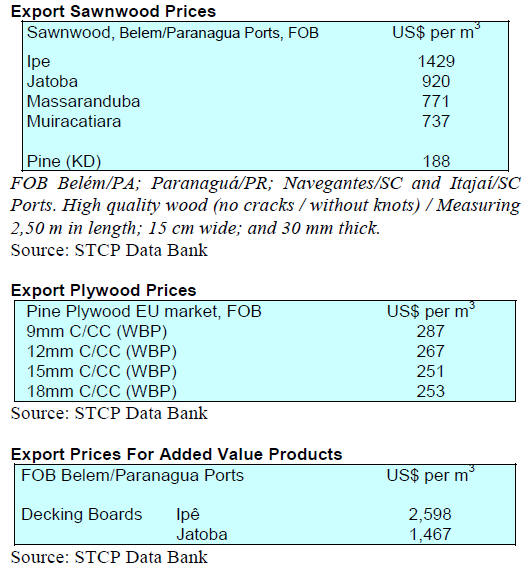 9. PERU
Campaign to register forest plantations
On 12 August a campaign for registration of national
forest plantations was launched by the National Forestry
and Wildlife Service (SERFOR) and the Regional
Government of San Martín.

The Executive Director of SERFOR, John Leigh, reported
that through the registration of forest and agroforestry
plantations, producers will be provided with a registration
certificate by the Regional Environmental Authority
(ARA) identifying the area established and the owner.

Across the country there are around 40,000 hectares of
registered plantations and in San Martín there are around
2,000 ha. of unregistered plantations. Five trained forest
officers will visit areas in Lamas, Mariscal Cáceres, El
Dorado, Moyobamba and Bellavista in order to register,
guide and provide information to owners.

According to official statistics, between 2000 and 2015,
1.8 million hectares of forest was deforested in the country
of which 382,000 ha. was in San Martin. To address this
SERFOR has developed a national forest recovery
programme and the promotion of plantations.

According to Law No. 29763 of the Forestry and Wildlife
Law any plantation, whether for production, protection or
recovery must be registered in the National Register of
Forest Plantations.

Exports fall in May
According to the Association of Exporters (ADEX), in
May 2017 Peruvian timber exports totalled US$47.8
million (FOB) an almost 8% drop compared to May 2016.

Of the total export value in May, China continued as the
main export destination with May 2017 exports climbing
almost 11% compared to May last year.

China accounts for around half of all Peru's wood product
exports. Mexico ranks second at 11% participation but
May 2017 exports were down 13% month on month. The
US is the third largest market (10%) but here exports
dropped a massive 45%. Sawnwood exports during May
2017 were worth US$7.9 million down 23% compared to
May last year.

The main export market for Peru's sawnwood in May was
the Dominican Republic, accounting for a 39% share of all
May sawnwood exports. Second is China with a 25%
share. In May there was a sharp decline in the value of
sawnwood exports to the US (-52%) and a similar pattern
was seen with exports to South Korea (-43%).

Serfor and Customs strengthen cooperation
To strengthen efforts to eliminate the illegal trade in forest
and wildlife species in the Piura region SERFOR will
assign specilaists to the Operational Control Division of
the Paita Customs Department.

Specialists from the Technical Forestry and Wildlife
Administration (ATFFS) Piura, a regional office of
SERFOR, explained that endangered species are protected
by Law No. 29762, the Forest Law and Wildlife and
efforts have been stepped up to stop the commercialization
of such species through fines and prison sentences as set
out in the forestry Law.