US Dollar Exchange Rates of 25th July 2017
China Yuan 6.4968
Report from China
Real estate development still heading upwards
Real estate investment growth increased in June after
slowing in May according to data in a press release from
China¡¯s National Bureau of Statistics (NBS). Investment
proved unstoppable despite government measures to slow
the pace of increases in property prices.

The NBS reports total investment in real estate in the first
six months of 2017 was RMB 5,061.0 billion up 8.5%
year-on-year of which investment in residential buildings
was RMB 3,431.8 billion up 10.2%.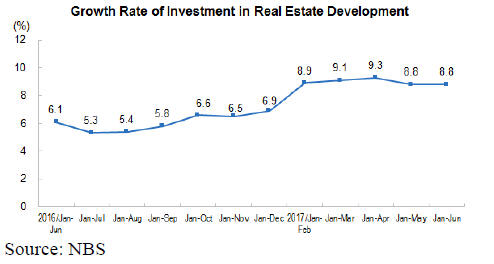 In the first six months of this year the area of land
purchased by real estate development enterprises totalled
103.41 million square metres, up 8.8% year-on-year and
total transactions were worth RMB 437.6 billion, 38.5%
higher than in the first six months of 2016.

See:
http://www.stats.gov.cn/english/PressRelease/201707/t20170718
_1514108.html

Mortgage lending conditions are still rather easy and
analysts comment that it seems the recent bout of
tightening of credit urged by the government is over.
While the government worries about the housing bubble it
is also concerned about maintaining growth, the housing
market is a cornerstone of economic growth.

Wood products trade between China and Australia
In the first half of 2017 the value of wood products trade
between China and Australia rose 17% to US$1,680
million from the same period of 2016.

Of the total, the value of China¡¯s wood products imports
from Australia grew 23% to US$790 million. The value of
log and waste paper imports rose 47% and 41%
respectively.

The value of China¡¯s wood products exports to Australia
increased 12% to US$890 million. The value of China¡¯s
plywood exports to Australia grew 36%.

More than 50% of China¡¯s wood product exports to
Australia were of wooden furniture and seats and the value
of China¡¯s wooden furniture and seat exports increased
11% to US$466 million.

China imported mainly woodchips and logs from
Australia. In the first half of 2017 China¡¯s woodchips and
log imports from Australia were 1.93 million tonnes and
2.25 million cubic metres respectively.

Chip imports grew 4% year on year and log imports were
up 28% year on year in the first half of 2017. China¡¯s
plywood imports from Australia grew 34% to 74,000
cubic metres. In addition, China imported fibreboard,
waste paper, paper, paperboard and paper products.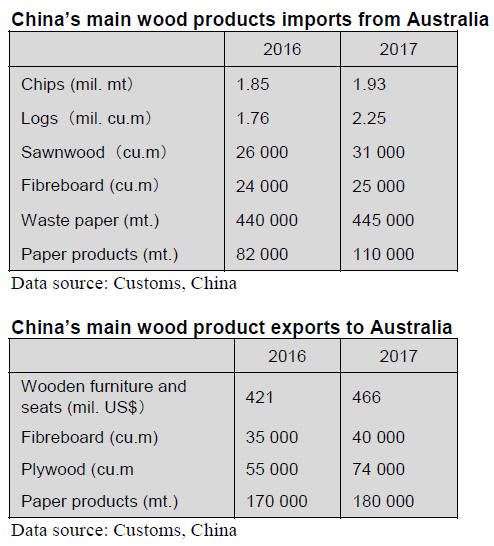 Thousands of panel mills cease operation
It has been reported that nearly 3,000 wood-based panel
enterprises in Wen¡¯an County, Langfang City, Hebei
province have been told to cease production. This will
have an immediate impact on the domestic panel market
and jobs. The affected enterprises employ around 10,000
workers.

Some enterprises have been required to re-tool to meet
environmental requirements and some have been
encouraged to relocate to their original home provinces,
such as to Shandong Linqing, Liaoning Benxi, Xinjiang
Yanqi and Hebei Xunxi.

A series of workshops on ¡®Returning to Hometown to
Invest¡¯ have been held to encourage wood-based panel
enterprises to return to their hometown and invest there.

The affected enterprises were found to be generating and
emitting pollutants which had contaminated surrounding
farmland. It has been estimated that when these enterprises
stop production or relocate it will be possible to
rehabilitate around 2,700 hectares of farmland.

Transformation of the Nankang furniture industry
According to General Administration of Quality
Supervision, Inspection and Quarantine, 16 furniture
quality improvement demonstration zones have been
approved to be established in Nankang District of
Ganzhou city, Jiangxi province.

The Nankang furniture industry cluster in Jiangxi Province
is one of the industrial clusters with an output value of
RMB100 billion. There are nearly 8,000 enterprises with
400,000 employees in the cluster.

Two national initiatives have been developed to promote
technological innovation and transformation of the
Nankang furniture industry; one is National Furniture
Quality Supervision and Inspection Center (Jiangxi); the
other is National Wood Furniture Famous Brand
Demonstration Zone. There are 35 well known furniture
brand manufacturing companies in Nankang accounting
for about 90% of total provincial output. There are 11
enterprises with provincial quality credit AAA and 2 with
Mayor Quality Awards.

The establishment of the demonstration zone will help
support improvements to the quality of Nankang furniture
products, accelerate development of a regional brand
"Nankang Furniture Manufacturing" and enhance the
competitiveness of the Nankang furniture industry.

Rise in timber imports through Ningbo Port
According to Ningbo Entry-Exit Inspection and
Quarantine Bureau, in the first half of 2017 timber
(including logs and sawnwood) imports through Ningbo
Port totalled 510,000 cubic metres valued at US$197
million, up 42% in volume and 45% in value from the
same period of 2016, breaking a record high.

The increase in timber imports through Ningbo Port
resulted from the growth of African timber imports. In the
first half of 2017 China¡¯s timber imports from Africa rose
77% to 170,000 cubic metres, accounting for more than
30% of all timber imports through Ningbo Port.

Among African timber imported, the largest amount was
imports was mopane (also known as balsam tree, butterfly
tree, or turpentine tree). Mopane wood is one of southern
Africa's heaviest and is difficult to work because of its
hardness. The wood is similar to African blackwood,
traditionally used for musical instruments.

Imported timber from Africa is mainly transported to
Yiwu and Dongyang cities in Zhejiang province to be
made high quality furniture and craft items.

Timbers through the port also arrive from the USA and
Canada and amounted to 109,000 cubic metres in the first
half of this year, up nearly 40% from the same period of
2016. North American timbers include northern pine, fir,
spruce and oak are mainly used in construction and
flooring.