US Dollar Exchange Rates of 12th July 2017
China Yuan 6.7878
Report from China
Manufacturing output continues to expand
China's manufacturing purchasing managers index (PMI)
moved higher in June touching almost 52 points, an
increase from the previous month. In releasing the June
PMI the National Bureau of Statistics (NBS) said the pace
of expansion in manufacturing had accelerated.

It is now more than 12 months since the PMI was above
50, the threshold separating expansion from contraction.
The NBS data tracks mainly larger and primarily stateowned
enterprises.

The PMI for large-sized enterprises was 52.7 points, up
1.5 points from May and continued to be higher than the
threshold. The PMI for medium-sized enterprises was 50.5
percent, down almost 1 point from the previous month but
managed to stay in the expansion range. Small sized
enterprises are still finding it tough as reflected in a PMI
of just 50.1points.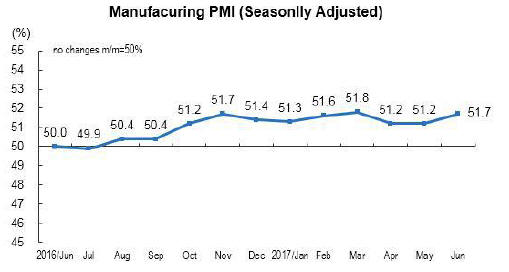 Reduction in VAT
As of 1 July 2017 the value-added tax rate structure as
determined in the State Council has been simplified from
the previous 4 rates 17%, 13%, 11% and 6%.

The four VAT rates have resulted in many practical and
compliance problems for taxpayers as they need to
properly classify their supplies to ensure that they charge
the correct VAT rate. The standardisation of the VAT rate
will help to partially relieve taxpayers from these
difficulties.

Value-added tax rates on agricultural products (including
logs) and natural gas will fall from 13% to 11%.

Rise in total output value of China¡¯s forestry industry
According to the State Forestry Administration (SFA), in
the first half of 2017 the total output value of China¡¯s
forest industry rose 7.4% to RMB 2.77 trillion. The total
value of China¡¯s foreign trade in wood product rose 11%
to US$71 billion.

The increase has been put down to recent policy changes
which promoted the national forestry and forest industries.
In the first half of 2017, in compliance with the 13th Five-
Year Plan for Forest Industry Development, regional plans
have been released by 11 national departments.

National policies promote optimising the structure and
productive capacity of enterprises in the sector. In the
forestry sector an emphasis has been placed on forest
tourism. In the first half of 2017 the numbers of tourist
visiting forest areas rose 17% to 700 million and this
generated an income of around RMB550 billion.

In the second half of 2017 the SFA will continue to
accelerate the development of the wood processing
industries through providing macro-economic guidance
and support.

In addition, timber industry demonstration zones for
leading enterprises will be further promoted. In terms of
specific measures, the SFA will speed up the
establishment of the national forestry industry investment
fund and the so-called emerging forestry strategic
industries development fund projects.
The SFA will promote the establishment of China forest
products exchanges, tackle negative market access issues,
launch a national timber/environmental product
development project and strengthen major forest products
brand development.

Timber transportation from Manzhouli
A train with 3,500 cubic metres of timber recently made
its first trip from Manzhouli Station directly to Jiangxi
Ganzhou Station. Imported timber from Russia can now be
transported directly to Jiangxi, Ganzhou. Point to point the
train takes about 3 days from Manzhouli to Ganzhou,
around half the time taken by trucks and at a much lower
cost.

It is anticipated that timber from Manzhouli will
eventually be transported by train to Shandong paving the
way for Russian timber to cost effectively reach inland and
coastal China. Transport by train has the added advantage
that delivery schedules can more accurately be established,
an issue that has caused confusion when trck transport has
been used.

Trends in China¡¯s domestic demand for wooden
flooring
The demand for wooden flooring in China has increased in
recent years to become a significant market for producers.
However, the development of the domestic market for
wooden flooring has been hampered by a persistent
shortage of timber raw material for manufacturing and this
has led to sharp price increases in the domestic market.

Analysts in China have assessed the likely future trends in
China¡¯s domestic flooring market.

Development, research and innovation
Many enterprises have begun to manufacture wooden
flooring utilising new materials and are promoting their
products as environmentally-friendly, comfortability and
suitable for recycling.

Popularity of formaldehyde free flooring
Formaldehyde free flooring is becoming increasingly
demanded and the importance of this will grow.

Promotion of bamboo flooring
As a renewable resource, timber and bamboo grow fast
and can be manufactured into first rate flooring. Currently
bamboo flooring is not very popular because of a lack of
consumer awareness and weak promotion efforts.

Qulaity
Chinese consumers have expressed concerns over cracking
and mould growth, problems that arise if the flooring is
inadequately dried and processed. This is a technical issue
that can be overcome and efforts are needed on promotion.

Rise in prices for wood panel
The authorities in China are working to improve air
quality through monitoring and control of industrial
enterprises.

Currently, inspection teams from the Ministry of
Environmental Protection have been assigned to Beijing
and Tianjin and 26 other cities in Hebei, Shandong, Shanxi
and Henan Provinces.

Inspection and monitoring will be carried out in each city
during 2017 according to information provided in the Air
Pollution Prevention and Supervision Scheme. Inspections
of wood based panel producers are underway and the
sector is expected to undergo a major transformation as it
moves to meet national environment standards and realise
green development.

The downside to the strict environmental regulations is
that panel prices have started to rise as factory output falls
and as some factories are forced to close.