Japan Wood Products Prices
Dollar Exchange Rates of 12th July 2017
Japan Yen 113.17
Reports From Japan
Consumer confidence index cannot snap pessimism
Consumer sentiment in Japan deteriorated in June for the
first time in two months according to Japan¡¯s Cabinet
Office. The consumer confidence index, which tries to
assess households¡¯ expectations for living conditions over
the next six months, fell. Analysts write that this decline
reflects consumers believing that prices will rise.

In June, two of the four components of the survey, overall
livelihood and income growth recorded declines while the
indices for employment improved but the index for
willingness to buy durable goods, of particular interest to
furniture exporters was little changed.

See: http://www.esri.cao.go.jp/en/stat/shouhi/shouhi-e.html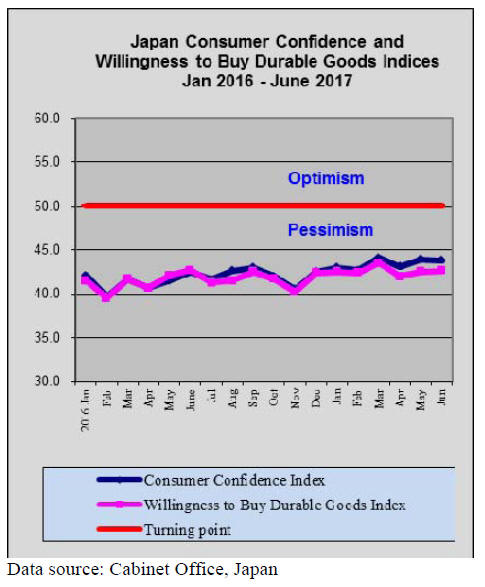 Trade deal between Japan and EU
Japan and the European Union have agreed to proceed
with the details of a trade deal which will mean trade
between two of the world's largest economies will be tariff
free. The sectors which proved the most difficult to agree
on were Japanese cars to the EU and EU agricultural
goods into Japan.

In addition the two economic power houses have agreed
the outlines of a complementary "Strategic Partnership"
which will involve cooperation on many global issues.
These deals send a clear message that the EU and Japan
are committed to free-trade even as the US touts
protectionism.

Rescue operations in flood hit Kyushu
Large parts of Kyushu, one of Japan's four main islands,
was hit by torrential rain over a 4 day period in early July.
One of the worst hit villages experienced record rainfall of
515 millimeters over a 24-hour period. Across the area
affected there have been landslides and floods. The death
toll from heavy rain and flooding stood at 27 on 15 July
but many people are still missing.

Video footage and photographs taken by residents as they
escaped showed collapsed homes, destroyed bridges and
extensive flooding.

The combination of extreme rainfall, shallow rooted cedar
plantations on steep mountain slopes and the ever present
danger of landslides proved a deadly combination.
Floodwater carrying logs and debris smashed houses,
businesses and schools.
Weak yen and stronger economy places BoJ at a
crossroad
Towards the end of last year there were signs that the
Japanese economy was beginning to show signs of
expanding driven mainly by manufacturing and services.

This positive economic outlook has meant that policy
makers at the Bank of Japan (BoJ) have a difficult time
ahead as they try and maintain a weaker yen in an
economic environment that would suggest the yen should
firm against major currencies.

The BOJ¡¯s reluctance to consider fiscal tightening against
a background of a stronger economy has kept the yen at
levels applauded by exporters but it is difficult to see how
long this can be maintained.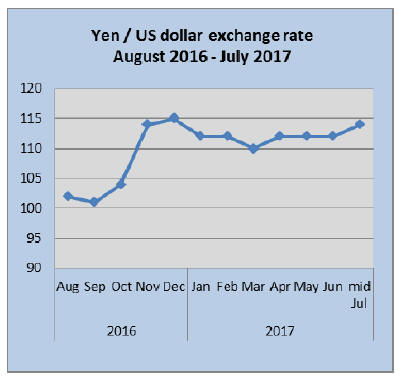 Import round up

Doors
In the final quarter of 2016 the value of Japan¡¯s wooden
door imports fell sharply and the downward trend in
imports continued until a turn-a-round was observed in
March this year. But the reversal did not last long as April
2017 imports dropped.

May import data from the Ministry of Finance shows the
value of wooden door imports jumped to the highest level
for this year and not far off the peak in 2016. The erratic
trend in wooden door imports does not reflect the trend in
housing starts which have trended higher this year.

Year on year, May wooden door imports were about the
same as in May last year but month on month they jumped
28%.

China and the Philippines accounted for around 75% of
all wooden door imports in May, a pattern that has been
maintained for many months. Other small suppliers were
Malaysia and Indonesia.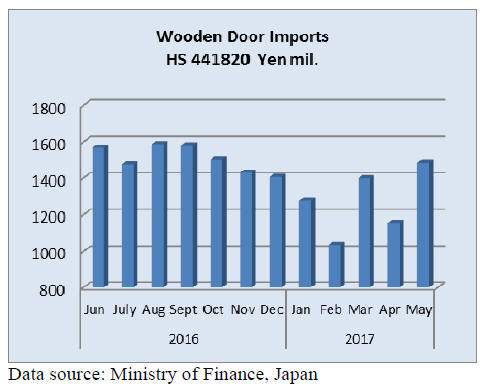 Windows
In contrast to the volatile wooden door imports, Japan¡¯s
imports of wooden windows was flat for the first four
months of 2017 rising only in May. Year on year, the
value of May 2017 wooden window imports fell 13% but
month on month they rose 21%.

As was the case with May wooden door imports, Chnan
and the Philippines were the major shippers accounting for
around 67% of May 2017 imports. The other major
supplier was the US which contributed 22% to the value of
May wooden window imports to Japan.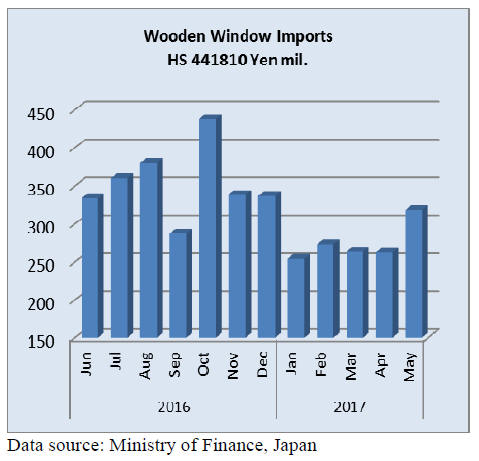 Assembled flooring
After the unexpected decline in assembled flooring
imports recorded in February this year coming after a
period of a sustained upward trend, there was a rebound in
March and April but May data shows that, once again the
trend has reversed.

Year on year, May 2017 assembled flooring imports were
down 18% and month on month imports were down a
massive 28% almost match the low recorded in August
last year.
Shippers in China and Indonesia accounted for almost
80% of Japan¡¯s May 2017 imports of assembled flooring
with Thailand and Malaysia contributing another 8%.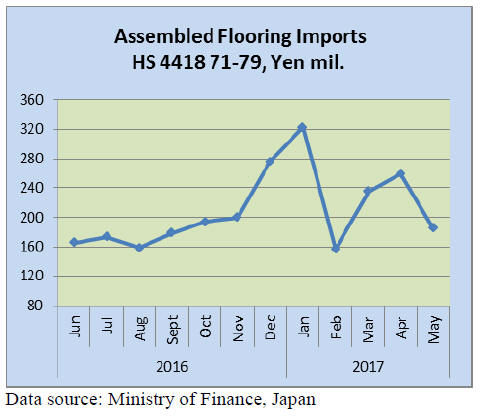 Plywood
The figure below shows the trend in imports of plywood (
HS 441210/31/32/33/34 and 39). Three shippers,
Malaysia, Indonesia and China continue to dominate the
Japanese market for imported plywood.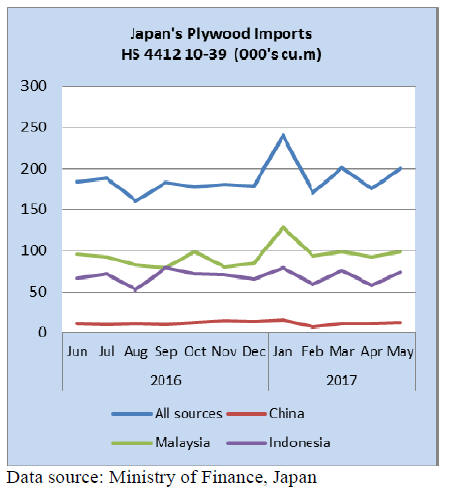 Shipments of plywood within HS 441231 account for the
bulk of Japan¡¯s plywood imports and three exporting
countries, Malaysia, Indonesia and China account for
almost all Japan¡¯s plywood imports.

Year on year May plywood imports into Japan were up
11% and there was also a rise in month on month impprts
(+14%).

In May,as is usually the case, Malaysian shippers provided
the largest volume of plywood to Japan. Year on year,
Malaysia¡¯s May shipments were up 5% and month on
month there was an equal rise (+5%). Indonsia¡¯s May
deliveries to Japan were up 20% year on year and rose
28% compared to levels in April this year.
China¡¯s shipments of plywood to Japan are rather modest
at around 12,00 cum. per month and there was no
noticeable change in either year on year or month on
month shipments of plywood to Japan from China.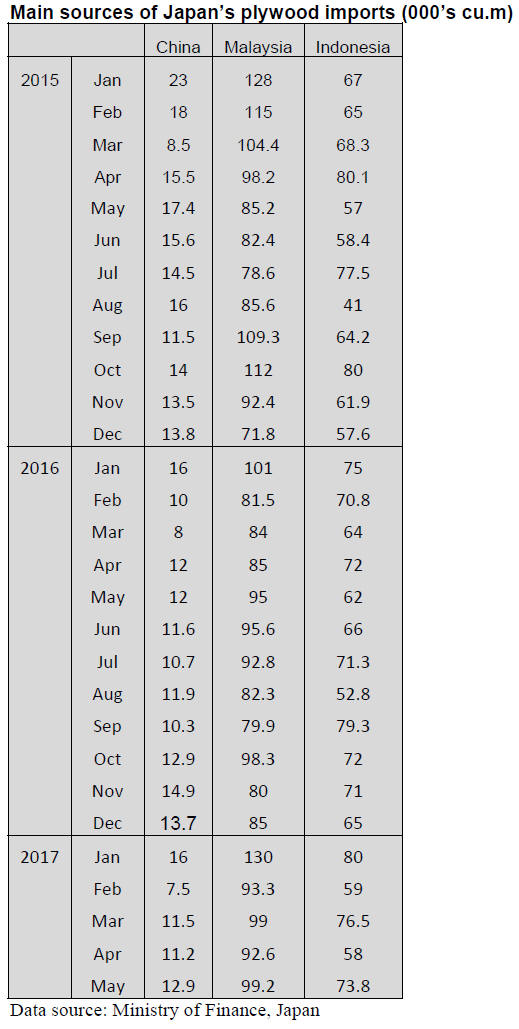 Trade news from the Japan Lumber Reports (JLR)
For the JLR report please see:
http://www.nmokuzai.
com/modules/general/index.php?id=7
Yamanashi prefecture promotes use of FSC certified
local wood
Yamanashi prefecture organized to promote using
Yamanashi prefectural FSC certified wood for the 2020
Tokyo Olympic Games and it has started recruiting
business groups to participate this campaign.

The plan is to supply 3,500 cbms of prefectural thinning
wood to build temporary facilities for the Olympic Games.
They are 2,500 cbms of larch, 800 cbms of cedar and
cypress and 200 cbms of others. The purpose of this
campaign is to promote using Yamanashi wood not only
for the Olympic Games but for general wood markets.

After the Olympic Games are over, built facilities are
remanufactured for public buildings in Yamanashi
prefecture as the Olympic legacy.

The prefecture has been developing system sales of FSC
certified wood sine 2015 for use of the Olympic Games.
Ohtuki city junior college¡¯s wooden school building
completed this year and 142 cbms of wood from the city
and 383 cbms of larch from system sales.

Plan is to supply FSC certified wood in log form to build
temporary facilities like village plaza. The prefecture
invites business groups in 2017 and 2018 and concludes
the agreement and recommend to the Olympic organizing
committee. Once it is accepted by the committee, the
prefecture will start supplying thinning logs.

Total area of FSC certified forest in Yamanashi prefecture
is 143,000 hectares, which is one third of total FSC
certified forests in Japan.

90% of Japan¡¯s Fukushima forest now radiation free ¨C
logging to resume
Fukushima prefecture is where destroyed nuclear power
plant is on the coast. Fukushima Prefecture Wood
Cooperative Union analyzed present status of radiation
dosage in Fukushima prefecture disclosed by the Nuclear
Regulatory Agency and reached conclusion that 90% of
forest area in the prefecture is now free of radiation.

Log harvest activities in the prefecture have been
recovering. Log auction markets and large sawmills
cutting local logs install automatic radiation measuring
censor to confirm logs are safe. This should reduce
damages by harmful rumors and the prefecture tries to
expand log harvest and generate demand.

Presently log harvest in the prefecture is done based on the
guideline, which allows log harvest if radiation dosage in
the area is less than 0.5 micro Sievert.

The prefecture checks surface radiation dosage of lumber
once every three month at sawmills and result is
prefectural lumber is safe for health and environment.

The Fukushima Prefecture Wood Cooperative Union has
been confirming radiation free areas on the map, where
log harvest is safe and the area has been steadily
expanding so the Union advertises the fact and keeps
asking to use prefectural logs to the markets.

The Union marks the safe areas where aerial monitoring of
radiation dosage is less than allowable level, which is
made regularly by the Nuclear Regulatory Agency since
the earthquake, which destroyed the Nuclear Power plant.

Actually measurement is done in more than 150,000 points
and the forest area where radiation is less than 0.5 micro
Sievert is now 90.7%. It was 88.9% in 2015.

Niigata plywood mill uses more local logs
Niigata Gouhan Shinko Co., Ltd. (Niigata prefecture), one
of few South Sea log users in Japan for plywood
manufacturing. This is originally 100% South Sea log
peeling plywood mill but with declining supply of South
Sea logs with high log price, it has been using more local
cedar logs to manufacture so called eco plywood. It is
combination of local cedar and South Sea hardwood.

In total production of 4,400 cbms a month, eco plywood is
2,500 cbms so monthly cedar log consumption is 3,300
cbms. It also manufactures plywood with cypress and
hardwood for interior use.

Now it decided to install new ring barker to deal with
larger cedar logs. Reason is that there are many laminated
lumber manufacturing plants in the area so eventually it
competes with such mills in log procurement, which use
more small cedar. At the same time, forests will produce
more large diameter logs in future.