Report from North America

High value plywood from Vietnam and Cambodia
Hardwood plywood imports grew 2% in April to 291,317
cu.m. The value of imports (US$157.8 million) was
unchanged from March. Year-to-date import volumes
were 27% higher than in April 2016.

Plywood imports from China declined for the third
consecutive month in April. China still accounted for half
of total hardwood plywood imports and year-to-date
imports from China were one third above April 2016.

Imports from Indonesia recovered from last month¡¯s
decline to 35,444 cu.m. in April. The value of year-to-date
imports is slightly down from April last year.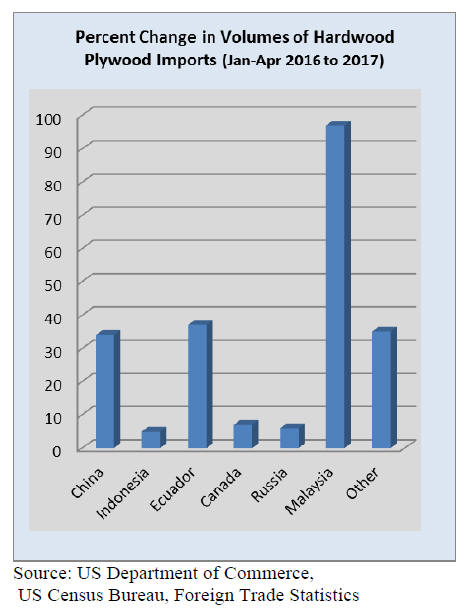 Malaysian shipments to the US fell in April but year-todate
imports from Malaysia doubled compared to April
2016. Among the smaller suppliers imports from both
Brazil and Cambodia were over 5,000 cu.m. in April.

The highest average unit landed price of imports was for
plywood from Vietnam (US$1,380 per cu.m.) and
Cambodia (US$1,160 per cu.m.).

More tropical veneer from Ghana and Cote d¡¯Ivoire
Tropical hardwood veneer imports grew again in April,
but year-to-date veneer imports were only a fraction of
April 2016.

April 2017 imports were worth US$2.4 million. Veneer
imports from Ghana and Cote d¡¯Ivoire increased in April
while imports from Italy declined from the previous
month.
China expands share in US moulding imports
Hardwood moulding imports grew 9% in April to US$15.4
million. Year-to-date imports were almost the same as in
April last year.

The growth in imports came almost entirely from China.
Moulding imports from China were worth US$5.7 million
in April and accounted for over one third of total imports.

Hardwood moulding imports from Brazil were unchanged
from March at US$2.8 million. Imports from Malaysia fell
one quarter in April.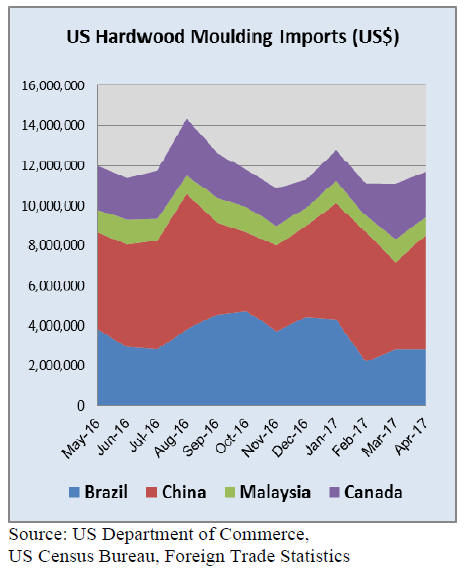 Europe expands flooring shipments to US
Hardwood flooring imports declined 5% in April to
US$2.5 million but imports of assembled flooring panels
increased 4% to US$10.4 million. Imports of both types of
wood flooring were up year-to-date imports compared to
April 2016.

Hardwood flooring imports from most suppliers, except
Canada, declined in April. Imports from Indonesia fell one
third in April to US$588,798. Normally a small hardwood
flooring supplier to the US market, Denmark shipped
US$315,044 worth of flooring in April.

Imports of assembled flooring panels (including
engineered hardwood flooring) from China, Canada and
Europe increased in April, while imports from Indonesia,
Thailand and Brazil declined. At US$2.7 million, Europe
was the third-largest supplier in April after Canada and
China.

Wooden furniture imports growing again
Following a decline in wooden furniture imports in March,
US imports grew 18% in April to US$1.47 billion. Yearto-
date imports were 9% higher than in April 2016.

Imports from China, Vietnam, Canada and Europe
increased in April, while Mexico, Malaysia, Indonesia and
India exported less furniture to the US. Year-to-date
imports from all were higher than in April last year.

China had a 45% import share in April with US$662
million¡¯s worth of wooden furniture shipped to the US.
Imports of all types of wooden furniture grew in April.
Imports of kitchen furniture increased the most, followed
by office furniture.

Business expansion reported by US furniture
manufacturers
GDP growth slowed to 1.2% in the first quarter of 2017,
according to the second estimate by the US Department of
Commerce. This is up from the first estimate of 0.7%. In
the fourth quarter, real GDP increased 2.1%. Investment in
non-residential construction and personal consumption
were larger in the first quarter than previously estimated.

The unemployment rate was almost unchanged at 4.3% in
May. The rate has declined 0.5 percentage points since
January.

Economic activity in the manufacturing sector expanded in
May, according to the latest survey by the Institute for
Supply Management. Furniture manufacturing reported
the second-highest output growth in May of all
manufacturing industries. Raw material prices increased
for furniture producers. Both furniture and wood products
manufacturers reported higher new export orders in May.

Consumer confidence in the economy declined
significantly in June, according to the University of
Michigan¡¯s survey of consumers. The loss in confidence
was larger for Republican voters than for Democrats
mainly because Republicans believe proposed economic
policies are less likely to be passed.

Overall consumers are less optimistic about the future of
the US economy despite higher household incomes and a
strong job market. Personal consumption expenditures are
still expected to grow 2.3% in 2017.

Harvard report - home renovation and remodeling the
growth market fueled by baby-boomer spending
The Joint Center of Housing Studies of Harvard
University has released the latest State of the Nation¡¯s
Housing report.

The recovery of the housing market in recent years has
helped grow US wood product imports and domestic
production, both of which collapsed with the Great
Recession in the late 2000s.

The national housing market has on the whole returned to
normal, but the supply of homes for sale and rent is
extremely tight. Even after seven consecutive years of
growth, new residential construction in 2016 was well
below the annual average rates of the 1980s and 1990s.
In 2016 1.17 million new housing units were built,
compared 1.4 to 1.5 million in the 1980s and 1990s. The
low rate of construction shows in the lack of inventory of
homes for sale. Inventory was at an 11-year low with
homes for sale representing only 3.6 months of supply.

The rental market is also extremely tight despite higherthan-
average construction of multi-family homes.

Several factors contribute to the relatively low
construction rate, according to the National Association of
Home Builders. Labour shortages, strict financing
requirements and limited building lot supply are the main
factors that raise the cost of home development and
construction. Moderately priced homes, such as small
houses, townhomes, and affordable rental apartments, are
in extremely short supply.

The number of new households increased from just over
half a million per year during the recession to 1.2 million
by 2015. But the share of adults under 34 living with their
parents was still at an all-time high in 2015. The Joint
Center for Housing Studies projects household growth to
reach 13.6 million between 2015 and 2025. After 2025
household growth is expected to slow.

These forecasts depend not only on US economic growth,
but also on immigration policies. If immigration is
curtailed, growth in housing construction would be lower
in the near-term. More certain is the center¡¯s projection
about spending by baby-boomers on home renovation and
remodeling.

In the coming years the baby-boom generation will modify
their homes, driving more investment growth in
renovation and remodeling.