Japan Wood Products Prices
Dollar Exchange Rates of 26th June 2017
Japan Yen 112.00
Reports From Japan
BoJ Governor optimistic on prospects for growth
The Japanese government has upgraded its assessment of
the economy for the first time since December. In a press
release the Cabinet Office stated that the economy is
exhibiting a ¡°moderate recovery¡± due to a pick-up in
consumer spending and capital investment.

The sign of a strengthening economy was the theme of a
recent presentation by the Bank of Japan (BoJ) Governor
who emphasised that economic activity and growth
prospects for Japan have moved from a moderate recovery
trend toward a moderate expansion.

The prospects for the economy in fiscal 2017 and 2018
have improved and Japan's economy is likely to continue
expanding. In the first half of 2016, pessimistic views
about the global economy prevailed; concerns heightened
regarding the slowdown in emerging economies including
China and the global market volatility however, the global
economy is now showing positive momentum towards
growth which has lifted Japan's exports and production.

The BoJ Governor said ¡°against this background corporate
sector profits have been at record high levels, business
sentiment has been favorable and private sector fixed
investment has continued.

A feature of the current economic recovery phase is that
improvement in business sentiment has been seen, not
only for firms in metropolitan areas and large firms but
also for firms in the smaller towns.¡±
See:
https://www.boj.or.jp/en/announcements/press/koen_2017/
data/ko170622a1.pdf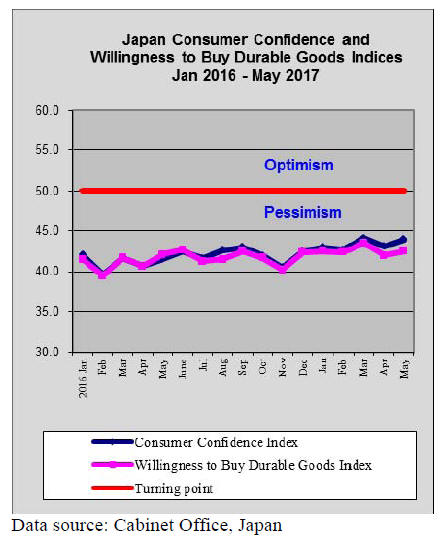 Housing starts reverse direction
Housing starts in Japan reported by the the Ministry of
Land, Infrastructure, Transport and Tourism declined in
May marking the first drop in three months. Year on year
starts were down just less than half a percent.

Data on orders received by the main construction
companies show that orders fell for the second straight
month in June.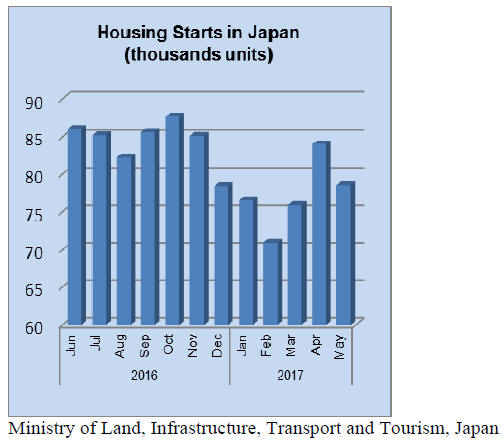 Yen hovers at 112 to the US dollar
In line with expectations the US Federal Reserve raised its
key interest rate by 25 points to 1.00 - 1.25% at the
conclusion of its June meeting. More significantly it
announced it will begin reducing its massive bond and
securities holdings. The impact of the interest rate on the
yen dollar exchange rate was muted as this had already
been factored in by traders.

Throughout the month the yen/dollar exchange rate varied
little, staying at around 112 yen to the dollar, a rate that
pleases exporters.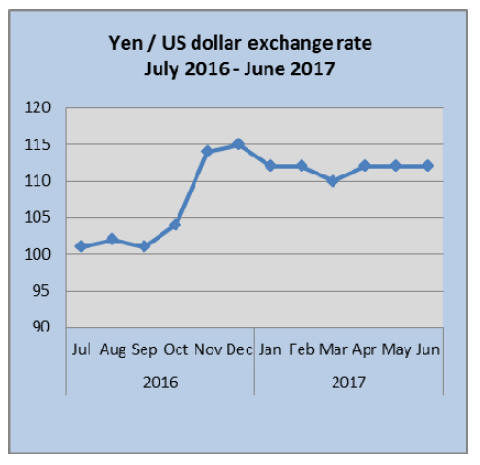 Japan¡¯s wooden furniture imports
The value of Japan¡¯s wooden bedroom furniture imports
has see-sawed for the past four months after a period of
steady increase that began in November last year. After
three consecutive months of increase imports in February
plummeted only to surge again in March. The same
pattern has been repeated in March and April.

Wooden office furniture imports in April dipped with a
noticeable reduction in imports from EU countries.

Given the volatility in imports of wooden bedroom and
office furniture it is not surprising that monthly imports of
wooden kitchen furniture have also exhibited more
volatility this year than seen throughout 2016.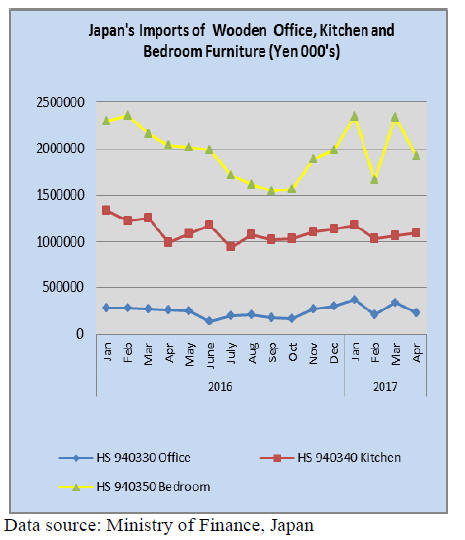 Office furniture imports (HS 940330)
April 2017 imports of wooden office furniture were down
around 7.5% compared to the same period in 2016 and
were down sharply (-32%) on levels in March.
Imports from China fell 13% in April and there was a
major decline in imports from EU suppliers. In March
imports of wooden office furniture from the main EU
suppliers accounted for 20% of total imports but this
dropped to just 6% in April.

April imports of wooden office furniture were dominated
by shipments from China which accounted for over 80%
of all imports of wooden office furniture for the month.

Kitchen furniture imports (HS 940340)
Year on year, April 2017 imports of wooden kitchen
furniture rose around 10% but there was little change in
the value of imports between March and April this year.

Vietnam maintained its position as the top supplier of
wooden kitchen furniture accounting for over 40% of all
imports of HS 940340.

In April, as was the situation in March, the Philippines
was the second largest supplier followed by China and
Indonesia. The top four shippers accounted for over 90%
of all arrivals of wooden kitchen furniture in April.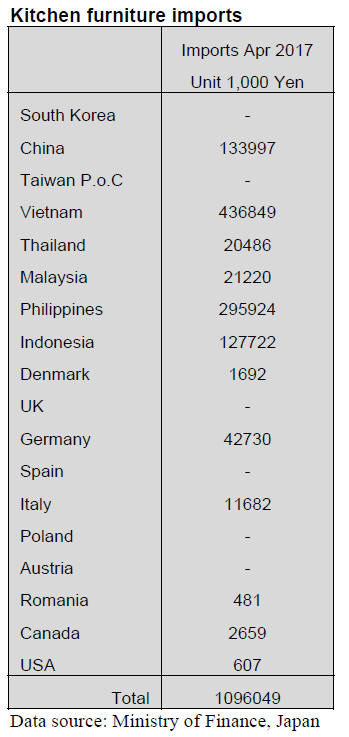 Bedroom furniture imports (HS 940350)
All the three top suppliers of wooden bedroom furniture(
China, Vietnam and Thailand ) saw a decline in the value
of shipments to Japan in April compared to levels in
March.

Shipments from the top supplier, China, fell almost 15%,
shipments from Vietnam were down 22% while shipments
from Thailand dropped just over 30%. The overall decline
for all wooden bedroom furniture from March to April was
18%.

However, overall year on year imports of wooden
bedroom furniture rose 6% from 2016.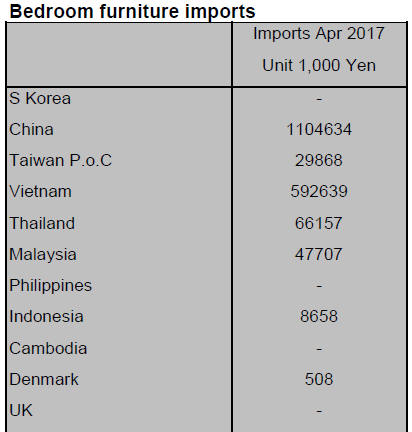 Trade news from the Japan Lumber Reports (JLR)
For the JLR report please see:
http://www.nmokuzai.
com/modules/general/index.php?id=7

Imports of legally verified wood
In 2016, percentage of legally certified imported wood in
sales was 41.2%, 5.6 points more than 2015 so certified
wood has steadily been increasing. However, distribution
volume of certified wood in the market was only 29.6%,
3.9 points up so the progress to handle certified wood
remains slow.

Apparently there is not strong demand for certified wood
in the market with little acknowledgement in the industry.
This is result of investigation of members of the Japan
Lumber Importers Association.

The Association disclosed result of follow-up survey
regarding legally certified imported wood products. Items
of survey are imported logs, lumber, laminated lumber,
plywood, particleboard and OSB from all the sources. In
total imported volume, about 72% is certified products out
of which less than 30% was sold in the market as certified
products.

By items of certified products sold in the market, logs are
59% and share of North American and South Sea
hardwood logs was high. Lumber is only 20% and
plywood is 13%. The Association will continue promoting
import and sales of legally certified products in relation to
the Clean Wood law.
Many more public wooden buildings
Since the ¡®Act for Promotion of Use of Wood in Public
Buildings¡¯ was implemented in 2010, the ratio of wooden
public buildings rose from 8.3% in 2010 to 11.7% in 2015.
During the same period, the ratio of wooden public
buildings of three-story or lower rose from 17.9% to
26.0% during the same period.

Background of the move is that domestic forest resources
planted after the World War II are now matured enough
for use as wood and wooden products in Japan and the
government of Japan has been making effort to promote
the use of wood through variety of policy tools, especially
wooden buildings but due to the policy of ¡®noncombustible
public buildings¡¯, wood use for public
buildings was very rare.

When such policy was made, people hoped to have fire
resistant communities with non-combustible buildings.

Since public buildings have strong potential for wood use,
the Diet introduced the Act, which requires the
government to take the lead in wood use in public
buildings.

The fundamental policy of the Act sets the target of the
government to construct all the public buildings of three
stories or lower with wood structure in principle. Further,
prefectures and municipalities are also required to develop
their own policy for the promotion of wood use and make
effort to promote practical wood use in public buildings.

Activities of CLT Association
The Japan CLT Association held the meeting on May 30
to report activities by the Association. CLT was officially
noticed publicly last year and movement to promote using
CLT has been accelerated by forming various unions and
association with head of local authorities. So far, 70
buildings with CLT panels are completed and 70 more are
planned.

Domestic production CLT in 2012 was 200 cbms then it
increased to 5,000 cbms in 2016 and it will be 20,000
cbms in 2017. There are eight JAS certified CLT
manufacturers as of April 2017 and there are nine CLT
processing plants so CLT supply system has been steadily
growing.

The Association has now 12 working groups (WG).
Standard specification WG is working to make up manual
of CLT construction and plans to hold lectures in this fall.

Sound proof WG plans to have floor and wall performance
tests. Fire proof structure WG passed two tests on ceramic
exterior siding and wood exterior wall. Manufacturing and
processing WG discussed requesting items for JAS
revision on CLT and accumulated data of warping by
dimensional stability performance tests.

Construction technical rationalization WG plans to request
adding CLT in standard wood building specifications by
the Ministry of Land, Infrastructure, Transport and
Tourism by showing method of construction procedure. It
is important to plan ahead where to place crane with
precise procedure otherwise efficiency would drop.
Insulation WG estimates thermal conductivity of CLT is
somewhere in between plywood and natural wood.

Parliamentary group aiming regional vitalization held the
meeting and the cabinet secretariat reported utilization of
wood including CLT by local governments. In this
meeting, each Ministry reported how they promote use of
CLT. The Forestry Agency explained the budget for CLT
and support to CLT related business.

The Ministry of Land, Infrastructure and Transport also
explained the 2017 budget to support CLT related
buildings and test of CLT buildings. The government is
seriously supporting for CLT promotion.

South Sea (tropical) logs
Export log prices continue rising as log production
stagnates even after rainy season was over. Sporadic
showers hamper logging activities. Japanese log importers
struggle to purchase enough logs to fill up ships even in
Sabah because of aggressive India¡¯s log purchase. In
Sarawak, local plywood mills have hard time to have
enough logs to run the mills.

Log suppliers remain bullish with busy purchase by India
and active purchase by local plywood mills. After new
restriction of log harvest of less than 50 cm of DBH in
Sarawak, log supply gets tighter and very few logs are
delivered to plywood mills. In this situation, Log prices
continue rising since last April.

Export log prices in Sarawak are US$280-290 per cbm
FOB on meranti regular, US$260 on meranti small and
US$240-245 on super small. These prices are too high for
depressed Japan market. Since timber premium duty will
be increased in Sarawak since July, log prices would
further climb.

In PNG and Solomon Islands, log harvest is hampered by
foul weather. Log prices are firming with active
purchase by main buyer, China and India, which try to buy
more to cover short supply of Sarawak. Particularly, prices
of highly demanded species by sawmills of keruing,
melapi and agathis continue climbing.

Expanding harvest of domestic wood and future
challenges
Total demand of wood in Japan in 2015 was 75,160,000
cbms, out of which domestic supply was 24,910,000 cbms
so the self-sufficiency rate rose to 33.2%.

In 2016, domestic wood supply was 20,660,000 cbms and
it continues climbing. Domestic wood demand has been
declining gradually but because the supply from foreign
countries is getting difficult by various reasons such as
decreasing resources, economic situation, environmental
protection and illegal harvest, so demand for domestic
wood keeps growing to supplement foreign supply.

Since the policy by the Japanese government has changed
from thinning to clear cutting and reforestation, log
harvesters are encouraged and activated with introduction
of high performance logging machines.

However, there is problem how to maintain sustainable
forest management by taking environmental protection in
consideration in major producing regions of Kyushu and
the North East where regional log production is more than
50 million cubic meters a year.

On demand side, there are two new major log users of
domestic wood. One is plywood manufacturers and
another is biomass power generation plants. Plywood mills
used to use imported logs but the supply is declining and
competition with other large market like China gets
severe, they shifted to use domestic wood.

Log demand for plywood in 2016 was 3,682,000 cbms
then this volume should increase to six million cbms by
the government basic forest plan. This means 15 to 16 new
plywood mills are needed to consume this much volume.

Plywood industry thinks it is possible to use that much
volume if half of the market of floor base and concrete
forming panels is switched to domestic products. These
two items have traditionally been supplied by Malaysian
and Indonesian plywood manufacturers.

There is one good example of tie-up case by the log
suppliers and users like plywood and lumber mills. The
North Japan Log Distribution Co-op. in Iwate prefecture
supplied total of 260,000 cbms for plywood and lumber
mills and 90,000 tonnes for biomass power generation
plants in 2016 and the target in 2017 is 300,000 cbms for
plywood and lumber mills and 100,000 tonnes to power
plants.

Biomass power generation plants are mushrooming all
over Japan and they are the major factor to activate
domestic log harvest.

By the Forestry Agency, estimated domestic wood fuel
volume for the power plants was 2,800,000 cbms in 2015,
1,000,000 cbms more than 2014 so the volume keeps
growing.

This market contributes stabilizing log harvesters¡¯
management as the market of low grade logs and unusable
wood. The price of fuel wood is low like 7,000 yen per ton
delivered to chip plant but power plants operate 24 hours a
day and they need consistent supply of fuel wood.

Another change in lumber industry is size of newly built
sawmills are much larger to consume larger volume of
wood. New trend is that sawmills buy all the products log
suppliers produce from top to bottom, which is called
cascade use of wood. Higher grade logs are used for
lumber manufacturing and low end is used as fuel. This
benefits log suppliers and sawmills need to tie-up with log
suppliers closely for large volume of wood they need.
Now, as log demand keeps growing, log suppliers are
facing various problems in future. Harvest areas are
getting into deep interior where there is no road system.
Traditionally, log harvest has been done in convenient
locations close to road. Introduction of tower yarder is the
best choice for efficient cable yarding. As the population
is aging in Japan, labor shortage will get serious problem.

Reforestation needs to review. After the War, softwood
trees were planted from valley bottom to top of ridges but
considering cost factor, softwood trees should be planted
in the areas close to road system.

Now problem is how to secure labor power for
replantation works. Log harvest business will use more
efficient, high performance machines, which attract young
people but reforestation is not attractive job and
mechanization is difficult.

Younger people shy away from hard and dirty work such
as undergrowth mowing. Introduction of robot is seriously
considered and also use of foreign labor is another choice.