Report from North America

Ipe leads US tropical imports
US imports of all sawn hardwood increased 9% in April to
82,091 cu.m. The growth in tropical sawnwood imports
was greater than for temperate species.

Tropical sawnwood imports increased for the second
consecutive month in April to 22,279 cu.m. Year-to-date
imports were up 17% from April 2016. The value of
imports grew 18% from March to US$24.7 million. Balsa,
keruing and virola imports were down month-over-month,
but imports of most other species increased in April.

Ipe sawnwood imports were 2,912 cu.m. in April, up 9%
year-to-date from April 2016. The value of ipe imports
was US$6.5 million, making ipe the highest value of all
tropical sawnwood imported and Brazil the largest
supplier to the US market based on value. Brazil
accounted for almost all ipe imports (2,707 cu.m.) valued
at over US$6 million.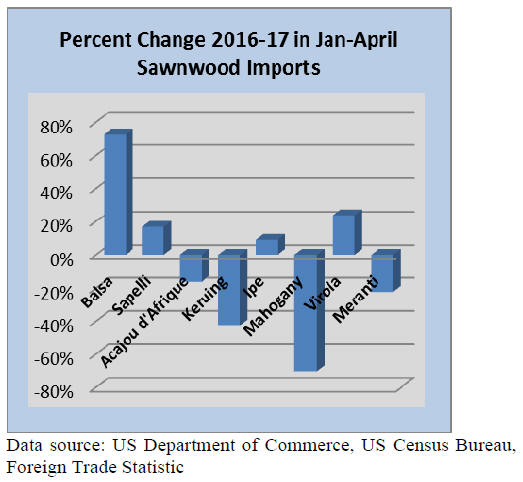 Imports of sapelli sawnwood more than doubled from
March to 4,073 cu.m, Year-to-date imports increased 17%
from April 2016. Cameroon exported 2,363 cu.m. of
sapelli sawnwood to the US, significantly more than the
922 cu.m. in March.

Congo/Brazzaville also more than doubled sapelli
shipments (1,454 cu.m.) to the US in April.

Acajou d¡¯Afrique imports grew by nearly one third in
April to 1,764 cu.m., but year-to-date imports were lower
than in April 2016. Cameroon accounted for the majority
of acajou d¡¯Afrique (989 cu.m.), followed by Ghana (401
cu.m.), Congo/Kinshasa and Congo/Brazzaville.

Balsa dominates Canadian tropical imports
Canadian imports of tropical sawnwood were unchanged
in April at USUS$1.94 million. The value of year-to-date
imports was up 4% from April 2016.

While the overall value of imports was unchanged, virola,
imbuia and balsa (combined) and sapelli imports grew
from March. Imports of mahogany and other tropical
species fell in April.

Even more so than in the US market, balsa sawnwood
imports for industrial use dominate Canadian tropical
imports.

In April, balsa imports from Ecuador increased 39% to
just under USUS$0.6 million. More balsa sawnwood may
be imported via the US. Balsa is grouped with virola and
imbuia in the Canadian trade classification. Canada
imported USUS$351,502 worth of virola, imbuia and
balsa from the US in April.

Improving competitive environment for US wood
flooring manufacturers
Imported wood flooring (engineered and solid) lost US
market share in 2016 and the underlying reasons present
an opportunity for US flooring manufacturers, according
to Hardwood Floors, the magazine of the National Wood
Flooring Association.

US manufacturers accounted for 67% of total wood
flooring sales in 2016, and 56% of total square foot sales.
This is up from 67% and 52%, respectively, in 2015. US
production increased by an estimated 9% in 2016, while
imports declined by almost 5%. The decline was in both
solid and engineered wood flooring.

While the decline in imports is relatively small, compared
to annual imports growth rates in the previous eight years,
US wood flooring may increase its market share if US
manufacturers invest in new production capacity.

Several factors contributed to the slowdown in wood
flooring imports, according to the Hardwood Floors
magazine.

The main factor is probably rising prices of imported
wood flooring, while US flooring prices declined. At the
same time imported wood flooring had to comply with the
Lacey Act requirements, which made many US
distributors and retailers turn to domestic sources.

China lost US market share when the US imposed
antidumping duties and countervailing duties on
engineered wood flooring, but Vietnam, Cambodia and
other countries in Asia made up for the decline in imports
from China.

In 2007, average flooring import prices were only slightly
below US-made products. In 2015 the gap was more than
50%, according to Hardwood Floors. Moreover Asian
suppliers were able to provide more species and colours.
Between 2007 and 2015 wood flooring imports grew at
more than 20% annually.

In 2016 import prices increased by an average 9.6% but
prices of Chinese engineered wood flooring grew by over
13%. US-made flooring prices declined 8.2% in 2016.

China increasingly imports hardwood from the US to
manufacture flooring and other wood products to export
back to the US market, thereby ensuring legal sourcing
from US forests. Higher US sawnwood prices and rising
Chinese labour cost contributed to the higher than average
growth in Chinese-made flooring prices.

Despite these relatively favourable circumstances for US
flooring manufacturers, imports are unlikely to decline
significantly unless US manufacturers invest in new stateof-
the-art wood flooring production capacities.

In the last five years US wood flooring manufacturers
have increased capital spending by only 20%, which is
less than half of other flooring covering industries and a
moderate amount given the growth in the US housing and
remodeling markets.

The market outlook for imported wood flooring remains
positive if suppliers control costs and make it easy for US
importer to comply with the Lacey Act.

For more see:
https://hardwoodfloorsmag.com/2017/06/01/sourcing-woodflooring-
supply-u-s-manufacturers-ready-take-share-foreignsourced-
products/

12-storey CLT timber tower for Portland
A 12-storey building constructed of cross-laminated
timber (CLT) and glulam was approved for construction in
Portland, Oregon. The building will be the first all timber
tall building in the US. It will include retail space, offices
and apartments.

The CLT panels will be supplied by Portland manufacturer
D.R. Johnson who was the first company in the US to
receive certification according to the APA/ANSI standard
for CLT.

The proposed building design was also tested by two
universities for seismic, fire and acoustic performance.
Building code work is underway in Washington State and
Oregon to allow for tall wood buildings, which will
simplify the design and permitting process.

Twenty-seven tall wood buildings have been completed to
date in Europe and Canada, according to the Council on
Tall Buildings and Urban Habitat.

A hybrid timber and concrete building in Vancouver is
currently the highest building, but a 24-storey hybrid
timber and concrete tower is under construction in Vienna,
Austria.

The tallest proposed buildings are a 26-storey hybrid
timber and steel tower in Lagos, Nigeria and a 35-storey
tower also in timber and steel in Paris, France.

The proposed Abebe Court Tower in Lagos would be the
first tall all timber building in Africa and the first to
include open-air planted sky-gardens.