US Dollar Exchange Rates of 10th June 2017
China Yuan 6.7987
Report from China
Manufacturing activity flat in May
Official data from the National Bureau of Statistics (NBS)
show that in May, China's manufacturing purchasing
managers index (PMI) stood at 51.2, the same as in April.

Since August last year the official index has been above
the negative threshold. However, the May Caixin/Markit
PMI dipped. This index, based on small and medium-sized
manufacturers, is suggesting that smaller firms are under
more pressure than the large state enterprises.

The Caixin PMI is a closely-watched gauge of nationwide
manufacturing activity, which focuses on small and
medium-sized companies, addressing a niche not covered
by NBS data.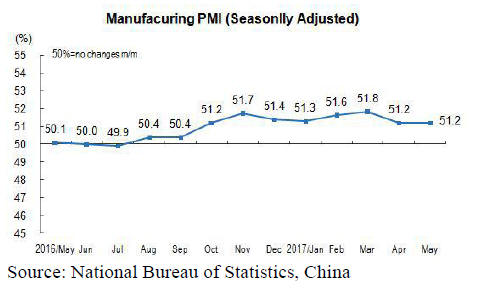 See:
http://www.stats.gov.cn/english/PressRelease/201706/t20170601
_1499131.html

Chinese flooring makers hail recent anti-dumping
decision
Relief was expressed in China after the US Department of
Commerce announced its final determination of antidumping
duties made for the fourth annual administrative
review of China¡¯s multi-layered wood composite flooring
enterprises.

Customs codes for the products involved are 412.31.0520,
4412.31.0540, 4412.31.0560 and 4412.31.2510.

The average duties for all Chinese flooring shipments has
been set a zero except for Dalian Penghong Floor Products
Co., Ltd. (0.23%). This is an encouraging result from the
review and will encourage exports of China¡¯s multilayered
wood flooring to the USA.

See: https://www.gpo.gov/fdsys/pkg/FR-2017-06-05/pdf/2017-
11561.pdf
and
https://www.federalregister.gov/documents/2017/05/31/2017-
11202/multilayered-wood-flooring-from-the-peoples-republic-ofchina-
notice-of-correction-to-the-final

Formaldehyde emission standards set to improve
The Chinese national formaldehyde emission standard
(GB18580-2017) has been released by the General
Administration of China National Quality Supervision,
Inspection and Quarantine Bureau and China National
Standards Administration.

The standard will enter into force on 1 May 2018. In the
new standard, the formaldehyde emission limit will be
lowered to 0.124 mg/m3 and the test method for detection
of formaldehyde emission has been unified.

Analysts say that the revised standard will enhance
product quality and market acceptance and will profoundly
alter the structure of forest products industry.

Establishment of port system in Jiangsu province
A long term plan for port systems in Jiangsu province has
been prepared by the provincial government.

The aim is to create an advanced port system by 2030
through the development of ¡°One zone and Three ports¡±,
namely river and sea intermodal port zones along the
Yangtze River, the Nanjing regional shipping logistics
centre, Lianyungang port regional international hub port
and the Suzhou Taicang container port.

Currently there are 10 ports in the coastal region of
Jiangsu province. The 5 national ports include
Lianyungang Port, Nanjing Port, Zhenjiang Port, Suzhou
Port and Nantong Port. The main regional ports involve
Yangzhou Port, Jiangyin Port, Taizhou Port and
Changzhou Port.

Currently, there are 5 ports with 10 000 tonnes anchorage
in Nanjing, Zhenjiang, Taizhou, Nantong, Suzhou ports. A
further 48 anchorages will be established by 2030,
including some anchorages with 10,000 tonne capacity,
118 anchorages with 30,000 tonne capacity, 50 anchorages
with 50,000 tonne capacity and 11 anchorages with
100,000 tonne capacity.

Rise in log imports through Haicang port
According to Haicang Entry-Exit Inspection and
Quarantine Bureau in Xiamen City, Fujian province, the
value of log imports through Haicang Port rose 24% to
US$21 million between January and April 2017. The
imported logs were mainly from the USA, Australia, Chile
and New Zealand. The USA accounted for about 20% of
the total log import value through the port.

Soaring in log imports through Taicang Port
According to Taicang Entry-Exit Inspection and
Quarantine Bureau in Jiangsu province, timber (log and
sawnwood) imports amounted to 3.79 million cubic
metresin 2016, a year on year increase of 43%.

Sawnwood imports through the port came to 981,000
cubic metres, a year on year increase of 5%. Overall log
and sawnwood imports through the port totalled 8.88
million cubic metres in 2016, breaking a record high.

For this year up to April sawnwood imports have tended to
be stable but log imports have risen sharply (+64%). Of
total log imports those from Canada surged over 70% to
357,400 cubic metres, those from Australia rose 230%
compared to the same period last year.

Fire at Manzhouli timber market
A recent fire at the Manzhouli timber industrial zone has
affected dozens of companies,

It is estimated that some 250,000 cubic metres of timber
stocks were burnt and that losses will stretch to billions of
dollars.

Analysts forecast that the impact of this fire will cause a
short term shortage of timber and this will result in wide
price fluctuations.


Shanghai manufacturers began to relocate
Traders report that activity in the Shanghai timber markets
is very quiet. Analysts say one reason is that many wood
processing plants have relocated.

As early as March this year wood processing enterprises in
Shanghai without environment impact assessment
certificates were asked to stop production.

Also many wood processing factories began to move to
Zhangjiagang and Taicang Ports due to the increase in rent
and labour costs in Shanghai.

It is estimated that about 1,000 furniture makers have
moved out. As this trend continues the timber markets at
Taicang and Zhangjiagang will play a greater role in
distribution.