2. GHANA
Promoting investment in forestry – 'new forests for
Africa' initiative
The first African Forestry Investment Conference was held
in Accra, Ghana 13-14 June. The event was co-organised
by the African Development Bank and the Climate
Investment Funds (CIF).

The New Forests for Africa website says "this workshop
aimed to reach out to potential national and international
investors, project developers, plantation owners, local
commercial banks, universities, Forestry Commission and
other relevant stakeholders in order to highlight the
beneficial conditions for forestry investments in Ghana
and in the region.
The conference was designed for busy executives who
want to gain a clear understanding of forest products
industry investment opportunities.

The AFDB (African Development Bank) and FIP
(Forestry Investment Program) have successfully made a
first Private Sector investment through a loan in the PPP
project of the Forestry Commission of Ghana and Form
Ghana Ltd to enable large scale reforestation of degraded
land based on a sustainable business case."

For more see: http://newforestsforafrica.org/

Efforts to restore forests after illegal mining
The Director of the Forest Research Institute of Ghana
(FORIG), Professor Daniel A. Ofori, has announced the
beginning of a programme to restore, rehabilitate and
protect forest lands and water bodies destroyed by illegal
mining. The initiative follows a mandate from government
for the institute to work towards the rehabilitation of
degraded mine sites in the country.

Illegal mining, locally known as 'galamsey', contributed
to the rapid decline of forest resources in Ghana. It is
reported Ghana's original forest cover which was 8.2
million hectares in the last century is now estimated at
only 1.6 million hectares.

According to Professor Ofori the solution is to apply
Forest Landscape Restoration techniques which involve a
long term approach aimed at guaranteeing the
sustainability of the landscape.

In a related development, Ghana Chiefs have joined the
crusade against the devastating effects of irresponsible
illegal mining and, in collaboration with the
Environmental Protection Agency (EPA), are planting
trees to reclaim the land at 'galamsey' sites. The Ministry
of Lands and Natural Resources (MLNR) is seeking an
additional budget so it can recruit more forest guards to
protect the forest reserves.

Challenge today is forest restoration says minister
The government of Ghana has not given up efforts to
engage and deliberate with stakeholders on measures
needed to halt and restore the country's degraded forest.

In a meeting with the press the Deputy Minister of Lands
and Natural Resources said a major challenge facing the
forestry sector was how to restore degraded forest lands to
benefit people and the environment and to make forestry a
more competitive land-use.

He said the government is commitmed to sustainable
natural resource management and has several initiatives
such as the National Plantation Development Programme
designed to rehabilitate and develop forest reserves, the
Forest Law Enforcement Governance and Trade,
Voluntary Partnership Agreement and REDD+. The
minster emphasised that success will only be achieved
when stakeholders pull together in the quest for
sustainable forest management.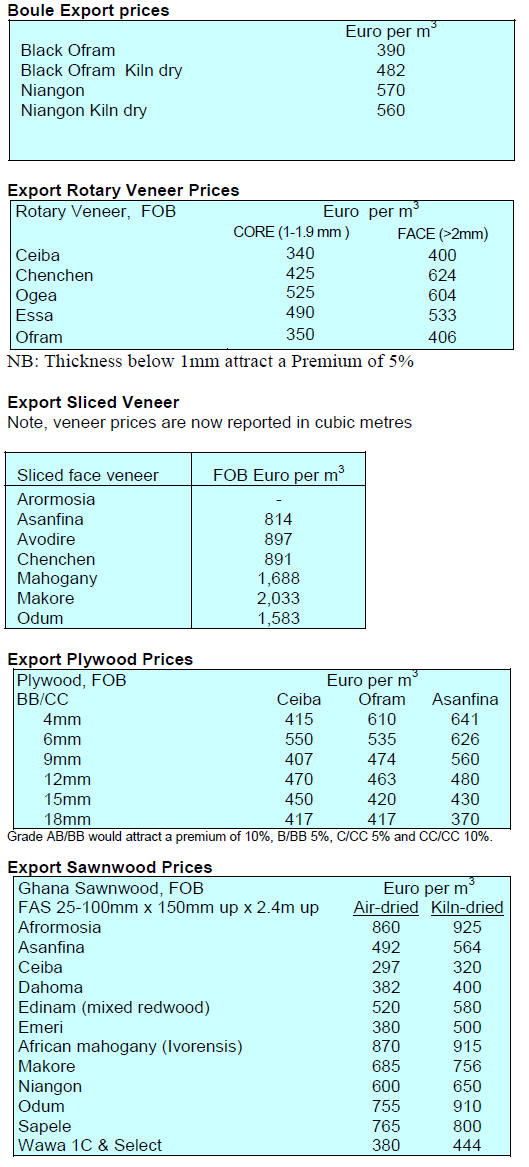 3. SOUTH AFRICA
Tough times for consumers - property market remains
very weak
South African consumers continue to experience tough
times evidenced by the slowdown in mortgage
applications and a sharp drop in car sales. Analysts write"
there has not been much change in the timber market and
pine the stocks at domestic sawmills remain high which is
holding down prices."

A number of roof truss manufacturers are reporting slow
business and a few have temporarily closed while they
look for work.
The property market remains very weak, especially in the
Eastern Cape/Port Elizabeth area, largely a reaction to the
planned withdrawal of General Motors which will mean
job losses. However, Isuzu Motors has announced its takeover
of General Motors South Africa in Port Elizabeth
which will soften the blow to jobs.

The board market remains under stress and there is a lot of
discounting in the market as distributers dispose of stocks.
The anticipated price increases from domestic board
makers is unlikely to materialise mainly because the Rand
has strengthened making imports that much more
competitive.

Meranti demand affected by housing market weakness
Demand for US hardwoods remains steady and the
stronger Rand has created added competiveness. There is
steady demand from shopfitters and some of the high end
furniture manufacturers.

On the other hand, sales of meranti have been slow mainly
because of the poor property market. The stronger Rand
has helped keep aluminium substitues competitive so this
has reduced demand for timber windows. The market for
okoume has been undermined by high prices compared to
meranti and by extended delivery times.

The supply of Kiaat remains tight and because of the
erratic supply manufacturers are buying substitutes such as
acajou/mahogany.

Storm fans out of control fire – buildings destroyed
Thousands of families were evacuated from towns in
South Africa's Western Cape region as fires, fanned by a
strong winter storm hit the area.

The domestic press has reported that a town of 77,000
people 500 km. east of Cape Town, Knysna, was worst hit
The storm has damaged buildings, felled trees and
disrupted flights and rail services. It has been reported that
the first estimate is that at least 150 structures have been
destroyed. When rebuilding begins there will be a surge in
demand for structural timbers and wood products.

Amended forest sector code launched
The government has approved amendments to the Forest
Sector Code. The implementation of this new code will
impact manufacturing industries, including the furniture
industry as it applies to all enterprises involved in
commercial forestry and processing of wood products.

See:
http://www.engineeringnews.co.za/article/amended-forest-sectorcode-
gazetted-2017-05-02/rep_id:4136
4. MALAYSIA
Original furniture designs will generate higher returns
says MTIB
Furniture manufacturing is an important sector of the
Malaysian timber industry. According to statistics from
the Malaysia Timber Industry Board (MTIB), exports of
major wood products in 2016 were worth RM 22,109
million. Out of that amount, rattan furniture exports were
RM41.9 million while wooden furniture exports amounted
to RM 7,562 million.

Since wooden furniture contributed just over 34% of total
wood product exports in 2016 it is no surprise that the
government and timber sector agencies pay considerable
attention to this sub-sector of the economy.

The MTIB is encouraging the Malaysian furniture industry
to venture into more Original Design Manufacturing
(ODM) as opposed to focusing mainly on production and
export of furniture parts based on designs from overseas
manufacturers. The MTIB stresses that dependence on
parts exports, while generating high sales volumes the
profit margins are very small.

Recently the MTIB organised a Professional Designers
Programme (PDP) as a sub-project of its Furniture Design
Development Project. In collaboration with the Malaysian
Furniture Promotion Council (MFPC), MTIB aimed to
take research in furniture design to the next level through
the development of design with professional designers and
Malaysian furniture manufacturers.

Malaysian companies are not accustomed to employing
the services of designers as they rely on buyers to provide
designs but now they are beginning to appreciate
professional designers and are recognising the added value
of original designs which boost product value and price.

The new designers programme is introducing
manufacturers to the concept of in-house design so it may
become part of their business culture. Participating
companies are learning how to work with an external
designer – how to create a design brief and how to setup a
royalty agreement to compensate designers. This process
is very new and ground breaking for most furniture makers
in Malaysia.

Technology transfer on agarwood
Gaharu or agarwood is a fragrant dark resinous wood used
widely in incense, perfume and medicine. It is formed in
the heartwood of Aquilaria sp. trees when they are
infected with a type of mould.

Recently a training programme was conducted for
participants from communities living inside the Sarawak
part of the 'Heart of Borneo' forest area. This programme
was held in collaboration with the Indonesian Ministry of
Environment and Forestry through an ITTO project.

The main objective of the programme was to serve as a
platform for technology transfer and information sharing.
The programme also aimed to enhance the scientific
understanding of participants in respect of agarwood
inoculation, in addition to create awareness in sustainable
management and uses of forest resources.

Sabah to extend reserved forest area
The Lands and Surveys Department has worked with the
Sabah Forestry Department to earmark 'un-alienated'
forested state lands, particularly in the interior, to be set
aside as forest reserves.

Sabah's Chief Conservator of Forests, Sam Mannan, said
this may result in hundreds of thousands of hectares of
new forest reserves mostly in the South Western 'Heart of
Borneo' zone in rugged terrain.

Sabah is unlikely to lose any more forest cover from
deforestation, Mannan said. Based on recent assessments,
the forest cover of Sabah is about 58% as against the
approx. 90% per cent in the early 1970s. The loss of forest
cover was due mainly to development for agriculture and
land changes.

First quarter 2016 and 2017 exports, Sabah
While Sabah's first quarter 2017exports of laminated
boards and mouldings remained almost unchanged year on
year there was a 16% increase in sawnwood exports and
an almost 39% increase in veneer exports. However,
compared to levels in the first quarter 2016 plywood
export in the same period in 2017 fell slightly.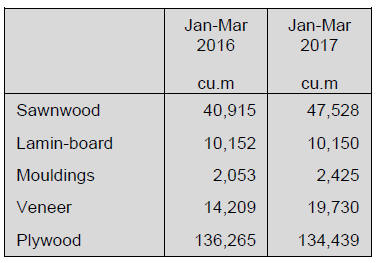 Sarawak first quarter 2016 and 2017 log production
The impact of decisions by the State administration on
logging can clearly be seen in the sharp decline in log
production between the first quarters of 2016 and 2017.
Hill species production in the first quarter of 2017 was
down almost 25% while for the same period production of
swamp species dropped 50%.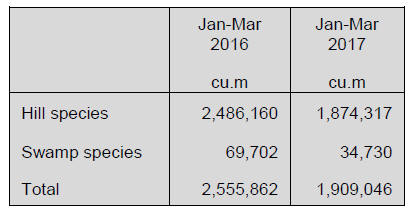 Sarawak first quarter 2016 and 2017 Hill species
production
Meranti dominates hill forest harvest but year on year
meranti production in the first quarter of 2017 was down
just over 27%.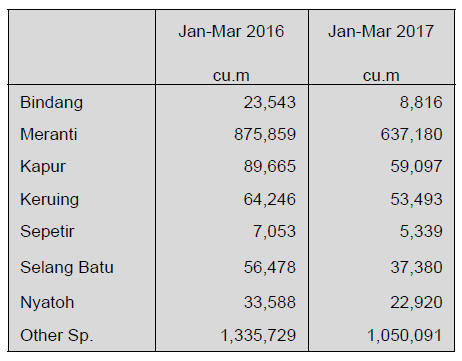 5. INDONESIA
Furniture and handicraft exports set to grow
The chairman of the Indonesian Furniture and Handicraft
Industry Association (HIMKI), Soenoto, has said that he is
optimistic that furniture and handicraft exports will grow
to around US$5 billion over the next two years, especially
as the Ministry of Industry has developed programmes to
support exporters.

In related news, the Director General of Small and
Medium Industries in the Ministry of Industry, Gati
Wibawaningsih, said the government has various strategic
efforts prepared to help SME craft makers improve the
quality of their products.

Merger of databases to improve transparency
The Ministry of Environment and Forestry, in
collaboration with Multi-stakeholder Forestry Programme,
is creating a one-stop Sustainable Production Forest
Management Information System (SIPHPL).

This system will integrate existing databases and will
strengthen the availability and reliability of information
related to the utilisation of wood products. The new
system will bring together under one banner the Forest
Products Management Information System (SIPIHH), the
Non-Tax State Revenue System database (SIMPONI), the
Information System for Industrial Raw Material
Admission Plan (SIRPBBI), the Electronic and Monitoring
and Evaluation (e-MONEV) and the Timber Legality
Information System (SVLK).

The new system will include information on forest
products sourced from community forests as well as
imports.

The advantages of SIPHPL include the ease at which
transactions can be recorded and documented. In respect
of the SVLK, SIPHPL will facilitate the verification
process for the issuance of V-legal documents.
Peat regulation - massive loss possible say business
leaders
Forest plantation owners in Riau Province have again
attacked the government's plans to introduce new
regulations covering peatland forests.

Plantation owners say they stand to lose heavily as 9
million cubic metres of annual production could be lost.

Muller Tampubolon, Chairman of the Association of
Indonesian Forest Entrepreneurs (APHI) in Riau, said that
the implementation of the peat regulation would eliminate
production from over 350,000 ha. of cultivated industrial
plantations.

Under the new regulation industrial timber plantations on
peatland can only be harvested once after which the land
must be allowed to return to being natural forests. Having
invested in land preparation plantation owners were
looking to recover their costs over several rotations.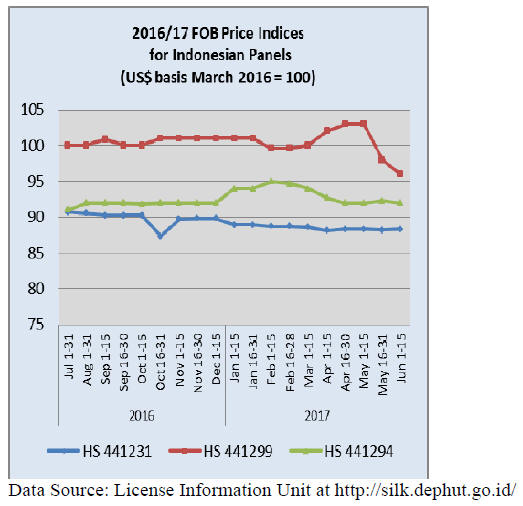 6. MYANMAR
Conflicting definitions of wood products to be taxed
The Myanmar Internal Revenue Department has issued its
decision on the definition of products that it deems are
'Special Commodities' and will attract the 10% tax which,
it was earlier understood, would only apply to rough-sawn
timber.

The decision by the Internal Revenue Department
contradicts the definition decided by the Ministry of
Natural Resources and Environmental Conservation
(MONREC).

Under the MONREC definition, small sized sawnwood,
plywood, veneer and furniture were deemed as non-special
commodity and, as such, would attract no tax.

The timber industries and the Myanmar Forest Products
Merchants Federation have raised this issue with the
Internal Revenue Department as it seems their decision
overruled both MONREC and definition in the legislation.
Manufacturers in Myanmar face many hurdles including
uncertain availability of raw materials due to the reduction
in harvests, higher costs related to meeting requirements of
international buyers and now appear to be facing an
additional tax burden.

Manufacturers in Myanmar have started to warn buyers in
international markets that the new tax, if implemented
without revision, will mean FOB prices must be raised.

PEFC to help Strengthen Certification
According to a statement from the Programme for
Endorsement of Forest Certification (PEFC), PEFC and
the Myanmar Forest Certification Committee (MFCC) will
launch a 3-year Project to strengthen the Myanmar Forest
Certification Scheme (MFCS). Financial support is being
provided by the Prince Albert II of Monaco Foundation.

PEFC said that work will begin before the end of June and
one early activity will be a co-hosted workshop "Working
in partnership to bring sustainable management to
Myanmar's forests".

Barber Cho, Secretary of MFCC, said that this project is
committed to supporting the ongoing reform process in
Myanmar's forest sector with a clear focus on
strengthening the national forest certification system.

He said "through building capacity and illustrating best
practices we hope the project can deliver a tangible impact
in the short- term and also influence the longer-term
reform process."

MTE outlines plans to meet demands for tracking data
The Myanma Timber Enterprise (MTE) has announced
details of how they will provide documentation to assist
overseas buyers with traceability. MTE has been criticised
for lack of transparency on their harvesting practice.

For the logs harvested before the log export ban in 2014
only the Purchase Confirmation Letter (PCL) will be
available. For the logs harvested between 2015 and 2016
the Revenue Number for each log is available as is the
certified letter of transportation related to each PCL.

For logs to be harvested under the most recent regulation
all documents such as the stumping/tracking order, log
transfer order and lot confirmation letter/lot delivery
permit will be available in addition to the other documents
mentioned above.
7. INDIA
Delhiwood 2017 a success
DelhiWood 2017 created a tremendous interest and press
coverage in both regional and national media in India.
More than 25,000 visitors attend the four-day Delhiwood
show in Greater Noida. Demand from exhibitors was such
that exhibition space was increased to accommodate 497
companies from 30 countries of which 60% were
international companies. The organisers say this year's
show generated more interest amongst international
buyers.

For more see the May-June issue of Modern Woodwork at:
http://www.modernwoodworkindia.com/

More plantation teak logs flowing into India
Demand for imported plantation logs remains stable but
their availability has expanded which means that C&F
prices have not risen even though freight rates were
climbing.

Sawn hardwood prices
Prices for sawnwood from imported hardwood logs
remained unchanged over the past two weeks but prices
for softwoods have eased.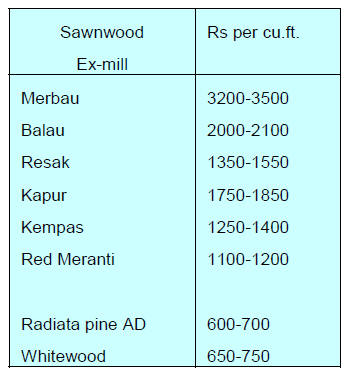 Myanmar teak prices
There has been no change in domestic sales prices for
Myanmar teak. Analysts say this is due to the ready
availability and market acceptance of lower cost
substitutes.

Demand in India for Myanmar teak is declining steadily.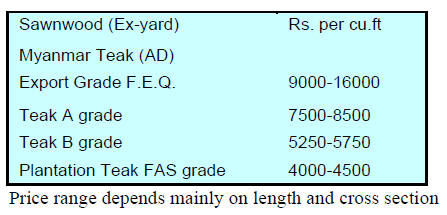 Prices for imported sawnwood
Prices for imported sawnwood remain unchanged but
analysts report there is a growing preference amongst
endusers for Malaysian hardwoods.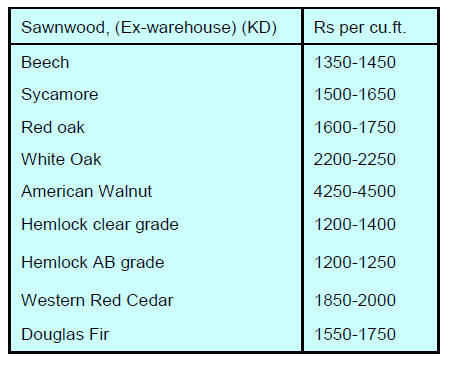 Plywood prices
Manufacturers are pushing prices higher to try and recover
the costs associated with rising production costs and
freight rates.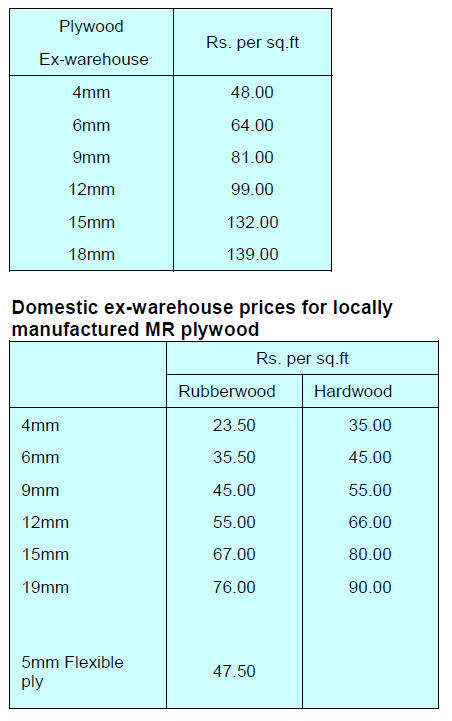 Prices for imported particleboard rising
In its April issue of Ply Reporter, the rise in particleboard
prices across Asia due to increased wood and resin costs is
discussed. The impact of the rising production costs has
meant that India's imports of particleboard have become
more expensive.

In addition to high raw material costs ocean freight
charges have also been rising as shipping companies
adjust to the changes in shipping availability due to the
Hanjin bankruptcy.

For more see: The Ply Reporter April 2017
8. BRAZIL
Federation discusses potential for expanding timber
utilisation
The Federation of Industries of Mato Grosso State
(FIEMT) recently hosted the 24th meeting of the
Environment Council (COEMA) for the Central/North
Region. This meeting focused on discussing the potential
for expanded timber utilisation and the technologies that
can be applied.

One of the main themes discussed was "Market scenarios
for the forest-based sector". Another important subject was
"Wood frame construction systems in Brazil". Although
widely used in many countries, this construction system is
not common in Brazil.

Other subjects such as " Wood biomass energy generation"
and "Possibilities in the use of glued laminated timber"
were also discussed. The results of the debate will serve as
aid to promote the state forestry sector.

The meeting was attended by representatives of COEMA,
the National Confederation of Industry (CNI), the Public
Ministry of the State of Mato Grosso, the State Secretariat
of the Environment (SEMA), the Municipal Environment
Secretariat and Urban Development of Cuiabá, IBAMA
(Brazilian Institute for Environment and Renewable
Natural Resources), the FIEMT System, and the FIEMT
Thematic Environmental Council (CONTEMA).

Door makers meet on markets and technologies
At the most recent meeting of door manufacturers
associated with the Sectoral Quality Programme for
Wooden Doors (PSQ-PME) the discussion addressed
opportunities for new products launches and developments
in accessories, adhesives, overlay films, edge ribbons, and
technological developments.

The aim of the group was to promote networking amongst
sector players. One of the highlights from this meeting
was the support given to efforts on Business-to-Business
meetings which have been highly appreciated by
participants.

TTF/ABIMCI promote Brazil's wood products in the UK
The Brazilian Association of Mechanically-Processed
Timber Industry (ABIMCI), in cooperation with the UK
Timber Trade Federation (TTF), hosted an event at the
Brazilian embassy in London.

The event aimed to promote an understanding of Brazil's
wood processing industry and the environmental policies
in Brazil such as the Brazilian Forest Code. The event was
attended by British companies and importers, authorities
and entities related to the timber sector.

ABIMCI presented on the supply capacity and practices of
the Brazilian timber industry pointing out that most
Brazilian wood product exports are derived from pine and
hardwood.

The range of products for export includes sawnwood,
plywood, doors, moldings. ABIMCI stated that the main
export markets include the USA, China, Saudi Arabia, the
United Arab Emirates, Germany, the United Kingdom and
France.

Commitments agreed between ABIMCI and the TTF
included:


establishing solid trade links among producers,
traders, importers and consumers to promote
sustainable trade;



building information exchange on forest and
industrial operations, sustainability;



conducting joint assessments of forest
andindustrial operations to identify actions
needed to further strengthen a sustainable trade.

The priority actions include expanding product
certification, improvement and development of technical
standards and encouraging transparency and sustainable
practices to mitigate the risk to buyers when sourcing
wood products from Brazil.

The TTF suggested the use of the TFT/Brazil 'Legality
Checklist' and 'Guide to Legality' as a basis for
understanding and mitigating the risks.

Norway and Germany review investment in Amazon
Fund
The Norwegian Ambassador to Brazil and representatives
of the German Development Bank (KFW) visited the
Integrated Center for Environmental Monitoring
(CIMAM) in Belém, to discuss investments related to the
Amazon Fund with the Secretariat of Environment and
Sustainability of Pará (Semas) and the "Green
Municipalities" Program (PMV).

The Amazon Fund promotes conservation and sustainable
use of forests in the Amazon biome. The Fund's resources
are raised and managed by the Brazilian Development
Bank (BNDES) and Norway contributes over 90% of the
capital with most of the balance coming via the German
Bank KFW.

The Government of Pará has invested these resources in
decentralisation of environmental management and
strengthened environmental monitoring in the State,
acquiring the necessary infrastructure such as vehicles and
equipment that support environmental inspection and
activities.

During the recent meeting state representatives
emphasized the development of effective mechanisms to
support monitoring of environmental activities and
transparency in its operations. Information is available on
the official website of the Secretariat.

Other issues discussed were the Forest Products Trade and
Transport System (Sisflora 2.0), the Rural Environmental
Registry (CAR), the Environmental Regularization
Program (PRA), the Illegal Deforestation List (ILD), the
Transparency Web Portal, the technologies implemented
by CIMAM and the "Sustainable Pará" Programme.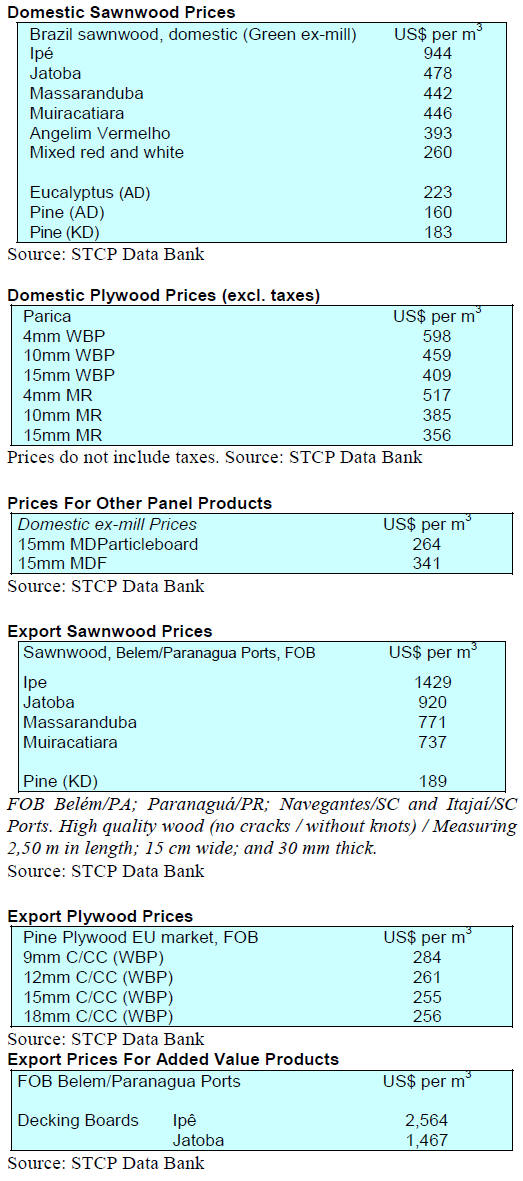 9. PERU
Timber exports down in first quarter of this year
In the first quarter 2017 wood product exports amounted
to US$28.37 million (FOB value). This was in contrast to
the US$29.85 million in the first quarter of 2016 and
represents an almost 5% decline in earnings in 2017.

Of the US$28.37 million export earnings, the Chinese
market continued to be the main destination for exports
and in the first quarter 2017 there was an almost 14%
growth in demand from this marke. China accounted for
around 53% of all wood product exports from Peru in the
first quarter of 2017.

The United States market was ranked second (11% of
exports in the first quarter but, year on year, first quarter
2017 exports were down 34%.

Mexico is Peru's third main export market for wood
product and in the first quarter of 2017 accounted for 10%
of all wood product exports. Year on year exports to
Mexico fell slightly in the first quarter of 2017.

SERFOR cracks down on forestry consultants
Under the new powers granted by Legislative Decree No.
1319, the National Forestry and Wildlife Service
(SERFOR) of the Ministry of Agriculture and Irrigation
has initiated sanctions on forestry consultants in Loreto
and Madre de Dios who have been found to falsified past
management plans.

It came to light that infractions were committed during the
time when the previous forestry legislation was in force.
The old legislation allowed forest consultant to prepare
management plans aimed at guaranteeing sustainable
production but the system was abused.

SERFOR will continue to address this issue along with the
Agency for the Supervision of Forest and Wildlife
Resources (Osinfor).