Japan Wood Products Prices
Dollar Exchange Rates of 25th May 2017
Japan Yen 111.34
Reports From Japan
Consumer spending still frozen
JapanĄ¯s economy grew 0.5 percent in the first three
months of 2017 marking its fifth straight positive quarter,
the longest expansion in more than a decade.

Figures recently released show that GDP was boosted by
exports and by investments related to development of
centres for the Tokyo Olympics in 2020. However,
looking ahead analysts foresee a slowing in the second
half of this year due mainly to a slowing of demand in
China.

Despite the good news on exports consumer spending in
Japan has not stirred and it needs to if deflation is to be
driven back. Individual spending accounts for more than
half of JapanĄ¯s GDP. Government figures show the
average of monthly consumption per household for March
was yen 300,889, down 5.3% year on year.

Private sector sentiment remains positive
Cabinet Office data on private-sector machinery orders
showed a modest month on month improvement in March
marking the second consecutive month of gains driven
largely by investment by manufacturers.

The Cabinet Office press release says the total value of
machinery orders received by 280 manufacturers operating
in Japan increased by a seasonally adjusted 1.3% in
March. But for the first quarter 2017 machinery orders
were down almost 8% compared to the last quarter 2016.

The figures on machinery orders are viewed as an
indicator of capital spending sentiment by the private
sector. Analysts say the machinery order data tends to be
volatile so not too much should be read into a single
month movement as this does not indicate that the
moderate, broad-based improvement in capital expenditure
is in reverse.

See: http://www.esri.cao.go.jp/en/stat/juchu/1703juchu-e.html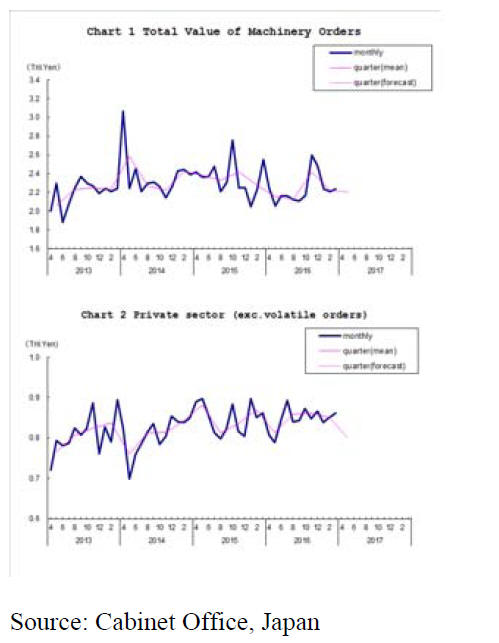 Competitively priced yen welcomed by exporters
In mid-May the US dollar weakened against the yen
pushing the yen close to the 110 level for the first time in
months.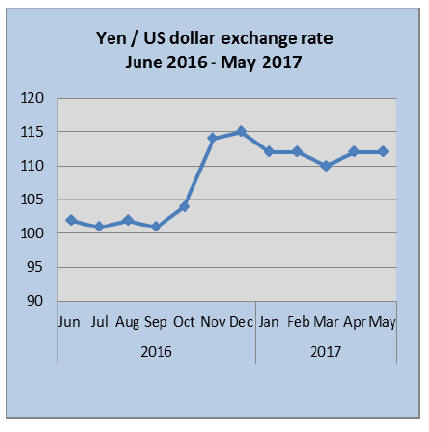 The weaker dollar was deemed a reaction to fears that the
controversies swirling in the US administration would
hold back planned tax cuts and infrastructure spending,
both of which have been welcomed by the private sector.

However, towards month end the dollar rose again
shedding the losses sustained mid-month and settled back
at around 112 to the dollar.

April housing starts confound forecasters
Data from JapanĄ¯s the Ministry of Land, Infrastructure,
Transport and Tourism Japan's shows that
housing starts shot up higher than in March. This
confounded analysts who had forecast a decline.

Year on year April housing starts were up 2% and
compared to March 2017 there was an 11% rise in April.
Looking at the data for the first four months of the year
there was a 3% rise in starts compared to the same period
in 2016.

On the basis of the latest data, 2017 annualised housing
starts could come in at around 1.0 million.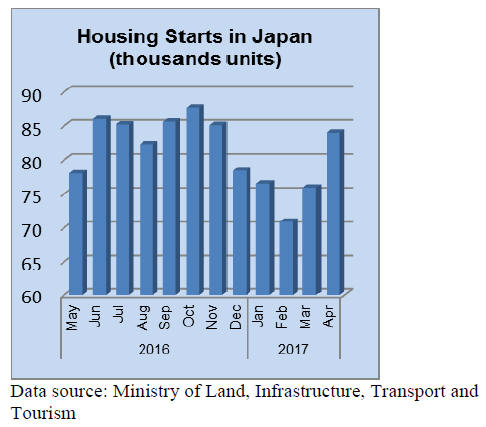 JapanĄ¯s wooden furniture imports
The value of JapanĄ¯s first quarter 2016 and 2017 imports
of wooden office, kitchen and bedroom furniture is shown
below.

While first quarter imports of wooden office furniture
(HS940330) were 11% higher than in the same period in
2016 the value of imports of both wooden kitchen and
bedroom furniture (HS 940340 and 940350) fell in the first
quarter of 2017 from a year earlier.

Wooden kitchen furniture imports in the first quarter 2017
were down 14% from a year earlier and wooden bedroom
furniture imports dropped 7% over the same period.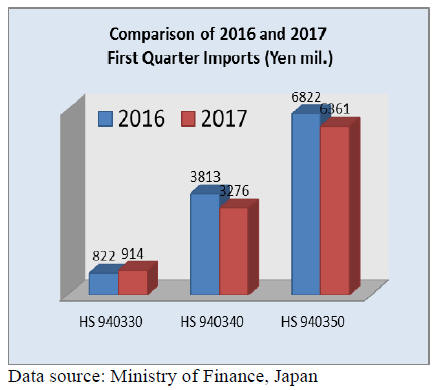 Office furniture imports (HS 940330)
In March imports of wooden office furniture from the EU
accounted for 27% of all imports of this category of
furniture, however, the main supplier was China
accounting for almost all of the balance.

In February imports from China fell month on month but
this was reversed in March as imports from China more
than doubled.

While China remains the main supplier other individual
supply countries in March include Taiwan P.o.C (5%) and
Portugal (4.5%).

Month on month, JapanĄ¯s imports of wooden office
furniture rose 64% in March. The very low figure reported
for February imports was exceptional and may be a
statistical error. Year on year March imports were also
higher, increasing 27% from March 2016.

Kitchen furniture imports (HS 940340)
Wooden kitchen furniture imports to Japan in March were
down 15% year on year and flat compared to levels in
February.

Vietnam maintained its position as the top supplier of
wooden kitchen furniture accounting for over 40% of all
imports of HS 940340 products. The Philippines was the
second largest supplier in March (18%) followed by China
and Indonesia. The top four shippers accounted for over
85% of all arrivals of wooden kitchen furniture in March.

Bedroom furniture imports (HS 940350)
There was a sizeable increase in imports of wooden
bedroom furniture in March compared to a month ealier.
March 2017 imports were up 40% month on month and up
9% year on year.

Producers in China saw March shipments rise nearly 60%
and producers in Vietnam also saw shipment rise (23%).
China remained the number one supplier of wooden
bedroom furniture in March followed by Vietnam and
Thailand. The top three shippers accounted for over 90%
of JapanĄ¯s wooden bedroom furniture imports in March
this year.

Of the approximately 2% of March shipment from the EU,
more than half was from Poland.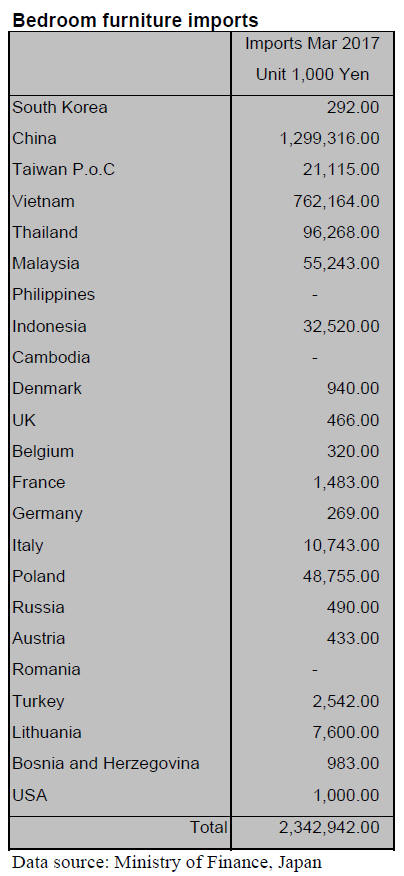 Trade news from the Japan Lumber Reports (JLR)
For the JLR report please see:
http://www.nmokuzai.
com/modules/general/index.php?id=7
Price hike of Malaysian plywood
Malaysian plywood manufacturers are proposing higher
export C&F prices one after another.

The reason is higher cost of logs by newly imposed higher
timber premium since July 1 this year. Price increase
varies by plywood mills but in general, about $25 per cbm
increase for June and July shipment is proposed.

Sarawak plywood mills have not been able to increase the
export prices because of depressed market in Japan but
they are cornered by high log cost so this hike is
inevitable.

In Sarawak, weather continues unstable even after rainy
season was over in March with sporadic heavy rain in
April and May so that transportation of logs are difficult in
poor road condition. Then tight illegal log harvest
restriction reduced availability of logs so some plywood
mills stopped operation for ten days a month because of
shortage of logs.

Sarawak plywood mills are in very tough situation by log
supply shortage and higher prices brought by increase of
timber premium by the government.

Plywood mills ask the Sarawak government to reduce the
rate of increase or postponement of increase but the
requests are ignored.

Sarawak Timber Association (STA) declared uniform
production reduction of plywood in August last year to
increase the export prices but the demand in Japan had
been stagnant even after such production curtailment. The
importers were not able to accept higher C&F prices so the
increase remained in small degree.

Indonesian plywood manufacturers follow suit to
Malaysian manufacturers and started proposing higher
C&F prices. The market prices in Japan have been inching
down but by price increase proposal by the Malaysian
manufacturers, skidding of the prices are slowing and
should be bottoming out.

South Sea(Tropical) logs
Log supplying regions of Malaysia and PNG are in dry
season but continue to have unstable weather so log supply
has been tight. Indian buyers are bullishly buying logs but
not enough volume. Japanese buyers are not able to have
enough logs in Sarawak so they buy more in Sabah.

Sarawak, Malaysia reduced export log quota in 2016 then
since July this year, timber premium rate is raised, which
pushes log cost up so that log suppliers need to increase
log export prices.

Japan has been steadily procuring logs with firm
production of South Sea plywood but logs they are
consuming now is high because of weak yen at the time of
import.

Sarawak meranti log prices for Japan now are unchanged
at US$275-280 per cbm FOB but future prices will be
higher for sure. Log prices in Sabah are also climbing
together with Sarawak.

Chinese log purchase in PNG and Solomon Island is very
active then Indian log buyers come to fill up short supply
in Sarawak so competition is hard. Log prices are climbing
in PNG and Solomon Islands not only by purchase
competition but also by lower log production by
unfavorable weather.