Report from North America

A look back at 2016 ¨C where to now?
The US Federal Reserve increased interest rates in
December 2016, just the second time it has done so in a
decade. The impact of this on sentiment in the US far
outweighed the tiny adjustment made: it was read as good
news, the impact on the economy was immediate, and the
already buoyant housing sector got a further boost.
With the US economy much closer to full employment,
and given the ¡°live now, pay later¡± policies of the new
administration, consumer sentiment, business growth and
investment in housing should all expand, driving up timber
consumption and (because the dollar will strengthen)
imports.

Consumption of tropical sawnwood down
Despite stronger housing starts and home sales in 2016,
tropical sawnwood imports fell by 13% in the US in 2016.
The fastest decline was in sapelli, with imports down by
about 30% compared with 2015.

The US has never been a big market for tropical
sawnwood, but with a population of 320 million
(compared with the EU¡¯s 508 million), and per capita
incomes 50% higher than in the EU, the value of tropical
sawnwood imports is miniscule and could be expanded.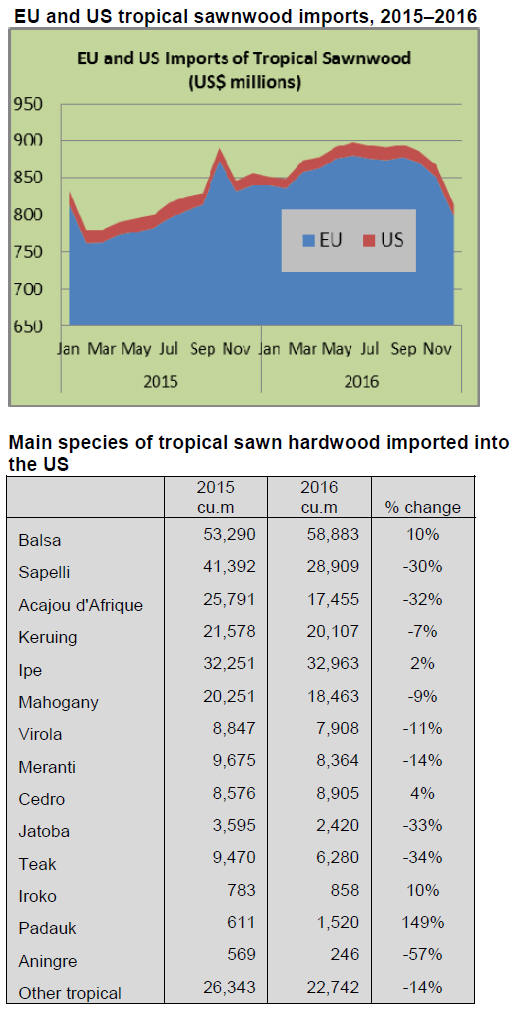 Tropical hardwood plywood imports decline¡­
US imports of hardwood plywood declined by 4% in
2016, to 3.14 million m3 (valued at US$1.82 billion) after
a 12% increase in 2015. The decline was mainly in
imports from tropical producers: imports from Canada,
China and the Russian Federation all increased.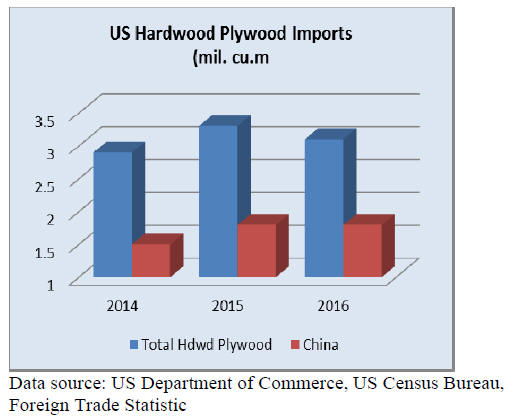 but tropical veneer imports rise
Tropical hardwood veneer imports were worth US$233.7
million in 2016, up 14% from the previous year. Imports
from many leading suppliers¡ªincluding Cameroon,
Ghana, India and Italy¡ªdoubled compared with 2015.

Italy was the largest supplier of tropical veneer in 2016, at
US$15.9 million, followed by China (US$9.6 million).
Côte d¡¯Ivoire, Ghana and India each shipped tropical
veneer worth more than US$6 million to the US in 2016.
Veneer imports from Cameroon doubled compared with
2015, to US$2.6 million.

Strong growth in engineered wood flooring imports
US imports of hardwood flooring fell by 15% in 2016, to
US$40.5 million, although imports of this product from
China grew rapidly.

The main exporters of hardwood flooring to the US in
2016 were China (US$9.7 million), Indonesia (US$9.1
million) and Malaysia (US$6.3 million). US imports of
engineered flooring were worth US$164.6 million in 2016,
up by 21% from 2015, with all major exporters recording
increases.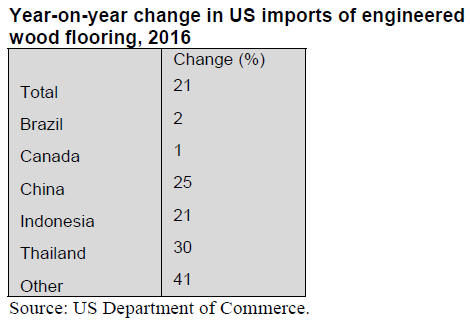 ¡¡
Record high in wood furniture imports
US wood furniture imports reached a record high in 2016,
at US$16.7 billion, up by 3% from 2015. The value of
imports increased from all major suppliers except
Indonesia (down by 9%) and Malaysia (down by 5%).

China¡¯s share of total imports decreased again in 2016
(although overall it was up by 2%, to US$7.82 billion), to
46.8%, but Viet Nam¡¯s share grew to 19.1% (at US$3.19
billion, up by 6%). Malaysia¡¯s share of total imports was
the same as in 2014, at 3.8%. Canada, Mexico and India
recorded the strongest year-on-year growth in wood
furniture exports to the US in 2016.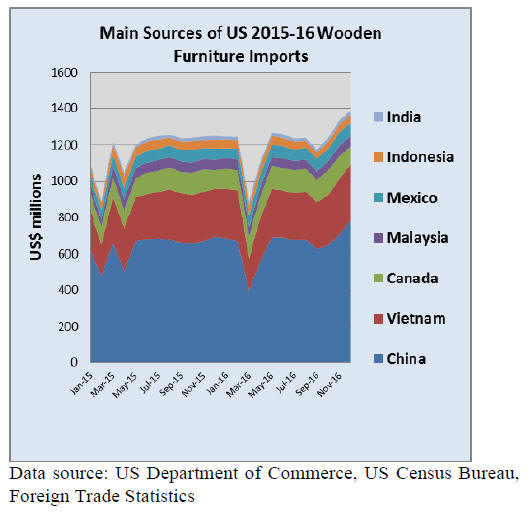 ¡¡
Consumers confident in economy
A consumer survey by the University of Michigan found
that US consumers are positive about economic prospects
and reported higher household incomes.

The National Association of Home Builders is also
positive on prospects for the new build, single-family
home market which is good news for the flooring,
mouldings and plywood sectors. The Association
continues to be concerned, however, about the high cost of
labour in the building sector and rising land costs.

The greatest unknown in the US market is where US trade
policy will eventually settle. Will there be tariff increases?
The idea of a 20% tax on imports from Mexico has been
raised, which could have major implications for Mexican
wood exporters, US importers¡ªand US retailers and
consumers.

In an article titled ¡°Border tax proposal riles retailers¡± in
the 7 February issue of Furniture Today, Clint Engel wrote
that, ¡°A tax on imports from Mexico may help pay for the
Trump administration¡¯s proposed border wall, but it¡¯s the
consumer who will end up paying for more expensive
goods if the U.S. government adopts a broader tax on all
imports¡±.
Engel also noted that the National Retail Federation was
against the idea and that a new group, Americans for
Affordable Products, which includes home-furnishings
retailers, opposes the idea.