Report from North America

Plywood imports from Malaysia triple from 2016
Hardwood plywood imports declined in February after two
consecutive months of growth. February imports
decreased 9% to 313,168 cu.m. worth US$168.7 million.
However, year-to-date plywood imports were 24% higher
than in February 2016. Year-to-date imports from
Malaysia almost tripled compared to the same time last
year.

The US imported 192,057 cu.m. of hardwood plywood
from China in February, followed by Indonesia with
34,598 cu.m. Cambodia has become a significant source of
US hardwood plywood imports. In February Cambodia
shipped 4,457 cu.m. of plywood to the US.

The unit value of imported plywood was highest in
February for plywood from Indonesia and Malaysia, and
lowest for imports from Russia.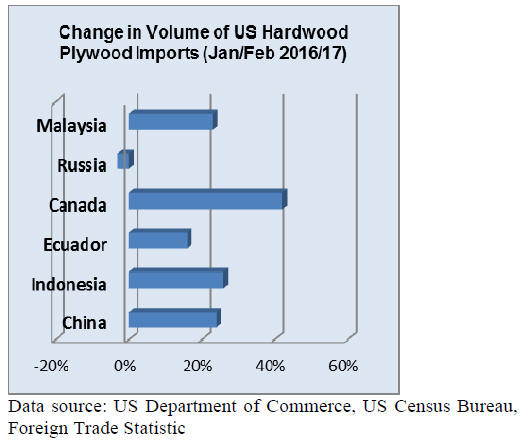 Decline in tropical veneer imports
Tropical hardwood veneer imports decreased in February
for the second consecutive month. Imports were worth
$1.5 million, down 43% from January.

Veneer imports from China and Ghana grew in February
despite the overall decline. The largest drop was in
imports of spliced and other veneer from Italy.

Imports from Italy were only worth US$180,111 in Italy,
compared to US$437,644 from China. Indonesia exported
US$99,418 worth of meranti veneer to the US in February.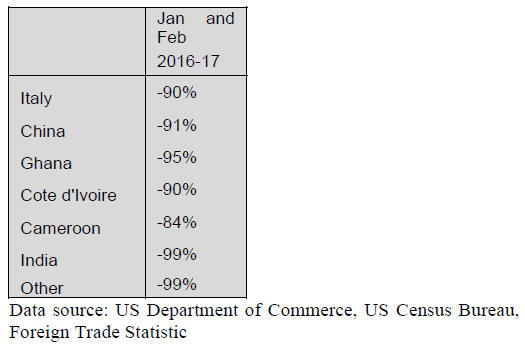 China expands share of hardwood moulding imports
Hardwood moulding imports decreased 16% in February
to US$14.0 million. Year-to-date imports were also down
from February 2016.

The largest month-over-month decline was in imports
from Brazil, which fell by almost half to US$2.2 million.
Imports from Malaysia declined to under $1 million.

Moulding imports from China increased 11% in February
to US$6.5 million. China¡¯s share in total US hardwood
moulding imports year-to-date was 40%.

More hardwood flooring from Indonesia in early 2017
Hardwood flooring imports increased 11% from the
previous month and were worth US$4.3 million in
February. Imports of assembled flooring panels (including
engineered hardwood flooring) were US$9.2 million.
Year-to-date imports of both types of wood flooring were
significantly up from February last year.

Hardwood flooring imports from Indonesia grew
substantially in February to US$792,066. Year-to-date
imports from Indonesia were 30% higher than in February
2016. Hardwood flooring imports from China were
US$1.26 million in February, up 43% year-to-date from
February 2016.

Imports of assembled flooring panels declined from the
previous month to US$9.2 million in February, but yearto-
date imports were up from last year. China and Canada
accounted together for over 60% of all imports of wood
flooring panels.
Year-to-date flooring panel imports from Indonesia were
one third higher than at the same time last year. Vietnam
surpassed Thailand in flooring panel shipments to the US
in 2017 with over US$1 million exported year-to-date.

Sharp drop in furniture imports from China and
Vietnam
The value of wooden furniture imports declined to
US$1.30 billion in February, but year-to-date imports were
3% higher than in February 2016.

The month-over-month decline was mainly in imports
from the US¡¯ two largest suppliers China (-22%) and
Vietnam (-19%).

However, year-to-date imports from China and Vietnam
remained higher than in February last year. Wooden
furniture imports from Malaysia decreased 11% from
January toUS $52.5 million.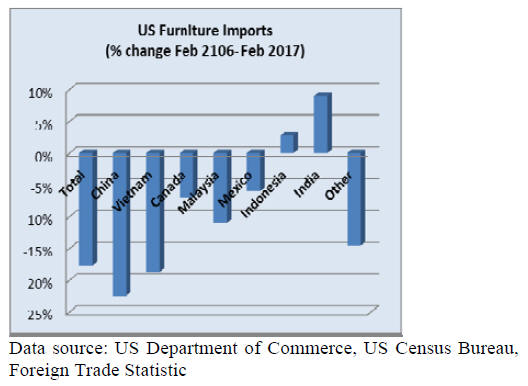 Indonesia grew furniture exports to the US market by 3%
in February to US$47.2 million. The strongest growth
year-to-date compared to 2016 was in imports from
Mexico.

Imports of all types of wooden furniture were down in
February with the largest decline in upholstered seating
furniture.

Furniture manufacturing output picks up
The US economy grew in March and economic activity in
the manufacturing expanded, according to the latest survey
by the Institute for Supply Management.

Furniture manufacturing reported higher output in March,
following three months of decline. All industries reported
higher activity compared to February, including wood
product manufacturing.

Consumer sentiment rose in April and was 10% higher
than in April 2016, according to the University of
Michigan consumer confidence index. Views were
positive about current economic conditions, but Democrat
and Republican voters had very different views on
economic expectations.
Many households expect fundamental changes in the
economy, which may result in variable spending and
different trends by market and product.

Housing market strong despite March decline in starts
Housing starts decreased 7% in March to a seasonally
adjusted annual rate of 1,288,000, according to the US
Department of Housing and Urban Development and the
Commerce Department. Starts were 9% above the March
2016 rate. Both single-family and multi-family
construction declined in March.

The number of building permits issues, which indicates
future building activity, increased 4% in March from the
previous month at a seasonally adjusted annual rate. Multifamily
permits grew, while single-family authorizations
declined.

Builders¡¯ confidence in the market for new single-family
homes declined slightly in April but remained high. The
National Home Builder Association considered confidence
in March unusually high. The builder sentiment in April
reflects strong demand from home buyers but also cost
challenges for builders.

Sales of existing homes sales increased in March to the
highest rate in over ten years, according to the National
Association of Realtors. Demand exceeded the supply of
homes on the market and the median price for existing
homes was 7% higher than in March last year.

Low mortgage rates contribute to the growth in home
sales, although rates are higher than a year ago. In April
mortgage rates declined, despite the March hike in interest
rates by the Federal Reserve.

US imposes countervailing duties on Canadian
softwood
The US Commerce Department announced preliminary
countervailing duties on Canadian sawn and laminated
softwood effective May 1. The duties range from 3% to
24% on five large producers and close to 20% for all other
Canadian sawmills and manufacturers.

The Canadian dollar declined after the announcement and
large job losses in forestry are expected. Small
independently owned mills and manufacturers are
particularly vulnerable because they have fewer financing
resources for the duties. Shares in publicly traded
Canadian softwood producers rose because the
countervailing duties were lower than some analysts
expected.

The National Association of Home Builders in the US
denounced the countervailing duty decision as it would
increase costs for businesses and home buyers.

Since the previous Softwood Lumber Agreement between
the US and Canada expired in 2015, Canada has been
looking to increase exports to other markets. Chinese and
Canadian officials met in late April to discuss a potential
free trade agreement between the two countries.

Canadian government and forestry leaders are also
promoting the use of softwood in home construction and
other markets in China.

President Trump announced the US will renegotiate the
North American Free Trade Agreement (NAFTA) with
Canada and Mexico. Previously the president had pledged
to pull out of the agreement.

While softwood is not part of NAFTA, furniture trade
between the three countries has greatly increased under
NAFTA. US furniture companies invested in Mexico and
Mexican exports of wooden furniture to the US increased
nearly 50% in the last ten years, compared to a 17%
growth in total US imports of wooden furniture.