Japan Wood Products Prices
Dollar Exchange Rates of 25th April 2017
Japan Yen 111.1
Reports From Japan
Prospects for Japan¡¯s economy looking brighter
With the March economic numbers released it seems the
Japanese economy posted the best quarterly performance
in three years. New business investment and hiring
continued at a steady rate in March building on the trend
in the first two months of the year.

Against this background, at its latest meeting the Bank of
Japan (BoJ) raised its economic forecasts and did not offer
any hint of further stimulus.

The BoJ forecast for GDP for fiscal 2016/17 was lifted to
1.6 from the 1.5 projected in January but the BoJ was less
optimistic on the consumer price index which it thought
could weaken further. In the first quarter 2017 the
manufacturing sector was the main driver of growth with
the service sector growth providing an additional boost.

The good news continued with the IMF raising its forecast
for Japan¡¯s GDP growth for this year. The latest World
Economic Outlook report says the Japanese economy is
expected to expand 1.2% in 2017, significantly higher than
the 0.8% previously forecast. But the IMF cautions ¡°in
spite of the rebounding output and the tightening labour
market, consumer prices and wages have stayed almost
flat.¡±

As Japan's economy heads into the second quarter
prospect seem to have improved. However, all the good
news could be undone if the US succeeds in weakening
the dollar against the yen as this would hit Japan¡¯s export
growth.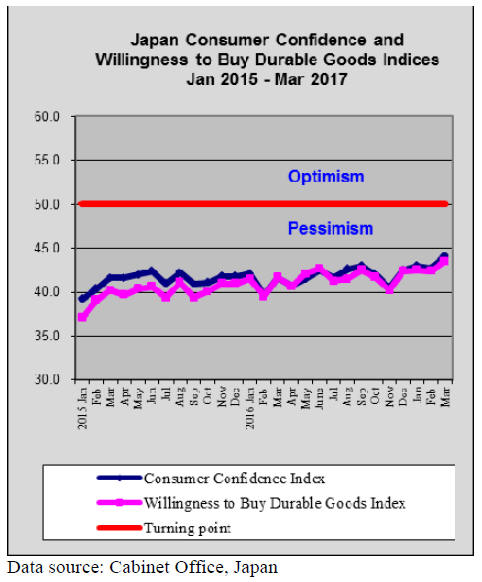 Yen had a turbulent April
The yen had a turbulent April, first strengthening and then
swinging weaker again. The roller-coaster ride was driven
first by the run-off election between Emmanuel Macron
and Marine Le Pen in France which boosted the euro and
took from the yen. During this period the yen moved as
firm as 108 to the US dollar but was driven back to 110 as
news of the likelihood of a Macon win emerged.

The other issues that eventually pushed the yen back to
112 to the dollar was the decision from Washington that
the US will not abandon the North American Free Trade
Agreement and the decision of the BoJ to continue its
current monetary policy.

Analysts are now beginning to say that the yen could be
losing its status as the number one safe-haven currency.
Geopolitical issues, especially because of the situation in
North Korea, along with the action of the BoJ to continue
its negative interest rate policy when many other countries
are lifting interest rates, is undermining the yen safe haven
status.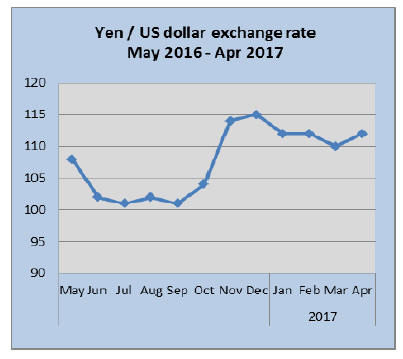 ¡¡
Housing starts reverse direction ¨C 4 month downtrend
broken
Data compiled by Japan¡¯s Ministry of Land, Infrastructure,
Transport and Tourism show that March housing starts
were only slightly up on levels in February. However the
slight rise in March starts broke the downward trend that
started in November last year.

March housing starts were up around 7% on February
which, if maintained would result in annualised housing
starts to rise to 984,000.

The Ministry data reports construction companies as
saying orders increased in March but at a slower pace than
in March one year earlier. Construction companies in
Japan are now preparing for the change in the population
in Japan. By 2025 around 6 million baby-boomers in
Japan will be 75 years old or older which has led
construction companies to begin assessing opportunities in
providing housing for the ageing population.

A report by the Cabinet Office in Japan says Japan¡¯s
population peaked at about 128 million in 2010 and is
expected to be about 52 million in 2100.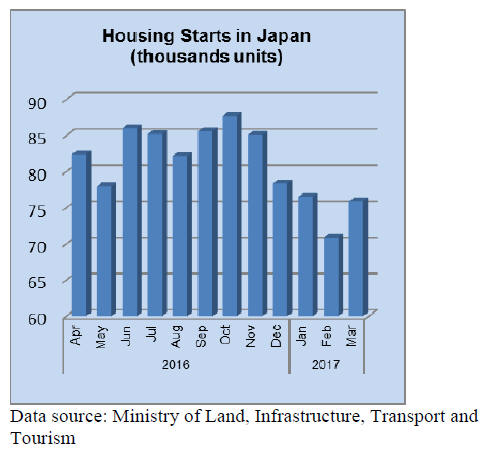 Japan¡¯s wooden furniture imports
The value of Japan¡¯s wooden office furniture imports in
February 2017 was down 27% year on year and down a
massive 45% month on month. This downward trend was
mirrored by kitchen furniture imports which fell 15% year
on year and 12% month on month.

The low value of February wooden furniture imports was
driven even lower by the steep drop in wooden bedroom
furniture. Year on year February wooden bedroom
furniture imports dropped 29% and month on month
February imports were down 27%.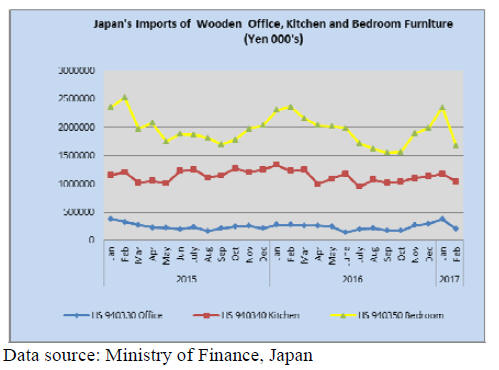 Office furniture imports (HS 940330)
In February, as was the case for the past 12 months China
provided most of the wooden office furniture into Japan.
At 48% of total wooden furniture imports China was the
number one shipper followed by Italy (20%) Taiwan P.o.C
(7%) and for the first time shippers in the UK contributed
5%.

February arrivals of wooden office furniture from the EU
rose to 38% of total imports of this category, up from the
16% in February 2016. The surge in imports from the EU
was largely down to the jump in deliveries from Italy.
Year on year, Japan¡¯s February wooden office furniture
imports were down 27% and month on month the decline
was even more dramatic (-45%).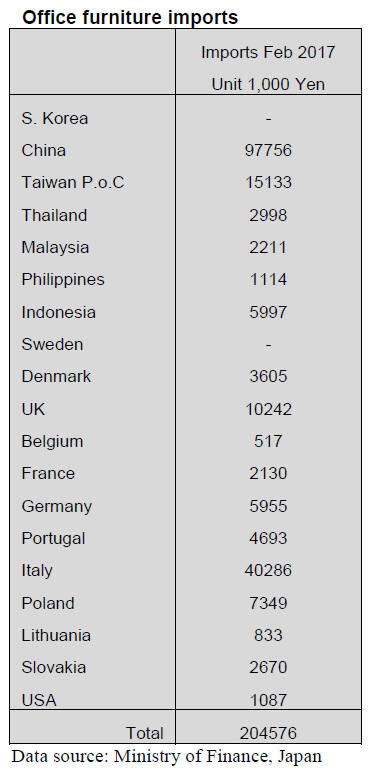 Kitchen furniture imports (HS 940340)
The value of Japan¡¯s February imports of wooden kitchen
furniture dropped 15% year on year and by 12% month on
month.

Vietnam was the major source of Japan¡¯s wooden kitchen
furniture at 36% of total imports of this category but
shipments from Vietnam dropped 23% in February
compared to the level in January.

The second ranked supplier was the Philippines (28%)
followed by China (12.5%). In February, both the
Philippines and China saw shipments decline (-6% and
-24% respectively)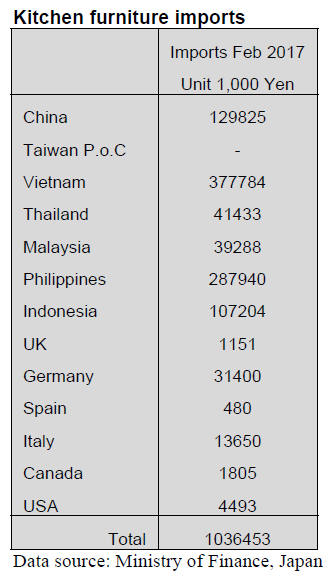 Bedroom furniture imports (HS 940350)
Wooden bedroom furniture import data from Japan¡¯s
Ministry of Finance shows there was a massive correction
in the value of imports in February compared to a month
earlier.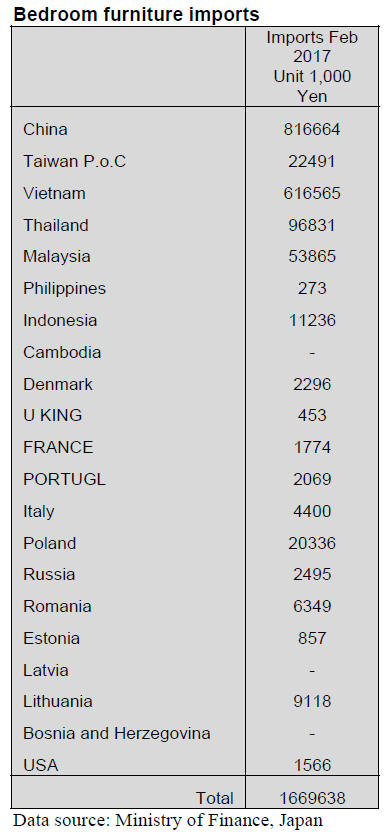 Japan¡¯s wooden bedroom furniture imports grew steadily
for the three months from October last year and peaked in
January this year. The 27% drop in the value of imports in
February this year comes on top of a 29% decline in year
on year imports.

China and Vietnam are the main shippers of wooden
bedroom furniture to Japan with China accounting for
48% and Vietnam 36% of February imports. The other
two main suppliers were Thailand (6%) and Malaysia
(3%). Shipments of wooden bedroom furniture from EU
member states are insignificant at between 1-2% per
month.

Trade news from the Japan Lumber Reports (JLR)
For the JLR report please see:
http://www.nmokuzai.
com/modules/general/index.php?id=7

Hardwood resources in Japan
The Forestry Agency made investigation of hardwood
resources in the national forests and demand trend. Total
stock of hardwood in the national forests is 554,000 cbm.
The largest species is beech with 97,000,000 cbm then oak
with 5,800,000 cbms and birch with 5,200,000 cbms. In
these, resource volume, which can be actually usable, is
about 30-40%.

By the area, Hokkaido has oak, ash, maple and katsura.
The North East has beech and horse chestnut. Kyushu has
oak and chinquapin.

By use, 95% of hardwood is consumed for wood chip.
There are many furniture manufacturers and wood
working plants, where quality hardwood is easily
available. Log distribution channel .is necessary for
making sliced wood veneer and wood working while sawn
board is necessary for furniture, which recovery ratio is
30% and music instrument, which recovery ratio is only
10%.

Hardwood stock in privately owned forests is
overwhelmingly heavy in Hokkaido and the North East.
There are spotty hardwood forests in other areas but they
are way further in the forests so harvest and supply is
difficult.

Wood supply and demand projection
The Forestry Agency held a meeting to forecast wood
supply and demand for the second and third quarter of this
year. Forecast of new housing starts in 2017 by think tanks
is 4.4% less than 2016 but the forecast of wood demand
would be the same as last year.

At the meeting in last December, an average housing starts
in 2016 by eleven think tanks figured 971,000 units then
forecast for 2017 is 935,000 units then at the meeting in
March, the forecast is revised downward to 962,000 units
in 2016 and 920,000 units in 2017.

Also by the Japan Federation of Housing Organizations,
the survey made in last January reported that total orders
received by members of house builder have decreased by
three straight quarters and decline seems to continue.
Despite decline of housing starts, the supply seems to
remain unchanged from last year.

By sources, European lumber would decrease by about
10% by dropping housing starts. Meantime, radiata pine
log supply for the second quarter would increase by 27.5%
in the second quarter and by 68.1% for the third quarter.

The reason is demand for domestic radiate pine lumber
products would increase after the Chilean lumber supply
would decline due to extensive forest fires in Chile in
January. Lumber supply for the second quarter would
increase by 25%.

Meantime demand for the second and third quarter would
be slow so both logs and lumber would be less than the
same period of last year.

Domestic log supply for lumber in the second quarter
would be less than last year. Domestic logs for plywood
would be down by 6.3% in the second quarter then 2.7%
more in the third quarter in an anticipation of increased
production of floor base and concrete forming.

Demand for plywood and laminated lumber is almost flat
from last year. Demand of concrete forming panels for
preparation of the 2020 Tokyo Olympic Games would
start in the third quarter. Demand of imported thin and
medium thick and structural panels would decline.

Demand of concrete forming panels would increase as
more condos and concrete building would be built.

Log supply from North America may be 10% more than
the demand. Lumber supply would stay unchanged from
last year.

Russian log supply and demand would decline in the
second quarter and lumber supply would decline in both
second and third quarter.

South Sea log supply in the second and third quarter
would increase for lumber.

South Sea (tropical) logs
Weather in Sarawak, Malaysia has been gradually
recovering from rainy season and Sabah¡¯s weather is
better than Sarawak so weather factor is getting normal but
in Sarawak, log procurement is difficult due to illegal
harvest control by the Sarawak state government.

India, which had been inactive for log purchase, returned
to the market as log inventories are decreasing in India and
has started active buying but it cannot buy enough logs in
Sarawak so it goes to Sabah and other sources like PNG
and Solomon Island so export log prices stay up high.
With insufficient log supply, Japanese importers have hard
time to make up shipping plan.

In Japan, there are a limited number of South Sea
(tropical) log users and it does not pay to bring logs in
with hard effort due to high log prices so there is no
aggressive purchase of South Sea logs any more. Some
South Sea plywood manufacturing mills in Japan reduce
the production and import plywood from South Sea
countries to become wholesaler.

Sarawak meranti regular log prices for Japan are US$275-
280 per cbm FOB. Further increase is likely because
higher transportation cost in producing regions.

In Sabah, supply of keruing and kapur has been declining
due to decrease of resources so the prices for these species
continue climbing. In PNG and Solomon Islands, log
purchase by China and India is active so Japan has no
room to get in.