2. GHANA
Enhanced business climate to attract overseas
investors
The government is committed to making the private sector
the engine of growth and will actively pursue privatepublic
partnerships and is also introducing measures that
would improve the ease of doing business. The
government has planned a 'Planting for Food and Jobs'
programme and will implement a 'one district one factory'
industrialisation initiative.

It has been reported that the Canadian government is
supporting the government with C$125 million over five
years, while the World Bank has pledged US$50 million
this year and the Korean government has pledged around
US$9 million to support the government as it moves to
restructure the economy and government finances.
The current reforms and the drive to revitalise the business
sector are sending positive signals to the international
community and has already attracted the attention of
foreign investors.

Planting for Food and Jobs programme
The national Agriculture Development Bank (ADB) has
pledged GHc450 million to support the government's
'Planting for Food and Jobs' programme recently launched
by President Nana Akufo-Addo.

This programme is designed to increase agricultural
production, ensure a sustainable supply of food and create
about 750,000 direct and indirect jobs for farmers and the
youth. At present forest plantations are not included in the
'create jobs' element of the programme.

Mr. Asiedu said his Bank fully endorsed this initiative
called on other financial institutions to allocate funds for
agricultural development.

In a related development, the government has earmarked
GHc100 million under a 'Stimulus package' aimed at
reviving distressed companies, including the
manufacturing sector, that struggled during the past four
years under the power crisis leading to layoffs and
shutdowns.

The Association of Ghana Industries (AGI) is in
consultation with government in an effort to prepare
proposals to ensure the implementation of a strong
mechanism on job and economic growth.

Promoting investment in Ghana
The Minister for Business Development, Awal Ibrahim,
recently received the Acting Chair of the Kenyan
Community in Ghana and revealed that Kenyans had
ventured into several areas of business in Ghana because
of the potential the country presents.

In related news, a government delegation, including the
Minister of Finance and led by the Vice President Dr,
Bawumia, recently led an investment promotion road
show to London, Boston and Washington DC to engage
institutional investors.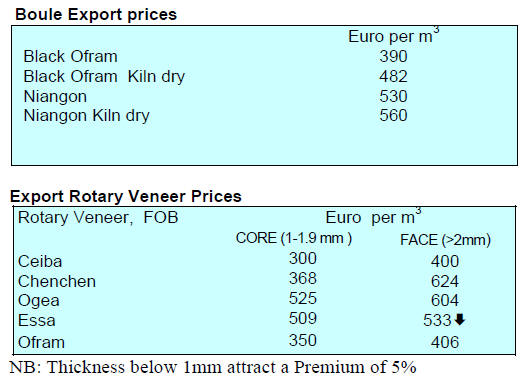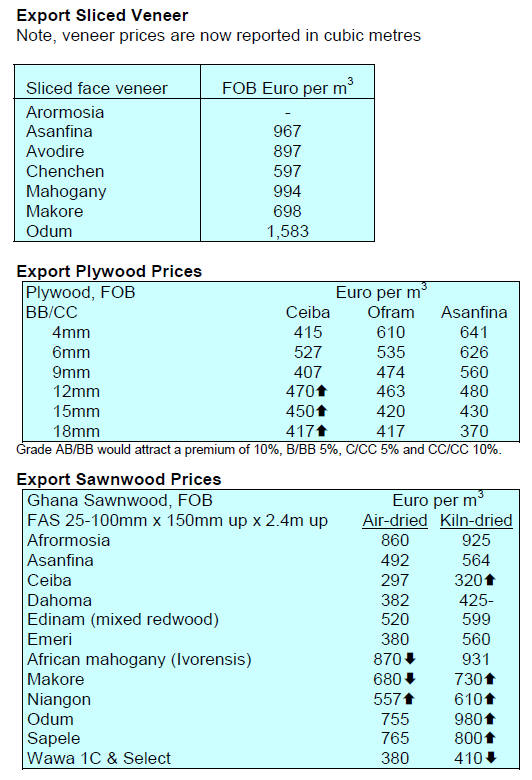 3. SOUTH AFRICA
Concentration of holidays quietens business
Analysts report the South African market has been very
quiet over the past weeks mainly due to the long weekends
and the workers marches. The Easter weekend meant that
businesses closed and there were marches on the 12th and
again on the 19th April and there was a public holiday on
the 27th April and another holiday is due 1st May.

Many people have taken advantage of the slack time to
travel. Some factories take advantage of this slack time to
shut down for maintenance. As could be expected, the
holidays and demonstrations put a big brake on business.

Importers face a challenge in pricing stocks
The other major concern for business prospects is the risk
of further ratings downgrades and what effect this will
have on the exchange rate and financial flows. Over the
past weeks the Rand has been surprisingly strong which,
analysts suggest, reflects the recent government reshuffle.

The firm Rand has made pricing imported stocks very
difficult and some importers are scaling back on purchases
to see where the exchange rate heads.
Construction companies eager for awarding of
government contracts
The government has still not moved to award
infrastructure and building contracts. Part of the problem
is politics; the ruling party lost control of four urban areas
such that there is a tussle between the two parties over
budgets and priorities.

Fears over property market direction undermines pine
pricing
The pine and even the meanti market continues to be soft
with a high level of discounting being reported as millers
and stockists try to sustain cash flows. The main
consumers of pine, roof truss manufacturers, are ordering
only what they need on a weekly basis as some are
worried the property market will weaken further. The
negative sentiment has impacted demand for panels.

As was the case at the beginning of April, American
hardwoods are still moving as the upper end of the market
is immune from the negative sentiment held by main
stream consumers but companies in this sector say it is
difficult to increase prices with all the uncertainties in the
market.

High pine sawlog prices undermine export potential
South Africa has adequate softwood resources and would
be well placed to export to regional markets however,
exports have never seriously taken off because of the high
price of pine raw materials.

Sawlog prices from the South African Forestry Company
Ltd. (SAFCOL), the government forestry enterprises, are
very high. SAFCOL controls over 60% of the pine
resources which gives them the power to dominate price
structures.

Some years ago SAFCOL switched to import parity
pricing on logs which analysts say was difficult to
understand as the import of pine logs would make no
sense. Never-the-less this system of pricing still stands.

Port efficiency an issue for importers
South Africa has eight commercial seaports:
Richards Bay, Durban, East London, Ngqura, Port
Elizabeth, Mossel Bay, Cape Town and Saldanha. The
main ports handling wood products are Cape Town, Port
Elizabeth and Durban.

Importers say Durban Port is very expensive and very
slow and there have been instances where ships have
refused to wait and gone to discharge somewhere else.

One importer's experience was with vessels from South
America which were delayed to the point that they left and
dropped the cargo in Singapore. Analysts say Port
Elizabeth is much more efficient and cheaper but not every
line calls there.
4. MALAYSIA
Malaysia exhibits unique pavilion for American
Institute of Architects
For the first time the Malaysian Timber Council (MTC)
participated in the American Institute of Architects (AIA)
Conference at the Orange County Convention Centre in
Orlando, Florida, from 27 - 29 April 2017 according to a
press release from the MTC.

The event was organised to enable exhibitors to showcase
the latest in architecture, interior design and the
construction industry.

The United States is an important market for Malaysia.
Malaysian exports of wood products to the US were worth
RM3.3 billion last year up 6.5% compared to 2015. The
top three export products were wooden furniture (RM2.6
billion), plywood (RM204.5 million) and builders' joinery
and carpentry (RM106.9 million).

The press release from MTC says "In an effort to boost
trade between the two countries and to raise awareness of
the qualities of Malaysian timbers, the Malaysian Timber
Council called on renowned architect Eleena Jamil to
design a structure that showcased the strength and beauty
of the wood."

To achieve this a rectangular booth, called the 'Meranti
Pavilion' was built. This is a lattice-like structure designed
with a repeating motif of overlapping squares and
protruding rectangular sections in a three-dimensional
arrangement, the pavilion can be assembled within four
hours by two people.

The pavilion was built by Supreme Fame Sdn Bhd in
collaboration with Supreme Tropical Furniture Sdn Bhd
and is made of four types of Dark Red Meranti, namely
Meranti Bukit, Meranti Nemesu, Meranti Seraya and
Meranti Tembaga.

MTC Bangalore office to open in June
Datuk Datu Nasrun Datu Mansur, Plantation Industries
and Commodities Deputy Minister, has said wood product
exports are set to increase around 5% this year from the
RM21.86 billion in 2016. This he said will be possible as
demand from India is growing. Last year Malaysia's
exports of sawnwood, plywood and MDF increased
significantly.

To better service the Indian market the Malaysian Timber
Council (MTC) will open an office in the south Indian city
of Bangalore in June this year.

The domestic timber industry is a major contributor to the
nation's export earnings said Mansur, accounting for about
18% of total export earnings by the commodities sector
and almost 3% of Malaysia's total export earnings in 2016.

Sabah becomes first State to have Environment Policy
Sabah became the first state in Malaysia to have its own
policy on the environment. The policy outlines strategies
and action plans based on five thematic aspects of the
environment, namely land, air, water, biodiversity and
social dimension.

To ensure effective implementation of the policy, the State
government, through the Ministry of Tourism, Culture and
Environment, has just completed an action plan based on
thematic aspects of the policy. The action plan for the
Sabah State Policy on the Environment will be
implemented for 15 years from 2018.

For more see:
www.thestar.com.my/metro/community/2017/04/19/sabahlaunches-
environmental-policy-new-strategy-attempts-to-strikea-
balance-between-conservation-a/

Malaysian Furniture Council fears re-instatement
of export license requirement
A letter members from the executive of the Malaysian
Furniture Council (MFC) has informed that the Malaysian
Timber Export Board appears to be considering reintroducing
the requirement for export license for wooden
furniture.

The MFC reminded members that wooden furniture is
classified under Order 2012, Customs Prohibition of
Export Second Schedule (Conditional Prohibition except
under an Export License) of the Customs Prohibition of
Exports regulation.

This requirement was suspended in 2013 but the MFC is
of the opinion that it may be re-instated. The MFC says it
plans to petition the Minister of Plantation Industries and
Commodities asking that it not be re-introduced.

For more see: http://www.mfc.my/media-center/2015-01-29-03-
53-10.html?layout=edit&id=265
5. INDONESIA
First direct timber shipment from Jayapura
For the first time ever a shipment of timber destined for
China has been shipped from Jayapura, the capital of
Papua. Papua is the largest and
easternmost province of Indonesia and has borders
with Papua New Guinea to the east and West Papua
province to the west. (Papua was formerly called Irian
Jaya).

Until now, shipments from Papua had go through
Makassar in South Sulawesi, the nearest international port.
The central government has been urging the state-owned
port operator to up-grade facilities as vessels at the port
must be 'geared' as there are limited port cranes.

Papua Governor, Lukas Enembe, said as the port becomes
better equipped and better known the Province will be able
to attract investors to take advantage of the abundant
natural resources in the Province.
Exports to Europe topped Pr. 5.2 trillion
Indonesia's wood product exports to Europe have
increased significantly. Laksmi Dhewanti, a Ministery of
Environment and Forestry staffer, reported that between
November 2016 and March this year some 365,000 tons of
wood products have been shipped to Europe earning over
US$400 million.

Laksmi said that the success in the European market was
primarily due to the enforcement of the national timber
legality verification system.

Marketing Service Agency to assist SMEs
Indonesia's Minister of Cooperatives and Small and
Medium Enterprises, Puspayoga, visited the Aji Tambak
Industrial Area, West Semarang, Central Java to witness
shipments of furniture products including tables,
cupboards and chairs destined for buyers in the
Netherlands and Japan.

Puspayoga said his ministry will continue to support the
efforts of SMEs to penetrate new markets through the
ministry's Marketing Service Agency which helps
companies export markets in the US, Germany, France,
Kuwait, and Saudi Arabia.

Export to the UK expected to increase
Of all European countries with which Indonesia trades
processed wood products the UK market is the largest.The
Head of the Trade Research and Development Agency in
the Ministry of Trade, Kasan Muhri, said the UK's exit
from the European Union could lead to changes in trade
policies in the UK which must be carefully monitored.

Data from the Ministry of Trade shows that Indonesia's
timber exports to the EU between 2011-2016 rose 6%.
The UK market is important for Indonesia, said Kasan, as
it accounts for around a quarter of total export earnings
from wood products.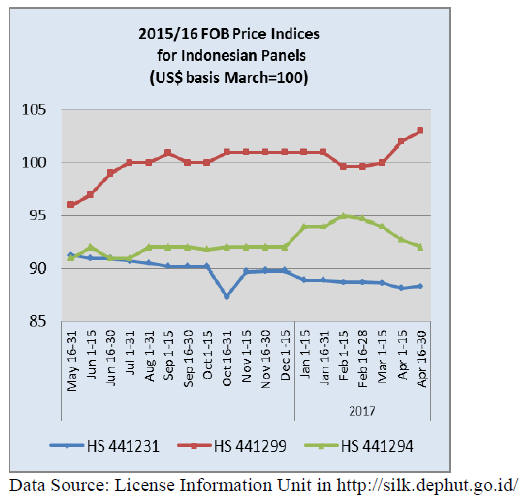 6. MYANMAR
No export of products milled from conflict or
conservation area logs
Myanmar's Ministry of Natural Resources and
Environmental Conservation (MONREC) has issued an
ordinance dated on 7th April 2017 banning the export of
wood products manufactured from logs sourced from
conversion forests and conflict areas. This ordinance is
intended to reinforce the Myanmar Timber Legality
Assurance System.

Seized logs just a fraction of what is thought to have
been smuggled
For fiscal 2016-17, the Forestry Department confiscated
over 50,000 tons of illegal timber, including 14,000 tons
of teak. Analysts point out that this represents just a
fraction of the volume thought to have been smuggled out
of the country.

The government also arrested over 8,000 people alleged to
have been involved in illegal timber harvesting and trade
and they also seized 2,599 vehicles and machines.
Analysts in Myanmar say the volume of confiscated teak
is almost same as the annual allowable cut for 2017-18
which is extremely alarming.

The government is addressing forest conservation and is
determined to control the harvest at no more than the
sustainable yield. This can only be achieved through sound
forest governance.

Industry asks for simpler system for log sales
In April the Myanma Timber Enterprise (MTE) did not
sell logs for processing for export but the Local Marketing
and Milling Department of MTE did sell a huge quantity
of both teak and other hardwoods. However, products
milled from these logs sold in local currency cannot be
exported.

The MTE has attracted criticism for its two tier sale
systems. The MTE has two departments- the Export
Marketing and Milling Department and the Local
Marketing and Milling Department. The former sells top
quality logs priced in US dollars while the latter sells
lower quality logs and domestic mills can pay in Kyats.

The price of low quality teak logs is between 1,000,000
and 1,500,000 Kyats per hoppus ton (about US$750-1100
/H.ton).

Prices for teak logs from the Export Marketing and
Milling Department (exports allowed) start at around
US$2,000 per hoppus ton. The private sector is urging the
government to tell MTE to sell logs in one simple system -
preferable in Myanmar Kyats.

Millers in search of logs to fill gap until new harvest is
available
As logs from the 2017-18 harvesting season will only be
available at the beginning of 2018 millers are now trying
to secure teak logs from the few traders who have stocks.

Depending the quality of the log, the price for SG7 teak
logs (one of the lower grades) is currently between
US$1,700-US$2,000 per H. ton. Manufacturers are saying
that such prices, on top of domestic taxes/duties and the
cost of satisfying buyer demands for verification of
legality, is putting company viability at risk.
7. INDIA
RBI ready to act if inflation rises beyond target
The official Wholesale Price Index for All Commodities
(Base: 2004-05=100) for March, 2017 declined by 0.1
percent to 185.3 (provisional) from 185.5 (provisional) for
the previous month. Annualised inflation, based on the
monthly WPI, stood at 5.70% for March.

The Reserve Bank of India (RBI) has made it known it is
carefully monitoring inflationary pressures as the economy
strengthens. The RBI Governor, Urjit Patel, said the
outlook for inflation is for a progressive rise which will be
addressed by the Bank.

Several issues have been behind the firming inflation such
as rising production costs, which will be passed on to
consumers, the pay rise for government workers and the
introduction of the harmonised Goods and Services tax in
July, the impact of which is difficult to judge.

Timber and plywood price indices
The OEA also reports Wholesale Price Indices for a
variety of wood products. The Wholesale Price Indices for
Wood Products and Plywood are shown below.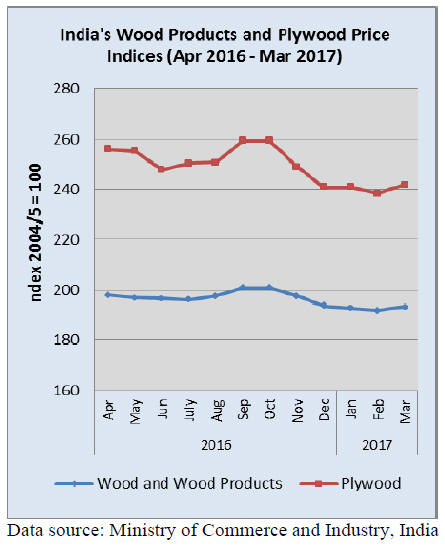 Wood product legality verification
Wooden crafts items exported from India will soon have
barcodes which can be used to determine details of the
timber used and its origin.

Rakesh Kumar, Executive Director of India's Export
Promotion Council for Crafts, said the Council will be
responsible for barcoding all wood products meant for
export which will ensure overseas buyers can meet due
diligence requirements. This barcode system will be
additional to current VRIKSH (tree) certificate issued by
Indian authorities.

The Export Promotion Council website says in regard to
VRIKSH "it is a Timber Legality Assessment and
Verification Standard – India intended for entities who
want to accurately track and make claims about the legal
origin and transport of their products."

See:http://economictimes.indiatimes.com/articleshow/576
47710.cms?utm_source=contentofinterest&utm_medium=
text&utm_campaign=cppst
http://vrikshindia.in/external_file/standards.pdf
http://vrikshindia.in/external_file/FAQs.pdf
http://epch.in/vriksh/standards1.pdf

Exports of Indian Wood Products
CAPEXIL (Chemical and Allied Products Export Council)
has released figures on Indian exports for the period April
to December 2016. The figures show that, compared to the
same period a year earlier, exports increased except for
sandalwood chips and sawnwood. Wooden furniture
exports rose around 8% and plywood exports increased
almost 6.5%

India's wood product export performance continues to
progress but the recent decision on restricting trade in
Dalbergia will dent exports. Efforts are continuing in India
to resolve this issue as the authorities maintain India has
large quantities of well managed Dalbergia and that this
resource should not be subject to the CITES restriction.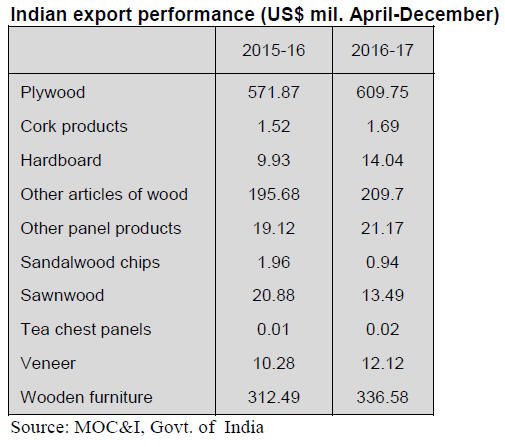 C&F prices for imported plantation teak
The Indian rupee continues to maintain its strength against
major currencies which is helping importers reduce the
landed costs of timber imports.

Prices for imported plantation teak remain unchanged
from two weeks earlier.

Over the last couple of months, the Indian Rupee has
gained against the American dollar. In early February
2017, the exchange rate was Rs67.50 to the dollar but it is
now around Rs65.
The main reason cited for the Rupee's strength is the
interest of foreign institutional investors to buy into the
Indian stock market. In the first quarter of this year foreign
investors pumped over Rs40 billion into the Indian stock
markets.

Sawnwood prices
Prices for sawnwood milled from imported logs remain
unchanged as shown below.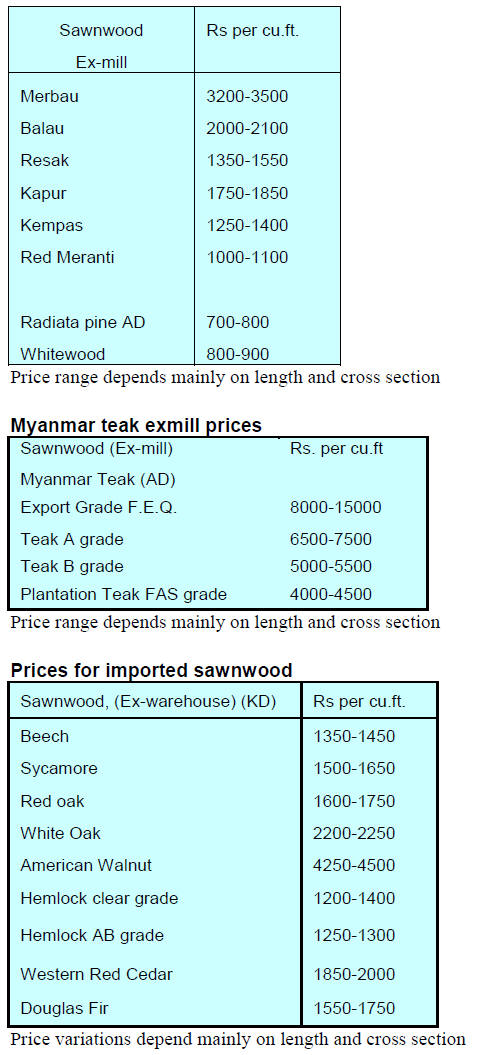 SME plymills prepare for impact of GST on
competiveness
Millers report supplies of logs and veneers are improving.
Mills in Northern India are ramping up production and the
latest from the mills in the south of the country is that they
are expanding production of decorative plywood and
concrete shuttering grades.
Developments in the southern mills are related to the
upcoming introduction of the Goods and Services Tax
(GST).

With application of the GST all factories will have to pay
similar electricity charges and taxes including the central
government excise.

At present, small factories (as defined by the authorities)
benefit from some exemptions in the case of central
government excise and this offers them an advantage over
the large commercial mills. This advantage will mostly be
removed when the standardised GST comes into force.

In response to this change, small mills are adjusting
production. For example, instead of making plain plywood
they are considering production of marine quality plywood
or concrete shuttering plywood.

Some are considering production of decorative
plywood. This move into higher value-added plywood
should allow them to generate more revenue and remain
competitive with the bigger mills.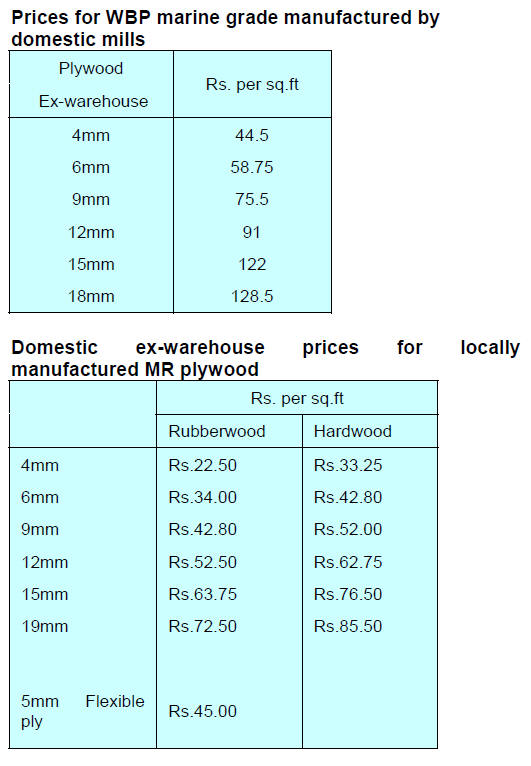 8. BRAZIL
Huge interest rate cut – good news for businesses
The National Consumer Price Index (IPCA) eased by
0.25% in March after registering a 0.33% change in
February. In the first three months of 2017 the IPCA
increased 0.96%, the lowest rate of increase in a first
quarter of the year since the beginning of the Brazilian
currency reform 'Plano Real' in 1994.

The Monetary Policy Committee (Copom) of the Central
Bank of Brazil recently cut the interest rate by 1% the
biggest cut since 2009.

New legislation could impact Amazon forest
If Brazilian legislators approve the Provisional Measure
MP 758/16 of December 2016 that changes the use
limitations for protected areas such as the Jamanxim
National Park and the Tapajˇs Environmental Protection
Area. An area of around 1 million hectares could be at
risk according to Braziian newspaper Valor Economico.

MP 758/16 aims to re-designate 862,000 hectares of forest
in the Jamanxim National Park to allow railroad expansion
to transport of soybeans from Mato Grosso to other
states. Valor Economico reports that other proposed
amendments could weaken protection of the Amazon; for
example parts of the Jamanxim National Park could be redesignated
as environmental protection areas (APAs).
APAs are the most flexible type of conservation units in
Brazil since they permit agriculture and mining in the
areas. An amendment that re-designates around 170,000
hectares of the National Forest of Itaituba into an APA
was recently approved.

Spokespersons from the Chico Mendes Institute for
Biodiversity Conservation said they foresee an increase in
deforestation in the Amazon If these decisions are
implemented.

For more see:
http://www.valor.com.br/brasil/4937182/mudanca-em-mp-podeliberar-
venda-de-11-milhao-de-hectares-de-florestas-no-para

Laminated wood flooring now an option in federal
housing
New Federal government regulations included in its's
housing programme, "Minha Casa, Minha Vida", aims to
expand options for beneficiaries of the programme.

The "Minha Casa, Minha Vida" plan aims to deliver
610,000 new home units during 2017.

For the first time home owners will be given the option to
select laminate wood flooring amongst other floor
coverings. According to the Brazilian Tree Industry
Association( IBA), this is great news for manufacturers.

Builders are required to use construction materials
produced in accordance with technical standards and, in
particular, produced by companies certified by the
Brazilian Program for Quality and Productivity of Housing
(PBQP-H) to which laminate flooring producers comply.
Laminate flooring in Brazil is made from various tropical
wood, such as angelim pedra (Hymenolobium petraeum),
copaÝba (Copaifera landesdorffi), jatobß (Hymenaea
courbaril), muiracatiara (Astronium lecointei).

Export update
In March 2017 Brazilian exports of wood-based products
(except pulp and paper) increased 12,2% in value
compared to March 2016, from US$ 202 million to US$
226.6 million.

The value of pine sawnwood exports increased 18%
between March 2016 (US$ 33.1 million) and March 2017
(US$ 39.2 million). In terms of volume, exports increased
12.5% over the same period, from 171,900 cu.m to
193,400 cu.m.

Tropical sawnwood exports fell 4% from 36,100 cu.m in
March 2016 to 34,600 cu.m in March 2017 and the value
of exports dropped around 8.5% from US$ 16.7 million to
US$ 15.3 million, over the same period.

The value of pine plywood exports increased 18% in
March 2017 year on year, from US$ 36.5 million to US$
43.1 million. In terms of volume exports increased 12%
over the same period, from 142,600 cu.m to 159,300 cu.m.

As for tropical plywood, exports increased significantly in
volume and in value, from 11,300 cu.m (US$ 4.5 million)
in March 2016 to 13,900 cu.m (US$ 5.4 million) in March
2017.

For the first time in months exports of wooden furniture
rose from US$ 37.5 million in March 2016 to US$ 41.8
million in March 2017, an 11.5% increase.

Export corridor, a partnership with Bolivia
The opening of an export corridor capable of furthering
integration of Bolivia into the global market was one of
the topics discussed between representatives of the State
government of Rond˘nia and an visiting Bolivian
Minister.

The options for increased trade cooperation between
Bolivia and the Rond˘nia State government were
discussed in particular the transportation and shipment of
timber and forest products such as nuts from Bolivia to the
port of Porto Velho (Rond˘nia, State capital) was one of
the topics addressed.

The Bolivian minister, who also visited the port of Porto
Velho, was impressed with the port infrastructure which
encouraged his determination to seize the opportunity and
cement an arrangement for shipping via Brazil.

According to the Rondonia State government, the port of
Porto Velho is strategically placed to export Brazilian,
Bolivian and also Peruvian products.

Plantation teak exports to the US
The State of Rond˘nia, one of the main timber producers
in the Amazon region, is counting on forests to guarantee
and boost the state's sustainable economic development.

In May last year a law that regulates forest plantations for
commercial use was passed and the State Secretariat for
Environmental Development (SEDAM) also addressed the
bureaucratic burden on companies seeking export
approval. The shift to plantation resources for wood
product manufacture began around 5 years ago in
Rond˘nia. Since then exports, especially of teak, to Asia
have grown steadily.

The resources in Rond˘nia have caught the attention of
companies in the United States and teak shipments have
begun.

Exporting to the United States is an important milestone
for producers in Rond˘nia as the US market is very
demanding and manufacturers in Rond˘nia have been
successful in satisfying the requirements of this
sophisticated market.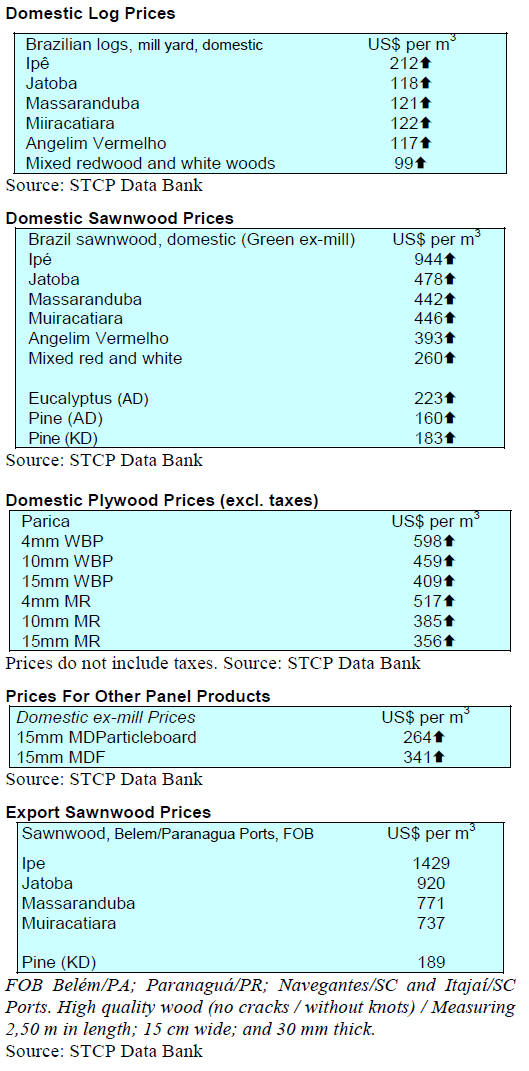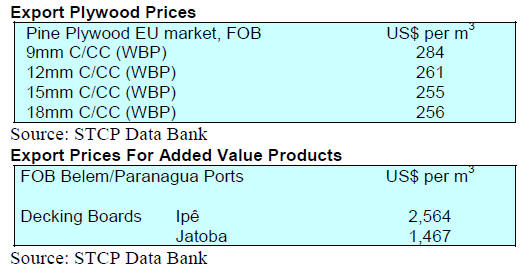 9. PERU
Furniture entrepreneurs participated in fair in China
Twelve Peruvian businessmen engaged in furniture
manufacturing from various cities in the country visited
the Interzum Guangzhou trade fair in China.

The entrepreneurs had the opportunity to appreciate the
latest trends, technology and innovations in the furniture
industry and witness production methods in Chinese
factories.

Interzum Guangzhou showcased almost 1,400 exhibitors
from 38 countries and regions, including mainland China,
Hong Kong, Taiwan P.o.C, Finland, Germany, Italy,
Japan, Korea, Malaysia, the United Arab Emirates, the
United States and Turkey. This show, along with the
China International Furniture Fair attracted over 83,000
visitors, an increase of about 14% on 2016.

Training on tracking software tool
Current regulations in Peru require any person who
transports or markets a forest product must be able to
prove its legal origin and demonstrate that the product
comes from a forest under effective management.

This is a new requirement and it will take time for systems
to be put in place to ensure timber marketed domestically
and internationally is verifiable legal.

To strengthen the technical capacity of enterprises to
demonstrate traceability, the German International
Cooperation Agency (GIZ), in cooperation with
CITEforestal Pucallpa, organised a course on the use and
the benefits of the DataBOSQUE software.

Formerly known as SimaFOR, this software is a
management tool for forestry companies that provides for
demonstrating traceability.

The training was directed to forest managers and
professionals who are currently working in forestry
companies in Madre de Dios, Tingo MarÝa, Iquitos and
Ucayali. Fifteen forest professionals were trained as
trainers for the wider application of this tool.