2. GHANA
BVRIO trading platform for Ghana
The BVRIO 'Responsible Timber Exchange', trading
platform to connect buyers and sellers of legal and
certified timber products first mentioned in the ITTO
market report Volume 20 Number 20, 16–30 November
2016, has launched a Ghana chapter.

This development has been encouraged by the Forestry
Commission (FC) and the management of BVRIO plans to
work with the FC to take advantage of Ghana's wood
tracking system which assures legality.

The BVRIO website says "the BVRIO Responsible
Timber Exchange is a negotiations platform to promote
the trading of timber products from legal and/or certified
sources creating transparency, efficiency and liquidity in
this market. The platform has an in-built risk assessment
system to assist users in conducting the due diligence of
each of the timber consignments traded."

UNIDO support on ISO management
Inspectors from the Timber Industry Development
Division of the Forestry Commission recently benefitted
from training on International Standards Organisation
(ISO) and International Electro-technical Commission
(IEC) management systems.

The workshop which received technical support from the
United Nations Industrial Organization (UNIDO) Trade
Capacity Building (TCB) programme, was meant to
deliver knowledge and skills in implementing the ISO/IEC
17020 standards.

Manufacturers to get boost from tax cuts
Oxfordeconomics has reported that the Ghana government
is waiting for approval from ECOWAS to remove taxes on
selected imports, a move which is in line with the
ECOWAS Common External Tariff.

When approved the construction sector will benefit as
import duties on raw materials will be eliminated. Taxes
on machinery and raw materials for production will be
removed which should boost manufacturing.

In the real estate sector, the decision to remove the 5%
VAT on property transactions outlined in this year's
spending plan should also help reduce the cost of both
residential development and boost home sales.

See http://www.oxfordbusinessgroup.com

Business leaders stress need to support SMEs
Leaders of Ghana's Private Enterprise Federation recently
met with Minister Designate for Investment and Business
Development.

The press statement from PEF says the CEO of PEF, Nana
Osei-Bonsu emphasised the need to build capacity,
identify opportunities and create structures to enable the
private sector, especially the SMEs, take advantage of the
opportunities that will be created by the government.

The Minister is reported to have pledged to work with the
Federation to achieve his goal of developing at least 1000
businesses each year for the next four years.

He stated that he has two key objectives; the first is how to
get investments into critical sectors of the economy and
the second is how to identify and support key existing
Ghanaian businesses to become more efficient and
profitability.

The Private Enterprise Foundation (now Federation) was
established in 1994 as the apex institution to forge
consensus and provide the leadership voice for advocacy,
on the initiative of the Association of Ghana Industries,
Ghana National Chamber of Commerce and Industry,
Ghana Employers' Association and the Federation of
Associations of Ghanaian Exporters.

See:
http://www.pef.org.gh/index.php/en/about-pef/statementsreleases/
58-pef-meets-new-minister-designate-for-investmentand-
business-development

Analysts report markets remain very quiet and as a result
few price movements have been reported.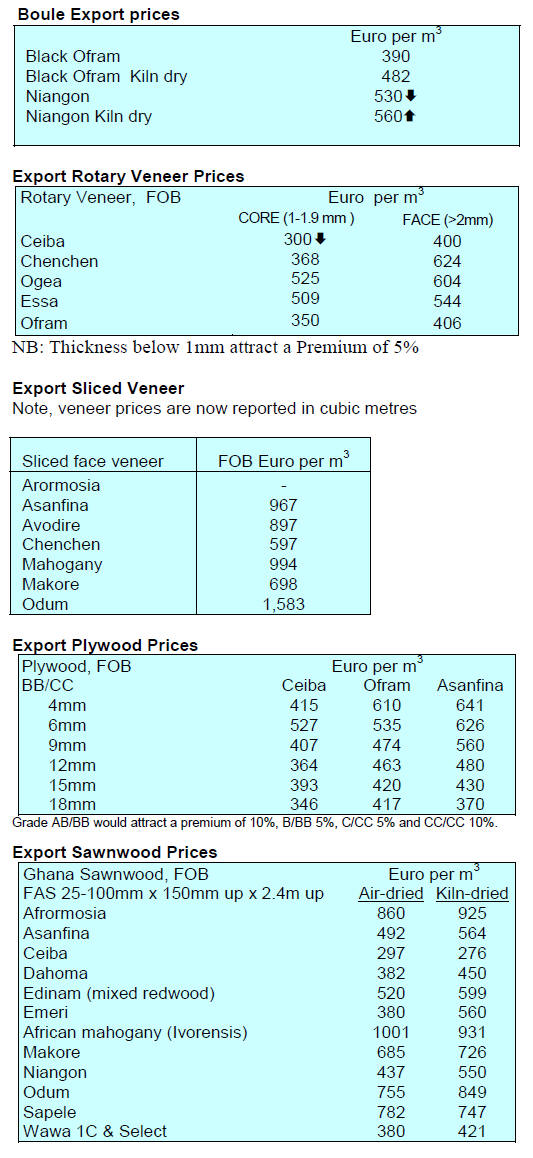 3. SOUTH AFRICA
Rand crashes on rating downgrade
The recent cabinet reshuffle in South Africa has not been
received well in financial markets. Almost immediately
the country's credit rating was relegated to junk status and
the rand plummeted. The rand weakened more than 10%
against the US dollar in just a few days.

The South African Central Bank said any decision to
support the rand would be made after assessing the impact
of the currency movements. The Central Bank Governor
said it was too early to tell if the credit rating downgrade
would push the economy in to a recession.

Analysts in South Africa write "things are all a bit
unsettled here since S&P issued their downgrade giving
South Africa non-investment/junk status. The agencies
maintained the financial rating as investment grade so that
may slow the rand decline.

The political upheaval from the cabinet reshuffle has
sparked widespread protests around the country which is
affecting business confidence. The impact of this turmoil
is likely to be higher interest rates and higher inflation
which will hurt the property market. At the moment
buyers in the building and construction sectors are only
purchasing for immediate needs.

Weak demand all round
Demand for meranti, especially for window and door
frames, has been undermined by price competition from
local produced aluminium alternatives. Also, local
aluminium product manufacturers can offer quicker
deliveries which are an advantage in a situation where
endusers are buying to only satisfy current projects.

Analysts report the market for domestic pine is also weak
which has driven some Cape mills to extend marketing
into the Johannesburg area, an indication that their nearby
markets are not strong. At the moment pine prices are
steady but if demand weakens further price discounting
will follow. This situation is mirrored in the panel market
where plywood prices have fallen sharply.

On the other hand, demand for American hardwoods is
holding up say analysts as these hardwoods are mainly for
bespoke production but eventually there is likely to be
resistance against the higher rand prices due to the
exchange rate.

All in all not a great picture. Analysts write "The domestic
housing market has turned very weak as people are
uncertain if they can get a mortgages in the new
environment and I expect the commercial/shopfitting
market will also decline as new projects are put on hold."
4. MALAYSIA
Global trade picking up
Trade analysts, RHB Research, pointed out that exports
from Asia have started to recover and RHB has forecast
Malaysia's overall exports could recover by as much as
6% in 2017 compared to the 1.1 % growth seen in 2016.
RHB Research also pointed out that Malaysia's export
growth in February was the strongest recorded in almost
seven years.

In terms of markets, the acceleration in February exports
was helped by a growth in shipments to China, ASEAN
member countries, the EU and US. However exports to
Japan slowed in the first two months of 2017.

Only STA members can get harvesting license
It has been confirmed that companies tendering for short
term timber licences must first be members of Sarawak
Timber Association (STA) and should be legitimate timber
operators having experience in harvesting and have no
previous record of illegal logging activities.

This clarification came after an announcement by the State
government that it intends to issue short term timber
licenses through an open tender process. Short term timber
licenses are only issued for state land forests which have
been approved for development or for Native Customary
Land (NCL), Development Areas and Native Communal
Reserve approved for development.

The duration of these short term licenses will depend on
the size of the area involved and the timber stock.
Successful bidders are still subject to payment of royalty,
premium, cess and other charges based on the volume of
timber extracted.

STA Training
STA Training (STAT), a training provider owned by STA,
has also been appointed by the State as a training provider
under the state Forest Rules (Trained Workmen)
legislation, 2015.

STAT has been training the industry workforce in various
skills. For forests managers, STAT offers a post-graduate
diploma in applied science, conducted in collaboration
with Lincoln University, New Zealand.

Fibreboard exports
Malaysia exported 1.036, mil. cu.m of fibreboard in 2016,
an increase from the 2015 exports of 985,854 cu m. The
2016 exports earned a healthy RM 1.183 billion. Most of
the fibreboard (83%) was produced and exported by mills
in Peninsular Malaysia.

Analysts report that a major producer, Evergreen
Fibreboard Bhd. is expanding manufacturing capacity
targeting demand for boards for furniture production. In
addition to expanded fibreboard production the company
intends to add a second line for the production of RTA
furniture.
Mid-March plywood export prices
Plywood traders in Sarawak reported February FOB
export prices as:

5. INDONESIA
Minister - not all markets require SVLK certified
products
In a press statement, Airlangga Hartanto, Indonesia's
Minister of Industry, suggested not all furniture and
wooden craft items need to be SVLK certified and shipped
with a V-legal documents. He asserted that the V-legal
document and FLEGT license was a requirement for the
EU market only.

The Minister said many manufacturers shipping to markets
other than the EU have not requested SVLK certification
as this was not a requirement in those non-EU markets.
However, at present it is a requirement that all products
listed in the VPA need to be verified legal through the
SVLK system. This should be reviewed, said the
Minister.

In follow-up statement the Minister revealed that his
ministry was considering policy options to ensure the
furniture and craft industries remain competitive in
international markets. This was in response to complaints
from businesses that the current regulations impeded
export growth.

Hartanto said the future of Indonesia's furniture industry is
bright as the government has developed policies and
regulations that will support competitiveness of the sector.
He said the government is working to eliminate barriers
faced by manufacturers so that the full potential for
design, production and marketing can be achieved.

In related news, the Association of Indonesian Furniture
and Handicraft Industries (HIMKI) has submitted a
proposal to the Minister of Environment and Forestry
asking for downstream manufacturers to be exempted
from the requirement for SVLK certification.

The HIMKI proposal gained support when Gati
Wibawaningsih, Director General of Small and Medium
Industries Division in the Ministry of Industry, said SVLK
certification should not be required in the manufacture of
downstream products if the raw material utilised is from a
SVLK certified supplier.

Oil palm plantations not a cause of deforestation say
academics
A group of Indonesia researchers have developed a novel
argument on the role of oil palm plantations in
deforestation. Their argument runs – the worst
deforestation in Indonesia occurred during the resettlement
programme and when forest concession allocations were
highest between 1960-1980 but that the planting of oil
palm only began in early 2000. This issue has been given
extensive coverage in the domestic press.

See:
https://sawitindonesia.com/rubrikasi-majalah/berita-terbaru/4-
peneliti-sepakat-sawit-penyelamat-kerusakan-hutan/
http://economy.okezone.com/read/2017/03/31/320/1655644/sawi
t-disebut-bukan-pemicu-deforestasi
https://ekbis.sindonews.com/read/1193066/34/ditentang-unieropa-
sawit-justru-penyelamat-deforestasi-1490937666
http://beritajatim.com/ekonomi/294067/sawit;_hantaman_isu_def
orestasi_dan_persaingan_bisnis.html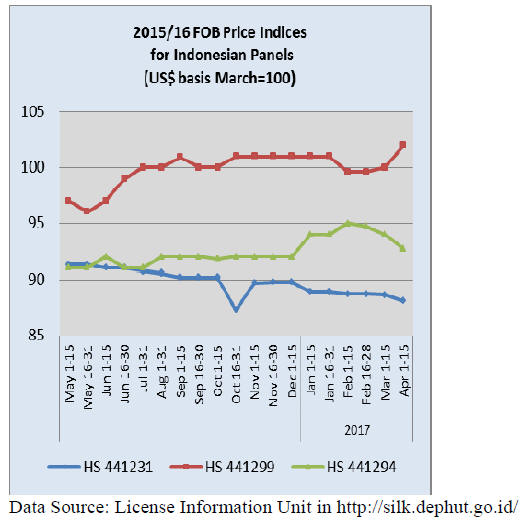 6. MYANMAR
Business slows in holiday season
Business activity is very quiet at the moment as everyone
celebrates Thingyan, the Buddhist festival in Myanmar
that marks the New Year. Thingyan celebrations began 13
April and will run until the 17 April and culminate in the
New Year according to the Myanmar calendar.

Forest Rangers to be rearmed
Forest Rangers in the Sagging Regions will be retrained
and provided with weapons in what is thought to be a
move which could be replicated in other regions of the
country. Until the military take-over Rangers regularly
carried firearms but these were withdrawn.

Over the past two years there have been several fatal
shootings of Rangers when they confronted timber
smugglers.

Exporters beat tax deadline
To avoid the newly introduced 10% Special Commodity
Tax which came into force on 1 April most exporters
shipped out almost all of their stock just before 31 March
2017. Analysts in Myanmar believe most was shipped to
Europe.

Focal Group for Communication to service importers
Industry and the timber association are extremely anxious
about developments in some EU member states with
respect to teak imports from Myanmar. The private
sector has urged the Forestry Department (FD) and the
Myanma Timber Enterprise (MTE) to act to ensure market
access for wood products from Myanmar.

In a related development, a Focal Group for
Communication, comprising representatives from MTE,
FD and the Myanmar Forest Certification Committee
(MFCC) has been formed. It is understood that the Group
will process inquiries from foreign importers to clarify
traceability and the legal status of consignments.

So far, the Group has not made any public statements.

Some sawnwood specifications defined as 'finished
products'
According to sources close to FD, the definition of
finished products to be applied under the new tax regime
has been made. It appears that only sawnwood larger than
12 square inches (for example 2" thickness X 6" width)
will be defined as sawnwood under the Special
Commodity Tax.

Tamalan seizures continue
The CITES declaration on Tamalan is in force but
attempts at smuggling continue. In the past three months
the authorities in Myanmar confiscated about 1,500 tons of
tamalan discovered ready for shipment in Yangon.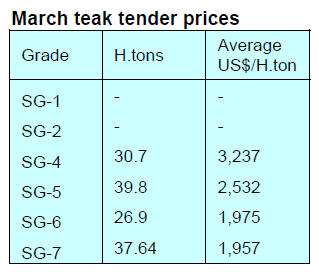 7. INDIA
Growth in Indian housing sector
A recent report from Cushman & Wakefield says middle
and low income groups will drive housing demand in India
with most development set to be in Sura,t Kochi and
Visakhapatnam.

These three cities are expected account for almost half of
total housing demand up to 2020, says the report entitled
"Embracing Change: Exploring Growth Markets for
Indian Housing".

The report identifies eleven tier II and tier III cities where
housing demand is set to be robust.

See: http://www.cushmanwakefield.co.in/en-gb/research-andinsight/
2016/credai-report-2016/

In other housing related news, the government, the
Confederation of Real Estate Developers' Associations of
India (CREDAI) and the National Real Estate
Development Council (NAREDCO) will meet to review
the government's affordable housing programme.

The government is calling on CREDAI and NAREDCO to
help private sector developers launch affordable housing
projects. The government offers incentives to developers
willing to build affordable homes but the Minister for
Urban Development and Housing and Urban Poverty
Alleviation has said, so far, no developers have submitted
proposals for affordable homes. The minister is calling on
CREDAI and NAREDCO to try and determine why.

Gabon a source of veneer and plywood for Indian
industries
Gabon is well known for its timber resources and the
recently completed Special Economic Zone (SEZ) has
been promoted in Indian newspapers and invitations
extended to Indian wood based industries to take
advantage of the opportunities offered by the zone.

The Gabon SEZ is a public-private partnership between
Olam International, the Republic of Gabon and the African
Finance Corporation. Log supplies will be guaranteed for
manufacturers setting up in the zone.

Gabon can supply a wide range of timbers with okoume
being the most popular for veneer and plywood
production.

Apart from okoume, Gabon's reserves of exploitable
timber are said to extend to 25-35 mil. cu.m of ozigo, 20-
30 mil. cu.m of ilomba, 15-20 mil. cu.m of azobe, 10-20
million cu.m of padouk and large stocks of mahogany,
kevazingo, ebony, dibetou, movingui, and Zebrano.

The advertisements in India for the SEZ say companies
locating to the zone will enjoy tax benefits and
advantageous recruitment conditions.

India has been trying to supplement domestic timber
resources through imports from South East Asian
countries and some companies have invested in production
capacity in Asia to meet domestic requirements of veneers
and plywood. But now, because the Gabon SEZ is seen as
offering an attractive alternative, some Indian
manufacturers have production facilities in Gabon.

For more see: http://www.gsez.com/

As quality of imports fall mills turn to domestic teak
In the previous round of auctions the logs offered were
mostly old with few of fresh fellings and this pushed down
prices. However, freshly felled logs have become available
so prices have rebounded.

Analysts report the quality of imported plantation teak
from many suppliers has fallen which is driving millers to
purchase domestic teak, especially when auction prices
dip.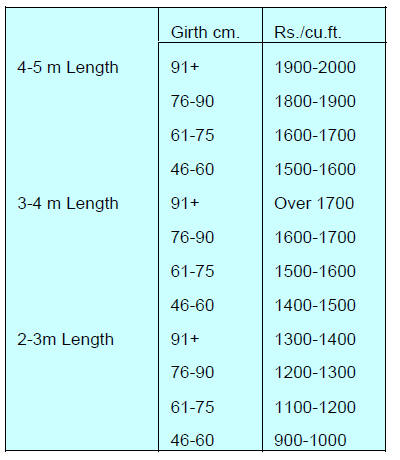 Plantation teak imports
As the Indian rupee steadily gains strength against the US
dollar, importers have been encouraged since the landed
cost of imported teak has fallen. Over the past two weeks
C&F prices have remained steady.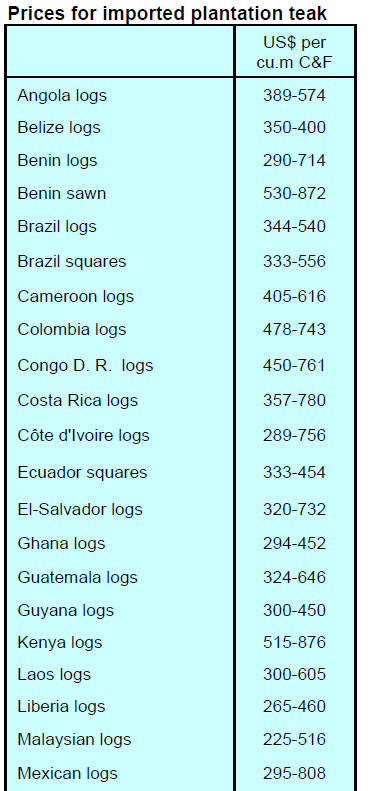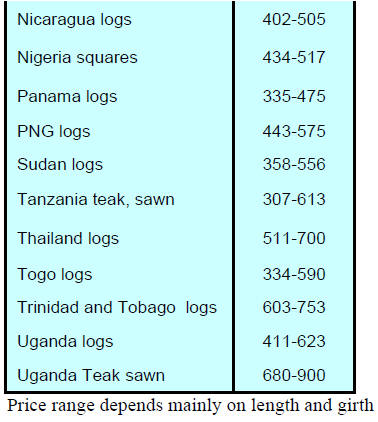 Sawnwood prices
Prices for sawnwood milled from imported logs remain
unchanged as shown below.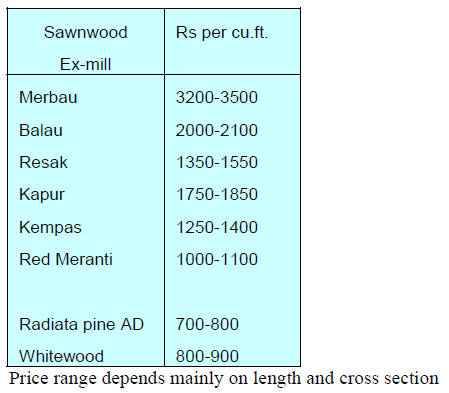 GST could result in higher teak prices for endusers
Prices for sawn Myanmar teak remain unchanged from
two weeks earlier. Indian importers have seen an
opportunity to increase purchases of Myanmar teak as
some EU buyers withdraw due to fears of contravening the
EUTR.

With an increase in imports likely due to a stronger rupee
and the only issue on the horizon which could result in
increased wholesale prices is the implementation of the
Goods and Services tax set for 1 July this year.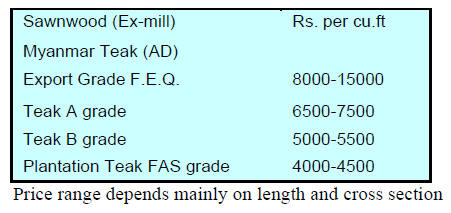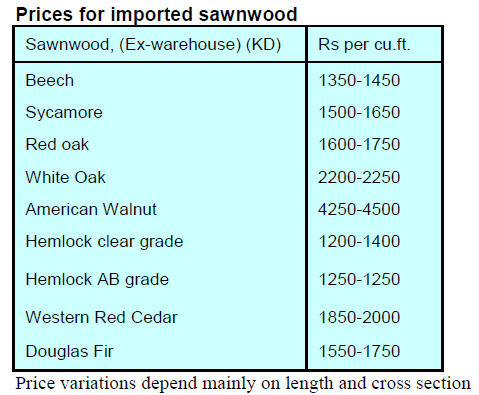 Pressure to raise plywood prices eases
Resin prices have come down to the relief of plywood
manufacturers and anlaysts report the supply of logs is
improving. The combined impact of these two
developments has eased the pressure for an increase in
wholesale prices. As with teak sawnwood, much will
depend on the impact of the GST on costs.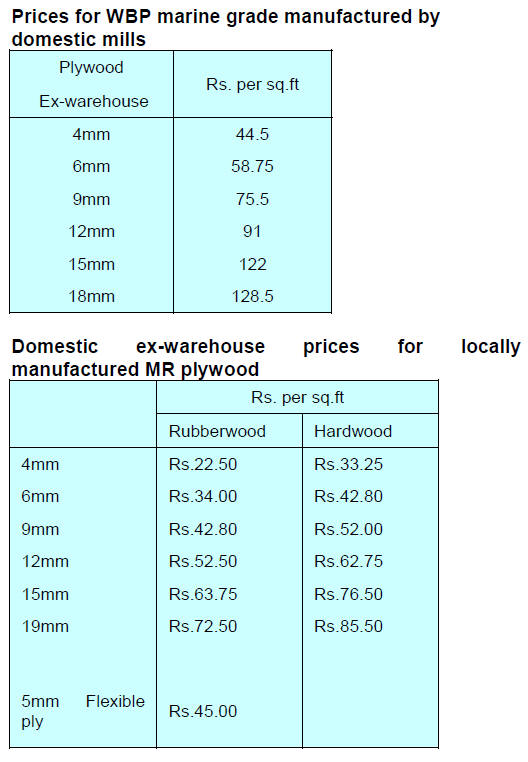 8. BRAZIL
Industry discusses 2017 economic prospects
Although the Brazilian timber industry ended 2016 on a
negative note the Brazilian Association of Mechanically
Processed Timber Industry (ABIMCI), together with the
Timber Industry Council in the Federation of Industries of
Paraná State (FIEP), have projected a more favorable
business climate for the Brazilian timber sector in 2017.

In 2015 wood product exports increased 6% and in 2016
rose 2% despite the country's GDP falling for each of
those years. It is against this background and because
demand in the US market is firming so prospects for 2017
are good says ABIMCI.

In addition to improved overseas demand higher
government spending and moves to stimulate the domestic
economy should lead to increased timber consumption,
especially in civil construction. Housing could be a major
growth area in Brazil as the country needs an estimated 80
million housing stock by 2025.

According to the Paraná State Forest Based Companies
Association (APRE) the construction sector offers great
opportunities for the forestry sector and that is why it is
important that manufacturers in the timber industry seek
continuous improvement in the quality of wood products
offered.

Inspection of wood transport in Mato Grosso State
Representatives of the Center for Timber Producers and
Exporters of State of Mato Grosso (CIPEM) recently met
with the Brazilian Federal Highway Police (PRF) to
discuss current procedures for inspection of forest
products being transported by road in the state of Mato
Grosso.

The meeting was prompted after several cases where
timber had been seized on suspicion of illegality only to be
proven to be legal. The problem, according to the Timber
Industry Union of Northern Mato Grosso (SINDUSMAD),
is not that cargoes are held but that the process to release
the trucks is slow and results in financial losses for
companies as delivery dates cannot be kept.

SINDUSMAD reported that members had discovered that
seized trucks with timber were not secure and pilfering of
the timber often occurred. In order to resolve these
problems, the establishment of a committee composed of
CIPEM representatives to assist PRF in improving the
inspection procedures has been proposed.

Another proposal made at the meeting was to conduct
immediate audits on seized timber suspected of being
illegal before the police 'infraction report' is issued
because once an 'infraction report' is issued it can take
from three to six months to clear the paper work and
release the truck and timber.
The PRF stated that it will review cases of timber seizure
irregularities and verify the problems to be
corrected/rectified, taking into account the "Manual of
Procedures for Storage, Measurement and Inspection of
Forest Products", which standardises the procedures for
those agencies involved in inspection at different stages of
the wood supply chain in Mato Grosso.

Growth in Brazil's wood panel exports
Brazil's woodbased panel exports increased in the first
two months of 2017.

According to the Brazilian Tree Industry (IBA), in the first
two months of the year 174,000 cu.m of woodbased
panels were exported, a 40% increase compared to the
same period in 2016.

Between January to February 2017 export revenue from
the entire forestry sector was US$1.3 billion down 6%
year on year and only the woodbased panel sector
recorded an increase (US$39 million, up 22%). As a result
the trade balance in the forestry sector registered a positive
balance of US$1.15 billion in the first two months of the
year.

Latin American countries continue to be the main
destinations for the Brazil's woodbased panels.

Business round with Mexico
Representatives of ABIMCI participated in a meeting on
'Business Opportunities and Internationalisation' with
Mexico in early March. The meeting addressed the
business environment, the commercial and trade
relationship between the two countries, opportunities for
Brazilian companies in Mexico and logistics and customs
issues.

Mexico is currently the world's 12th largest economy and
the a member of the largest free trade area in the
Americas. Mexico's GDP was US$2.31 trillion in 2016
and has been growing at an average of 2.2% over the past
three years.

According to ProMexico, the Mexican government's
export promotion agency, Brazilian companies can have
access to 46 countries in three continents with which the
Mexican government maintains trade agreements,
representing a market of one billion consumers.

ABIMCI expects the results of this dialogue to be positive
in the near future for wood product industries that include
mechanically processed wood products, such as
sawnwood, veneer and high value-added products. The
latter includes, among other products, wood frames, doors,
windows, floorings and furniture components.

9. PERU
Fast track procedure for forest concession allocation
From the end of March access to a forest concession is
possible through a revised and shortened procedure
according to a provision published by the National
Forestry and Wildlife Service.

The areas that can be granted through the new fast track
procedure are those concessions which have reverted to
the State. There are about 3.3 million hectares of such
areas across the country. Also included in the fast track
procedure are those forest areas that were offered through
public tender but were not taken-up.

Regional Forestry and Wildlife Authorities are responsible
for identifying and publishing available areas that can be
fast tracked. Erik Fischer, Chairman of the Association of
Exporters said this move will help to revive the forest
sector which is facing a crisis.

Particleboard imports fall
During the first two months of this year the value of
particleboard imports fell 4.6% compared to the same
period last year. In the period January - February 2017
Chile was the main supplier of particleboard to Peru.

While Chile maintained its rank as the top supplier, in the
first two months of this year fell the value of imports fell
15.5% year on year.

Ecuador was the second ranked but, as with Chile imports
declined (17%). In a reversal of the downward trend
imports of particleboard from Brazil increased in the
January/February period. Novopan Peru was again the
main importer of particleboard followed by Arauco Peru.

Coordination of method for measurement of forest
resources
The National Forestry and Wildlife Service (Serfor)
presented the results of its field investigation aimed at
standardising the method for measuring timber resources
to an Inter-Institutional Technical Group.

This group comprised representatives of the Regional
Governments Loreto, Madre de Dios and Ucayali, the
Forest and Wildlife Resources Supervision Agency
(Osinfor) of the Ministry of Production, Forest Regents
and the National Forest Confederation (CONAFOR -
PERU).

This initiative on standardising measurement protocols is
being supported by the North American/Peruvian Forest
Sector Initiative (PFSI).

National Forestry and Wildlife Plan – top priority
The Ministry of Agriculture and Irrigation, through the
National Forest and Wildlife Service (Serfor), has
indicated that the development of a National Forestry and
Wildlife Plan is a priority as it will result in strategies and
actions for the sustainable management of forest
resources.

The development of the plan will be coordinated by
National Center for Strategic Planning (Ceplan).

Serfor reported that this planning tool will be created
through consensus with stakeholders including regional
governments, guilds, indigenous communities, academy,
civil society and forestry development specialists.