Report from North America

More hardwood plywood from China, Indonesia,
Malaysia
The volume of hardwood plywood imports grew one third
in January from the previous month and at US$155.4
million imports were 28% higher than in January 2016.

Much of the growth was in plywood imports from China,
Indonesia and Malaysia. Imports from China were 206,870
cu.m. in January and accounted for 60% to total hardwood
plywood imports.

Indonesia¡¯s shipments to the US were 43,442 cu.m. in
January, up 18% from the same time last year. Hardwood
plywood imports from Malaysia more than tripled from
January 2016 to 15,829 cu.m.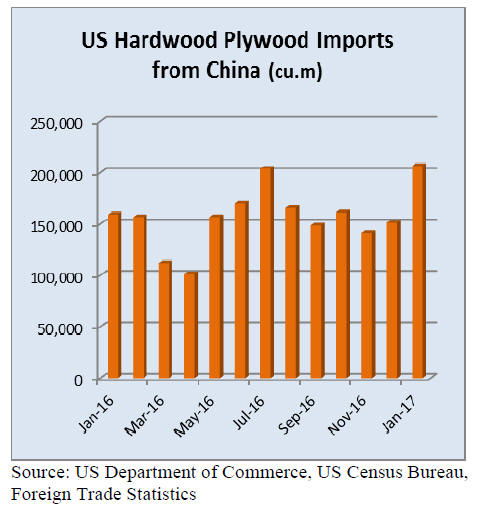 Among smaller suppliers Cambodia and Vietnam
continued to grow plywood shipment to the US market.
Both countries exported over 3,000 cu.m. each to the US
in January.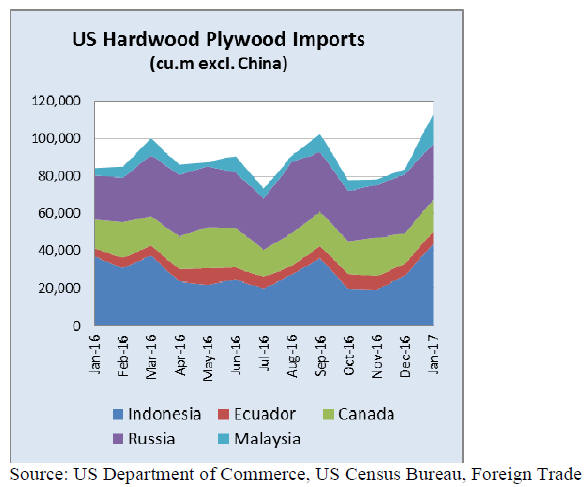 Tropical veneer imports down except from Cameroon
Tropical hardwood veneer imports declined 6% in January
to US$2.7 million. Imports from all major suppliers
decreased except Cameroon. Italy remained the by far
largest supplier of tropical veneer to the US, followed by
China, Cote d¡¯Ivoire and Cameroon.

China the leading supplier of hardwood mouldings
Hardwood moulding imports were worth US$16.7 million
in January, unchanged from January 2016. However,
China surpassed Brazil as the largest source of US
imports. Imports from China were US$5.8 million and
from Brazil US$4.3 million.

Malaysian shipments were almost unchanged from
January 2016 at US$1.1 million. Imports from Indonesia
increased to US$707,197 in January.

China¡¯s 35% share of hardwood flooring imports
January 2017 hardwood flooring imports gained 42% year
on year and were worth US$3.8 million in January.
Imports of assembled flooring panels (including
engineered hardwood flooring) were US$14.3 million,
61% higher than in January 2016.

China¡¯s share in hardwood flooring imports has increased
substantially. Imports from China were worth US$1.35
million and accounted for 35% of total monthly hardwood
flooring imports in January. Indonesia was the largest
source of imports in 2016, but in January Indonesian
shipments to the US were worth only US$494,931.

Hardwood flooring imports from Malaysia were also down
compared to January 2016. Imports from Europe
surpassed US$0.5 million in January.

Imports of assembled flooring panels decreased 11%
month-over-month on January, but imports from Brazil
and Thailand were up. China remained the largest source
of imports in January at US$6.0 million, followed by
Canada and Indonesia. Assembled flooring imports from
all leading suppliers were higher than in January 2016.

Wooden furniture imports remain at record high levels
The value of wooden furniture imported in January was
almost unchanged from the previous month at US$1.58
billion. Imports were 13% higher than in January 2016.
Furniture imports from China declined 2% month-overmonth
to US$768 million in January, but imports were
12% higher than at the same time last year.

The strongest growth was in wooden furniture imports
from Vietnam, which increased 10% from December to
US$339 million. Imports from Vietnam were 24% higher
than in January 2016. Furniture imports from Canada,
Mexico and India were also up compared to January 2016.

Malaysian furniture exports to the US were US$58.9
million in January, unchanged from December and slightly
down from January last year. Imports from Indonesia were
slightly down in January at US$45.9 million.

Imports of non-upholstered wooden seats grew for the
third consecutive month in January. Upholstered seating
imports declined 3% from December. Imports of wooden
kitchen and bedroom furniture were up in January, while
office furniture imports declined.

US producers want earlier action on plywood imports
from China
The Coalition for Fair Trade of Hardwood Plywood has
filed "critical circumstances" petitions with the
Department of Commerce according to the Hardwood
Plywood and Veneer Association. The purpose is to stop
an increase in Chinese hardwood plywood shipments to
the US before antidumping and countervailing duty orders
are imposed.

Duties are due to be determined April 17 for
countervailing duties and June 16 for antidumping duties.
If the petitions are successful, antidumping and
countervailing duties will be imposed 90 days earlier than
currently scheduled. If critical circumstances are found,
Chinese hardwood plywood imported as early as January
17 will be subject to countervailing duties, and plywood
imported as early as March 16 will be subject to
antidumping duties.

The previous Department of Commerce investigation
ended with the removal of all anti-dumping and
countervailing duties on hardwood plywood from China.

Vietnamese furniture manufacturing facility to open in
US
The Vietnamese furniture producer Vinh Long has
announced a US$15 million investment in a new furniture
plant in Arkansas. It will be the first Vietnamese-owned
manufacturing plant in the US according to the company.
Vinh Long plans to produce particleboard furniture for
Ikea and other retail customers in North America.

The state of Arkansas will provide an incentive package to
the company after it has hired the planned 75 employees
for the manufacturing facility. Vinh Long cites sustainable
supply of raw materials and local support as reasons for
the investment.
Furniture manufacturing down for third consecutive
month
Real gross domestic product (GDP) increased at an annual
rate of 2.1 percent in the fourth quarter of 2016 according
to the second estimate released by the US Department of
Commerce. In the third quarter, real GDP increased 3.5
percent.

The unemployment rate changed little in February. The
rate was 4.7%, down from 4.8% in January according to
the US Bureau of Labor Statistics. Employment grew in
construction and manufacturing.

Economic activity in the manufacturing sector expanded in
February and the overall economy grew as well, according
to the Institute of Supply Management. New orders,
production, inventories and employment increased
industry-wide.

The only industry that reported contraction in February
was furniture and related products. It was the third
consecutive month of lower activity in furniture
manufacturing. Wood product manufacturers reported
growth in February.

Consumer confidence was high in early March and
significantly up from March 2016, according to the
University of Michigan consumer confidence index.
Households were more optimistic about current economic
conditions than any other time since 2000, mainly due to
better personal finances.

Consumers were divided about future economic prospects.
Republican voters expect strong economic growth, while
Democrats anticipate a deep recession, which may
discourage their discretionary spending.

Housing construction up in February
Housing starts increased 3% in February to a seasonally
adjusted annual rate of 1,288,000, according to the US
Department of Housing and Urban Development and the
Commerce Department. Single-family home construction
grew over 6% and accounted for 68% of total starts.

The number of building permits issues, which indicates
future building activity, decreased 6% in February from
the previous month at a seasonally adjusted annual rate.
Multi-family permits fell, while single-family
authorizations increased 3%.

In February builders¡¯ confidence in the market for new
single-family homes jumped to its highest level since June
2005, according to the National Home Builder
Association.

The association¡¯s chairman cited President Trump¡¯s recent
executive order to repeal or revise the ¡°Waters of the
United States Rule¡± for protecting waterways that can
affect permitting of construction.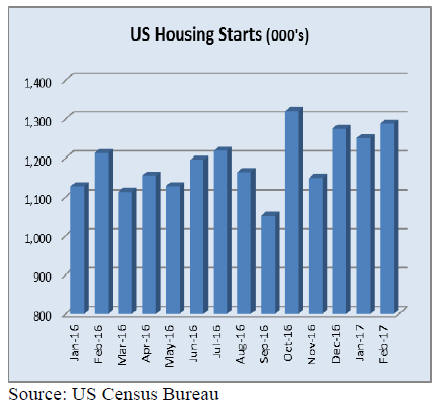 Sales of existing homes sales declined in January,
according to the National Association of Realtors.
February¡¯s sales were still 4% higher than a year ago. The
median price of existing homes increased for the 60th
consecutive month. The median home price was 8%
higher than a year ago.

Lacey Act and composite wood products
Like other imported wood products, particleboard and
MDF fall under the US Lacey Act to prevent trade in
illegally logged timber. The United States Department of
Agriculture describe the procedure of declaring composite
products where identifying the species may be difficult.

If species identification is difficult while using due care, a
Special Use Designation (SUD) can be used. So-called
¡®Special Composite SUD¡¯ is allowed for products that are
made from more than one plant species, processed into
small fibres and bonded together. This includes MDF,
HDF, OSB, particleboard, paper, paperboard and
cardboard.

The SUD cannot be used to declare plywood. Plywood has
to be declared by wood species, unless it has a composite
core. The outer plies still need to be filed normally.

The requirements for composite wood products are
available in the Frequently Asked Questions section of the
Lacey Act webpage:

https://www.aphis.usda.gov/plant_health/lacey_act/downl
oads/Lacey-Act-Program-faq-11-23-2016.pdf